Early 2020 Maybe-Maine Coons
The cuties keep getting cuter! This album is the place to see Eduardo, Thor, MJ, Charlie and more. Do you see Coonie in them?

Thor
by Grace
(Michigan)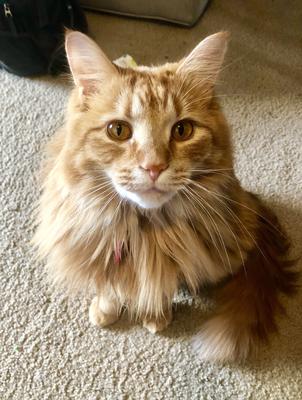 Thor absolutely loves to cuddle and he is always finding a lap to sit on.

In the morning he will always come and lay next to me waiting for me to wake up.
He loves the kids, even though the two toddlers are not very gentle he never runs away.

I have never heard him hiss or become agitated. He loves our pit bull mix and plays with him - like actually plays.

I sometimes wonder if he was supposed to be a dog.
When he sees the dog is getting something he's right there trying to take it away from the dog. It's hilarious the friendship the dog and cat have.

Thor will find everything anything to bat around and play with. I have found pens and other such things on floor. He carries things around in his mouth a lot.

He begs to go outside a lot and we don't let him go outside but he tries to escape a lot. He will scratch at the door and be vocal when he wants out.

He has this weird fascination with the tub and toilet water. Thor really wants to check them out and I have had to give him a flea bath and he of course didn't like it but after a few minutes he stopped fighting and let me get it over with.

He really has a hard time cleaning himself too, like he is always matted and I try so hard to keep up with his brushing.
---
Charlie
by Jamison
(California)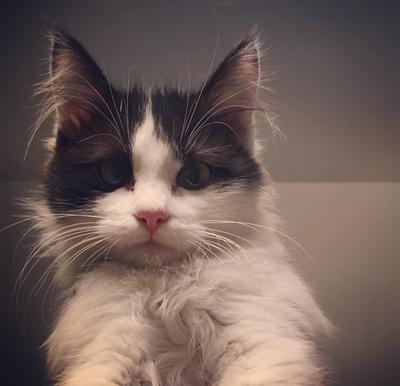 Charlie is six months old. We adopted her in Berkeley, California, & ages unlike any other cat we've ever known.

She's extremely smart & affectionate, plays fetch for hours, & is never touchy or aloof.

She definitely has a coon-like tail, long & fluffy with grey & black rings, & large furry paws, tufted ears, & a ruff around her neck.

Our vet says she looks like a Maine Coon, & Charlie's playful personality & high intelligence make us suspect our vet may be right.
---
Eduardo
by Kelly
(Pittsburgh )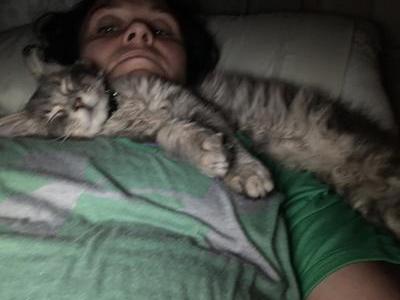 His fave spot to nap
Eduardo/Eddie is one of a kind! I've only had him 1month and he's definitely special!

I'm a pet person and have loved all my kitties but he's different. Ornery, carries on, loves to play. Very curious! Always "helps" with what I'm doing.

He's been in the dishwasher, washer, dryer, bathtub, occasionally rides on sweeper, basically he helps all day! Besides having THE BEST personality he REALLY cute!

My mom insists he has Maine Coon in him. I think they are beautiful cats and like looking at pics. While looking I started reading and he shares a lot of traits. I'll never know but can't help but be curious.
---
MJ
by Marvadene Fink
(Concord California)
M.J. Our rescue kitten 7 weeks old
She is still warming up to me. Very young still but she is finally playing and comes to talk to me when I'm making her food. Her favorite toy is the brush. She LOVES being brushed. She purrs sooo loud. She's extremely fluffy and soft.
---
Cujo
by Joseph Rawski
(Sugar City, Colorado, USA)
I think I have a male Maine coon mix who's partner just passed away - looking for a female Maine coon mix for him. Can anybody help?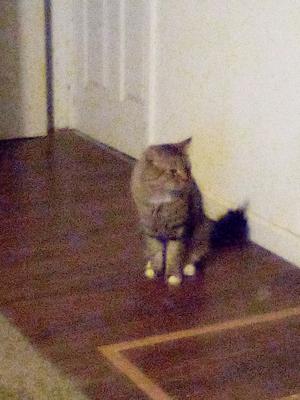 I have a beautiful cat that looks like a Maine Coon mix. His name is Cujo. He's going on 4 and 1/2 years old.

I had a female tuxedo cat who was his girlfriend, and she just passed away for some unforeseen circumstances.
I found her underneath my bed. He's looking for a new girlfriend so I'm looking for a Maine Coon mix for him. He is not fixed. Can anybody help me?

Younger cast preferable that are friendly with dogs.
---
(note: comments are closed in this archived photo album)