Dillon My Beloved Maine Coon
by Laurie & Bart
(Pittsburgh, PA, USA)
Dillon was a 9 yr old brown/white/tabby male who touched our hearts like no other...
His gentle spirit, soft voice, and companionship was like no other cat we have ever owned.
He loved his continuous water, laying in our clothes, sleeping on his toys, and mostly just being with us.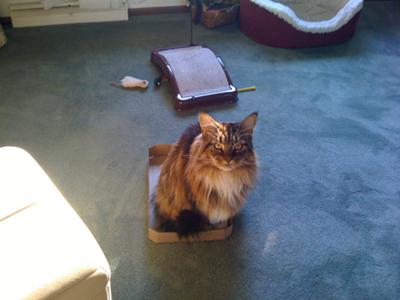 We had to euthanize Dillon on November 20, 2011 because of cancer in his right hip region...our vet suggested amputation and we loved him too much to do that...after some soul searching & having a chance to say goodbye we put him to rest the way he deserved, our handsome boy with dignity.

Rest in peace our special silly Dilly...we will always love you & know we will meet again...


comments:
Mar 08, 2017
i want to hug u
by: min min
I'm sooo sorry...

Nov 28, 2011
To Anita-
by: Laurie
Again thanks for you kind words. I just realized your post says you're from Colorado... that's where we got Dillon's name from, Dillon, CO...

we have been remembering "special" things too & I want to share with you that Dillon loved to smell my roses from my garden then nibble on them afterwards...

Have you adopted another Maine Coon? Again thanks for sharing Kato & God Bless You during this special time of year...

Nov 26, 2011
Laurie and Bart
by: Anita
We are compiling Lessons Learned from Kato that are helping us move through the grief, like 'Live in the moment' and 'Stretch the britches…' God Bless both of you as well! Hold on to each other!!

Nov 23, 2011
To Anita
by: Laurie
Anita,
It was your memorial of Kato Lunt that truly touched my heart...Maine Coons seem to touch all that love them so deeply and I know how broken my heart is and I felt your pain & had to share in hopes of finding comfort...God Bless you.

Nov 23, 2011
To Carol
by: Laurie
Carol,
That you for your kind words & I am so sorry about Scrappy...God Bless you.

Nov 23, 2011
I feel your pain.
by: Carol
I know just how you feel. We put our Scrappy down Nov 1 after his long battle with heart disease...He loved his water fountain and boxes too. Never killed a thing.

He helped save many kittens lives and animals that others caught. He is the first thing I think of in the mornings and the last thing I think of at night...

My heart is broken and I know yours is too. Hang in there we will try to get through it...We were lucky to have had such good buddies...I sure do miss that bushy tail by my face at night...He was 11..

Nov 23, 2011
Sorry for your loss
by: Heidi Mathias
Sorry for your loss.Be sure you have now an angel watching for you and your family....

Nov 22, 2011
The right thing
by: Helen
So sorry for your loss. You did the right thing. Dillon knew you loved him.

Nov 22, 2011
Maine Coon Angel
by: Anita
My heart goes out to you in your loss! We lost Kato Lunt the end of October - now Kato and Dillon are playing in catnip strewn streets! BrruuggghhhHHTT!!!! Eek, eek! Remember and cherish the good times! They will sustain you through the empty, 'missing the furry angel' times.

Nov 22, 2011
R.I.P.
by: Frances
So Sad, but I couldn't have done it either. Love x

Nov 22, 2011
r.i.p. beautiful boy
by: dawdle
So sorry for your loss, i know it's hard to say goodbye. But may your memories of him get you through.
love & light
dawdle xx

Nov 22, 2011
So, so sorry ....
by: Sharon
Your hearts must be broken, my condolences to your family. He was a beautiful boy.
---
(note: comments are closed in this archived tribute page)
Return to Top of Dillon's Page