December 2013 Maybe Coonies
Meet these lovely Maybe-Maines and mixes in our December Maybe Maine Album!

Maybe-Maine Coon Cats For December:
Xander
By: Donna in Canada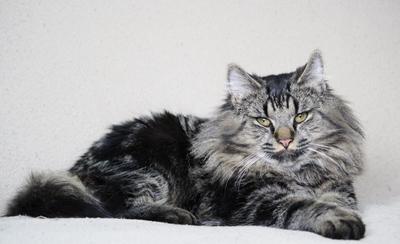 Hi, I rescued Xander from a home where he wasn't being treated well.
His previous owner recognized that this poor kitty was being badly bullied by their other male cat and knew he had to find a new home for him.
I took one look at this beautiful 9 month old boy and had to take him home. When I began my research I came across pictures of Maine Coon cats and thought "wow, Xander looks just like them".
The more I read and the more my new boy got comfortable and gained more trust for us, the more I saw his personality and behavior seem to match those of the Coon's. He is a big goof ball, loves to play, very affectionate, sleeps in my bathroom sink, follows me everywhere, and chirps up a storm but rarely meows.
I don't know where the previous owner got him and I didn't think to ask as I just knew this poor kitty needed out of there quickly...he was very sad and walked very low to the ground.
I'm happy to say (as he is the only pet in my house) that he walks proud and tall now. He's my buddy who keeps me quite entertained. So now I'm looking for other's opinions on whether or not he is a Maine Coon mix or not.
The only physical trait he doesn't have (as far as I can tell) are the tuffs of fur at the top of his ears. Thanks for taking the time to check out my handsome boy Xander.
---
Our Baby Simon
By: Karen in Ohio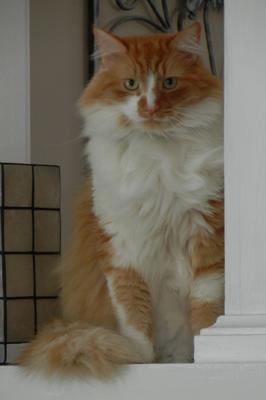 We've had Simon since our neighbor asked us to foster a stray litter of 6 week old kittens. Simon is the only long haired one.
He is just a funny boy. He has huge feet- front paws have been as wide of my index & middle fingers together since he was 6 weeks old.
His tail is so fluffy to encircle it you need 2 hands. He was 16 lbs at the last vet check. He brought me a goldfish from the neighbor's pond once (I got it back & it swam away), and once fell in the pond which thouroughly ticked him off. He is very sweet tempered and likes to hang in whatever room his people are in, sometimes beside you but never in your lap.
The exception to this is in bed. He loves beds. He will sometimes crawl on someone's chest and head butt their chin. He loves to lay next to you in bed just resting a paw against you and purr like a motorboat. I think he is a Maine Coon mix.
---
Bruce, The MaybeMaineCoonKitten
By: Karen in Gering, Nebraska, USA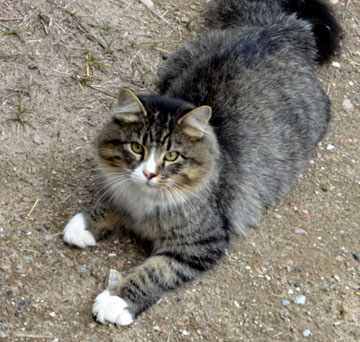 Bruce found us, as a kitten. He wandered over the bluff behind our house and called us. He was too high for us to rescue so we waited and soon he found his way into our barn.
It took about a week of consistent feeding and talking to him and then he was all over us. He has legs like bridge supports, very heavy bone, thick neck, very thick fur, almost like triple coats.
His tail is long and extremely thick. Long tufted hair from the ears. He rockets around the barn very fast but will also leap into our laps and almost go limp, so relaxed.
Very loud purr and he also has a chirping kind of noise that he makes - reminds me a bit of the noise that raccoons make.
---
Shimmy The Rescue Kitten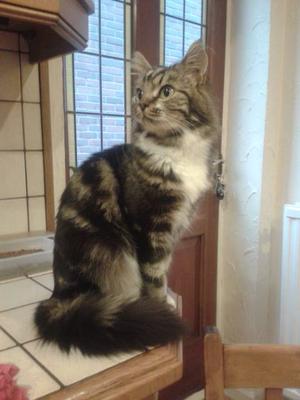 She came from no where.. On a routine school run a very dirty, under weight kitten climbed on to my shoulders.
Straight away she took to us and is fantastic with my 3 year old and other cats, I also have a small dog that she has taken to. Tho sneezing she was given the all clear from the vet and proved not to be micro chipped. We have not looked back. With an estimated age of 4-6 months she is a real looker, beautiful inside and out.
I would love to know if she has Maine Coon in her, her large ears, long furry tail.. She is long in the body but dosnt have very big feet. I hope the photos I have put on help decide! She has such a playful character and is already "talking" back to me when i look her in the eye (but i wouldnt call it a meow, more a squeek!)
Named Shim because she had such long fur around her bum I couldnt decide if she was a she or him.. so Shim. Vet confirmed girl so I am now a proud owner of a very loving Shimmy.
---
Cookie My Lil Fluff Ball!
By: Becky in Birmingham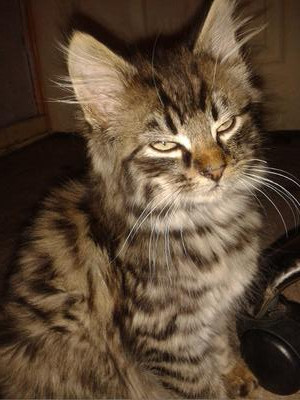 Ok, so this is my kitten aged 4-6 months, we are unsure how old he is as he was found.
Cookie was found by my friend, he was seen running into the road, to nearly get knocked over, he was lucky not to but found shelter in shop where a women was kicking him.
He was a lucky boy who came out unhurt, but despite all of this, he is one over loving kitten and couldn't ask for anything better!
Basically the reason why I am here is I have other cats, tabby and black and white, but one day I was looking at them all and it struck me a how different he was to the others, so I decided to look online for cat breeds, and came across Maine Coon, looked at the photos and was like wait cookie looks like some of these cats, but I just want to be sure.
He loves his toys and his food (a lil too much!), but he loves snuggling up and pouncing on you, also loves wires, not any type, but head phones wires, (I am on my 3rd pair and have only had him 2 months.) This is more than the dog use to do, also any food or drink or bag he has to have a look!
I have tried him with water, but it understandable with him not being sure due to when he was found we had really bad rain, but he loves watching it, I don't get that.
Here are a few photos, enjoy!!
---
Emma, Rescued 'Stray'
By: Robi Hamilton in East York, Ontario, Canada
My best side?
She was hanging around my friend Bill's place (hiding under the bushes in front of his house most of the time) for at least 3 weeks before she persuaded me to take her home.
I first noticed her near the end of August 2013. The next weekend (Labour Day)I took pictures and posted them at a site (HELP) devoted to Helping owners find their Lost Pets.
I also bought a bag of cat food and asked Bill to make fresh food and water available to her---but he could not take her in, as he is allergic to cats and suffers from asthma.
No one responded to my online HELP posting, and by mid-September the nights were getting longer and colder...and the stray cat was becoming thinner and more matted. I called numerous cat rescue organizations and shelters, but they were filled to capacity and could not offer assistance.
Finally, on Sept. 15 I bundled her into a carrier and took her to the Toronto Humane Society, thinking that they would accept her and put her up for adoption. There, I learned that THS only accepts pets that are being surrendered by their owners, not 'strays'. She would have been turned over to Animal Control Services and likely euthanized.
I was in tears, trying to figure out how I could bring her into my 1 bedroom apartment along with my 2 pet rats without creating total chaos. Eric, a very resourceful THS employee, said that if I could take her in, he would help---with a bag of cat food, a couple bags of litter, a few blankets, and an oversize dog crate so I could keep her away from the rats until other arrangements could be made.
So I brought her home...and to the vet the next day, where I learned that she had severe jaundice (likely from malnutrition), and a couple of loose teeth. She was purring so loudly as the vet examined her that he had trouble hearing her heartbeat!
Less than 3 months later- Emma is now healthy, spayed, fully vaccinated, and has gained almost 3.5 pounds! She measures 36" from nose to tail tip, weighs 12.5 lbs. and has the sweetest, gentlest nature imaginable. She ignores the rats, but loves to play with a catnip toy dangling from a string on a pole.
---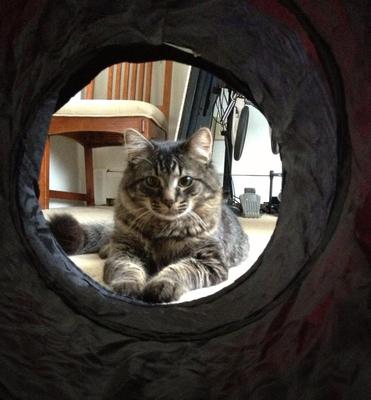 Fender
By: Shayna in CT
This is Fender. I got him from someone getting rid of kittens, and I'm just curious if he may possibly have some MC.
---
I Think I Found A Coon And I Am In Love ...
By: Susan Untermeyer in Marble Falls, TX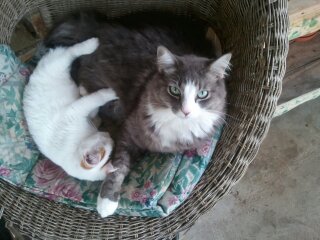 Mixxy babysitting the neighbors kitten
I found Mixxy about a year and a half ago. I remember the first thing I noticed about him was what big feet he had. Well he has definitely grown into them but back then I thought he was a she.
A friend of mine called and said a stray cat was hanging out at her work, "she" seemed like a good cat but had been there for a couple of weeks and she was starting to get worried that something would happen to "her".
I went to "check on" the cat one weekend and immediately took it home. "She" was so sweet and still fairly young so I figured I would see if "she" was a lost cat. I just knew someone would claim "her". Not the case. So I took "her" to the vet to get shots and OOPS she was a neutered he.
LOL, well it was a mistake a lot of us could make. But I was hooked no matter what. Talk about quirky ... for months I wasn't even sure this cat could meow, all he did was chirp and even though he occasionally meows now his preferred method of communication is chirping.
Also he sleeps at the end of my bed at night and instead of meowing to wake me up when the day breaks he goes over to my nightstand and knocks something off. Him and I have argued that there are better ways to wake me up but he continues he unusual behavior.
I have caught him digging in my purse, walking off with my reading glasses, turn the pages of my book; the weird thing about was that he was studying each page almost as if he was reading the book. I love him he keeps our house ... young.
I have 3 other cats and a dog and he has had no trouble fitting in with everyone. In fact not all my cats get along but all of them love Mixxy.
---
Mister Kitty aka.. Bug lol
By: Jana in Wyoming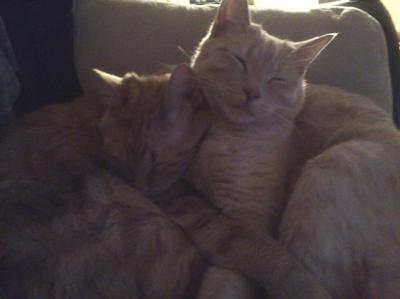 I think my Mister Kitty is part Maine Coon. He has all the characteristics, let me know ..
He loves to get into cupboards dishwasher anything I want him not to go in and loves to lick plastic anything plastic I have to take it away from the house he will find it if you hide it ...
He has a sister too she's more short hair but plays fetch with my hair ties she can hear me using one and comes a running lol. Love them both with all my heart.
---
Could our Felix be a Maine Coon mix?
By: Patricia in Modesto, CA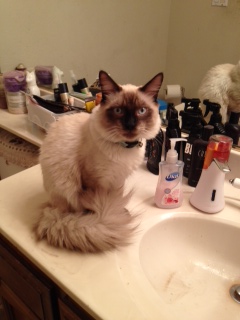 Our daughter found 2 very young (barely 8 weeks old) stray kittens in July.
We kept 1 (named him Felix) & found the other a nice home. Felix is different from any cat we've every had including our other 2 cats (ragdoll/ragamuffin & Siamese mix).
He follows me everywhere when I'm home (weaving in & out of my feet) & has to be sitting there with me whether I'm cooking, cleaning, working in my home office or just watching TV.
He does not like to be held at all by anyone other than me and even with me he limits how long I can hold him. Despite this, he is incredibly affectionate. When he wants attention or a snack he makes a crackling meow sound, follows you making this sound until you give in (and he can be persistent).
He will make this noise non-stop if you don't feed him by 6am. He comes to you when you call his name. He likes to be walked daily! This is the only cat we've ever seen on a leash & harness that wasn't frantically trying to get out of it.
We put him in it as a young kitten to take him to the vet & realized that he walked on it like a dog so we just continued it and now we walk him as we do our dogs (just not as far). He plays with our dogs more than the cats & even naps with our Toy Poodle.
He plays fetch with his toy mouse & will even randomly bring his mouse to drop in your lap or on your feet for you to play fetch with him. He loves to play in water and will even jump in the shower if you let him. He is now almost 7 months old and weighs in at 11 lbs. I was talking to a friend of mine about this & she mentioned that he might be a Maine Coon.
Knowing next to nothing of this breed, we are looking to see if someone can tell us if our Felix might be a Maine Coon mix? We know that we can't definitively determine his breed without his parents or papers, but are still interested to see if others can tell us what breed he might be.
We have posted some pictures of Felix as well. Thank you!
---
Maine Coon Mix Or Not?
By: Jennifer C in Goshen Indiana USA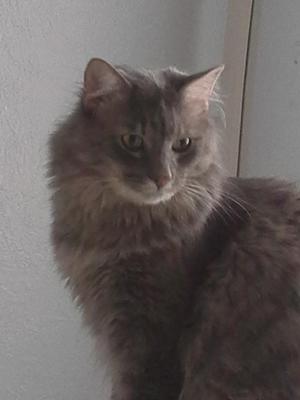 This is Mooshki, I adopted him when he was 6 weeks old.
He was bottle fed and I do believe he thought he was human for a month after getting him.
He is now 2 years old and weighs about 16 pounds. His plume of a tail drags the floor, he's a beautiful smoke color, doesn't like to be excluded from anything, greets me at the door when I get home, and only wants to be held on his terms.
He is a sweet boy but he does not like my mom, he attacks her when she comes over for visits. Now that winter is approaching his coat is getting thicker and fluffier.
---
My Lucky Boy
By: Regina in Birmingham, AL
Lucky has been such a joy to me! He is approximately 4 months old now.... I really don't care whether he is a Maine Coon Mix or not, I'm just curious.
Lucky has brought so much joy to me these past few months. My only reason for submitting this is because I go to work and talk about him all of the time because he is so sweet, so smart, so affectionate, and because of the crazy/silly things he does.
A friend of mine at work that listens to me told me that his characteristics sounded a lot like that of a Maine Coon. I had never heard of a Maine Coon, or do I know a lot about kittens/cats. But, after googling Maine Coon's it really helped me understand him better!
Lucky would never let me just sit and pet him much, and it bothered me at first. However, I read Maine Coon cat's although loyal, and affectionate, are not lap cats!
Lucky acts more like a puppy than a kitten!! Lucky follows me EVERYWHERE around the house!! I make up the bed, he is trying to help!! If I'm in the kitchen cooking or washing dishes, he is on my feet or all in the way!
I'm watching television he is on the coffee table or sofa right under me! I'm in the bed he is under my butt, in the curve of my knees! When I go to the bathroom Lucky is behind the toilet or looking like he is wanting to jump in my lap!! :)
The only time he is not with me is if I lock him out of the room, and then he is outside of the door waiting to pounce me!! :-) I actually find myself talking to him, trying to plead with him not to follow me when I'm going out the room for a short bit. Sometimes it works, if he is sleepy! :-)
He is a very sweet kitten. Very, very playful, sometimes I think he forgets he has claws, and I have the scratches on my hands to prove it. :) It never happens in anger though, only in play, and he NEVER stops playing!
I am not a real cat person (he is my first) so I am afraid to clip his claws myself. However I plan to take him to have him groomed and have his claws clipped by a professional soon.
Lucky is definitely my buddy! If I could name him over, I would probably name him Shadow, :-) because he is definitely my shadow.
Regina
---
Mags is a Mix?
By: Leah in Texas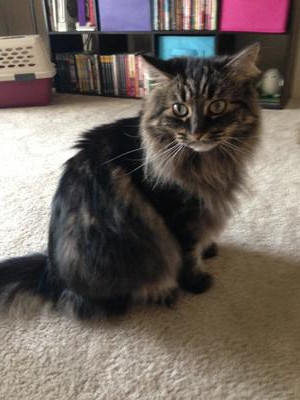 My 8 year old kitty came to me this fall. She was found at a kitten (around 1 year old) abandoned and pregnant. She was adopted into a family that had dogs, which didn't seem to bother her, and she co-existed with another female cat.
It wasn't until later when the family adopted a male cat that she began showing signs of deep stress. When her human mom became pregnant, a hard decision to re-home her into a better life was made. I knew her owners and happily took her.
Mags is a slow to warm up Kitty (she is nervous around new people and gets hissy when they don't go at her pace, though she usually comes out to check out the situation), but she is quite attached to me.
She likes to cuddle in the morning, and demands that I brush and love on her the moments I get home from work (she greets me at the door and immediately starts rolling around and talking when I come in).
She is playful, and likes stringy objects. All of this, of course, is on her terms. When alone, she kicks balls around and chases her tail.
As I have said before, everything must be her idea, but she often has sweet ideas.
She likes to sit near me, but not on me. She will choose to sit next to me on the floor or one chair over, but doesn't necessary want to be touched if she didn't solicit it. She does not lap sit, but does jump to my chair just to walk across my lap a few times or get her head rubbed. These visits never last long.
When My attention is torn (such as a phone call) she rolls around and tries to get my attention, whether she wanted it before or not. She does not like to be held but will tolerate being picked up for a short amount of time.
She cuddles with me every morning when my alarm goes off, and then hurries to the faucet to drink while I brush my teeth. She does this every night, too. When I shower, she waits outside for me. We often have little chirpy conversations, and she usually vocally announces herself when seeing me or jumping onto my bed.
Physically she has golden eyes and is a brown tabby, with a lion-like scruff. She doesn't have the tufts of hair on the tops of her ears, but does have hair from within them. She has hair between her toes and longer fur on her belly and bottom than her sides and back. Though she loves being brushed, her hair rarely matts. She weighs 12.2 lbs.
My guess is that she is a mix, and her rough kittenhood has led to some anxious quirks in an otherwise textbook coon personality.
---
Esau
By: Deb in Maryland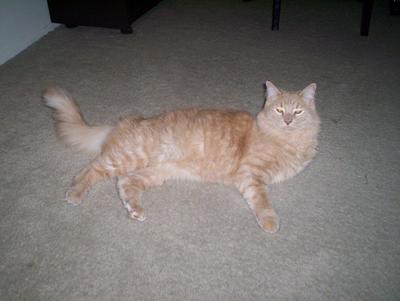 Esau is now 11 years old.
He was found as a very sick kitten living in the woods with what seemed to be an unrelated litter (no physical similarities)of feral kittens and the mama cat.
He currently weighs 12 pounds and when fully stretched out easily 3 feet long. He has no problem putting his front paws on the kitchen counter with his back paws completely on the floor!
His most favorite thing to do is play with water dripping from the faucet. If not a Maine Coon he's got to be a mix!
---
Bean, Was So Small When I Found Him
By: Pauline in Santorini, Greece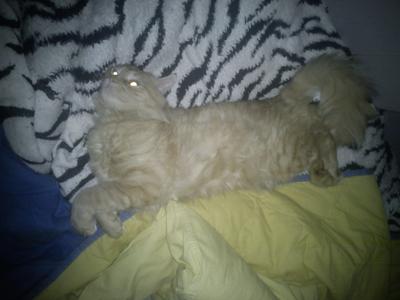 I found my love abandoned on the road in Santorini, a small island in Greece.
I took him home to take care of him. He grew up pretty fast, and I noticed his fur was getting really long-haired. So I searched on the internet could he be a mix of any kind of race. He is really sweet, like to cuddle, jealous of my other cat, lazy as hell.
But I noticed he is listening to me more than to my mother, like i'm his parent. So by noticing this personality and some characteristics like long-hair in his tail, near the head, fluffy paws and long hair between his fingers, long hair on his ears I figuered he might have something in him from a Maine Coon.
I would really appriciate if I could have your opinion. I'm sorry for my bad english, it's not my native language. Thank you very much.
---
Percy
By: Joann in Clifton Park, NY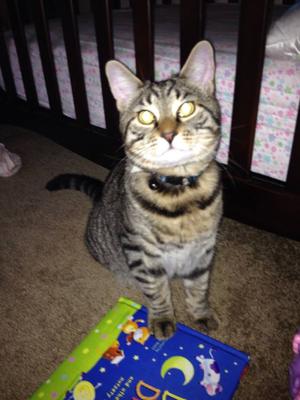 I adopted him from a shelter a coupe of months ago, he was 12 weeks old.
His paws are huge and he weighs (8lbs) twice as much as my friends domestic shorthair who is the same age as him. The vet said he might be mixed or could just be a big cat.
He has huge paws, long whiskers, a long tail, and a large M on his forehead, but he is also shorthaired which is not typical to maine coons from what I understand.
If anyone has a clue as to my cats mix I would appreciate it thank you!!!
---
Emihku- Maine Coon? Persian? Maine Coon-Persian?
By: Patrick Tolentino in Manila, Philippines
Hi there! I would like to seek your help in deciphering the real breed of our cat, Emihku.
Traits-wise (from what I've been reading), she is not as docile as a Persian. But she's also not as playful as a Maine Coon. She comes to me to be stroked and massaged as our play time. She also likes to bump her head in my face, when she wants to play.
Physically, her face is somewhat flat but not as flat as Persian. She doesn't have a relatively elongated face though typical of a Maine Coon. Her coat is long and silky (Persian) but is also uneven and shaggy in some parts like the tummy area (Maine Coon).
Her size is a llittle big, as big as our Snowshoe male cat, but still not as big as Maine Coons that I've seen in shows. She's definitely bigger and longer than our domestic short-haired cats.
So there you go. As you can see, it's quite confusing. We adopted her from a lady who bought her from a so-called breeder that claimed that she's a Maine Coon. No papers or documentation whatsoever.
Hope you guys can shed some light into Emihku's case.
Thanks a lot!
Patrick
---
Sammy, My Lovie
By: Patti in Hickory Hills, IL USA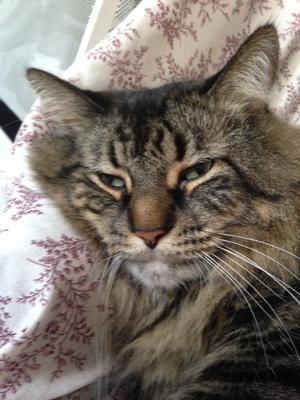 Sammy
I adopted my Sammy from a local shelter - he was in a cage with a whole litter and everyone else was sleeping and he was crawling up the side to get out - so I say he chose me!
I think his original name was 'Stormy', then I named him 'Harley' because his purr was so loud, then I settled on 'Sammy' because it rolled off my tongue went I spoke to him - so that one stuck. Oh - I also call him my Chunky Monkey.
Sammy loves to play and still acts like a kitten at 5 1/2 years old. Though I have to admit, he and my other cat Spike do like to brawl once in awhile. I think that Sammy is the alpha male of the two but sometimes he does get a run for his money!
He's about 17 lbs and I think he has all of the traits of a Maine Coon except maybe the pointy ears so I am curious to see what you think. As you can see from the photos today he wasn't into posing.. that's my Sammy!
---
My 9 Month Old Giant!
By: Maine Coon Hopeful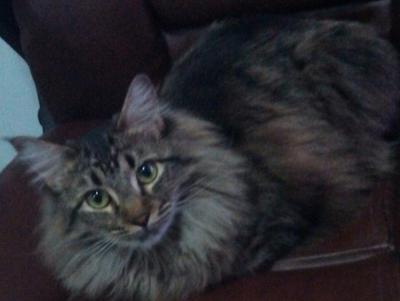 My Kitten Pie was from a shelter and he was 5 months old. He was bigger than the other kittens but he was also older so we thought that was the reason.
I wanted to find out more about him so we looked it up he has every single characteristic of the Maine Coon except the polypaw (we found out about that on a few other sites) but it also says they try to breed that out.
Pie is 9 months old now and he is bigger and longer than my purebred tonkanese who is 4 and a half.
Pie is loving and playful and his eyes make me think he can understand me. He looks right at me and bounds over and rubs his face on me. He can Jump High and Far and can run as fast at my other cat.
The Shelter labeled him a tabby but they also labeled one a tabby that was obviously a Siamese. He had a brother too but he was adopted 4 hours earlier so we could not compare and we don't know his original owners or if any papers exist.
Pie does this really cute purr meow thing and his little normal meow is so cute. He is normally calm around our other cat who does not like him and freaks out but other times when he is anyway and wants to play (as he has no other kitten play mates) he will chase her and he keeps pace.
He is normally calm when its just me here but when we have company he wants to be in the middle of it. He is my sweet and playful boy with high energy. I believe that is he is not purebred Maine Coon then he is half or partially and not domestic long hair.