This is Nero. I rescued him from the SPCA just two weeks before he was scheduled to be euthanized on June 2000. He was about a year old.
Nero lived with me on a nice peaceful patch, a quarter acre lawn, in a residential neighborhood for the remainder of his life; living up to all the expectations Maine Coon Cats are noted for.
In the spring of 2009, I realized that his snoring became excessive to the point that he was making the snoring sound constantly; even when he was awake.
In April, I took him to the vet and it was established that he had a tumor the size of a large marble growing on his nasal passage and partially blocking his throat.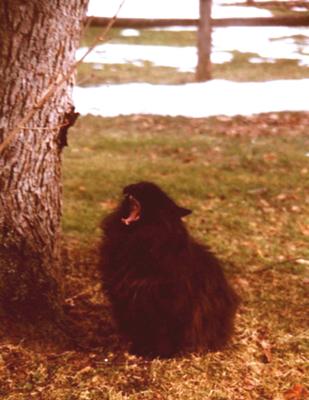 I had it removed and his breathing returned to almost normal, but unfortunately, he was diagnosed with having terminal cancer.

Over the next 5 months, I treated him like a king, plenty of soft things to lie on in all the rooms, a lot of affection, his favorite meal: sliced roast beef; and of course, a place on my lap in the sun on my lawn chair.

He went from his energetic little self weighing in at 17 pounds, to a slowly walking 7 pound creature that seemed to know that his condition wasn't natural - that something was terribly wrong.

Although his breathing grew worse on a daily basis, I kept him with me until I felt that he was no longer enjoying life.

On his last morning, he even looked at me like, "I wish this would end." And so it did.

I stayed right there next to him on the operating table as the drugs were administered, even placing my ear to his heart while he was asleep and hearing it say "Good-Bye."

Nero peacefully and painlessly slipped away on the late afternoon of September 3, 2009

His ashes and some fur now sit in a cedar shoebox-sized wooden chest on the window sill where he liked to sit and wait for me to arrive home every day.

It's just me and my 10 year-old black cat, Samantha; she misses him also.

My "Gentle Giant" is gone ... but will live in my heart until I am also gone.
Nero 1999 - 2009

More About Nero

Nero was not a person, he was a cat. But like a person, he had emotions, pains, pleasures, dreams, friends, and enemies, favorite foods and not so favorite foods.

He loved to be around people, especially toddlers, and even sat in my window looking at the neighbor's house waiting for the toddler to come outside. Then he'd exit through the cat door and visit his toddler friend.

And he was obedient; easy to train to stay off the roadway and remain on his property, his domain.

When not sitting on the kitchen countertop and watching everything going on, he was in the sink lapping up water from his favorite glass pot.

He wasn't afraid of the Irish Setters next door. In fact, he'd calmly approach them at the fence and just sit there watching them bark. He also wasn't afraid of the vacuum cleaner, but he'd cautiously keep an eye on it; the same with the lawn mower.

As you can see, he loved the fall and loved to participate in raking up the leaves with me. From the moment I first brought him home from the SPCA, I believe he made up his mind: "I enjoy being in the presence of this human, I think I'll co-habitate with him forever (cats don't see the future, only the here and now.). And so he did, right up to his last breath; he died from cancer at the age of ten.

On any given day in the United States - around 13,000 feral pets are euthanized in animal shelters. Don't encourage people to maintain puppy and cat mills by purchasing "Designer Animals, "We have enough pets waiting for a second chance to live already. Save an innocent life and bring home a pet from the SPCA.

Comments:

He was handsome!
by: Anonymous

I'm sorry to hear about Nero.

Nero; A Rescue Cat To Inspire Us All
by: Maine Coon Cat Nation

KC, what an amazing page you've written.

You've said it all here. You've brought Nero's personality to us all. You've made his time spent here so much more valuable by inspiring others to rescue a cat.

Nero was clearly one-of-a-kind, a true gem. And, a great example of the calm, secure, loving nature we all know and love when it comes to Maine Coon cats.

It's so sad that Nero's time was cut short. But, he knew how much he was loved and cared for.

Thank you so much for sharing your inspiring and touching story... and your magnificent Nero.

~Carrie

Beautiful Nero, Dawn of Spring
by: Anne-Marie, Haimish's Mum
I'm so sad and sorry for your loss of Nero, he sounds like a wonderful fur gentleman, just like my Haimish, and I so know how you feel, Haimish made his journey to Rainbow Bridge only a few weeks ago, after 18 years.

Nero will always be with you in your heart, speak only of him in the present as you will be reunited - and that's when your sadness and feeling of loss will instantly drift away.

God bless you for sharing your story and touching our hearts - you are so lucky to have found each other and of course sweet Samantha.

Maine coons speak to us in so many ways, their sweet gentle chirrup, deep purrs and joyful chatter, and his big beautiful main coon eyes will be looking on you and saying how much he loves you xxxxxxx

Beautiful story
by: Stephanie F
I loved reading about Nero and Tarzan. What a great cat owner you are, the kitty world is lucky to have you!

Nero - gentle angel
by: Anita
Kim,
Thank you for your kind words regarding the loss of our precious Kato kitty! It sounds like you had been blessed with a Maine Coon angel, too! I imagine Nero will always be missed, just as I continue to miss our angel!
Dennis & Anita

Beautiful Cat
by: Kim
Yes thanks for sharing what a beautiful cat Nero was and how lucky he was to have a great Mommy!

A Touching Tribute to Nero
by: Carrie
Kim,
With tears in my eyes I thank you for sharing Nero's story. It sounds like he was a wonderful cat, and clearly he is still missed. This is just so touching.

Thanks to you, he had a terrific and full life. He's your angel now.

Thanks again for sharing him,
~Carrie