His name is Cappucinno. I had the pleasure of being his best friend for 7 years. He was always by my side and was my world for his whole life.
He passed away this January 01/01/2012. I don't know how old he was, I adopted him from a shelter. He will always be loved and always be missed.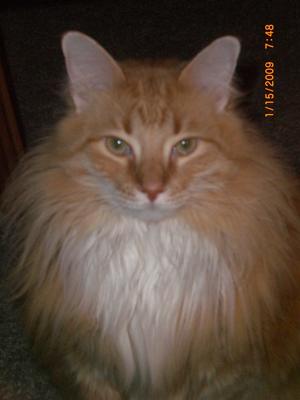 My baby tiger
comments:
Jan 12, 2012
My heart is with you!
by: Anonymous
Cinno is absolutely beautiful. I'm so sorry for the loss of your dear Maine Coon. It is so difficult to lose these magnificent animals and friends. Take care!

Jan 11, 2012
Cappucinno RIP
by: Dennis & Anita
Our hearts go out to you in your loss, Stephanie. Words can't heal the pain. Take it slow and take care of yourself...

Jan 08, 2012
So sorry!
by: Anonymous
It is one of the hardest things to get through and nothing anyone can say will make you feel better. Know that it will get better in time.

I lost my boy of 16 years after a battle with cancer and it was like losing my best friend.
I though I would never have another cat but one day I ended up at a shelter that had just rescued to Maine Coons kittens.

I had no idea what made them so special and it had been a pleasant learning experience they are 4 now. They will never replace Dudley but I fell in love with them too.

Jan 08, 2012
So sad
by: Frances
He will be in your heart forever. x :(


Jan 08, 2012
Cinno for short RIP your beautiful maine coon
by: karen - Melbourne
I had a tear in my eye reading about Cappucinno and to the other readers that have lost a treasured cat, so did I last March 2011 he was 13yrs old. Cappucinno is a really pretty cat and I know and feel what you are going through. RIP

Jan 08, 2012
shannah bella
by: debbie j
I feel ur loss. i lost my maine coon shan a few yrs ago to cancer. i had her 7 yrs and she was about 3 yrs old when i got her. she was the best cat. maine coons are awesome


Jan 07, 2012
I'm Owned By a Maine Coon
by: Morgan
I'm so sorry you lost your beautiful friend. These little fellows leave BIG pawprints on our hearts don't they! He will stay in your heart forever, he knows you loved him and he'll be waiting for you at the Rainbow Bridge.


Jan 07, 2012
RIP Cinno
by: Anonymous
Cinno was a beautiful cat, and my sympathies and prayers go out to you.


Jan 07, 2012
So sorry
by: Anonymous
I am so sorry for your loss. I, too lost my Maine coon, Handsome in December. I had him for ten wonderful years! It is tough to say goodbye to an unconditional love, but try to remember the good times and how lucky you both were to have found one another!

Jan 07, 2012
So sorry
by: Sharon Duffy
I know how hard it is to lose your treasured pet. My rescues are older cats too, so we never know how long we have the pleasure of their company. Just think how wonderful you made those 7 years for him, and how lucky you both were to have found each other.Their lives are short, but their love is so big.....

Jan 07, 2012
Cappucinno
by: Janis
So Sorry for your loss. I truly understand your pain and loss. Will pray for you. God Bless

Jan 07, 2012
Beautiful friend
by: Jill
What a beautiful cat....I am so sorry for your loss and hope the love you have for him in your heart will comfort you.