Bullwinkle is a beautiful boy that I got from my friend and co-worker Peter.

About 15 years ago I got a short-haired tabby kitten also from Peter named Jasper. He was a great cat, but we lost him unfortunately, and I was very heartbroken.
A few months after losing Jasper, Peter announced that his cat was going to have a litter and offered me one of the kittens.
He knew I missed Jasper so much, and he knew how well I had cared for Jasper over the years.

When the kittens were born, there was one striped male, and I fell in love instantly! I do have to admit though, I love any and every cat instantly!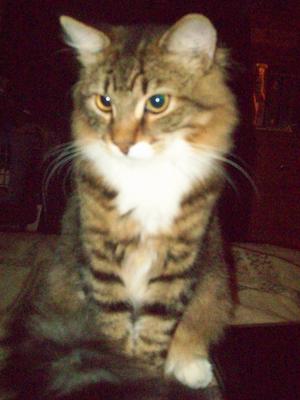 Handsome boy
Bullwinkle came into our lives at a time when my husband had just suffered a serious injury to his hand which required many surgeries and a lengthy stay in the hospital.

A few weeks after my husband was released from the hospital, Bullwinkle was old enough to leave his parents and siblings to come here with us to his new home.

He sensed right away that my husband needed extra TLC of the feline variety and stayed by my husband's side constantly!

As my husband continues to recover, Bullwinkle has become part of my husband's physical therapy routine in the form of play.

Bullwinkle has a grand time playing while my husband hones in on developing his left handed skills, since it was his right hand that was injured.

Months later, my husband still has no use of his right hand and faces more surgeries but Bullwinkle has certainly helped him be a better "southpaw".

Bullwinkle has an individual relationship with everyone in the household. With me, he is the "baby". He knows I am the one that looks after his needs, and he seeks me out to brush him each evening.

With my son, he is the hellion. Wants to play like crazy and go totally nuts with him. With my little girl, he is the guardian.

He waits patiently each morning for her to wake and then eagerly greets her with his sweet little chirps, purrs and baby-like meows. He then follows her around like a puppy while she completes her morning routine.

Bullwinkle is not a purebred, but certainly has several, if not all Coonie attributes.
He is very vocal in his "baby" voice, he is very fascinated with water. He has all the physical breed standard features, and his personality surely fits the bill.

Bullwinkle is 10 months old now, and weighed 10 lbs at age 7 months when he went for his last vet visit.

I would guess him to be around 12 lbs. now. He is going to be one big fella. I think that Bullwinkle is an appropriate name for him too because he is going to be a moose!!

All in all, Bullwinkle is a great cat, and we are all so happy to have him here with us. We love you Bull!!!


comments:
Bullwinkle
by: Janie Minick

Congratulations for getting a wonderful new family member. He will bring joy and laughs.

@ Anonymous
by: Jackie

Thanks for the comment:-) I think that there are many good books and articles that you can find out info to further investigate whether or not your kitties are angora.

I knew Bullwinkle was at least in part some sort of unique breed so I looked at hundreds of pictures and read several items including CFA breed standards etc. in an attempt to find out what he may be.

I wasn't sure whether Bullwinkle was a part coonie or Norwegian Forest cat. After some investigation I found he had more coonie attributes as opposed to weegies. Either way, cats are great and we're fortunate to have them bless our lives.

Yep
by: Anonymous

I think he is for sure, his face says it all for me, but of course he has some other features as well.
I have a calico, long haired,,big fluffy tail small face and neck, I don't think she's Maine Coon, I'm thinking more Angora, any suggestions on how to find out? I have one of her kittens as well, and she looks exactly like her.

I think Bullwinkle is beautiful...