August 2012 Maybe-Maines
Meet the August 2012 Maybe-Maine Coons and Mixes. Do you think they have some Maine Coon in them?

Maybe-Maine Coon Cats For August:
Is she a Maine Coon or Mixed?
By: Tim I in Hanover Park, IL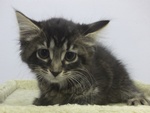 I adopted her in July 2012 from a shelter at 12 weeks, and now she is 16 weeks. Madison always follows me around the house, when I take a shower she waits by the door for me to come out.
Madison is always vocal more so than any other cat I owned before, likes to play, always sits by me on the couch when I watch tv or work on my computer.
Madison eats all the time and tries to get at my food when left on the counter, or when I'm cooking she meows constantly till I give her a treat. she don't like to be in high places she stays close to the ground. Well thats all I can say about her I haven't had her too long.
---
He Adopted Me
By: Alicia in Alexandria, VA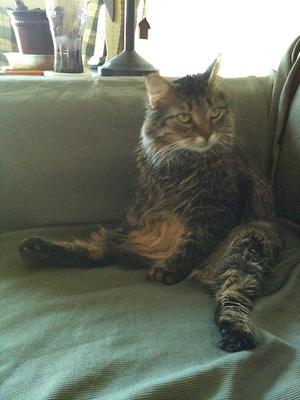 His name is Sancho and he adopted me. I was looking for a new kitty to add to my family so I was checking shelters in my area and I found a few I wanted to meet but unfortunately I got sick and ended up in the hospital having surgery so I asked my aunt to take my daughter to pick one out for us and when they came to visit me they told me about Sancho and how sweet he was.
When I got released from the hospital the first stop we made was to the shelter to see this amazing cat that my daughter "couldn't live without". This may sound unreal but trust me its not lol, I was sitting in the little room waiting for the woman to come talk to me and find out which cat I was waiting to meet when this ball of fur came out of no where and jumped in my lap and would not leave! It was Sancho!
My daughter (4 years old at the time) started yelling "mommy thats him, thats the kitty i want"...Long story short he adopted me that day and he's been part of the family for over 2 years now.
Sancho is a sweet boy who thinks he's a human at times and a dog..The shelter he was in told me he was Maine Coon/Manx mix, he has medium hair, no tail and from what I've read on here about Maine Coons he has more than a few of the characteristics...No matter his breed he owns me! He has a special place in my heart and family forever.
---
Pooky
By: Diane in Landen, Ohio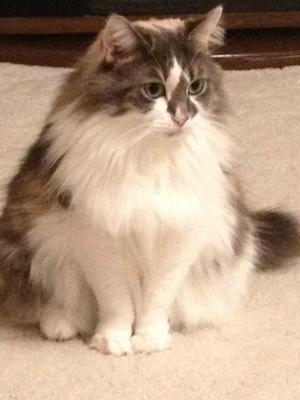 Pooky is a fluff ball, has short legs, a soft cotton body, and is different from any cat I have ever owned. We would love to know what everyone thinks she may be....her colors are really unique.
---
My little munchkin, I see so much Coon in him, do you? I don't want my love for him to impair my judgement!
By: JoAnn Vidal in Caguas, PR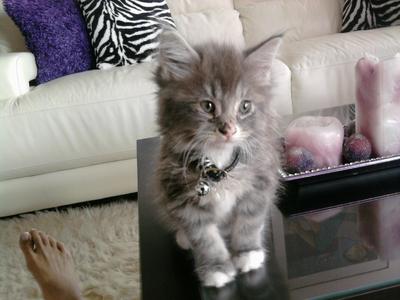 This cutie was found crawling under a car in the parking lot of my residential complex. I took him in with the intention of finding a home for him or a car was going to run him over. I realize after much research that if he were to be a purebred no one would of left him there and he was too tiny to escape.
He was dirty, had fleas, eyes half shut with gunk, who knows how many days he had been wandering. Immediately put him under the faucet and gave him a nice warm bath, fed him and then he slept for hours, poor baby. He didn't even know how to eat on his own. I had to bottle feed him for about 2 weeks before he started eating on his own.
Don't need to tell you that as the days went by I was more in love with this little guy and so was my dog who could not get enough of him. He is 1.5 years now (aprox) and he has become a gorgeous big cat who catches the eye of everyone who sees him, even at the vet's office.
We live in PR now so he is not a common cat here. This is my first cat so I'm always staying up to date in cat matters because he has become one of the loves of my life. Love him to death and I'd love to own a purebred one because I am just fascinated with this breed.
I'm so glad that the person who told me to hold him for her (she was travelling) changed her mind about keeping him and all I want to tell her is what a big loss of owning not only a beautiful cat but a gentle and loving one at that.
Comments:
Faye Williams: Such a sweet story and a beautiful kitty. He looks so much like the kitty I just lost. I gravitate now towards this coloring. Whether a pure breed Maine Coon or mix I think their gentle and loving characterstics come out. They are truly an amazing breed of cat and I wouldn't have any other kind. I'm looking now for a little someone to love.
Carol: What a doll!!!
---
Just acquired Chispa, a Maine Coon?
By: Deborah Hill in Mannington, NJ, USA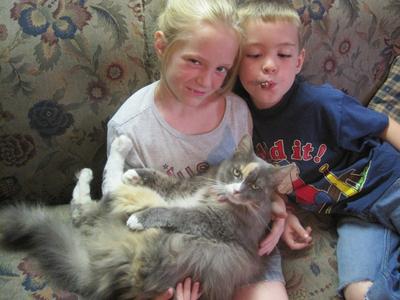 We have family moving and asked us to take their beloved cat. I've always wanted a Maine Coon and now I think I have one! She is about 6 yrs old, 14 lbs.
But she was adopted from a shelter when she was probably around 2 years old, and that is all we know. Her color is torty I guess, with a mix of gray, brown, orange/rusty, with white markings. She does NOT have tufts on the tip of her ears. But I'm wondering if its because she's female.
She's still a little to herself, but she's also only been here 2 weeks and we have another cat. But when comfortable she wants to sleep right in front of my keyboard while I'm trying to work. She definitely does that "talking" thing. Making verbal responses when spoken to. She has long hair on the bottom of her paws.
So I'm thinking she is probably full-bred. What do you think? She was so loved by our family members, they didn't just want her going to anyone. They say she was very friendly, and I'm sure she'll be more "around" as she gets comfortable with her new home.
---
Strange Maine... grin!
By: Kim in Calgary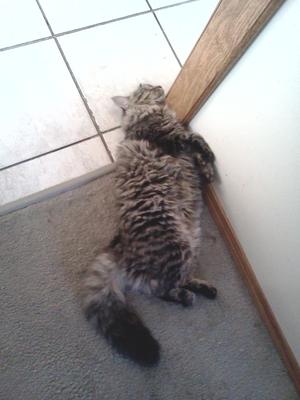 Toby's fav spot, right at the corner between the livingroom/hallway and kitchen
Toby is less then a year old. He was found on a relatives front porch after a bad rainy night, he was barely old enough to be weaned. They gave Toby to their daughter, who in turn gave him to her daughter who wound up being allergic to him.
We took Toby when we found out she was going to bring him to the SPCA. Toby fits right in with our 11 year old cats Pheonix and Thunder and our Chihuahua/Pug cross named Boo. Toby and Boo are buddies, running around the house causing trouble until Toby flops to the floor and Boo pushes against his belly using him like a dust mop; Thunder is like the aunt who will quietly play with you but cuff you upside the head when she's had enough and Pheonix is like the big sister you bug all the time.
From what I can tell Toby is a Maine Coon mix in looks but a lot of the attitude of a full main coon. I'm hoping he'll get a little bigger. If anyone can tell me what he might be mixed with or if he might be a full Maine, let me know.
Comments:
Kim: We've been able to determine that he is at least a Maine Coon mix... the older he gets... the more we will see.
---
My Cat Rocco
By: Jaime T in Pittsburgh, PA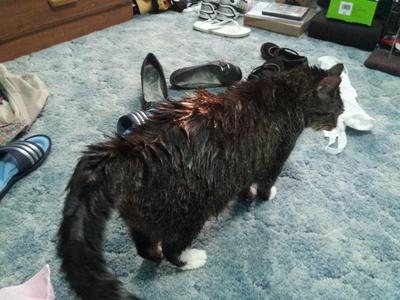 After a shower
I got Rocco from the Humane Society when he was 5 months old. He is now 3 and I only recently became aware of the Maine Coon.
I think he may be a Maine Coon mix. His fur isn't super long, but it is longer under his belly and his tail is quite bushy.
He has extra hair on his ears and lots of fur in between his paw fingers. He is very gentle and sweet and weighs about 14 lbs.
The other thing is - he loves water. He actually gets in the shower and lets the water run on him.
---
Spike
By: Lillian Heenan in Peterborough Canada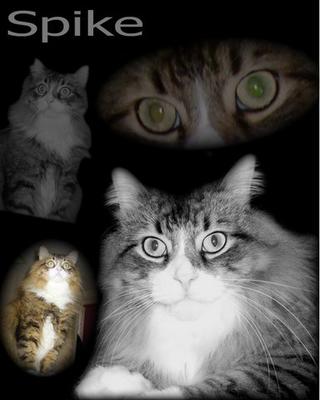 Spike is 8yrs old, he is Diabetic has been for one yr and a half. Blood taken twice a day and insulin given twice a day. He's the love of my life, he's very smart and can follow instructions which makes everyone laugh.
I took him to UK then back to Canada, he hates travelling, still looks horrified when he hears an airplane, sounds stupid because according to some animals live in the moment and don't remember things that happened yesterday, but he does, he's a one woman man lol
I'm not 100% that he's a Maine Coon, maybe you could tell me by his pictures
thank you
Lillian and Spike
Comments:
Sherie: Spike looks like a Maine Coon to me, I have one, he is 4 years old, yellow tabby his name is Booger, I will soon send a picture
Lillian Heenan: forgot to mention when I sent Spike's picture in, when I was in UK a Maine Coon Breeder was the one that informed me Spike was a Maine Coon, I only questioned this because I bought Spike from a pet store, he was in there exactly 5 mins before I purchased him xxx
---
Max, When I First Got Him
By: Elizabeth in Tennessee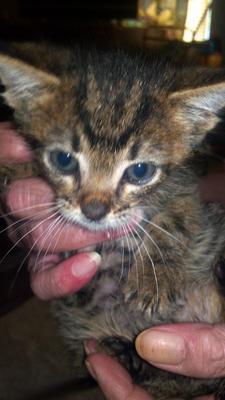 Max is an adorable bundle of energy, and thinks my lap his own personal bed! He follows me everywhere in the house. He also sleeps a lot, since he was only two weeks old when I rescued him, and is four months old now.
He is a dark and light gray stripe, has the Maine Coon ears, tufts and big feet, the right nose, and slightly feral look to him. Especially when he doesn't want to do something. But he's so playful, and very verbal! He looks me straight in the eye and sort of mews and purrs at the same time, some call this trilling.?
He is very, very smart, came to his name in three days after I got him, litter trained that same night, and loves his toys! Very curious, of course! lol
He has the squarish rectangular body, but his tail isn't that fluffy! Wish it was! He has the ear and toe tufts, but not any descernable main that I can tell as yet. But he is a paricular beauty and too adorable for words. I do intend to keep him as strictly an indoor cat, and will have him neutered. Never declawed, however. He is docile enough that I can clip his claws, which grow very fast, myself. He doesn't mind at all.
He is very hospitable and greets everyone at the door and will sit on their laps, for a short time, then he's glued to my lap again. I really don't care if he is,or isn't, a Maine Coon Mix. I love him.
---
A bit of Maine?
By: Flipper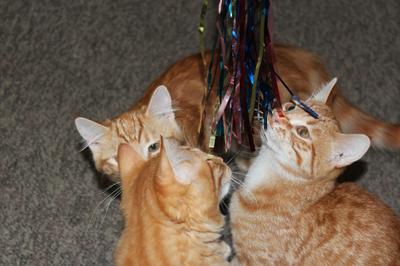 Well, these wonderful creatures were abandoned at about 10 weeks of age. I found the 3 of them more of less together along the same fence. I found them after a storm. These photos were taken recently at 15 weeks of age.
The boy (the one of sitting on the desk) is huge he is weighing in at 7 lbs, the other 2 are girls are they are over 5lbs. My friend figures they have Maine in them due to their coat colouring and characteristics (toe & ear tufts).
I've looked it up and characteristics say yes. They all have diff coat lengths which was nice so I could tell them apart when they came home.
Yes, they now have taken residence with us and are very happy and loving. I am truly happy to be their owner. I know they aren't purebred but they are beautiful.
September Update:
I found these three darlings abandoned in a parking lot when they were only 10 weeks old. I looked for lost ads etc and decided not to take them to the local shelter as they are always overrun with kitties. Original plan was to find homes but my hubby and I decided to keep one and I suggested to keep two (we kept the two girls) so they can keep each other entertained.
I ended up with their brother (he was adopted and he came back and I was unable to find a home for him). I saw an ad on a local webpage that were selling part breed Maines that makes me think these kitties have Maine in them as the red coat on the one seems to match the "classic red" (The boy is 5 months and pushing 9lbs and his two sisters are over 6lbs now. They are such loving kitties.
I feed them Blue Buffalo Wilderness Kitten (dry and wet) and have also been introducing other high quality (grain-free) wet foods as well.
Their names are Hope (the one with the more red coat), Faith (is the shorter haired kitty) and Garfield (the big one. He got this name due to his size and his love for food.) All three are extremely loving considering their start in life was not so good.
---
Watson the lost kitten
By: Tiffany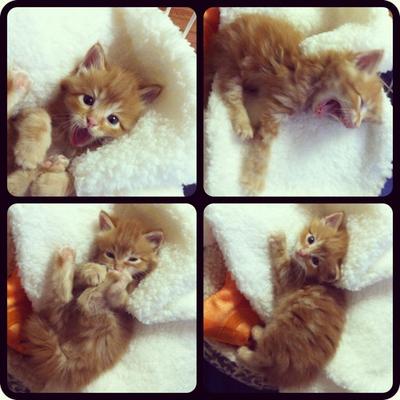 Our kitten Watson, is about 9 weeks old and was brought to my husbands school by one of his students. We got him at about 4 weeks old and he is quite the funny, fluffy guy.
Unfortunately for him, he is our only cat so he is being raised by humans and ferrets, he doesnt know what he is! We suspect that he may be part Maine Coon, at least because he seems to have some of the traits, well as far as we can tell from a kitten!
Watson has big ol' paws and eyes, hair tufts coming out of his ears, he is a big fluff ball and as he is getting older he is getting longer hair that almost makes him look like he stuck his paw in an outlet! He also has hair between his toes and this crazy tail that whirls around in circles.
Personality wise he is ALL kitten! He is such a love-bug one minute and crazy little monster the next (he never learned manners from mom). He has the loudest purr that sounds like a motor boat and is very vocal.
He is always crying and talking and loves to make chirping noises when he thinks it is time for his ferret friends to come out of their cage!
Comments:
Carole: He definitely looks like he has some Maine Coon in him, if not all.. He looks just like our kitten Genghis, and just he is very vocal and cries and chirps all the time...he is adorable.
Jenny W.: Looks just like my Gabriel when he was a baby!
---
Is my rescue kitten Kai a Maine Coon mix?
By: Hope in Tennessee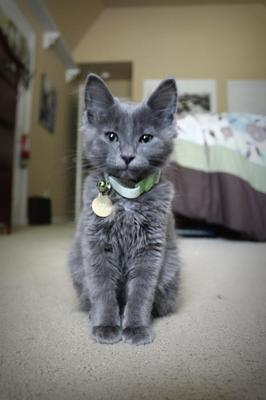 So this is my 3 month old kitten Kai. We recently rescued him from a local shelter. Im not sure what breed he might be but the shelter staff said he looked like he could have some Coon in him.
He's very playful and social, he never likes to be alone and will let you know where hes at if you're out of his sight. (very loud meowing 0_0) Hes taken very well to our two poodles in the house ..I swear he thinks hes a dog...he even follows us on our walks outside.
Hes a light grey with medium long hair and has a very long body and tail. All that was on his papers was a domestic medium hair :D If he is alittle part Coon thats great! But if not I still love him just as much ;D
Comments:
Elaine: One thing is for sure...this kitty is as cute as cute can be!!!!!!!
---
Finn's Story. Maybe Coon mix?
By: Jennifer in Hartford, Ct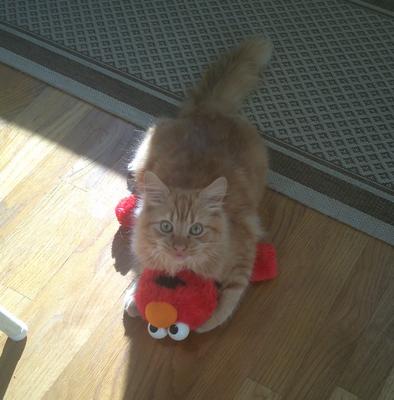 Finn is just over a year old and weighs approx 10 lbs. He came to me as a kitten from a person I work with and he was the only kitten from the litter. He was weaned a little too early and as a result, has a suckling issue which we are working on but otherwise is a wonderful cat.
He has a great personality, much like what everyone describes on this website. He fetches, we play tag and he jumps so high, its amazing! He greets me at the door when I come home and follows me everywhere, unless he is sleeping.
He is a little skittish around a lot of people and mostly around new men, but he warms up after a bit to those he likes. He never scratches me when we play and he is very smart. His favorite toy is a stuffed Elmo doll. Its quite comical, he carries it around in his mouth like a dog, brings it to bed or wherever he is laying around at the time.
I wonder if he has some Coon in him? He lacks the definitive tufted ears but his tail is unlike I have seen in any cat I have owned, so long and fluffy. He also has the fur between his toes. What do you think? I am just curious how big he might get? He is just starting to fill out now and finally has grown into his head :)
Thanks in advance. I loved reading everyone's stories. Great website.
Comments:
Marg: I would say going by your description that Finn is definately Maine Coon X
---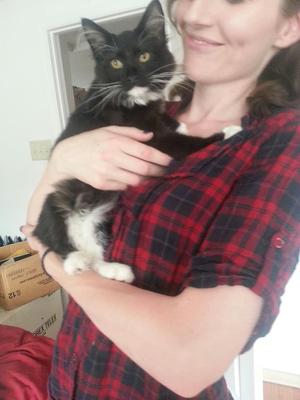 Yoda
By: Lindy in Camby, IN
He was adopted from the indy humane society. Yoda has pointed/tuffed ears tuffed toes and ears and a very poofy tail, but he has a very small frame so he is deff not full Maine Coon and short coat, the vet thinks hes about three, so I do not think he is going to get bigger, let me know what you think
---
Lili
By: Hafiz in Malaysia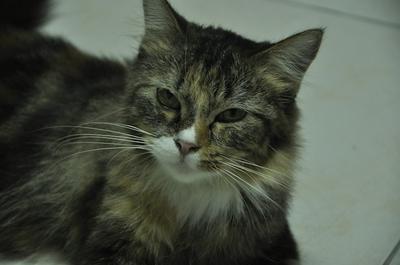 Hi, this is update regarding my Lili.
She is now 2 years old, and just want to ask again whether she has a trait as maine coon or Maine Coon mix.
Comments:
Joy Throssell: Lili has Coonie in her I am sure. Tufts in her ears.. and what about her personality?
Hafiz: her personality - very active, playful, friendly, and most important she like to play with water
---
Not sure if Buddy is a Maine Coon
By: Richard in North Carolina, United States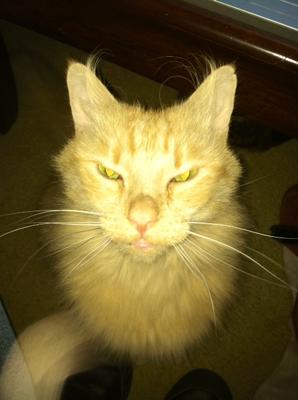 This is Buddy! I call him that because after he got used to me and being in a new house, he became MY BUDDY!!
He talks to me constantly, loves to be in my lap or at my feet, he will even sit up on his hind legs like a dog for a treat! I actually was looking on Craigslist for a Siamese, when I found Buddy.
Previous owners wanted to give him away because there was a new baby in their house, and she said that he didn't like her husband.
Comments:
Richard: Judging from the pictures that I have seen from the other coonies on this page, their colors, their size, their mannerisms, I have come to the conclusion that My Buddy is in fact a Maine Coon
---
My Name Is Haze Could I Be A Maine Coon
By: Courtney in Calgary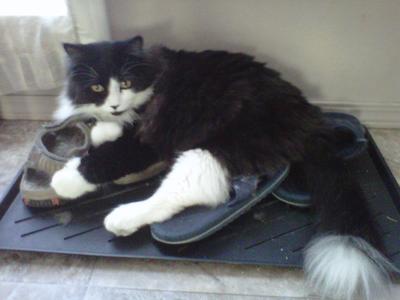 Hi my name is Haze I am 17 months old my mommy got me when I was a kitten for free.
My mommy thought I was just a fluffy little kitty till I was 1 and I weighed 12 lbs so my mom Googled it and Maine Coone was mentioned and ever since has been researching all about Maine Coons.
Here are my traits:
I have ear hair that comes to a point on the tip of my ears
I have big round feet with long hair in between my toes
I have a fluffy mane like a lion
I have a fluffy raccoon tail that almost reaches my head
When I lay on my back I look like a rectangle
I have all the same size of legs but they look shorter then my moms other cat
I have a very friendly attitude, I love to cuddle and stand up on my hind legs and give everyone hugs.
When I play with toys I play like a dog and bring my toys to my mommys feet so she can throw them for me, my favorite toy is a crinkle ball and I could play with that ball all day I love to put it in my water dish and fish it out.
I love to be up on high things and you will usally find me on top of the kitchen table sun bathing.
I always have to be in the middle of what my family is doing and sometime I am so close when following them they trip over me.
I always greet my family at the door when they get home.
Me and my mom would really like to know if you think I could be a Maine Coon or a Mix please let us know
Thanks for your time
Haze
Comments:
Elizabeth Walker: Haze has just gotta be a Coonie. He has all the characteristics of Mr. Jacob J. our registered Maine coon cat.
---
Could Lucky be a Coon mix?
By: Deb in Browns Plains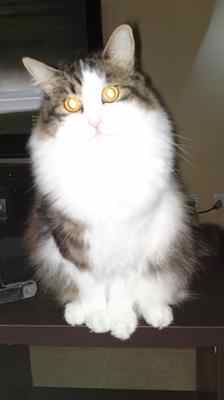 Lucky is a three year old female. She has a very substantial ruffle around her neck which is quite a bit longer than the rest of her coat. She also has a very bushy tail. She has a relatively small head but this does not look disproportionate.
She insists on being the centre of attention and is very vocal. If she wants a pat the whole house knows about it. When we return from work each night we are greeted with a wholke lot of chirping chit chat.
She is never alone but always with one of her humans or our other cat. She is friendly to all she meets. She is very loving, loyal, cheeky, funny and playful. I have sent a few pics of my little girl for you to comment on.
---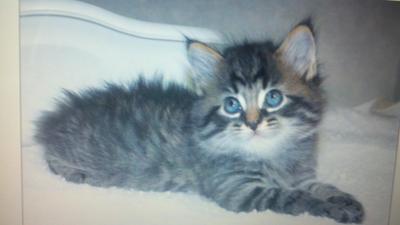 Is Bentley a Maine Coon mix?
Adopted from the shelter. Mom is a small frame short haired bob tail.
Comments:
Carole: He looks like he is part Maine Coon, watch the tuffs of hair in his ears.
Melody: Yes, Bentley is definitely a Maine Coon. He looks just like mine when she was little. Too cute!! :)
Sherie: he's a maine coone, see the big m on his forhead
---
My Cat Jarvis
By: Kat in Arizona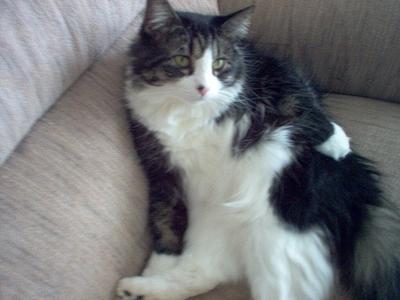 I got Jarvis at a flea market/swap meet when he was 8 weeks old. It was just him alone, in a box with a family who didn't speak English very well, so I don't know his origin. He was a very fluffy kitten, and when our eyes met, I fell in love instantly.
Now, he's going on 7 years old. He's a very large cat with a thick shiny coat and fluffy tail, which he seems pretty proud of. He often gets a lot of comments for his size, though he isn't fat. His body feels hard and muscular.
Personality-wise, he's different than any cat I've ever known. He tends to follow me around the house "talking" to me. He meow is unusual, too. More of a low chatter than a straight up meow. When he's "hunting" birds in the window, he tends to make a slower version of his chattery meow, with his mouth barely open.
He's pretty lazy, but gets playful at night, and likes to run back and forth across my bed to wake me up. He's independent and likes to be the one to initiate cuddles. When he does feel like being loved on, he's very aggressively affectionate and will climb on me and lay on top of me.
So, what do you think? Could he have some coon in him?
Comments:
Debbie: He definitely looks like a Maine Coon. What a handsome boy!
---
Maine Coon cat in Ontario
By: Peter in Orillia, Ontario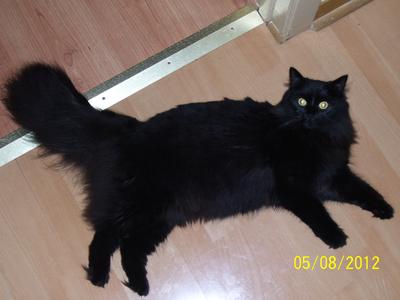 She was dumped in our driveway about a year ago as a very young kitten. We took her in and she has been a delight to us ever since. She has all the physical /personality traits listed on the Coon site apart from being sociable with strangers ... she will always head for a "hidey hole" (maybe this is from her time as an "dumpee" and hiding under our back deck)
From reading the Coon site we are about 90% certain she is a Maine coon and would appreciate any input.
Many thanks,
Peter.
---
Maine Coon mix perhaps?
By: Belle in Los Angeles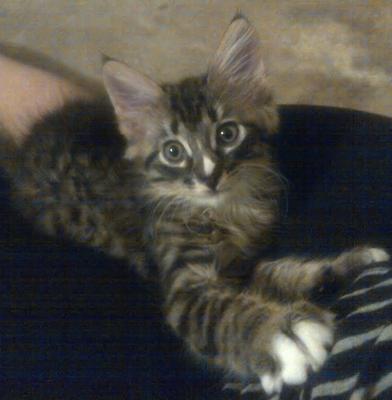 Hello, we have an eight and a half week old kitten who we rescued, and she is just the loveliest thing. We named her Izzy and it is just such a perfect name for her, as I read the meaning of it is "Gods promise" in Hebrew.
She is very sweet and playful, and loves to wrestle with her little toys. Izzy is the type of kitten that would just be so hard to resist once you've met her, such a loveable darling she is. However we had a wondering question, see she has pretty big ears (maybe since she is a baby), but she also has what seems like lynx tips.
Now I could be wrong and it could just be her baby hair, but I would like your opinion. Are the hairs on top on her ears considered lynx tips? Is it possible she may have some Maine Coon in her ancestry?? So many questions I know, but I would appreciate and opinion or answer.
I have attached some images to show alothough they may not be the best, but they are still viewable. Do do let me know what you think. Thank you and many blessings!!
Comments:
Laura Nelson: Definitely a Maine Coon-the M on the forehead, the lynx tip ears.
---
Callie
By: Bobbi in Evansville, IN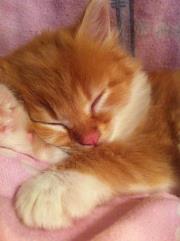 Sleeping Kitty
We found Callie when she was about 5 weeks old. She loves our terrier mix and followed her around as a kitten like it was her mother.
Sometimes she acts more like a dog than a cat, trying to join in a game of fetch with the tennis ball. She's got long, silky fur with a big fluffy tail, and she is huge- she loves to eat!
Sometimes she's very loving and cuddly, but most of the time she wants to be around us, but she doesn't want to be held or stroked. She has to see everything that's going on, and there's not a box or a bag that she hasn't gotten in at least once.
---
Meet Bella
By: Jim C in Celina, TX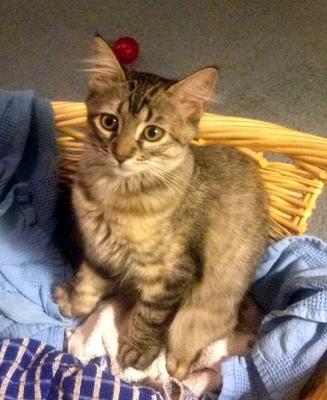 She is only about 4 months old and a is without a doubt the smartest cat I have ever owned. We adopted her from the local animal shelter and I she is around 4 months old.
She is very people oriented and must be beside my wife or myself at all times. She doesn't really want to be in our laps, but just laying beside or at one of our feet whenever we are sitting.
If one of us is up moving around and leave her sight, then she must find you and be involved in the activity.
Her tail seems to be as long as the rest of here entire body. First cat I have ever had that loves water. She no doubt is full of Coon characteristics as this site has pointed out. We absolutely love this cat and she is great with out 12 year old male tabby that is extremely timid and scared of everything.
Comments:
BJ Batchelor: :3 Bella is a mirror image of my Coonie, Cabbage Kid's Buffee Moon, at that age. In a couple of months, her ruff should begin to fill out and she will begin to really bulk up around a year. Remember, Coonies take about 4 years to attain their fully grown size!
---
The Orange Teddy Bear
By: Madeline in Birmingham, AL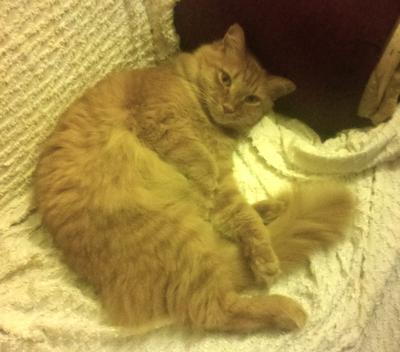 Rub my tummy? Right now I'm in my
summer coat, so I'm not as fluffy as usual.
Hi, I'm Tigger! I'm a 7 year old, 16 lb Coon mix.
My hobbies include sleeping, cuddling, watching tv, purring, eating, and playing like a kitten!
I am King of the Lap!
---
Does Patches look like she has some Maine Coon in her?
By: Darlene in Ohio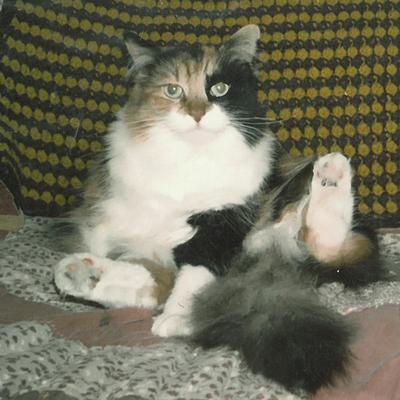 Patches is a larger size cat but only weighs about 8.2 lbs. She was about 9-10 lbs. when she was younger. She's about 12 now. She has bright, curious eyes, big fuzzy paws, a fluffy mane, and a beautiful fluffy tail.
I've read that Maine Coons have an "M" on their forehead. When I look at her, I can almost make out a faded "M". She does sometimes have that feral look about her, especially when I found her outside and brought her in and adopted her.
Well, I guess she adopted me. She's very curious and has to check out everything in the room, especially if something has been moved.
Disclaimer: When you buy through links on our site, we may earn a small commission.
As an Amazon Associate I earn from qualifying purchases.
Our Coonies use and love:
Greenies
4.7 stars; 3.6k ratings
Furminator for Longhaired Cats, Large
4.7 stars; 15k+ ratings
Double Layer Waterproof Cat Litter Trapping Mat
4.5 stars; 56k+ ratings