My recently deceased Coon was called Arthur and he lived to just over 13 1/2 years, though we hoped there was more left in him.
Until a few days before he died, he was still agile, fast and food loving, but went lame over a 3 day period and was thought to have a thyroid problem gone into overdrive.
Sadly, upon examination at the vet, he was diagnosed with feline leukemia despite showing no symptoms and being vaccinated, so was put to rest as I could not bear to see him fail any more.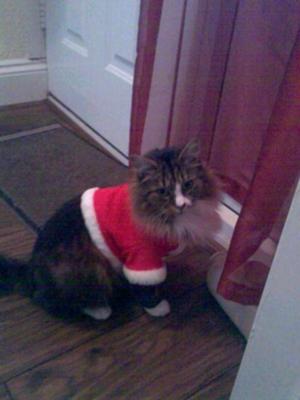 In his Xmas jacket, which he wasn't too thrilled with!
But enough of sad times, he brought us many years of joy, although without sounding big headed, seemed to have a special bond with me as he was a generally apprehensive cat.
He came to us as a kitten from a litter of 3 coon varieties (2 male, 1 female), though his mother was a small black cat!

He knew the sound of my car and would always run out to meet it, sometimes galloping down the street like a horse.

And wherever he was hiding in the house, the sound of my voice entering the house would cause him to come to me.
He could knock to come in by standing on his back legs and tapping (very persistently!) the doors or windows with his front paws, and would give a little chirp every time you let him in.
He would also chirp every time you made eye contact with him, making for an amusing game of back and forth head turning sometimes!

His sleeping positions were bizarre - would start in a ball, but would give a big stretch at some point and hold that as his sleeping position for long periods!

He wasn't much of a lap cat. Would jump up for attention, but would often jump off again just as quick, sometimes after a few seconds.
However, if you were laying down, he'd like nothing more than to sleep lengthways between or on your legs!

He also enjoyed finding new places to sleep, sometimes being found in the most unexpected places, from prams, to toy suitcases, to cardboard boxes.
If it was new, he'd try it out! His favourite (but strange!) stroking position was to be smoothed while laying down, between his body and the surface he was laying on - he couldn't get enough of that!

But his best trick was how to get his paws on food - especially the Whiskas fish variety.
He would leap onto the kitchen table and stay there till you got the tin out, and would jump straight back up if he felt he deserved more.

He also had worked out that as it seemed a general rule that he was fed as soon as he was let in, then that was a crafty trick to get more - as he would often ask to be let out, only to return minutes later and head straight for the food dish again!
He would also try this trick on different family members, with the latest one sometimes not realising he'd only just been fed!

We've just had a new black and white kitten whom we all love, but I will miss Arthur dearly and now realise what a special and unique breed he was now that he has gone.

Mr J Taylor-Goddard


comments:
Apr 28, 2012
Arthur
by: Anonymous
So sorry for your loss. He looks exactly like my Digit and acts exactly like her. What
beautiful cats and how lucky we are to have them in our lives.

Mar 12, 2012
Thanks
by: James
Thank you all for your kind comments - all the better for remembering him by... :0)

Jan 15, 2012
Arthur
by: Pat in Ocala
I know that you miss Arthur, but he was fortunate to have lived with you. He had a good home and a happy life with you.
I have MiMi, a Maine Coon that I adopted from the County Animal Shelter as a kitten and is now 1 year, 6 months old. She brings us much joy.

I still miss my calico cat, Patches - had her 19 years, and Rusty, the ginger tiger - 9 years, and the many other cats that have been a part of our family, but I am thankful for the privilege of knowing them.

I wish you peace with the knowledge that Arthur enjoyed his life due to the love and care you gave him.

Jan 07, 2012
Arthur
by: Dennis & Anita
Our hearts go out to you, James! Furry friends are more precious than others can know!
It sounds like you are a better person for having been touched by Arthur's life - just as we are better people for having been touched by our Kato Angel. Take it slow and be good to yourself!

Jan 04, 2012
Beautiful
by: Dunja
So sorry for your loss. He was such a character!! Just lovely!

Jan 04, 2012
Arthur RIP Kitty Cat land
by: Karen - Melbourne
I am saddened to hear of your loss of Arthur. I know what you are going through.
When the Vet tells you your treasured adored cat has feline leukemia - I had a beautiful tuxedo cat (black white) wasn't a Maine Coon but he passed away last year at 13yrs old of feline leukemia and Severe anemia.

I had him cremated and put into a beautiful timber box and he sits on my computer desk beside me. Now I have a 11month old Maine Coone she (her name is Tass) has the same colours as Arthur. I will always think of your Arthur when I look at her.

Jan 04, 2012
R.I.P. Arthur
by: Gueneviere
He was a beautiful cat... I hope my Puffer, who just turned 7, lives a long and happy life just like your boy did ♥

Jan 03, 2012
Arthur
by: GinniP
How lucky you were to have Arthur in your life!! I am sad to read that he is gone but I know you will keep those precious memories tucked away in your heart. Our Coonies are such special cats....

I have never had a cat that understood so many commands before.....is it really a command....more like a question with a cat. LOL. Many your new kitten bring you many years of love and joy.


Jan 03, 2012
Your Arthur
by: Buster and Isabelles mom
I am so sorry for your loss. Nothing will replace him but you have his memories. I believe there is a kitty heaven and he is there waiting.


Jan 03, 2012
Arthur's departure
by: Deb
Sorry for your Loss!!

Jan 03, 2012
R.I. P. Arthur..
by: Anonymous
Sorry for your loss.Beautiful boy!

Jan 03, 2012
Arthur
by: Sharon
Arthur was a beautiful boy. I feel your loss deeply. My Arthur is 13 1/2 and healthy, knock on wood. I cannot imagine life without him and know you must be missing your Arthur terribly. Rest in Peace sweet boy.

Jan 03, 2012
R.I.P. Arthur
by: dawdle
So sorry for your loss. may he wait on the rainbow bridge until you meet again xx

Jan 03, 2012
rip Arthur
by: Anonymous
Everything you said about your lovely boy was exactly the same as my MC, even to knocking on the door to come in. Our boy was 14 when we lost him and know the loss you must be feeling at this time.

Although we lost Tigger 7 1/2 years ago we will always be glad of the time we had together. my prays and thoughts are with you at this time xxx