Are They Maines? 2017
Here is the place to meet Elliot, Pita, Lily, Abigail and Mr Meowgi Bond! Do you think they have some Coon in them?

Elliott
By: Hannah Walker in LaCrosse, WI
This is Elliott. He is 3 years old and full of spunk and personality. He is by far the most interactive and biggest cat I have ever had....lots more to love. I am thinking he is a Maine Coon mix. What do you think?
---
Is Pita a Coonie mix?
By: Joyce in Wisconsin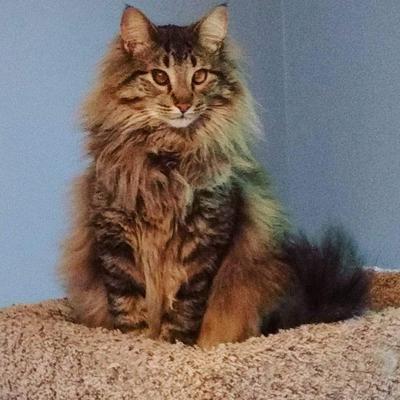 He appeared at the back door, about four months old, sick and hungry. I had no intention of keeping him since I had two older cats already.

After he survived a thunderstorm in the bottom of a trash can with several inches of water, I relented dome and took him to the vet, still not intending to keep him.

He was very sick so I put him in the basement to isolate him from our other two and gave him his meds. He gained two pounds in less than two weeks.

When I took him back to the vet he suspected he was part Maine Coon. We never figured out where he came from. We live out in the country and how he survived I'll never know.

We named him Pita because he was a pain in the *** but now we couldn't get along without him.
---
Lovely Little Lily
By: Kim S in Chicagoland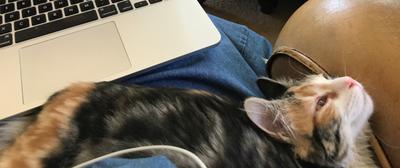 We brought home our sweet Lily in mid-August. She is now 20 weeks old.
She is the sweetest, friendliest, most companionable kitten I have ever known. Lil does not know a stranger.

She loves everyone--put a human face in her vicinity and she begins purring. She is either playing or sleeping nearby. She is confident, quite conversational, and holds her tail up most of the time.

Based on her personality and her developing coat, I am beginning to wonder if she is a Maine Coon Cat or part Maine Coon.
My son adopted an American Shorthair of approximately the same age and Lily is much bigger and longer between her shoulder blades and hips.

Her tail is very long and gets fluffier by the day. She has a lot of ear hair sticking out, and starting to develop tufts on the tips of her ears.

I realize that it's hard to tell at this age, but I'm hoping for some feedback.
---
Abigail
By: Beverly Jeans in Germantown, Maryland, USA
This is Abigail. She is now 17 years old.
| | |
| --- | --- |
| Watching the birdies outside from on top of the fridge | On one of her fluffy days, being a nick-nack on the shelf |
She was found at a construction site alone at about 2 weeks old. We bottle fed her and had no idea until she became a little older that she would have long hair and a super fluffy tail.
Waiting for me to get home from work
She has tufts of hair between her toes, talks a LOT; to her water fountain, on the stair landing, sitting in the kitchen, and sitting in the living room just now even.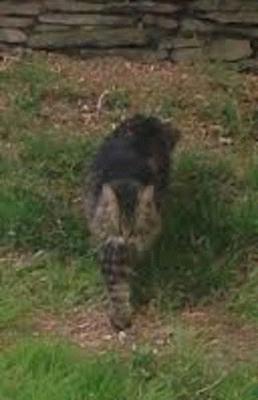 Coming to greet me
She sits and stares a lot. If we leave our bedroom doors open at night, one of us will wake up to her sitting in the dark staring at us.

My son won't let her in his room at night for this reason. When she was younger she didn't seem to like women or children unless they had low or deep voices. In her later years she has become friendly to mostly everyone.

For a number of years, until it got lost (or someone hid it) she used to have a small cheetah beanie baby that she would carry around in her mouth while crying out loudly for many minutes at a time...mostly in the middle of the night.

We would say she was having flash backs to when she was abandoned by her momma and was now rescuing her little cheetah baby. Majority of the time she has a very judgmental/angry look on her face with reason unknown.

I always thought she was part Maine Coon, but had reservations due to her size. She is all fur, skin and bones. I don't thinks she has ever weighed over 8 pounds although our other 3 cats range between medium to over weight.

I've always chalked that up to her being the 'runt of her litter' since they left her behind. What do you think? Coon mix?
---
Introducing 007 Mr Meowgi Bond!
By: Debbie Bradbury in UK
Our new kitten was not expected to be Maine Coon, but when we picked him up his owner told us she had taken in a stray Maine Coon and then discovered her female cat was pregnant.
We immediately knew why he was so gorgeous! He appears to have the traits of a Maine Coon with a thick ruff around his neck, extra fur on the ears and is rather large for an 8 week old kitten. What do you think??
comments:
Mr Meowgi Bond
by: Debbie

Mr Meowgi Bond is now 3yrs old and weighs 5.5kgs. He is the most gorgeous cat who doesn't like going out in the rain. If he gets wet he will back up to you to dry him with a towel! So much character this cat!
(note: comments are closed in this archived photo album)
---