Tattle Tails
The Maine Coon Lovers E-zine
---

"I love cats because I enjoy my home; and little by little, they become its visible soul."
- Jean Cocteau

---

Meet Jack Frost:
Meet Jack Frost: On February 6, the 55th annual Championship and Household Pet Show was held at Forest Hills Lodge in Loves Park, Illinois. During a time when cat shows are seeing a decline in participants, this show had a record number of entries. This is thought to be due to the quality of competition.

Nearly 900 people came to the show to see the different breeds. Visit the news story and meet gorgeous Jack Frost, a 25 pound pure white Maine Coon Cat.

Source: http://callcenterinfo.tmcnet.com/news/2011/02/11/5307352.htm


Visit this news story from Pennsylvania to meet an amazing little survivor. When an explosion destroyed several homes and killed five people, Tally's owners, Ed and Karen, escaped through a window. Karen was not allowed to go back in and try to rescue Tally.

Unbelievably, 11-year-old Tally was found hiding in a hole under the blast location! She is scared and dirty, but she will be just fine!




Winter In Maine
Alice and Leo, the official mascots of Maine Coon Cat Nation, are enjoying a rather boring winter. It seems as if it will never end! Alice has been frisky in the mornings. Do cats get spring fever? Our cats are indoors only, but they must miss sprawling out in a sunny window sill, with a warm breeze rustling their fur through the screen.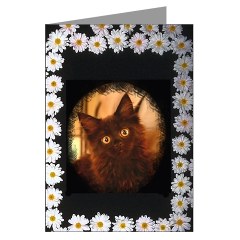 Leo's favorite (okay, only!) pastime is roasting himself in front of the wood stove. His fur gets so hot! Alice is my constant companion. I have placed a cat bed next to the computer monitor so she can be near me without stepping on the keyboard!

We had a lovely Valentines Day, how about you? The cats don't get any candy, but they did get to star in some cute new greeting cards from our CafePress store! Some of these cards are great for Easter, too. So check them out!

What's New On Maine Coon Cat Nation

We have some catching up to do! Has it been two whole months since our last Newsletter? There are so many new cat pictures since then! Our first album, Maine Coon Cat Pictures, is beginning to take a while to load with all the pictures on it, so we started a second! It can be seen here: Maine Coon Pictures.

Here are some of our most recent Maine Coon Cat additions:

Maui, a miracle kitty who appeared at just the right time
Crystal, an adorable rescue kitty
Lily & Chester
Mariella
Tilly
Bonnie
A tribute to Bailey
Tyson
Ivan
Glory Bea McKnight
Diva Deluxe McKnight
King Lewie
Whisky
Echo
Courtney Lynn
Big Louis
Boone & Calli
Dewey & Vanessa




A New Twist:
In case you missed the little announcement on Facebook, I am officially handing over the reigns to you when it comes to our many Maybe Maine Coon Cats! It is simply amazing how this subject has a life of it's own!

In order to focus on developing the site, I'm going to need your help from now on. So many people want to know if their cat is a Maine Coon or part Maine Coon Cat. Here are our latest queries:

Stella, found roaming a hotel in Pennsylvania during a business trip
Sammie, who may be a Maine Coon mix
A Cute Silver Boy, do you think he may be a Maine Coon mix?
Sylvie
Sookie
Casey
Baxter
Sweet Audrey
New Girl
Snowshoe
Jackson
Thomas
Lily
Kaylee
All of the above are "Maybe Maine Coons", looking for your opinion!




Here are some of our latest visitor questions. I've given my input, and welcome any and all comments you have for these cat owners.

Wheezy Kitties: These two kitties seem to wheeze when they purr or sleep
Introducing a Maine Coon to a Puppy: This older cat is showing aggression to a submissive pup
Are Red Female Tabbies Unusual? This visitor will be getting a red girl soon!
Aggressive 2-Year-Old Female: This cat seems to have two personalities
Rough and Ragged Tongue: Jessy is wondering if this is a common trait
Is It Okay To Breed A Brother & Sister Maine Coon?
No Maine Coon For Me: This visitor is disappointed about the views on declawing cats.

---
Newest Articles:

Whiskers Way: Our very first thorough product review is on this big boy from Molly & Friends
Maine Delite Maine Coon Cats: We recently had a chance to get to know Michele Cole of Maine Delite. What beautiful cats!
Maine Coon Kittens For Sale: We re-arranged our adoption section. Now everything related to finding a Maine Coon, from rescue to breeders, can be found right here!
Maine Coon Breeders In The USA: We launched our breeder directory! Coming next, the rest of the world!
UK Shopping For A Maine Coon: Judy from the UK has helpfully put together her best tips and finds for cat shopping in the UK. This page is set up for comments. Chime in!
Pet Insurance Information: Just like it sounds, this is an overview of pet health insurance.

What's New On FaceBook:
Wow, I can barely keep up! It's terrific! We have over 750 friends and it's growing daily. It's great to see like-minded people meeting and sharing. If you haven't seen our page yet, check it out!

---
An Announcement!

As you saw above, there is an ever-increasing flow of cats that may be Maine Coons or part Maine Coon. I must admit, this is something I did not see coming! Maine Coon Cat Nation is growing as a community just as I knew it would, but there is this "extra" aspect, too!

It all started when folks began to use the contact form to ask if their cat was a Maine Coon. So we added the page with the invitation for them to go ahead and ask away. When they can't find it they use our cat care questions invitation. In short, this is a very in-demand topic!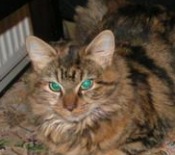 So, in response to the high demand, I've decided to write an E-Book on the subject. It will arm owners of "Maybe Maine Coons" with all the info on the breed they need. They will be able to answer the question for themselves! As we know, there is no definite answer to whether a cat is a Maine Coon or not.

But, so many people want an expert answer! An educated guess. This will help them understand the subject, and the breed so that they can make their own educated guess. It will be up to the reader to decide if the cat "has some Coon in him!"

I'll be sure to keep you up-to-date with its progress!
---
Leo's Health Tip: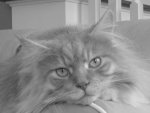 Leo: "Ever since our people switched us to Natural Cat Litter, we've been so happy! But here is something they did not know: even though natural cat litter says it can be flushed, it should not be! See, there is a parasite egg that lives in our waste.

Once it's introduced to the outdoors, it lives for months to years, and enters the water system. Then it does real damage to marine animals. Until technology catches up to these parasites, our people will have to stick to the bagging method."

---

In Our Next Issue: We would like to share some cat recipes. Do you have a recipe to share? Send it in using our contact form and we'll make sure to credit you!