Mixes and Maybes - 2020
These Maine Coon Mixes and Maybes from 2020 are here to steal your heart! Come check them out if you think you can handle all the fluff!
Binx
by Erika
(California, U.S.)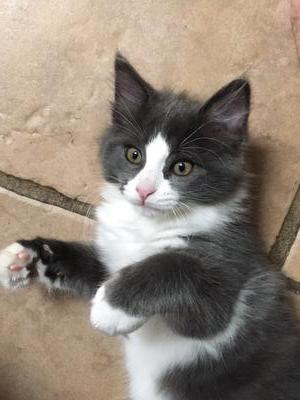 Thackery Binx was found underneath a house with a litter of his brothers and sisters.
His pedigree is unknown, although his mother has gray short haired "Russian blue" features. The father is unknown. The mother is wild and the litter as well.
Binx is a gray, silver and white kitten with fluffy medium hair.

His "Maine Coon" features are subtle lynx ear tufts and prominent toe tufts.
He has a mane around his neck and a multi-layered fur coat that has subtle tabby pattern markings that are silver (hard to see in the pictures).

He has a square shaped muzzle, long build and green eyes. Binx does not meow much.

His mouth opens to form a meow but nothing actually comes out. He is extremely outgoing, plays continuously, climbs, is affectionate, social and loving. He purrs a lot.

We are wondering what if he could be part Maine Coon breed and if anyone else with expert eyes sees the Maine Coon features that we see.

Any insight would be appreciated.
---
Hank Jr
by Roya
(Winchester, VA)
We got Hank from the local Humane Society, his mom and siblings were already adopted out. Thinking he has either Maine Coon or Norwegian Forrest cat in him?


comments:
Thank you all
by: Roya

Thank you all for your kind words and feedback. He is such a great addition here and I can't wait to see all he grows into :)

Congrats
by: Wendell

This little beauty has a lot of Maine Coon in him.. He is going to be great company!

His coonie nature
by: Laurie

Oh yes, your lil man is Maine coon or part cooner. You should be prepared for dog like characteristics, plays fetch. Has major ear and toe floof and is fairly big if purebred. Mixes are not as big.
---
Mufasa
by Bekah
(USA)
Hi there. I got my almost 1 year old kitty from a local shelter.

As he got older I have had many compliments on how big he was or how cool he looked. I have many people tell me he is Maine Coon, Norwegian Forest, and Siberian Forest.

He does look like all 3 to me so could he be mixed? He is the only one who looks this way from his litter.
---
Dunoe- "I dunno"
by Evan
(Des Moines, Iowa, United States)
Dunoe was picked up off the street by a shelter about a month before I adopted him.
He had some matted fur, and because he was so social they were sure he was at least three.

After I took him to the vet to get his shots, the vet said it was more likely that he was around one due to a lack of plaque buildup on his teeth.

After a month, I took him to get his follow-up and he'd gained almost two pounds! The vet was sure he was less than a year old, and he's continued to get bigger since.

He's very inquisitive and insists on trying to explore anything he can reach! There have been multiple times where he accidentally got stuck in a cupboard and needed to meow to get help.

His meow is usually very loud, and it always sounds like he has something in his throat. Dunoe isn't very vocal usually, but he meows at the door if he's left alone too long.

He loves to interact with people and will happily "trot" up to new faces to rub his face on.
That said, he doesn't like to be petted much and we're trying to teach him to bite less- he's got huge teeth and loves to play, and hasn't quite learned how hard he bites is too hard.

He likes to sit next to people as much as possible, as close as he can get without touching. He also LOVES water. A little too much, actually.

He gets so excited when I fill his bowl that it spills everywhere, and then he'll dip his paws in and lick them before tracking water everywhere in the house.
Then he'll spill the rest of the bowl and continue, until he has to come find me to get a refill.

I'm curious as to what his breed is (I'm sure he's some kind of mix), and some people have suggested since he's so big and fluffy that he might have some Coon there somewhere.
---
Meet Lynx
by Jennifer
(SC United States)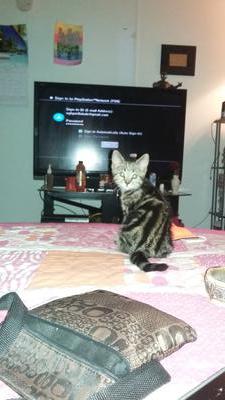 Still a baby full of energy and very vocal already.
---
My Pretty Paige
by Julie
(Bedford, Texas)
We adopted Paige from a rescue when she was five months old. She is now 13 years young.

She is an incredibly smart cat and behaves more like a dog at times.
She tells me about her day when I get home from work.

She knocks books off my nightstand one at a time to wake me up if she feels like her breakfast is delayed.

She weighs 14 pounds so I know that's not nearly Maine Coon size.
At the rescue they said she was a mix but she doesn't "chirp". She never shuts up, but she doesn't chirp.
She just carries on a conversation with me. What do you think?
---
Arya
by Olivia
(Brooklyn, NY)
Maine Coon, Siberian, or Mixed?!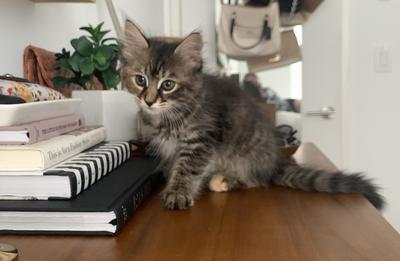 This is my precious little Arya, who is about 10 weeks old now.

I got her from a friend of a friend who didn't know her exact breed.
I think she strongly resembles a Maine Coon, but doesn't have super tufted ears so I thought maybe she could be Siberian also or a mix between the two!

She's got little red patches, a big one on the top of her head and I'm not sure if that is common in both breeds or just in Maine Coons.

If anyone could help me figure out what she might be I'd love to know! :)
---
Mooshoo
by Christen
(New Jersey)
| | |
| --- | --- |
| Adoption day! 8 weeks old | |
| | |
| --- | --- |
| | Most recent pic |
15 Month Old Ginger
This is Mister Mooshoo. He's a little over a year old. He's very smart(opens doors), loves playing in water, vocal, and affectionate. He can be aggressive when over stimulated. He's neutered and has all his vaccinations.

---
Freya
by Natalia
(Edinburgh)
What cat is she?
This is Freya or as we call her Fluffy bum. We adopted her when she was 6 months old.

We don't really know what her real cat mum looked like. Freya is a bit like dog. Mostly sleeps on the floor, very vocal especially if hungry or the toilet is not up to her standards.

She is a big cat. Very friendly but only to people she knows. If she is afraid she will hide in any tiny hole she can find.

She also doesn't hold anything against you. You can pet her fur (drama queen) and in a second she is back to being your best friend.
---
Marvel
by Susan Cook
(Usa Utica Kentucky)
She is so different from cats I've had. She's sweet, lovable and she doesn't have a normal cat meow.

She's very smart. She loves to be brushed. She sheds and sheds so much. I have to brush her twice daily. Do I have a Maine Coon?
---
Lexi
by Eliza
(Oh, USA)
| | |
| --- | --- |
| Loves belly rubs | Big ole green/yellow eyes |
She is a big girl and very loving toward her family, however, does not easily trust strangers.
(note: comments are closed in this archived photo album)
Return to Top of 2020 Mixes and Maybes
Disclaimer: When you buy through links on our site, we may earn a small commission.
As an Amazon Associate I earn from qualifying purchases.
Our Coonies use and love:
Greenies
4.7 stars; 3.6k ratings
Furminator for Longhaired Cats, Large
4.7 stars; 15k+ ratings
Double Layer Waterproof Cat Litter Trapping Mat
4.5 stars; 56k+ ratings
Sep 24, 23 09:30 AM

New today:

Chubbs

is our newest addition to our Maybe Coonie Photo Album. What do you think? TJ shares, "Our male kitten, Biggerton Chubberton, or "Chubbs" for short, is a tuxedo kitten.. Chubbs is di…

Sep 20, 23 03:16 PM

Freshly updated: Our

Royal Canin cat food review

looks closely at their formula marketed toward Maine Coon owners. What makes it a breed-specific food? Here, we examine it's ingredients and what it of…

Sep 15, 23 06:35 PM

New today: Meet Leigh-Anne's fluffy girl,

Ruby!

She wonders if she has some Maine Coon in her.. ⬇️