2017 Mixes and Maybes pt.1
2017 Mixes & Maybe Maine Coons
(Page 1 of 2)
So many beauties! Thank you everyone for sharing your Maine Coons mixes and Maybe-Maines. Life would not be the same without our feline family members.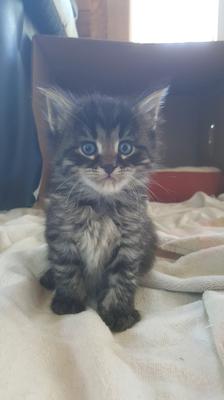 Lovable Little Guy
By: Kate Dahlen
(Northfield, MN USA)
Berlioz is the sweetest little fluffball. His personality is different than the rest of his siblings, along with his appearance.
He enjoys struggling and watching his siblings play. We are unsure of who his father is as we found his  pregnant mother along the freeway.
She is a gray and white domestic short hair. He does have 2 other brothers with very fluffy fur and 2 sibling with short fur. 

---
This is Maggie. Got Her From Foster Care
By: Barbara
(Hutchinson Island, Florida)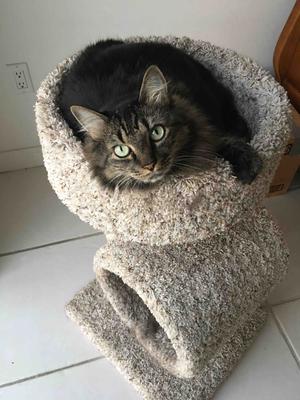 I got Maggie from foster care for cats. Did't even know what she was or wasn't she was just too cute and already had a personality.
Now she is grown, 5 years old and sure looks like a Maine Coon with same traits.

---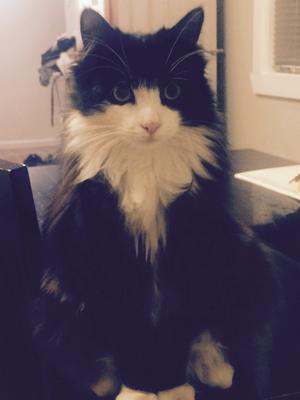 Intelligent Boy 

Romeo thinks he's a dog and fetches and plays ball. 
He has a remarkable coat and at 9 month old is nearing 6 kilos! I believe he's Maine coon mix, what do you think?

---
Mischievous Sam 
By: Beth
(Pittsburgh, PA)

Trying to figure out if my sweet kitty is a Maine Coon mix. 
Found him online while browsing for a rescue kitten, he was 8-10 weeks old when I picked him up. The person who had him and his 3 siblings just wanted them gone, no information on his parents were given. 
My entire family is in love with this little guy, we fight over who gets to cuddle with him; he gives soft (no extended claws) paw hugs. 
He is already quite popular in my neighborhood- several kids stop in just to play with him and he loves it. If this is what Maine coons are like, I'm hooked. 
He has long white ear tufts and long thick paw tufts. There is a broad dark stripe between his lower neck and back that is silky and lays closer to his skin, the rest of his fur all around is bushy and lighter. 
His tail has grown noticeably longer since we got him 6 weeks ago and he appears not quite comfortable (a bit annoyed) by the length. 
Because he's still a big baby, we cannot judge size to figure out whether he's a regular domestic tabby or Maine Coon mix...thoughts?
---
Meet Eva - The Maybe Maine Coon Mix?
By: Auri C
(USA)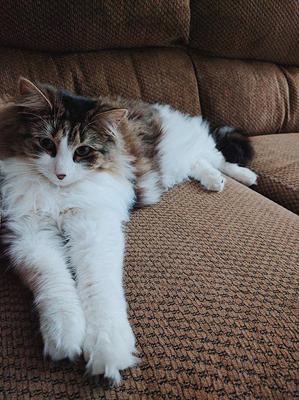 Eva at 10 months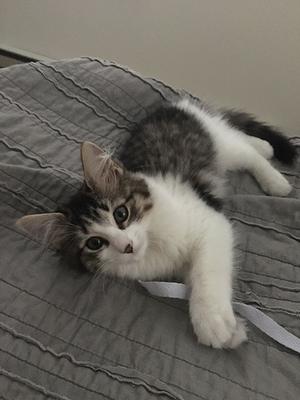 Eva the baby kitten!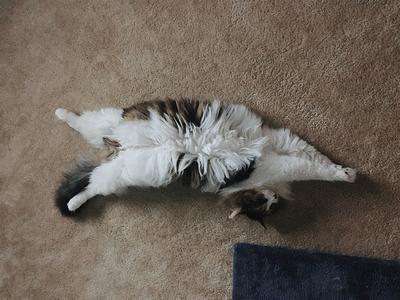 Eva is stretching and showing off her fluff!
Eva spreading out on my suitcase because she's so big
Hi everyone,
I adopted Eva from a shelter last year and she's now 11 months old! She's my first kitten, but I have always loved cats and can usually identify purebred breeds!
At the shelter she was classified as an American Longhair, but I wonder if maybe she's a Maine Coon mix since she's gotten so big and her hair is so long.
When she was a baby kitten, her hair was much shorter but softer than the other kittens I held. She was in a foster home for about a week and did not get along with the other girl kitties, but she got along well with the boy kitties.
She was very shy when I first brought her home, but she adjusted quickly and loved following me or my boyfriend around. 

Eva is an indoor cat, but one of her favorite past times is looking out the window and watching birds :) When I would study at my desk, occasionally she would climb up and sleep on a corner of my desk with me.
While she usually doesn't mind me or my boyfriend picking her up, she squirms when other people try to pick her up. In general she doesn't really like to be held or cuddle on laps, but she loves to be around people! She will come cuddle and sleep with me in the mornings sometimes.

Now that she's older her hair has grown longer, and she keeps getting bigger!!! She has a floofy mane and her ruff is shorter. I haven't weighed her recently so I don't know how big she actually is, but I've included pictures. :)
She is talkative and gentle. She has never used her claws to hurt me or my boyfriend purposely (the claws will come out if I annoy her, but she has never scratched me). I can touch her little paws without her getting upset, and she doesn't mind belly rubs. She loves to play and is not aggressive.
She's really very sweet, independent, and intelligent. She recognizes my car's lock sound, so when I get home and the car beeps, she'll run to the door to greet me. I also feel like she understands what I'm saying sometimes! Occasionally I take out 3 cans of wet food and have her pick the one she wants - she always picks the Turducken flavor if I bring it out.

Let me know what you all think! I've attached 3 recent pictures of her as well as one baby kitten picture :)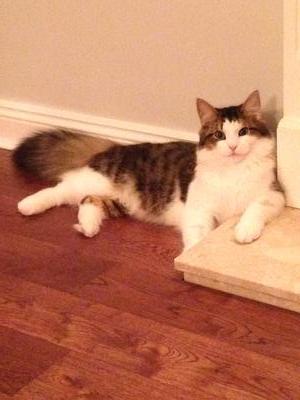 Diddies at 6-8 months old 
By: Vic Chamberlain
(UK)
Diddies is a rescue kitten from a stray. We got him at 3 months old and just thought he was big for his age.
He has a very unique personality unlike any cat we have known, He plays with and torments the dogs (pug and shihtze) he is bigger than both.
My sister in law is the one that said as soon as she met him "he's got main coon in him" 
When I looked into it he does seem to have some traits, his tail is massive, it's like having a 4th animal in the house, he has big fur tufts in between his toes and little tufts on his ears. He is very goofy and entertaining.
---
Heidi
By: Amy
(Collierville TN)

| | |
| --- | --- |
| All her toys she gathers through the night. | 10 weeks |
| | |
| --- | --- |
| Chilling with her 15 year old companion | Pretty girl |
Heidi is 8 months old. We found her at a local shelter at 10 weeks old, and the vet there had her listed as a Maine Coon.
She seems to have a lot of the characteristics, and definitely the personality traits. I love to listen to all the noises she makes. :)
Amy

---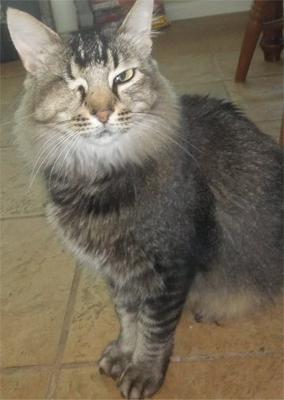 Willie, The Pirate Cat
By: Andrea
(Florida)
We adopted Willie from Humane Society, who received him from the kill shelter where he was dropped off by his previous owners. He had a UTI, which was cured by Humane Society.
He is approx. 3 years old, neutered male. We don't know what happened to his right eye.
Willie has large black piles of fur underneath his feet. It's like he is walking on his own personal carpet all the time and it's hard to locate his paw pads underneath all that fur.
He has a collar of long fur around his neck. His nose looks boxy or boxier than the nose of any other cat we ever had. His tail is about 14 inches long with long and fluffy fur.
He seems to have an undercoat of thick grey hair underneath his "regular" fur. He is a bit larger than most of the other male cats we've had.
He is a talker!!! He comments on almost everything and he is also very nosy! Anyone going to the kitchen to get something - Willie is there and makes a comment.
He is mostly attached to me. Follows me to the bathroom and waits patiently until the door opens.........and yes, he comments on that, too!
He is very tender, affectionate and loving. He is not eager to be picked up or held. He will let me hold him on my lap for a few seconds but that's about it. 
I'm pretty sure he's not a purebred Maine Coon but I think he might be a mix. 
---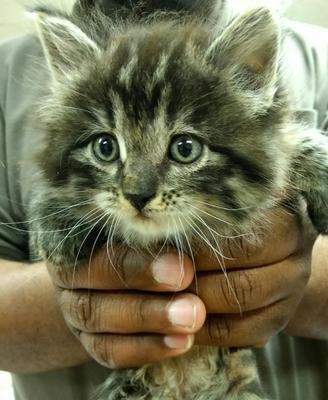 My brother holding Noodles for a picture.
Noodles
By: Janelle Grant
(Shreveport, LA, United States)
We found Noodles about two days ago while on the way to church. It was wet and raining, and he was attempting to cross a busy street on his own.
Once my brother and I realized that it was indeed a kitten, he stopped and put on the hazard lights.
It took a moment to retrieve him (since he decided to climb up the passenger side wheel), but once he was gotten, we put him in the backseat and continued to church.
Long story short, we tried to find anyone that would like a kitten, as we already have a cat and dog, but no one could take him. My brother quickly fell for Noodles and decided to just keep him.
He mostly just sleeps since he's a kitten, but when he's up, he's very vocal and loves to explore. He will definitely let you know when he's hungry or it's time to go potty.
Noodles loves to snuggle and hitch rides on people's shoulders and gets upset when he's pulled away from anyone.
We had to give him a bath due to his flea problem, and he loudly complained the entire time, but since said bath and flea comb, he's been much happier.

---
Whiskers
By: Jaimee
(Montrose)
He is almost 2 months old. They said dad is Maine Coon and mom is a domestic short hair. Just curious what y'all think of him? Maine coon or just a long hair domestic?

---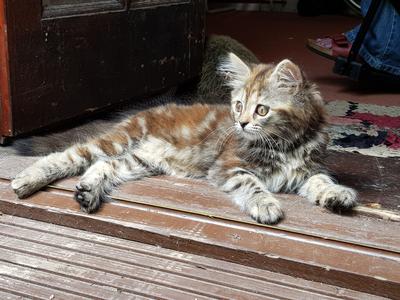 11wks old now this was taken approx 2 weeks ago
Jazzy B
By: Muz Beeson
(Verwood UK)
No idea what this is, I just bought her as she was sooo cute n fluffy :)

I bought Jazzy from a random person. She told me she was a cross but I cant remember what.
She was not expensive and I assumed she was a moggy. But people kept asking what she was as she is sooo cute and fluffy. She is very talkative  and playful.
Every picture on the web I look at and say "oh that is just like Jazzy" leads me to a Maine Coon or brown tabby Maine Coon.. what do you think?

---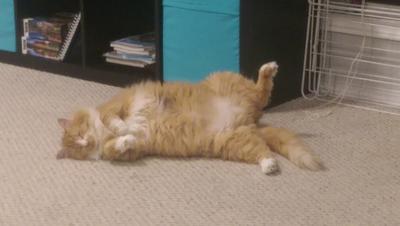 Spread eagle and doesn't even care
Baroness of the Highwood
By: Andrea Murphy
(High River, Alberta, Canada)
Well, he's strange for one. Big cat at 19.1 (he is over weight a bit and my main concern having taken in this male from another home when they no longer wanted him) pounds, but not obese- again making me ponder this guys breed.
He's chatty like a Siamese and sleeps on his back, spread eagle or sprawled out unlike any other cat I've seen/owned. He's a pretty orange boy, loves people and very tolerant of my rambunctious 4yo- did I mention he nearly plays fetch?
You throw a toy and he chases it and then contemplates brining it back versus running in fear like my skittish female.
Tomoe also doesn't boast the average 'meow' but rather this elongated yowl of sorts and if you talk to him, he's perfectly happy yacking bad. Not sure what else other than his massive paws (fur aside) and big ol' head... 

---
Twixzy my boy
By: Maki Esguerra 
(San Francisco , CA USA)
I got Twix or Twixzy as I dearly call him from an adoption SPCA  SF event in my store  November 2012.
He was 2 months and a half old. From then on I noticed he wasn't a typical tabby as I was told.
I started researching about Maine Coon cat and it's characteristics , body built which he posses a lot of. He is gonna be 5 this coming June according to his records.
He is my baby boy and the joy of my life. He knows how to do shake hands both his left and right front paws. Even at the same time. 

---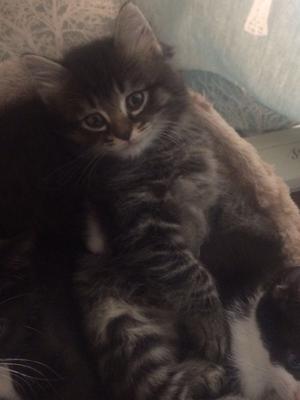 Is Stitch Part Maine Coon? 
By: Dean
(Portsmouth)
Mum is a pedigree rag doll, with two potential dads, a black and white moggy or a cat that I haven't seen which the owner of mum says looks like a Maine Coon.
However I've never seen the cat, all of stitch's brothers and sisters are black and white like one suspected dad but stitch is different, also his meow is very distinct.
We haven't adopted stitch yet but we have plenty of photos. 

---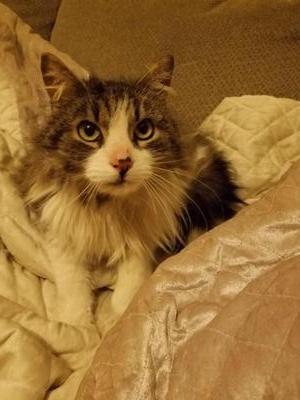 Suspected Maine Coon Mix
By:   Tania
(PA)
I just rescued a cat from a terrible hoarding situation. He's about 2 years old or a bit less, weighs 12lbs and is skin and bones.
He is however the calmest, friendliest cat I've ever seen. He talks a lot and is great with other pets and my children. Today I decided to give him a bath. The thing just sat in the water and licked some bubbles.
I'm thinking he's a Maine coon mix? This is NOT a normal cat. His face is not a typical Maine coon face as far as I can tell, but he does have two very distinct types of fur, longer fur around his neck, a big nose and fur between his toes... what do you guys think?

---
Cooper
By:  Michael Walker
(Gastonia NC)

Adopted from a local animal shelter, I thought he was just a medium haired tabby.
He immediately started to purr at the animal shelter which is what made me fall in love. What makes me think he is mixed Maine Coon is because I have heard him make a chirping sound a few times while purring.
The tuff's of hair on the paws and ears and has a mane around the neck area. He is very affectionate with anyone but especially me.
He loves laying around and loving on you or laying in your arms stretched out. He is very curious and playful. Loves to play with my tablet and watches TV on it. Plz help to find out if he is mixed Maine Coon or regular tabby cat.

---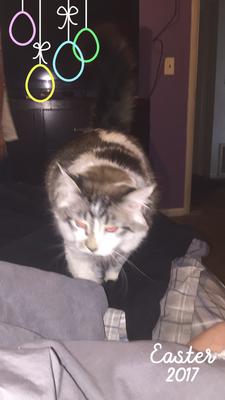 What can you tell me about my cat
By:  Victoria Richard 
(Amelia Ohio)
He is fluffy and lazy. He will not play with cat toys, it has to be paper or wrappers from sandwiches.
He will carry it back to you and sit like a dog and wait for you to throw it again. He has an M on his forehead.
He is an attention seeker, if you don't pet him he will nip you gently to say hey pet me. He loves to lay on my chest. He also found my cancer.
He would hiss at me if he was on my right side but the minute I found out and got it checked he was ok.
If I get upset he will come sit in front of me and look at me like a kid and I tell him I'm ok then he will turn around and walk away. My sister said he is a Siamese Maine Coon. 

---
tcurry1973
By: Tammy
(Kentucky)
We adopted this big girl from the local shelter Saturday, along with a 5 month old dsh kitten. I took one look at this gorgeous big cat and knew she was coming home with me.  Once we got her home everyone was asking if she was a mc. 
We don't know, when her previous owners dropped her recently at the shelter, they did not provide any info on her, the shelter didn't even know her name!
Shelter estimated her age at 2-3.  I do know that she weighs 11lbs 3 oz, and her length, as best as I can get from her, from the top of her head to her tail tip is roughly 29 inches...she's not happy getting measured.
She's done nothing but really hid from us until yesterday, she started coming out in short bursts of exploration. 
She's got this teeny tiny little meow, that sounds like a bird, its so funny to hear that sound out of such a big girl.  She's smart, watches every move around her, and she has started opening cabinet doors with her giant paws to look inside.
I'm including a few pics.  I would love to know if Duchess Big Cat, as we have dubbed her, is a mc or at the very least a mix. 
Also, can you tell if a mc or mix is a juvenile or older buy her face etc?  I know very little on my girl..other than we love her already.
Simba
By:  Sue Bell
(Lexington, SC)
He has the tufts in his ears and on his paws.  He has the ruff.  He is a big cat for 9 months old.  We got hims at a shelter and he was very sick with a respiratory infection.  We treated him and took him to our vet.
He is very loving and loves to follow me around.  He loves to be petted;  he will walk by just for a few strokes.
---
Lovely Kitty
By: Brandy 
(Maine, US)
Waddles is about 9.5 months and I think she has some Maine Coon in her. She makes a lot of chirping sounds, she's long  hair and also has the fluffier tail I have ever seen on a cat!
She's so sweet and is the only cat I've ever had that always respond as when her name is called. She is an all around joy!
Disclaimer: When you buy through links on our site, we may earn a small commission.
As an Amazon Associate I earn from qualifying purchases.
Our Coonies use and love:
Greenies
4.7 stars; 3.6k ratings
Furminator for Longhaired Cats, Large
4.7 stars; 15k+ ratings
Double Layer Waterproof Cat Litter Trapping Mat
4.5 stars; 56k+ ratings