World's Best Cat Litter Reviews
Are you thinking of trying World's Best Cat Litter? Some of our readers have used it and shared their reviews.
See how this natural cat litter performed for them.
Have you used this natural cat litter too? Please share your opinions at the bottom of this page!

Minky, My Maine Coon
By: Francine in NJ

My 5 month old Maine Coon uses this litter with no problems. He is on a raw meat diet, so there are never any odor issues at all. Would recommend it.
---

Indeed, The Best!!!
By: Jill in Mission, KS

I love this litter & so do my cats! They have a lavender scented one that I like better that just the plain. It's everything my kitties & I want from a litter. Absolutely sold!!!
---

Didn't Like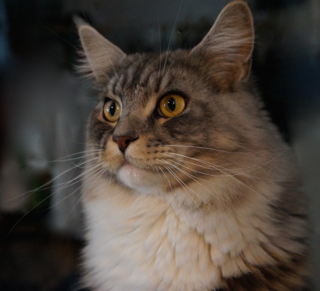 My bud Garvy
By: Dennis in South Dakota

The performance is no better than any other and the chance of infesting your home food supply with flour weevils is great.
Also, you must remember, GMO corn (stalk and all) is now registered as a pesticide. If the corn they use to make this is of GMO variety your cat is inhaling and exposing himself to pesticides that have no health exposure history.
---

Love It
By: Fran
Well I truly love this cat litter!! It is easy to scoop out and it's flushable it clumps really well!! But the only negative is that they do track it out of the litter box but I have my little dust pan and brush.
Handy plus my little electric broom!! I have tried one with wheat but didn't like it as well! For me it truly is the best and my two kitty's love it too !!!
---

Seems To Work
By: Jill in Central Calif Coast

I've mixed it with clay litter and will end up using only World's Best. Cat doesn't seem to have a problem with it but going to all World's Best will be the deciding factor.

Love It
By: Paige Small in Fresno CA

The day I changed to World's Best, Sweets had absolutely no problem adjusting to it.
I threw the clay litter in the garden & will never use it again. This product is far superior to any litter I've ever used.
---

World's Best Cat Litter?
By: Doug in Ohio, USA

When we use clay base they (3 of them) drag it all over the house. They shake their feet all the time trying to get the clay out of their feet.
When we went to "the Worlds Best" that all went away. The hall is cleaner, the carpet is cleaner. They have't told me whether they like it or not but they all use it with no problems, no foot shaking, and I don't have to sweep the hallway ever other day. It's good.
---

It's Awesome
By: Dawn in Tampa, Florida

I've tried several different types and wasn't crazy about them. Went to petsmart and a woman from the cat litter company was there doing a demonstration. I loved it. I bought two bags. I've been using it for years. It clumps really well and my Cats like it. easy to scoop. No odor. A little pricy, but worth it.
---

Andre prefers World's Best Cat Litter
By: Randy Marrs in Asheville, NC

Ever since we rescued our Maine Coon from our local animal shelter, we've used nothing but World's Best Cat litter.
He has absolutely no problem with it. I scoop it as soon as Andre does his business, there's no odor, no dust & no mess.
My only con, is the high price, but in the long run, it's a small price to pay for it's convenience, lack of noticeable dust & natural ingredients.
---

Nothing but the Best for our girls!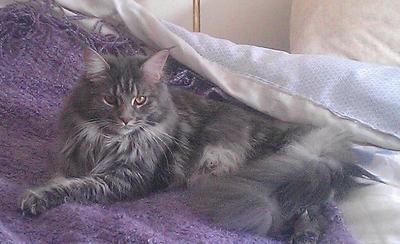 Mysty
By: MJ in Katonah, NY
I have used many "natural" cat litters, clumping and non. Clay litters are a thing of the past, too messy.
World's Best Cat Litter (multi-cat) has become our #1. When our store doesn't have it in stock, we have purchased other clumping cat litters, and then regret the purchase. Many clumping corn and pine litters don't hold up as well as World's Best. They break apart, if not scooped directly under clumped ball. Many have an artificial oder control smell.
Our Maine Coon was very fussy about one particular brand (now forgotten). So much so, she was messing outside the litter box. I clean daily, morning and night and change the box once a week. World's Best truly is Best in our house and our cats took to the change without issue.
---

Only Use Non-Clumping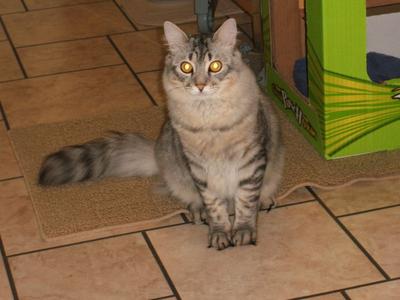 Andy
By: Bill C in Ocala, FL
Haven't tried WBCL and judging from comments, don't plan to. Have used non-clumping Tidy Cats for several years and both our 12 yo Maine Coon (died in 2010) and our 1.5 yo like it.
Box gets cleaned of #2 at least twice a day and the box stirred at least that often. Litter is completely changed every week.
Get the feeing that clumping litters are more for the convenience of the "owners" (hate that term).
Tidy Cats is a diatomaceous earth litter, much like the sand and dirt a cat would use in nature. Guess I need an explanation as to why corn or pine would be more natural for cats.
---

The Best Litter
By: Ed in Colorado
Almost four years ago, we picked up two kittens at the shelter and were given coupons for free bags of World's Best at the local feed store. Being owned by cats for all of my 40 (or so) years, several various cat litters have attempted to live up to "the best" I have ever used.
I will say, a coupon led us astray of the all-natural to scented, but only once. No savings is worth the loss of the all-natural sweet smell of the original variety. I sometimes exchange more litter than needed because of the smell!
The World's Best Cat Litter has lived up to the name in a stunning manner! Unless it is discontinued, we will never use another litter. It is the best cat litter ever made.
---

New Cat Mama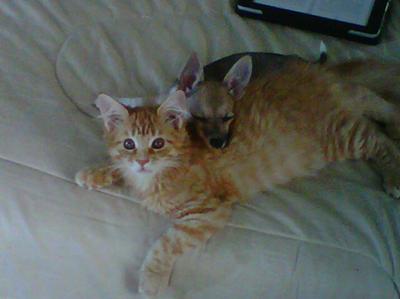 By: Leelee in Bermuda
I love World's Best Cat Litter. I am a new cat mama, so I got plenty of advice from the breeder.
I like the smell of the fresh litter, and even the used stuff isn't bad. My little (big) boy has trained me to scoop twice a day (although it could be to stop his puppy sister from eating it!), so there is no chance of an unpleasant smell build up.
I did just realize a few days ago, that it can be flushed, so another bonus!
---

World's Best Cat Litter

By: Helen
(Bronx, NY)
No problem with odor control. I scoop and flush any time there is anything in the box. I have tried other brands of corn litter because World's Best is pricey, but the others tried are not as good.
No perfume, no chemicals, good for cats and good for environment. I won't buy any litter anymore that isn't flushable or gives off unhealthy dust or contains perfume.
World's Best is the best in my experience.
---

World's Best Cat Litter............ yes it is!
By: Amy
(Texas)
We made the switch to natural cat litter ten years ago. It worked great and then my friends and myself think the company changed up the formula a bit.
Then the litter did not clump as well and the odor control was lost. We scoop twice a day. We had to do something.
I had heard about World's Best Cat Litter. It was a bit more expensive than the litter we were using. And the WBCL came in bags that weighed less. But once again, we had to do something!
When it comes to cat litter, I learned eons ago that it doesn't matter what I think. If the cats don't like it.....well, they just won't use it. So we purchased several of the largest bags of World's Best.
We started off in a couple of litter boxes. The kids loved it! It clumped like a champ. And I haven't found a cat litter that controls odor better. Interestingly enough, it cost more for a bag that weighed less, but in the end we used way less litter per month. So in the end we saved money!
We just tried the new lavender scent WBCL........started off putting it in one box. And it was a hit around here.
I say if you haven't tried World's Best Cat Litter, give it a try. We are so happy we did. And the "kids" are happy too!
Comments:
Ziggy the piggy
by: Lainie
My male maine coon weighs 15 lbs. at 6 months. He very tall too and can reach over top of the kitchen counters. He eats fancy feast 3 X's per day and always has dry food available. If he is still hungry, he will go after the poodle's dry food. Is this normal???
---

The Cons
By: Pamela B.
(Brooklyn)
About a month ago Invested in The World's Best Cat Litter. It was on sale at Target and so I said, "What the heck let's try it."
While I liked the concept I noticed right away that although my cat used the litter, he would not use the litter to cover up.
The next problem occurred because my daughter who takes care of the cat did not always clean the litter out right after the cat used the litter therefore each day when I came home from work I was assaulted by litter box order.
This resolved itself when I began the task of cleaning. I would be concerned about leaving the cat alone for a few days. I could only imagine...
The final issue is what has ended my use of the product (at least until winter). Flies seem to love the product and I began seeing tons of flies in my home and hovering around the litter.
I believe they laid eggs in the litter! As a result I have switched back over to Fresh Step- at least for now.
Overall I love the concept and will try it again in the cooler weather.
Comments:
YUCK!
by: Gail (Quincy, MA, USA)
I'm no fan of this brand of litter either. We use it at the shelter and I still hate it. What makes it work at the shelter, though, is that the boxes are cleaned every shift - at least twice per day and usually 3-4 times on Saturday since that is adoption day.
When my Sadie was with me, I found a litter called "Cedarific" - it goes for about $4.99 for 10-lbs. at Stop & Shop Supermarket. It's new and recycled cedar chips - very soft and smells nice. The downside is that unless you've got a 'clean your paws' tray outside of the box, you end up with cedar chips all over the house.
Since Abby has joined our happy home, I continue to use this brand. Abby loves it and revels in burying her #2, LOL! With this litter, all you need to do is sift the solid waste out. The liquid is absorbed by the soft cedar chips and bugs don't seem to bother - probably because bugs don't like cedar. After about a week, I change out the entire box because by that time, the urine will begin to smell, so I just dump it. With an oversized litter box (Abby is 13-lbs!), one bag of litter lasts 2-2.5 weeks. Not bad.
Hmmm you are right
by: Busters mom
I didnt think about the fact that my cats dont cover #2 either. #1 handles itself. Hmmm I was happy with the less amount of litter outside the box. I got one of the under bed containers for storage with sides taller than normal litter pans but no cover which was too short for Buster,and began using that for the box when Buster was just tooooo big for regular pans. I put the lid down as the wipe yer paws and shake area. I clean it 4 or 5 times during the day and once when I get home from work so just realized I clean it more cuz I smell it more.

If you have a Maine Coon, you know how unique and different they are. You know you have a special cat! And if you're new to the breed, you are probably wondering what their unique needs are.
Since we're on the topic of health care for Maine Coons, I want to mention our E-book, The Care and Keeping of Your Maine Coon Cat. It's full of info. Check it out, and review the table of contents to see for yourself!


I Love The World's Best Cat Litter
By: Allison
(Denver, CO)
I've been using the World's Best Cat Litter for many years since it arrived on the market.
Even though I only have one cat (15 pounds), I use the formula for multiple cats because it does clump better.
I scoop once a day, and sometimes twice if I'm home and the cat "poops" while I'm there (because of the odor of the fresh poop). I keep the litter box in the first floor bathroom. I spend the majority of my time on the first floor and entertain there.
I've never experienced a problem with odor, and when I come home every evening, it does not smell like a cat lives there! The biggest drawback for me is its cost.
But for me, the pros outweigh the cons, and I never use any other type of litter.
Comments:
Worlds Best Cat Litter
by: Rose
I have not seen or tried this brand, the advertised cost is, well exhorbitant. But, for my brood clumping cat litter leaves sandy pieces outside the box. So I tried Feline Pine which doesnt leave a feetsie track trail. How does WB work in that way. I do have multiple cats so that is one difference we have.
Comment re: tracking of WB cat litter
by: Allison
My cat is a big kicker, so I use a big litter box with high sides. Nevertheless, there is always litter tracked outside the box, but it is never "clumped" wet litter, only dry granular litter.
---

World's Best Cat Litter- Everywhere!
By: Leanne
(Indianapolis, IN)
I have two Maine Coons. I felt WBCL provided decent (but not great) odor control and my cats took to it right away. However, the odor control is certainly better than regular clay litter and cheapo scooping types.
My complaint- due to it's light weight my heavily coated cats manage to carry the litter wherever they go.
I had World's Best in my bed, on counters, in the windowsill, etc., and in large volume too. I haven't used it in months for that reason but still find bits of it. Friends with "regular sized" cats without long hair don't seem to have this problem.
Another issue I've read about in an article written by a cat vet is that some cats are highly allergic to it because corn is a common allergen.
Comments:
I agree
by: JulieC
I find this true as well.
I thought I would try Feline Pine clumping because of coupons and rebates. I am sleeping it, and, I feel like walked in a litter war everyday when I come home.
Litter and Boxes
by: Helen
I use a big plastic container for the litter box. This serves two purposes. First, the tall sides keep more of the pellets of the Feline Pine in the box with aggressive digging. Second, the tall sides keep my papillons from "gleaning" the box. They won't jump into the box, only look over the sides.
Wooden are worse
by: Kris
I actually have an opposite experience. Before I tried World's Best Cat Litter I've been using Cat's Best Eco Plus, which is a wooden clumping litter, and it was carried absolutely everywhere by my two Maine Coons - the bed, kitchen, not to mention the bathroom looking like a sawmill. When I switched to World's Best there was no more litter everywhere - a piece or two in the bathroom and that's it.
---

Worlds Best Litter?
By: Jim
(Idaho)
I just wanted to let you know that this product is worthless! After the first day of use the cats started eating the clumps instead of their favorite food.
It also had a musty stomach turning stench to it that next morning.
As for the REBATE they offer... it's a scam. They said the proof of purchase (UPC) I submitted did not contain a Valid Product number!!! DAAAAH I have no way of controlling what THEY print on their bags!
I do not expect any replies. I just wanted to alert interested personnel about this product.
Thanks
Comments:
Sorry to Hear About It
by: Maine Coon Cat Nation
Hi Jim,
I'm sorry to hear about your experiences. Your frustration comes through loud and clear.
Not all cats will go for all litters. At least you tried. As for the rebate, I just don't know...
~Carrie
World's Worst Litter
In general, most rebates are just sales gimmics. The Rebate concept dates back to the 70s' when car sales were in a deep slump (sound familiar?).
Their goal is to deceive you into purchasing the product with the understanding that you will be partially reimbursed from the company, or a third party.
Their main intention is to derive sales, but the underlying intention is to get your personal information which they then sell to other marketing agencies.
Rule of thumb: If they don't offer you an immediate rebate right there at the point of sale, then walk away from the offer!
As for World's Worst Litter ... I'll avoid it!
Tips and Guidelines for Redeeming our rebate
by: Drew--From World's Best Cat Litter
Hey Everyone,

Sorry to hear that some of you have experienced problems with the rebate. I can assure you that this is not a scam. We are trying to help people try out the litter for the first-time by offering a free bag. We put a lot of time in researching ways to offer a rebate before coming up with the current process. If you find a better example of a free product rebate we would certainly love to take a look at it and consider it for next time.
Recently we just posted some guidelines and tips for ensuring your rebate it fulfilled. If these are followed, every rebate will be honored. To review these guidelines please visit http://jit.ly/_0UjQa .
Thank you.
---

World's Best vs Feline Pine
By: Suzanne
First of all, and not to sound preachy, but nobody should expect to scoop litter only once a week! EEK! It should be done once a day, and preferably twice.
I've got three cats, and it's amazing how much poop they can produce in a day. Ever notice how the cats rush to their litter boxes right after you've finished scooping? That's because they like clean litter.
I have used World's Best litter, but found the cats tracked it around a lot. That may just be my cats-- they're all diggers and really root around in their boxes--but I like Feline Pine a lot better.
I think it controls odors better, and because it's sawdust pellets there isn't as much tracking. The cats had no difficulty at all getting used to it.
I live in New York City, so flushing Feline Pine in to a big city sewer system isn't a problem. At my weekend house in the country I take it out and dump it in the field--while it's biodegradable, it wouldn't be a good idea to be loading it into the septic tank. I'd also wonder about the flush-ability of World's Best for people who have septic tanks.
It's certainly much better than clay litter. It doesn't produce dust which is so bad for cats (and humans, too) to be inhaling, and it controls odor better without a lot of chemicals.
---

It *is* the world's best cat litter!
By: Dave
I've used World's Best for years... it clumps great, handles odors wonderfully, and has never caused a problem with the toilet pipes.
Comments:
Great!
by: Maine Coon Cat Nation
Hi Dave,
Thanks for sharing! It's good to hear that you've had success with it!
~Carrie
---
Have You Tried World's Best Cat Litter?
What did you think? Do you still use it? Why or why not? Share your experiences here!
What Other Cat Lovers Have Said
Click below to see contributions from other visitors to this page...

Visitor Reviews of Worlds Best Litter
I love your cat litter because it WORKS GREAT and no dust. I sew a lot and the cat box is my sewing room. And it doesn't cat my stuff dirty. Thanks June …
Let's Connect!
Subscribe in a reader - Be notified of new posts!




Or, get The Daily Digest in your inbox:





Join our newsletter group by filling out the form to the right. From time to time I'll send out special tips, articles, news, deals and other free goodies!