Wellness Cat Food:
What You Need To Know
Alice and Leo have been eating Wellness cat food for a few years now.
We're ready to reveal everything you need to know about Wellness pet food. Why bother with a cat food comparison?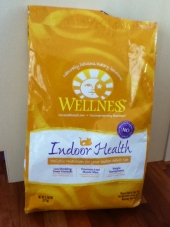 One of the most common questions here on Maine Coon Cat Nation is "What should I feed my Maine Coon cat?"
A close runner-up is "how much should I feed my Maine Coon cat?" It's perhaps the most important decision you can make.
It affects your cat's health and even the length of his or her life!
We all want to feed our cats the best cat food possible. Some buy their food at the grocery store and hope that it's adequate.
Labels are featuring words like "All Natural Cat Food!" nowadays. These economic times do require many to reduce spending.
However, consider that the quality of the food our pets consume directly relates to how healthy they are.
It's no exaggeration to say that a cat that eats the best cat food possible, a healthy food like Wellness cat food, will have fewer visits to the vet, fewer health problems, and cost much less in the long run!
Ok, back to our review of Wellness cat food. I admit we didn't always use it. I'll start with some background and our evolution when it comes to cat food.
Then we will get into the nitty-gritty of Wellness cat food, how we are doing on it, and all about its ingredients.
When I was growing up, our family was on a budget. I grew up feeding my cats the kibble from the grocery store. I think it was Purina. They had wet cat food very rarely as a treat.
They lived long and happy lives. They went outdoors (something I would never allow now!) They also hunted. I'm sure that is what provided them with a variety of nutrients for their bodies.
As I became a young adult and cared for my own pets, I looked for better pet food. I knew that going to the pet store was the first step.
There we bought Nutro Natural choice cat food. I fed it to my cats and dogs for years. I really thought that anything form the pet store would qualify as "best cat food!"
When Leo and Alice joined our family exactly seven years ago, I slowly transitioned them to Nutro Natural Choice, the food I was accustomed to. I wanted them to have the best kitten food possible, but I did not yet know it was up to me to perform a cat food comparison!
As Alice and Leo matured into stunning Maine Coon cats, we expected the hairballs.
But we were always surprised at how often these cat would throw up! Sometimes we assumed it was hairballs, or that they had gotten into something.
Then, I remember Nutro Natural Choice was affected by a recall. It didn't apply to our food, but I didn't feel so sure about my choice any more.
I had heard about Wellness pet food and thought perhaps this was a good time to learn about cat food ingredients. Something I wish I had done sooner, but something many never get around to doing!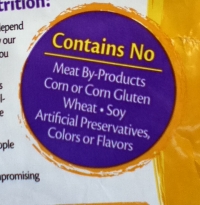 I asked my trusty pet store associate (where I am a regular) to show me the best cat food they had.
I explained that I wanted to try something new. Of course, he took me straight to Wellness cat food!
We talked about the different formulas, dry verses canned cat food, and of course ingredients. Right on the label, I saw "Contains No: Meat By-Products, (the importance of this I was already aware of), corn or corn gluten, wheat, soy, artificial preservatives, colors, or flavors." Looking good!
So those are the baddies? Well, in the months to come I would be researching them. And yes, they are bad for animals.
Cats are as we know carnivores. Obligate carnivores. The word obligate, means the "have to" eat meat, primarily. They are obligated to. It's the way their bodies are made.
Especially intriguing to me was the mention of corn. Sure enough, Nutro had it. I learned that it is very difficult to digest and can stick to the intestines. Yuck! I would not eat anything my body can't digest, so why would I expect my pets to?
Thinking back, the vomit we encountered was always yellowish. After many months on Wellness cat food, we realized something had slowly changed.
Our cats did not vomit any more! There were still hairballs, but that's another article! They are happy, healthy, and they love their Wellness cat food.
I feel good about feeding them such a high quality food with high quality ingredients.
When I performed a cat food comparison between Wellness cat food and a couple of others, I was very happy. I invite you to pull out your cat food, right now, and have a look at the ingredient list.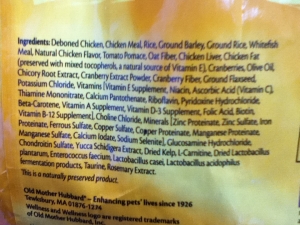 Deboned Chicken, Chicken Meal, Rice, Ground Barley, Ground Rice, Whitefish Meal, Natural Chicken Flavor, Tomato Pomace, Oat Fiber, Chicken Liver, Chicken Fat (preserved with Mixed Tocopherols, a natural source of Vitamin E), Cranberries, Olive Oil, Chicory Root Extract, Cranberry Extract Powder, Cranberry Fiber, Flaxseed, Potassium Chloride, Vitamins
Of course, of primary importance is all that good, real, whole meat up high on the ingredient list!
It feels good to know the cats are eating this real food. And, yes, there is rice and barley. These are found in high quality cat food, too.
For those who want grain free, Wellness cat food offers Wellness Core. We have tried it and I'll elaborate further below.
As for the grains, hop on over to our article on Cat Food Ingredients to get a feel for the difference between the grains. What's okay, what's not, and what exactly is gluten?
Also, take note of the olive oil, cranberry fiber, and flaxseed. These are great for our longhaired cats. The added fiber helps things move through the digestive system and out the other end. Less hairballs!
In the guaranteed analysis, you'll see that Wellness cat food indoor formula has not less than 3% Omega 6 fatty acid and not less than .5% Omega 3. These are helpful for heart health, which is a concern among Maine Coon cat owners.
And you will see Glucosamine Hydrochloride is contained at not less than 400 mg/kg. Glucosamine has long been used therapeutically for joint problems such as arthritis and hip dysplasia. It doesn't prevent them, but does help your pet to feel better and help heal cartilage.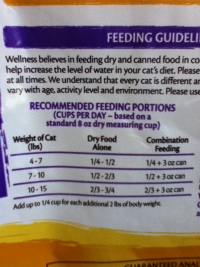 What more can I say about Wellness cat food? Year after year, Alice and Leo are in tip-top shape.
They go to the vet only for their yearly exam, and have never had any issues! By providing them with the best cat food possible, I plan to keep it that way!
We did try Wellness Core last year. I liked it very much and was determined to make the switch to grain free cat food in our house.
The ingredients are terrific, and I was thrilled to go grain free. It is so good for cats.
But, Alice's digestive system disagreed. Although Leo never looked or felt better (grain free is great for a big Maine Coon Cat!) Alice lost weight, drastically.
She ate like a piggy and looked awful. Our vet explained that sometimes no matter how great or high-quality a food is, a cat's system just won't take to it.
Since our cats feed from the same bowls, back to Wellness cat food indoor formula we went! Alice bounced right back. I always wanted to go grain-free and I had to try it.
Based on Leo's experience, I would recommend Wellness Core to anyone. Just know that it has a much higher protein content than most pets are used to. Make the switch very gradually, and watch for any changes your cat might experience.
We like to feed our cats variety, it keeps things interesting! But, Wellness pet food is a regular staple of their diet and I'm sure it always will be.
Where do we go to get Wellness cat food? Well, with a busy and young family I find it hard to get out to the pet store regularly.
I have taken to ordering online, and it is so convenient! The price at Amazon.com is the same as what I pay at the pet store and Amazon offers free shipping. It's a win-win!
Wellness Cat Food Varieties:
You are not limited to the indoor formula, of course. Here are the dry Wellness cat food recipes:
Wellness Cat Food Indoor formula (the recipe we use)
Complete Health Chicken and Rice recipe
Complete Health Salmon and Turkey recipe
Wellness Cat Food Healthy Weight Formula
Kitten Health Formula
And of course,
One more thing, the Wellness pet food website offers coupons! Make sure to get yours before you head out to get some. All you do is sign up for free membership on their site, and you get the benefits, like coupons, promotions, and more. To sign up, click here.
If you have been thinking about a change, or always wondered about Wellness cat food, go ahead and give it a try!
Dec 10, 23 03:14 PM

New today: Meet

Ginny

from Lumacoon Maine Coon! Ajuna shares, "This is Ginny our three year old dramaqueen. She's a big softie once you get to know her, despite that look of doom in her eyes XD she wa…

Nov 10, 23 03:06 PM

New today: Meet adorable little

Juniper!

Nicole shares, "I went to the vet and they originally had her as domestic medium hair and once the vet saw her she said she has some Maine Coon in her because…

Nov 05, 23 08:36 AM

New today: Meet

Yellowstonecoon Tomboy Honey!

Jessica of Yellowstonecoon Cattery writes: "Hello, Maine Coon families! We are so tickled to share our beautiful Black Smoke baby girl with everyone! She…