Black and White Maine Coon Cats
 10 Stunning Black and White Maine Coon Cats
There is something striking about black and white Maine Coon Cats.
They have and unusual look, and command a little extra admiration! 
Often, the idea of a Maine Coon cat conjures an image of a brown tabby, but this breed comes in many colors and patterns!

Welcome to our gallery of gorgeous black and white Maine Coon Cats.

Black and White Maine Coon Cats #1: Cali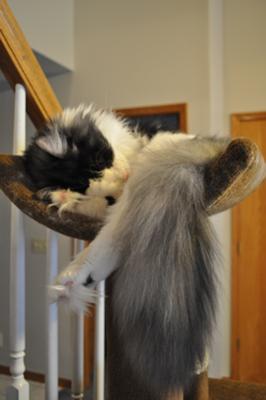 Cali is a is a beautiful black smoke and white Maine Coon. Cali and her brother, Heath, live in Nebraska with Teresa.
Teresa remarks that Heath and Cali have all the wonderful qualities we expect from Maine Coons.
They even have distinctive male and female personalities. Heath is full of energy, getting into mischief when he can, and Cali is more of a princess.
Teresa says her favorite physical feature would be their amazing tails, not to mention, of course, their wonderful, sweet and loving personalities.
---

Black and White Maine Coon Cats #2: Arya
Brooke in West Chester, PA tells us that Arya is full of joy and energy! At about two years of age, she still has a bit of growing to do.
Arya especially loves climbing and exploring. She also loves to be the center of attention, doing whatever is necessary to stay in the limelight.
She's very vocal, and social - she enjoys being a part of the group!
---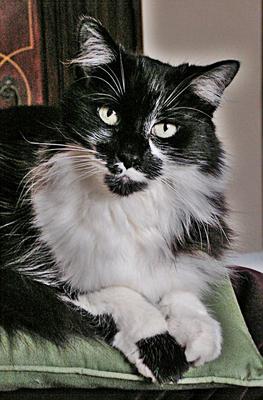 Black and White Maine Coon Cats #3: Molly
Molly really captures the black & white Maine Coon Cat look. What an artistic pose!

Warren in York PA. USA tells us that Molly is 17 yrs old! She is a loving lap cat, and would stay on Warren's lap all day, if that were an option.
---

Black and White Maine Coon Cats #4: Daisy and Gertie
Anne-Marie in St Helens, Merseyside UK introduces us to Migatobonito Dolores & Migatobonito Domsy - aka Gertie Moo & Daisy Moo!
Anne-Marie shares how grateful her family is for the joy these two beauties have brought back into their lives. These black and white babies are loving and affectionate to each other and to their human family.
They are happy, cheeky, full of antics and everyone is loving it! We wish them a long and fulfilling life together.
---

Black and White Maine Coon Cats #5: Max
Peter in Panama City Beach, FL says that Max is all Maine Coon - the good, the bad, and everything in between!
Max is sometimes known as Fuzz Butt Yodel Lungs (hmm, wonder how he got that nickname?!) and he's larger than life!
Max is a favorite topic at Peter's work, where his coworkers and team enjoy hearing stories of his latest antics. Visit Max's page to see what a large purr-sonality he has!

Black and White Maine Coon Cats #6: Royalty Luigi
Thilda in Durban, South Africa calls Luigi, a Black Van Coonie, her "special 'Velcro' boy." Luigi is a big ball of love, a bit clingy and needs to always be around his people. A total social butterfly.
Cat Coloring Fun Fact: The Van coloring pattern is when a cat is mostly white, with color mainly on the head and tail, and up to two small random markings on the body. The Turkish Van always displays this coloring pattern, but it can show up in other breeds as well - like the Maine Coon!

Black and White Maine Coon Cats #7: Tommy Lee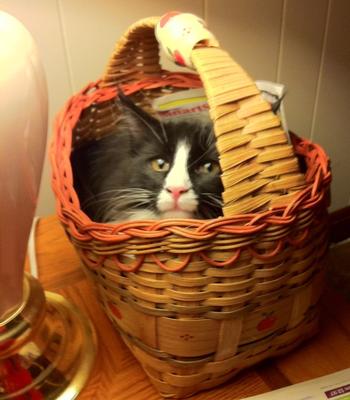 Pat Hudson-Barrs in Greenville, SC shares with us her second Maine Coon, and "little man in black," Tommy Lee.
Tommy Lee lives the good life with his half brother, Rusty, and his Ragdoll sister, Chloe.
There was a bit of hissing and growling when he first arrived, but he didn't even care! What a laid back boy.
Tommy Lee is growing, and a good eater. He's the first one to the food dishes and eats Chloe and Rusty's leftovers. He's outgrowing the basket in this picture!
He's also a real scrapper! He hates being brushed and will do anything to avoid it, unlike Rusty. Coonies are all unique and different in their own ways!
---

Black and White Maine Coon Cats #8: Kidd~E Reese
Francine & Scott Reese in Brookfield, MA introduce us to their 2 1/2 yr old boy, Kid~E Reese. He loves to nap in sinks and is just a big love.


Black and White Maine Coon Cats #9: Bertie
Gloria in Kent shares her handsome boy - 4 yrs old, 6.35 k Bertie with us, telling us what a gentleman he is to his sister.
If she wants something he has, he steps back and lets her have it.
This smart boy even knows some skills. For a treat, he will sit.
Then he looks at the pots and taps the one he would like. Next he gives his paw and very gently takes the biscuit.

He also loves to explore and enjoys the rain and snow outside.
His long soft fur comes down over his Christmas bow. His feather duster of a tail collects leaves and twigs.

---

Black and White Maine Coon Cats #10: Ramsay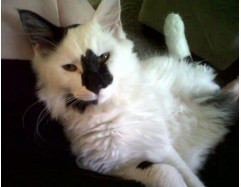 Wow, what a unique color pattern on this beautiful boy!
April in Ontario, Canada shares her newest addition Ramsay. He neighbour had another cat who had just had kittens, so she just let him out and abandoned him.

April's family intended on rehoming him, since they already had four cats. But when one of their girls passed away, Ramsay's status was moved to "permanent."
If our collection of photo albums is any indication, black and white Maine Coon cats are not all that common!
It's impossible to choose a favorite when it comes to colors. These cats are gorgeous, inside and out.
Top of Black and White Maine Coon Cats
Disclaimer: When you buy through links on our site, we may earn a small commission. 
As an Amazon Associate I earn from qualifying purchases.
Most popular among Coonie parents:
Potaroma Flopping Fish
4.1 stars; 43k+ ratings
Smartcat Ultimate Scratching Post
4.7 stars; 23k+ ratings
Pureness Giant High Sides Litter Pan
4.7 stars; 7.8k+ ratings
Sep 24, 23 09:30 AM

New today:

Chubbs

is our newest addition to our Maybe Coonie Photo Album. What do you think? TJ shares, "Our male kitten, Biggerton Chubberton, or "Chubbs" for short, is a tuxedo kitten.. Chubbs is di…

Sep 20, 23 03:16 PM

Freshly updated: Our

Royal Canin cat food review

looks closely at their formula marketed toward Maine Coon owners. What makes it a breed-specific food? Here, we examine it's ingredients and what it of…

Sep 15, 23 06:35 PM

New today: Meet Leigh-Anne's fluffy girl,

Ruby!

She wonders if she has some Maine Coon in her.. ⬇️