Yellowstonecoon: Pennsylvania Maine Coon Breeder
You may have noticed the stunning pictures of a Yellowstonecoon Maine Coon peppering our albums from time to time.
Here's everything you need to know about this cattery in Pennsylvania! Jessica Zerr answers our questions and shares her Coonie crew with us: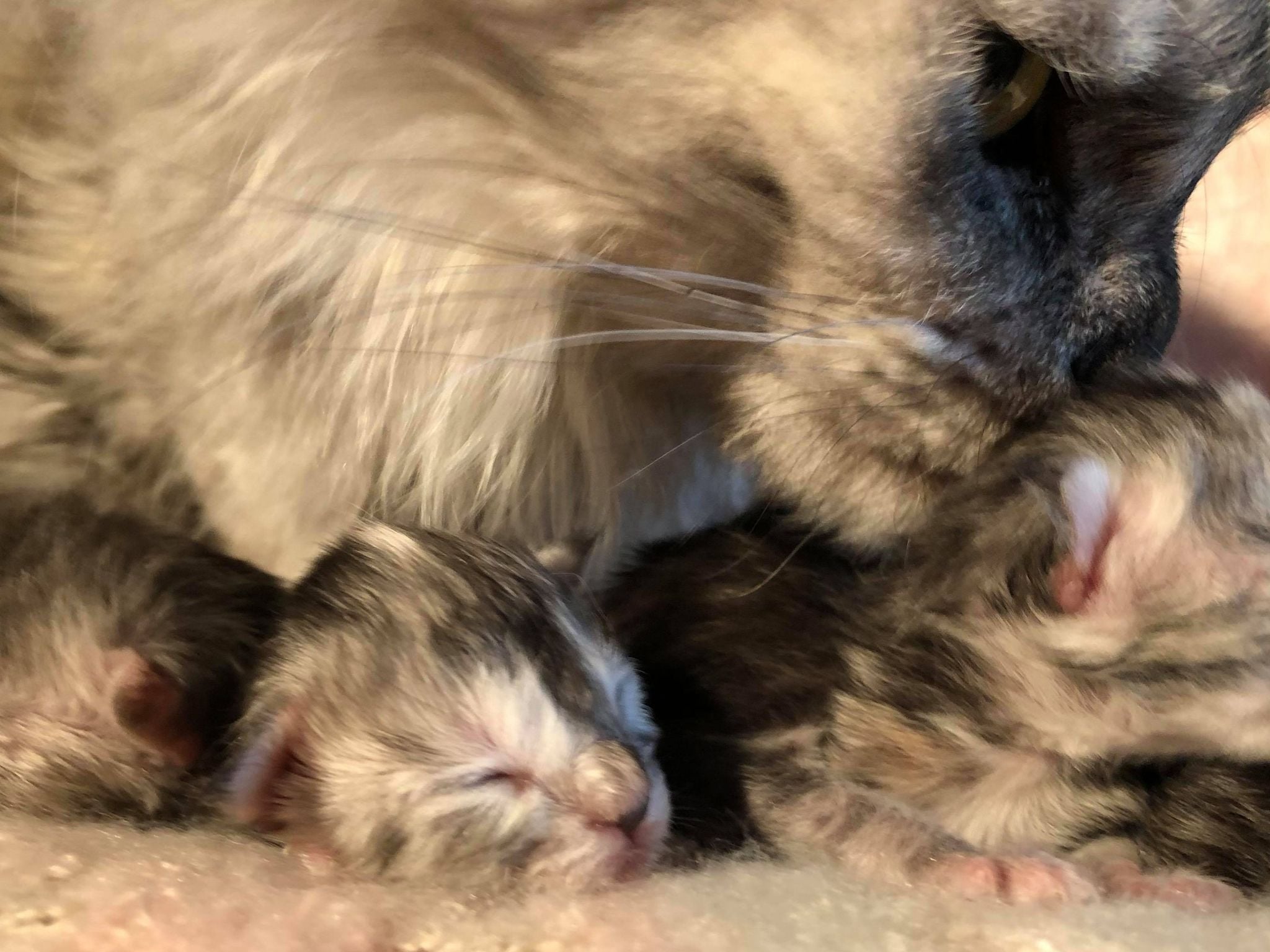 Eskimo and her kittens
Hi Jessica! Thanks for sharing a little more about your cattery with us. Your photos are always a hit, and your kittens are so sweet. Let's get to it!

How and when did you discover the Maine Coon Cat breed?

Hi Carrie, good morning! We grew up with these beautiful cats!

How did you become involved in breeding, & how long have you been breeding Maine Coon cats?

The 'American' Maine Coon was always a love growing up with them, but first seeing the wild feral look of the 'European' Maine Coons was where my heart truly lays, and have been raising them for almost 5 years now.
Do you show your cats?

Not at this time, but would love to!

What organizations are you a member of?

TICA, Winn Feline Foundation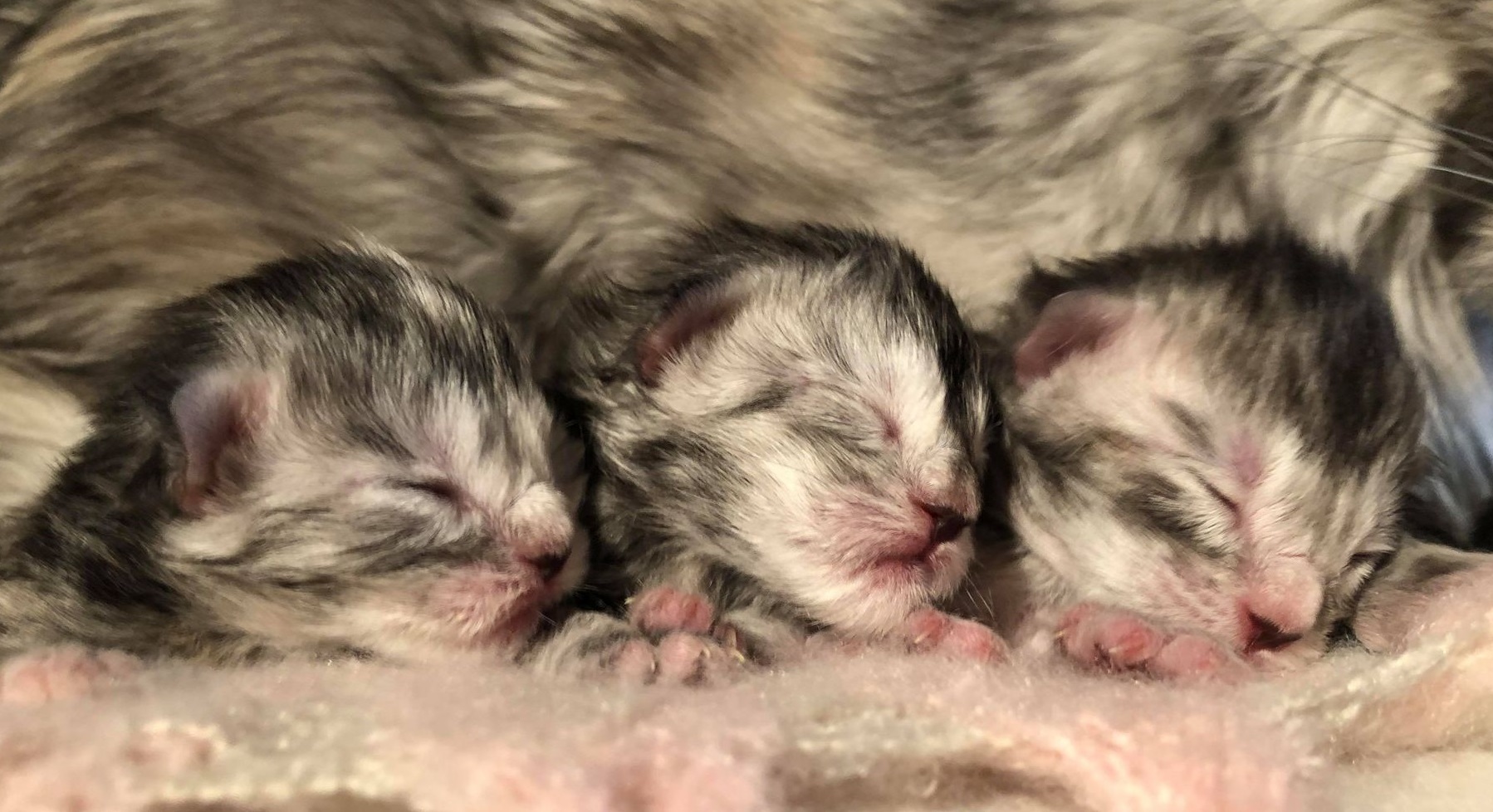 What kind of health screening do you do?

We use Optimal Selection for DNA health tests, Lancaster Vetrinary Specialists for Cardiology hearts echos, hips are checked, with testing done for FIV / FelV as well on each of our breeding cats.

How often do you have kittens?

With each season, we only plan just a few litters.

How should someone who's interested inquire about a kitten?

Reservation Day is for each of our little ones then posted as available for families to reserve.
https://www.facebook.com/yllwstncnmccattery
Families can reach us as well at:
yellowstonecoon@gmail.com
Website: yellowstonecoon.com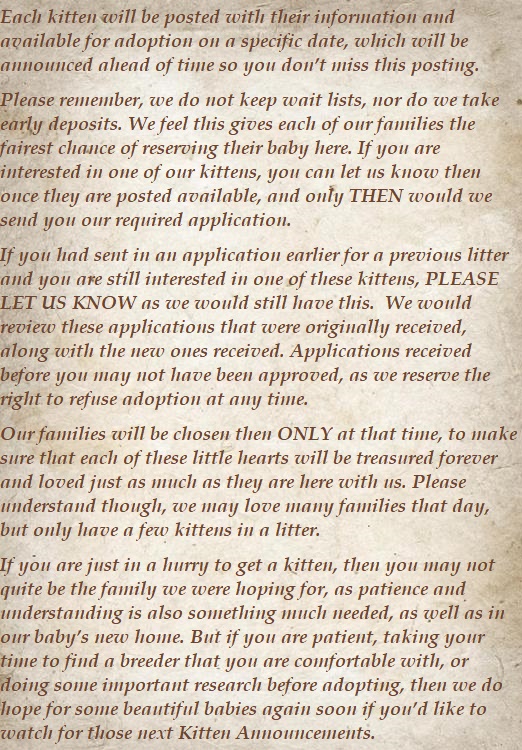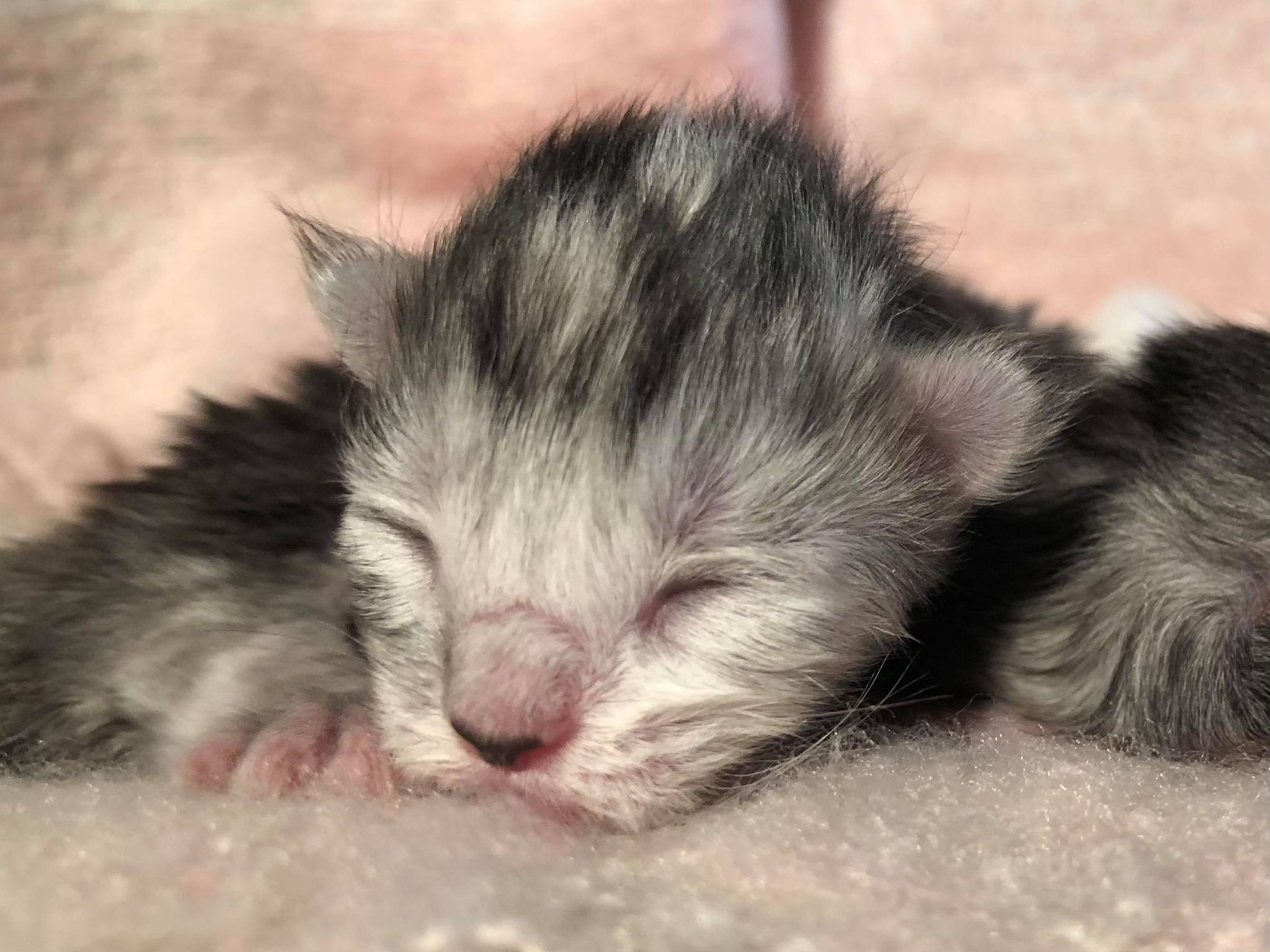 ---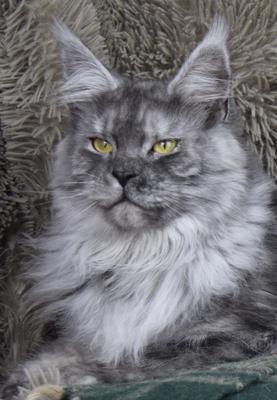 Yellowstonecoon Arrow Feathers
US* Yellowstonecoon Arrow Feathers


Please meet one of our family members here, and thank you so very much for including us in your Maine Coon Catteries for Pennsylvania, USA. 💗
---
Summer 2023 Kittens!
Rumor
Pale Roan
Resistol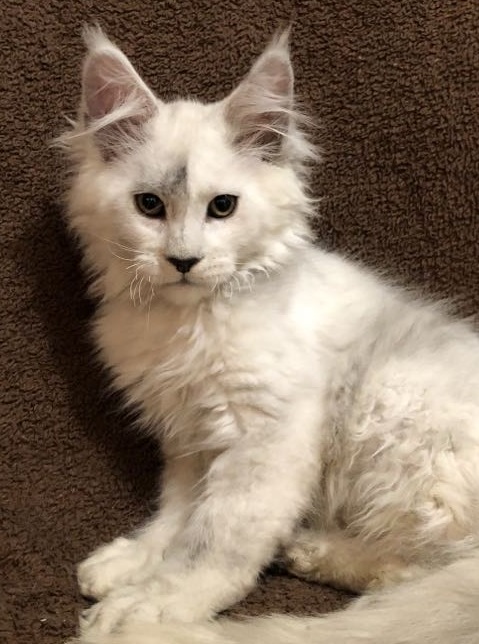 Navajo Doll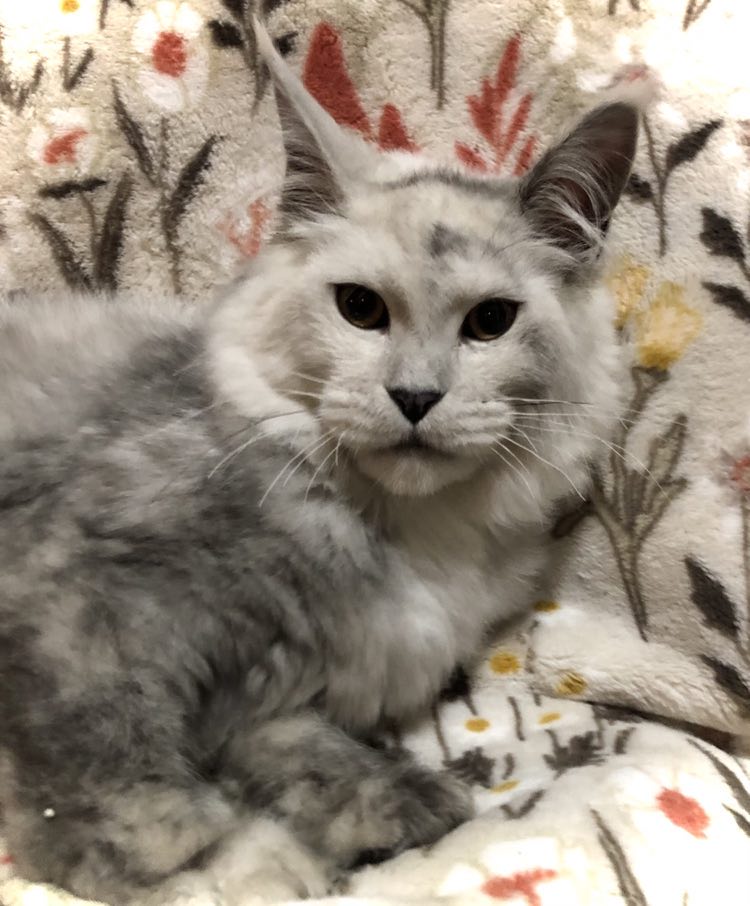 Syncere Lee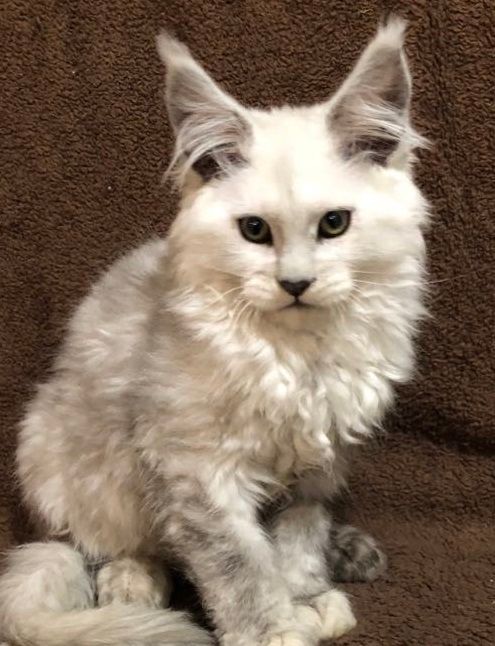 Yes, we have some kittens available at the moment for families to reserve!
by: Jessica Zerr

We will also have some retiring kitties as well this year.
If you would like additional information on kittens, upcoming litters, or our retired kitties, please send us an EMAIL - yellowstonecoon@gmail.com
You can also follow us for more pictures, Birth Announcements and our Kitten Reservation Days on our cattery page - https://www.facebook.com/yllwstncnmccattery
---
Yellowstonecoon Pennsylvania Maine Coon Breeder
2022 Update
| | |
| --- | --- |
| Appaloosa Kisses .25 | Naomi |
| | |
| --- | --- |
| Eskimo | Have Mercy |
A Vintage Maine Coon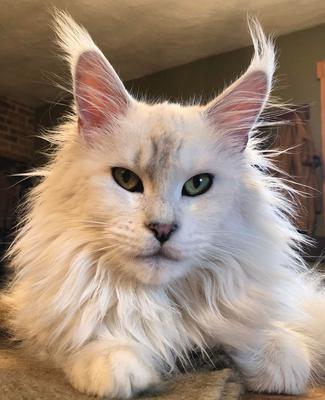 US* Yellowstonecoon En Vintage Wings
This pretty girl is a Black Silver Shaded Torbie Maine Coon.

Vintage has 2 little human brothers here at home who adore her and have given her the nick name 'Vinty Minty.'

Vintage was a first time Mama 2 weeks ago and is doing such a great job! We can't wait to see her little 'Vinty Mintys' get older and start playing!

You can see Vintage and her little ones grow at https://www.facebook.com/YLLWSTNCN
'Vinty Minty' Baby
A few weeks ago we posted Vintage, our beautiful 'Vinty Minty' Maine Coon. Today we introduce one of her beautiful babies in a Blue Silver shaded.

We are so proud of this little dumpling! She and her siblings have started to finally eat solid food, and boy are they messy!

We would love to share our next pictures of them with you here at Yellowstonecoon.

https://www.facebook.com/YLLWSTNCN
US* YellowstoneCoon Lawless Angel 'Coyote'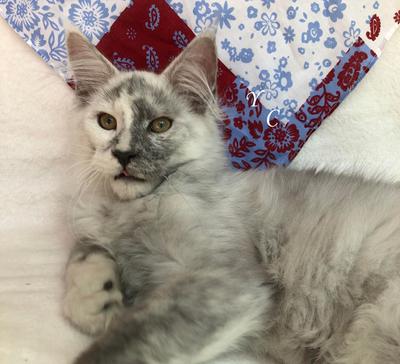 Summer 2022
We are so excited to see what next year brings for us from this unique and sweet baby boy of ours. He is a High Blue Smoke Maine Coon, and boy, oh boy is he ever handsome with those very special markings of his!

YELLOWSTONECOON is a TICA registered cattery here in Pennsylvania, USA. We take great pride in our Maine Coon kittens, including their health.

We also welcome you to our cattery page to watch these beautiful kittens grow along with us! https://www.facebook.com/YLLWSTNCN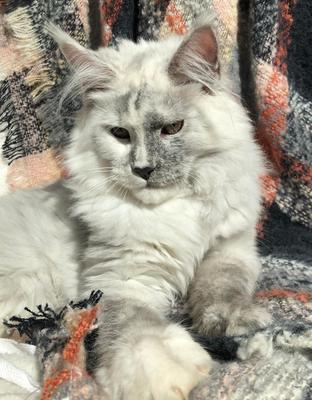 Autumn 2022
OUR BABY BOY IS GROWING SO BIG!
He is a High Blue Smoke, but is quite different for this color in the Maine Coons!

We are a small family cattery registered with TICA in Pennsylvania, USA. Our Maine Coon kittens are our pride, including their health, and each one is truly spoiled and loved while being raised here in our home.
Each of our breeding cats have Optimal Selection DNA testing done and are N/N (clear) for HCM, SMA, PKD, PKDeF, Negative for FIV / FeLV, seen for Hips and Heart Echocardiograms done and are Normal.
💛 https://www.facebook.com/YLLWSTNCN
---
US* YellowstoneCoon Ember Secrets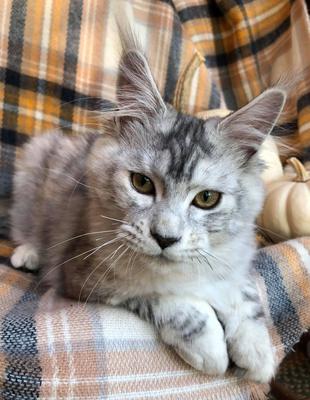 I don't do costumes,
I don't like tricks,
and I don't beg.
US* Yellowstonecoon Appaloosa Kisses .25

We are so very proud of this girl and are looking forward to the arrival of her first babies!
---
Frequently Asked Questions (FAQ's):
Yellowstone Cattery is located in Pennsylvania, and the breeder, Jessica, sent us these gorgeous photos to share. We are lucky to add them to our Coonie photo albums here!

You can find Jessica's contact info here: MCCN Breeder Directory - Yellowstonecoon

Hello, I would be more then happy to send you some information if you'd like. Our email address is yellowstonecoon@gmail.com or you can find us on FB as well at https://www.facebook.com/YLLWSTNCN and send us a message! Jessie
---
Top of Yellowstonecoon Cattery
Disclaimer: When you buy through links on our site, we may earn a small commission. As an Amazon Associate I earn from qualifying purchases.
Our Coonies like:
Greenies
4.8 stars; 38k+ ratings
Pureness Giant High Sided Litter Pan
4.7 stars; 7.8k+ ratings
Stainless Steel Water Fountain
4.3 stars; 11k+ ratings
Sep 24, 23 09:30 AM

New today:

Chubbs

is our newest addition to our Maybe Coonie Photo Album. What do you think? TJ shares, "Our male kitten, Biggerton Chubberton, or "Chubbs" for short, is a tuxedo kitten.. Chubbs is di…

Sep 20, 23 03:16 PM

Freshly updated: Our

Royal Canin cat food review

looks closely at their formula marketed toward Maine Coon owners. What makes it a breed-specific food? Here, we examine it's ingredients and what it of…

Sep 15, 23 06:35 PM

New today: Meet Leigh-Anne's fluffy girl,

Ruby!

She wonders if she has some Maine Coon in her.. ⬇️