Maine Coon Scratching Post?
by Michael
What would you recommend for a scratching tree?


Reply:
Hi Michael,
Great question! It seems hard to tell the difference between them sometimes, especially when shopping online.
The most popular cat scratching post with our readers is the
SmartCat Ultimate Scratching Post.
Visitors to this site definitely choose this one the most.
It holds the top spot on our Cat Scratching Posts page, too.
This post is 32 inches high, so it is tall enough for a cat to stretch up on it, which is important. I'm not sure if it's tall enough for the tallest of Maine Coons, but you'd be hard pressed to find a taller and sturdier one, which is important with big cats!
The base is about 16 x 16 inches, and most reviewers, even owners of 20lb+ cats remark that it is quite sturdy.
---
Here is another one you might like: The
PetFusion Ultimate Cat Scratcher Lounge.
My friend has this for her two cats, and they seem to be always on it!
They can scratch it too. Her long-haired Siamese cat is a really big girl, probably about 18 pounds, and she has plenty of room on it. Here's a photo: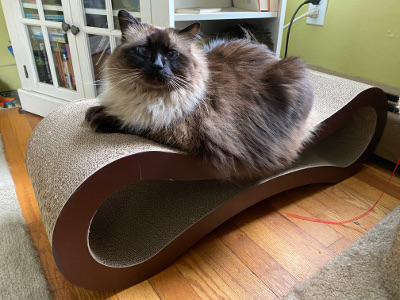 The best thing about this, is it gives cats a place to scratch, but they don't have to climb if they don't want to. Big cats sometimes would rather not, especially when they get older.
Also, there is never a worry about it toppling over.
---
You mentioned a scratching tree in your question, so just in case you meant more than a scratcher, but want a tree, check out the
FEANDREA Cat Tree for Large Cats.
It's not super tall, but that's good for our big kitties. It's high enough for them to see out the windows, and that's what's important - a good window seat!
It has two extra-large cubbies, an widened perch, and two built-in sisal scratching posts. It's very wide, too wide to topple.
For maximized stability, it's strengthened with battens at the bottom, and anti-toppling fittings are included for double security.
---
Related:
Cat Scratching Posts
Cat Trees Top Picks
As with anything, there's no guarantee a cat will like their scratching post, use it, or
not
topple it, so all we can do is go for the well-made and sturdy choices!
I'm looking forward to what others have to say in the comments about their top picks for scratching posts for Maine Coons!