Maine Delite Cattery in Ohio
Maine Delite Cattery
Maine Coon Cattery in Ohio (and Indiana)

Are you looking for Maine Coon cats for sale in Ohio? You will definitely want to check out Maine Delite Maine Coon Cats!
We recently had a chance to catch up with Michele Cole of Maine Delite. This is a small Maine Coon cattery in the Columbus, Ohio area.
Bringing home a Maine Delite kitten is bringing home a new family member! These cats are bred for personality and temperament as well as being beautiful.
Speaking of beautiful, check out GC Maine Delite's Branson! (GC stands for Grand Champion, by the way!) What a handsome guy! And, look at that tail!

GC Maine Delite's Branson
---

Spotlight On Maine Delight
Michele, first, let me say thanks for stopping in for this enjoyable virtual chat!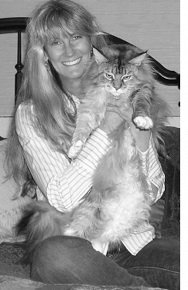 Michele Cole of Maine Delite
How and when did you discover the Maine Coon Cat breed?
10 years ago I was introduced to my first Maine Coon through a good friend of mine. She had a beautiful, sweet, loving girl that inspired me to get my first Maine Coon.
How did you become involved in breeding, & how long have you been breeding Maine Coon cats?
I have been breeding Maine Coons for 8 years and have also been involved in breeding dogs for over 30 years. However the Maine Coon Breed is my only focus now.
When I decided to work with Maine Coons I spent a lot of time searching pedigrees, breed standards, health issue and all around best practices for maintaining a good environment for my cats and myself to live in.
Do you show your cats?
I show my cats on a regular bases and feel this is and important activity for all breeders to engage in.
Keeping up with the standard and any possible issues that may arise with any breed is key to a healthy program. Joining breed clubs also helps to understand breed specific organization (CFA, TICA) rule changes or legislative mandates.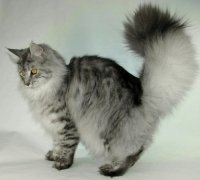 Champion Maine Delite's Storm -AKA Stormy!
What organizations are you a member of?
CFA & TICA
What kind of health screening do you do?
HCM Cardio Screening at Ohio State University Veterinary School

DNA swabs through Washington State University

SMA testing

Leukemia screening
How often do you have kittens?
Our breeding females deliver twice a year. Our kittens are born spring, summer and fall.
How should someone who's interested inquire about a kitten?
Ohio inquires call Michele Cole 614-582-6478

Indiana inquires call Marilyn Bannon 317-679-3443

or visit our website, 

www.mainedelitecattery.com and send email messages.
Anything else you'd like to add?
We are dedicated to both our breed and the extended families that take our cats into their home and hearts... we are a resource for life! We take this responsibility very seriously.

For more information about Maine Delite Maine Coon Cats, or to see lots of beautiful pictures, or find out whether there are kittens available, make sure to visit them soon!

And, for families of a Maine Delite kitten, there is even an exclusive Yahoo group so you can stay in touch with other Maine Delite families!
If you are looking for a small, quality Ohio (or Indiana!) based Maine Coon cattery, you have come to the right place!
Top of Maine Coon Cats for Sale in Ohio - Maine Delite
Dec 10, 23 03:14 PM

New today: Meet

Ginny

from Lumacoon Maine Coon! Ajuna shares, "This is Ginny our three year old dramaqueen. She's a big softie once you get to know her, despite that look of doom in her eyes XD she wa…

Nov 10, 23 03:06 PM

New today: Meet adorable little

Juniper!

Nicole shares, "I went to the vet and they originally had her as domestic medium hair and once the vet saw her she said she has some Maine Coon in her because…

Nov 05, 23 08:36 AM

New today: Meet

Yellowstonecoon Tomboy Honey!

Jessica of Yellowstonecoon Cattery writes: "Hello, Maine Coon families! We are so tickled to share our beautiful Black Smoke baby girl with everyone! She…