Maine Coon Breeders in Illinois:
Find Your Perfect Match
Welcome to our list of the top 7 Maine Coon breeders in Illinois. Finding a trusted, ethical cattery is essential if you are looking for a healthy purebred kitten. 
If you want a Maine Coon kitten, finding a reputable breeder is of paramount importance! There are fake pages, scammers and backyard breeders out there, so it helps to know what to look for. Our directory is a good place to start.
With their large size, variety of coat colors, and pleasing personality traits, these gentle giants are amazing family members. It's no surprise they regularly top the lists of most popular cat breeds.

Top things to look for when researching reputable Maine Coon breeders:
Top things to look for when researching reputable Maine Coon breeders: They should be affiliated with at least one of the cat clubs and associations, such as TICA (The International Cat Association), CFA (Cat Fancier's Association).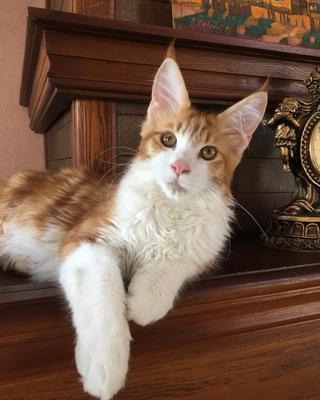 This is what is meant by "registered Maine Coon breeder." Registered breeders understand the breed standard and are passionate about breeding healthy, beautiful kittens. 

They will participate in genetic testing which screens for health problems such as hypertrophic cardiomyopathy (HCM) and spinal muscular atrophy (SMA) in their breeding cats.
They will be happy to talk with you about this and answer any questions you may have. Showing an interest in their practices and asking about their cattery shows that you are a responsible pet owner.

We recommend choosing a cattery in your general location, within driving distance.
The internet is full of webpages and Facebook pages for catteries that might or might not be real. Some of those small, vague pages might represent real breeders, others do not.
In these post-Covid times, many catteries don't have visitors, but choosing local Maine Coon cat breeders helps when it comes to doing your research; making sure they are real, legitimate, and have good local references.
Also, it's much easier and less stressful on young kittens to be picked up, rather than shipped.
The following Maine Coon Breeders in Illinois have active websites with plenty of transparency.
This means it's easy to find and confirm the name of the breeder, their location and background. It's also easy to get an understanding of their expertise, philosophy and breeding practices.
7 Illinois Area Breeders:
1:  Chemicoons
Location: Rockford, Illinois
Breeder: Liz Hansen-Brown
Cattery Website: https://www.chemicoons.com/
Facebook: https://www.facebook.com/chemicoons
Email: chemicoons@gmail.com
Info: Liz is an experienced, longtime breeder. The name Chemicoons is a fusion of "chemical" and "Maine Coon," reflecting her dual passions as a Chemistry professor and a Maine Coon enthusiast.
Cats in the cattery are named after elements, compounds, and scientists related to Chemistry.
Liz actively participates in Maine Coon Breed Groups, holding positions such as Vice-President of the MCBFA and TICA Maine Coon Breed Committee Chair.
Her goal is to breed healthy and gentle Maine Coons for their home-based breeding program and to provide wonderful pet cats to loving families. All cats undergo health screenings and DNA testing, and are fed a high-quality diet.
Liz shows her cats, and keeps her website up to date with their progress. It's a great place to see top quality Coonies with champion titles. Chemicoons only has about 3 litters of purebred Maine Coon kittens per year.
Folks on their waiting list often wait 2-4 years to meet their new feline companion. When the waiting list is closed, you can visit Liz's page of recommended peer breeders as a resource.

---
2: Ray du Soleil
Location: Mount Prospect (Chicago Suburbs), Illinois
Breeder: Maja Strzelec
Contact: http://www.raydusoleil.com/contact
Cattery Website: http://www.raydusoleil.com
Facebook:  https://www.facebook.com/raydusoleil.mainecoons
Established in 2006, Ray Du Soleil Maine Coons is dedicated to breeding magnificent cats with top European and American Grand Champion lines.
They participate in TICA and CFA cat shows, showcasing Maine Coons with exceptional health, friendly personalities, and ideal characteristics.
Offering various colors and patterns, including browns, silvers, blues, reds, and more, the cattery prioritizes the well-being of their cats, raising them as part of the family with constant human interaction.
Regularly vaccinated and tested, their cats are free from FeLV, FiV, and HCM. Ray Du Soleil Maine Coons places a strong emphasis on providing top-quality nutrition and aims to find forever homes for their kittens, attracting families from various locations. 
---
The following Maine Coon Breeders in Illinois have a smaller web presence. That's ok, many people aren't web-savvy!
But it will require research: direct communication with them through calls, emails and reference-checking to see if they are a good match for you. This is especially true if they are only found on social media. 
3: McRuff
Location: Carthage, Illinois
Breeder: Chris Shinkle
Contact: mcruffmaines10@yahoo.com
Cattery Website: https://mcruffmainecooncattery.webstarts.com
Facebook: https://www.facebook.com/McRuff-Maine-Coon-Cattery-746257998758915/
McRuff is dedicated to breeding healthy, friendly Maine Coon cats for both show and loving homes.
Their cats are raised underfoot in their home, with only a few litters each year. They are registered in ACFA, CFA, and TICA, primarily participating in ACFA shows.
Based in Carthage, Illinois, they also have a location in SW Florida on the beautiful coast.
---
4: Buctales
Location: Northern Illinois
Breeder Name: Chris Buck
Email: buctale13@aol.com
Cattery Website: http://www.buctales.com/ 
(As of this writing, Buctales website has recently expired and is down, pending renewal. If they are still in business, hopefully they get it back up soon!)
---
5: Midwestmainecoons
Location: Crystal Lake, Illinois
Breeder: Jennifer Dombrowski
Email: mwmainecoons[at]gmail.com
Cattery Website: https://midwestmainecoons.com/
Facebook: https://www.facebook.com/midwestcoons
This small cattery is family-run, and registered with TICA and CFA. They prioritize providing healthy, well-tempered, and well-socialized new kittens to adopters.
All their cats undergo screening for various health conditions, including HCM, SMA, PKD, rdac-PRA, PKDef, and hip dysplasia.
The cattery involves the whole family in raising the kittens, ensuring they are exposed to children, dogs, and resident cats.
Kittens are ready for adoption at 12 weeks, having received a clean bill of health from their veterinarian and been spayed or neutered before going to their new home.
---
The following Maine Coon Breeders in Illinois will also require research. Their names and some background are displayed. Once you verify them and their practices, they may be a good fit for you.
6: Wild Onion
Location: Chicago, Illinois
Breeder: Nanette Allen
Email: nanetteallen54@gmail.com
Cattery Website: https://www.wildonionmainecoons.com/
Facebook: https://www.facebook.com/Cassiopiasden
With over 14 years of experience, Wild Onion has placed over 400 kittens in forever homes. They have also successfully rescued and re-homed numerous adult cats in need.
Their breeding cats are purebred, from Grand Champion and European bloodlines, and are free of known genetic disorders. All adult breeders are registered with TICA and come with pedigree generational documentation.
Wild Onion offers ongoing consultation and mentorship to ensure the well-being of their kittens and cats, addressing health and behavioral concerns throughout their lives. 
---
7: Maine Coon Melody
Location: Skokie, Illinois
Breeder: Ana Liseth
Email: mainecoonmelody@gmail.com
Cattery Website: https://www.mainecoonmelody.com/
Facebook: https://www.facebook.com/mainecoonmelody
Maine Coon Melody is dedicated to providing forever homes for their beloved kittens. They warmly welcome everyone to meet our kings and queens and choose their future feline companion. Their Maine Coons are an integral part of their family.
Socialization, playfulness, and love are instilled in them as they grow alongside their children. Their cats are registered with TICA and CFA, and they have undergone genetic testing.
Notably, their male cat Dexter received the Best of the Color award, while female Cruella secured the second-best of breed and the best of the color award.
Frequently Asked Questions (FAQ's):
Yes, it is legal to have Maine Coon cats pets in Illinois. They are excellent companions and one of the most popular domestic cat breeds of cat to keep as household pets.
You can expect to pay between $1,000 - $2,500 for a purebred Maine Coon kitten.

Factors such as champion bloodline, location, and rare characteristics will affect the price established by individual breeders.

Kittens from a specific Maine Coon cattery may be in high demand, which will be reflected in their cost.
Yes. In fact, your breeder will require you to sign a contract prior to bringing home your new baby.

In this contract, you will agree to never declaw your kitten, to spay or neuter, and to keep him or her as an indoor kitty (unless you have a safe, enclosed outdoor area such as a catio).

This is part of ensuring the kitten goes to a responsible, good home.
They do tend to have a favorite person. These large cats are known for being very dog-like.

They do have a special bond with the family member who lavishes the most time and affection on them, but they love everyone.

They are friendly, not shy, and enjoy meeting new people as well as being "part of the family."
Note regarding Maine Coon breeders in Illinois:

In this age of prolific scammers, websites and social media pages that offer a generic "about" section and lack a breeder's name have not been included.
If a cattery advertises multiple litters at a time, and many currently available kittens, they may not be included. We support small, ethical hobby breeders who utilize a wait list and have relationships with fellow breeders who share their breeding philosophy and business practices.
If your cattery is missing and should be included, please contact me. Alternatively, if you have information that someone on this list should be removed, let me know.
Disclaimer:

This free list of Maine Coon Breeders in Illinois is compiled in good faith. Each has been researched to the best of my ability.
It is here to offer a start in your search. It is still important that you verify the legitimacy, references, and business practices of your potential breeder. Best wishes on your journey to find your new best friend!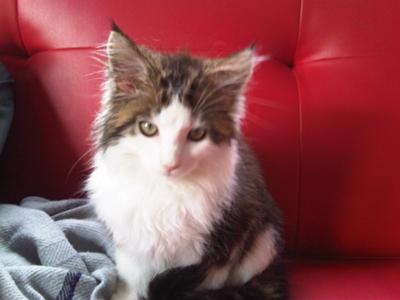 Top of Maine Coon Breeders in Illinois
Sep 24, 23 09:30 AM

New today:

Chubbs

is our newest addition to our Maybe Coonie Photo Album. What do you think? TJ shares, "Our male kitten, Biggerton Chubberton, or "Chubbs" for short, is a tuxedo kitten.. Chubbs is di…

Sep 20, 23 03:16 PM

Freshly updated: Our

Royal Canin cat food review

looks closely at their formula marketed toward Maine Coon owners. What makes it a breed-specific food? Here, we examine it's ingredients and what it of…

Sep 15, 23 06:35 PM

New today: Meet Leigh-Anne's fluffy girl,

Ruby!

She wonders if she has some Maine Coon in her.. ⬇️