All About Kitten Diarrhea
"Help! My Kitten Has Diarrhea!"
Worried about kitten diarrhea? When we first introduced our kittens to our home, we set them up in the laundry room with all their bedding, food and water, and litter boxes.

I soon found out that diarrhea in kittens certainly happens.
They were perfect in their use of the litter box, but it was still a mess.
Let's just say that Alice and Leo became accustomed to getting bathed at a very young age!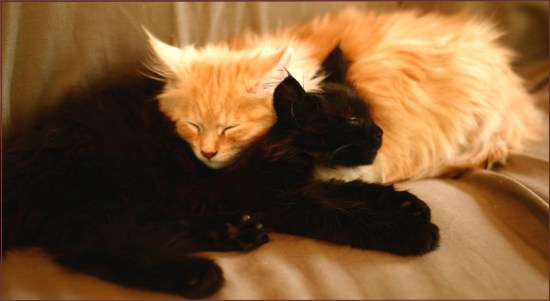 I was worried about the causes of kitten diarrhea, and I immediately called our family veterinarian. He quickly put my mind at ease.
As it turns out, diarrhea in kittens is not uncommon.
It can happen for a variety of reasons, especially when they first come home. Some common reasons for kitten diarrhea are:

Stress in Kittens
The simple change of coming to a new home is enough to stress a young kitten, causing feline diarrhea.
They have never been outside of their previous home, never been without their mom or siblings, and they have absolutely no idea where they are or who you are.
The good news is that kittens are quickly adaptable! He or she will soon be fully adjusted to your home. Just take it easy with introductions to children and other pets.

Change In Your Kitten's Diet
Switching food is a very common cause of feline diarrhea. Changing the type of kitten food has to be done slowly.
If you plan to switch to a different food, don't start right away. For the first week or so, feed your new kitten exactly what he or she has been eating.
Then, transition very slowly. This is especially important if you are making a drastic change, such as to a much higher quality food or one with much higher percentage of protein.
If you have done all this, it's possible that the new food just doesn't agree with your kitten. Even the best cat food can cause diarrhea in certain kittens.

Milk For Kittens?
Most kittens and cats are lactose intolerant. It can be tempting to give a little milk to your kitten, but it will almost certainly result in diarrhea.
There are lactose-free alternatives you can find for your kitten, though. How about some healthy canned or fresh food? What a treat!

Poisons: Kitten Safety
Kittens are so curious! They get into everything, everywhere! It's super important to kitten-proof your home.
Between household plants, kids toys, food left on the counter, even the most tidy home can become a danger zone!
Visit our page on kitten safety for a complete, printable page to get you started on kitten-proofing your home.

Treatments For Kitten Diarrhea
There are specially formulated remedies, such as kitten diarrhea treatment readily available online. With your veterinarian's approval, this may provide just the relief your kitten needs.
So, these are the most common causes of diarrhea in kittens. You'll want to call your vet, too, of course.
Our vet prescribed an over the counter remedy. Within a week, Alice and Leo were good as new! Just make sure not to try any remedies without your vet's approval.

There are other, more serious causes. These medical reasons include cat parasites, feline leukemia, and an inflammation of the intestinal lining called colitis. You and your vet will want to rule out these and other possibilities.
So, if you have a case of kitten diarrhea on your hands, don't panic! Think about what may be causing his or her upset stomach, then call your veterinarian.
Dec 10, 23 03:14 PM

New today: Meet

Ginny

from Lumacoon Maine Coon! Ajuna shares, "This is Ginny our three year old dramaqueen. She's a big softie once you get to know her, despite that look of doom in her eyes XD she wa…

Nov 10, 23 03:06 PM

New today: Meet adorable little

Juniper!

Nicole shares, "I went to the vet and they originally had her as domestic medium hair and once the vet saw her she said she has some Maine Coon in her because…

Nov 05, 23 08:36 AM

New today: Meet

Yellowstonecoon Tomboy Honey!

Jessica of Yellowstonecoon Cattery writes: "Hello, Maine Coon families! We are so tickled to share our beautiful Black Smoke baby girl with everyone! She…