Is Grain Good for Senior Maine Coons?
by Salim Matt
(Salish Lands, Pacific NW)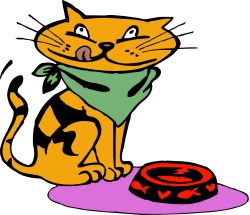 I'm 'uncle' to Franklin, an absolutely amazing Maine Coon who used to live with me and now lives with a dear friend.


Franklin is, we guess, at least 15 (he was a rescue), and has lost a considerable amount of weight from when I last saw him several years ago.
My friend's vet recommended dry food WITH grain (something to do with possible heart conditions and cholesterol).
I've checked online, and can find no one making similar suggestions - and I've been told forever that grain is bad for cats.
Also, I'm thinking that dry food is no longer the best choice for Franklin - his appetite is still good (I just had a fish dinner, and Franklin was clamoring for shares). But he doesn't seem very interested in his kibble.
Has anyone heard of a vet recommending grain for an older Maine Coon?
Thanks for your help!
Reply:
Hi Salim,
Great question! There are times a vet will recommend a low-protein diet, such as to reduce the strain on kidney and liver that happens when processing protein.
My Leo had chronic kidney disease, and he was on low-protein prescription kibble diet for most of his life. I fully believe it's what kept him going.
My research into cat food ingredients finds that there is actually no evidence that grain is bad for cats. Grain-free is touted as top tier choice, but it's not backed by studies as of yet.
In fact, grain-free foods often contain other sources of carbohydrates such as potatoes, sweet potatoes, peas and even tapioca, all of
which are no better or healthier for cats than grains.
It seems like Franklin's vet recommended one of their in-house stocked prescription diets which is formulated for cholesterol and or heart problems, and this food contains some grain.
I would think that this food has the right proportions of everything he needs such as adequate protein for heart health, and Omega 3 fatty acids, and probably be low-fat if Franklin has cholesterol issues.
I have a hunch it's more of a case of 'this food has some grain' than the vet saying Franklin needs a grain for these issues.
Also, most of the special formula foods come in both kibble and canned varieties. I totally agree with giving him whichever version he prefers! Kibble is denser in calories, but if he's uninterested in it, that becomes a moot point. Every cat is different!
Best wishes for a long and happy retirement for Franklin. I'm looking forward to what others have to say!
comments:
Nov 15, 2021
Teeth?
by: Anonymous
With my elderly cats (not Maine Coons, but some as old as 18+ years), it has occurred to me that their eventual loss of interest in kibble may have something to do with losing ability or having pain when trying to chew it with their aging teeth/jaw muscles, or an incident of a sore tooth.
If there is little interest in the dry variety, perhaps the moist version should be tried, in case it is easier for the elderly to consume. If there was great interest in fish dinner, there is still an appetite.