How To Find a Maine Coon Cat
Information and Guide
Before I became a Maine Coon mama, I had a particular problem trying to find a Maine Coon cat near me. I'm in Maine!
So, every search I did for "Maine Coon cats in Maine" would bring results from anywhere in the United States. I couldn't narrow it by location.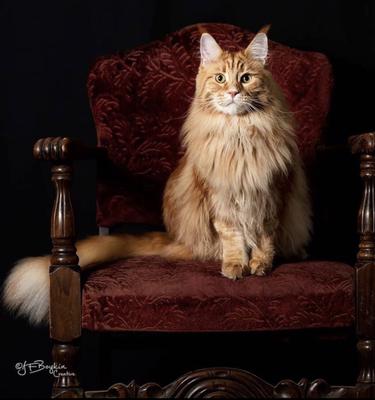 But that's nothing compared to the difficulties faced by today's potential Coonie parents who are trying to find reputable breeders.
On today's internet and social media, scams and unscrupulous people looking to take advantage seem to be everywhere.
It can seem like a daunting task to discern "real" Maine Coon kittens, or real breeders for that matter.
Maurine writes in, "I live in Central Florida and have been trying to find a Maine Coon cat for years. How do I find one in my area? I am cautious and need to know that it is not a scam."
With their large size, long fur and bushy tails, not to mention stellar personality, they are one of the most desirable cat breeds.
So it's not surprising that kitten scams have cropped up everywhere.
We have to be discerning in our search for Maine Coon breeders. So where do you go to find a Maine Coon cat or kitten of your own? Your best bet will always be with responsible, ethical, reputable breeders.

Top Tip:
I recommend taking an old-fashioned route when it comes to communication and research.
Phone calls and face to face meetings go a long way to help ensure you are in contact with a real Maine Coon breeder and not a scam artist.
Scammers favor social media direct messaging, texting, emailing and similar means of communication. I would make sure I established a trust in this being an actual breeder
It also means money transactions in cash or check, handed over in person or snail-mailed to a real street address (not PO Box) which has been confirmed by a drive-by, visit, or references. Avoid using any kind of direct money transfer.

The world is different now that covid is part of our reality. In-person visits to the breeder and to the cattery may not happen.
In this case, sometimes a breeder will be open to letting you peek in the window of the cattery at a specified time.
Also, they should be open to having voice calls, doing video calls, and of course to providing updated photos and videos of the kittens.
"Where Do I Go To Find a Maine Coon Cat?"
A great first start is to visit our long and extensive breeder directory. I've put this directory together personally, and although I cannot possibly know or vet all the breeders in the country, this list gets updated regularly.
I've visited their websites, their social media accounts, and checked for red flags, as well as confirmed their memberships to the cat associations (more on this later).
If I were looking for a Maine Coon now, I would contact every breeder on this list who is within driving distance. Some may not be breeding again for a while, some may be taking names for a waiting list, and some may be expecting litters but all the kittens are spoken for.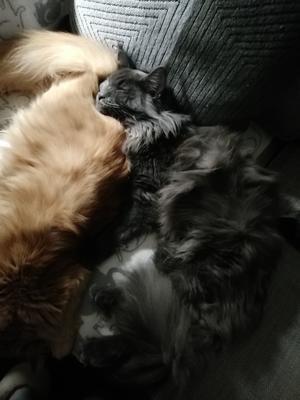 This is to be expected! Finding Maine Coon cat requires patience. These breeders may also be able to put me in contact with a fellow breeder who would be a good fit for me.
To reach out initially, I would feel comfortable using email or phone call.
After I've established a relationship and trust with a responsible breeder through research, checking references, having phone calls and face to face meeting through video call and/or visit to the cattery, then of course, digital communication is a handy way to keep in touch!

"How Do I Check References For a Breeder?"
The best way is to know someone who has gotten a kitten from them! But, if you don't, that's ok. Just ask them for references. A reputable breeder will be glad to know you are doing your research.
My favorite breeder websites contain a testimonials section. There will be pictures of kittens (or puppies as the case may be) growing up in their forever homes, with stories and updates from their families.
I like to see the older cats too, to give me an idea how the kittens may look later on.
Three Keys to Avoid Scams
Between these testimonials, confirmation of the location as being a real cattery by visit or drive-by, and a face to face meeting either on video or in person, I then feel comfortable!

"What if the cattery is too far to visit?"
If you've chosen a breeder outside driving range, that will require a bit more work to research!
Sometimes folks make this choice because they have been comparing prices and deals, and they've found a breeder who will ship a kitten at a much lower price than they've otherwise found locally.
Be very wary of scams in this case.

The Cat Associations
Every reputable breeder will be a member of one or more of the recognized cat associations. The cattery will be registered with them, as will their cats and kittens that they breed.
This is what it means to have "registered" or "pedigreed" kittens. It's also the only way to know for sure you are receiving a purebred kitten.
When you think of cat shows, and show cats, it is these organizations you are thinking of. These associations are:
TICA (The International Cat Association)
CFA (Cat Fanciers Association)
FIFe (Federation Internationale Feline)
ACFA (American Cat Fanciers Association)
CFF (Cat Fanciers' Federation)
ACA (American Cat Association)
Do not rely solely on a breeder stating on their website or social media that they are a member of an association.
Make sure you visit the website of the association itself and find the breeder there, listed as a member.
Then, make sure the location, phone number and other contact info match your info for the cattery.
An important reason to do due diligence and find an experienced breeder is that they will screen for health issues.
Although this popular breed is quite healthy, genetic testing is necessary to ensure healthy generations of Coonies.
Some of the health problems screened for include hypertrophic cardiomyopathy, hip dysplasia, and spinal muscular atrophy. You can visit our section on Maine Coon health problems to learn more about these.
"The cost is too high. How can I get a Maine Coon cat for less?"
Great question! It's always a good idea to be open to adopting pets in need. There will still be adoption costs, but they are much more manageable. These cats really need new homes.
On rare occasion a purebred Maine Coon has been surrendered, but it's more likely you'll find a mix, a lookalike, or "honorary" Coonie in need of a forever home. Also a great option for a loving, large cat to bring home!
Sometimes a breeder will be ready to re-home adult cats when they are ready to retire from breeding. Don't let that word "retire" fool you though! They are still young and vibrant, and many good frolicking years ahead. This can be an affordable way to find your own Coonie.

Are Maine Coons Good Pets?
Absolutely! They are a very affectionate (many are lap cats) and healthy breed. These big cats have a gorgeous shaggy coat, and are famous for their sweet temperament.

They are known as the gentle giants of the cat world. They become very bonded to their human family, a best friend for life.
The hard part is to find a Maine Coon Cat – the easy part is to love one!
Top of How To Find a Maine Coon Cat
Disclaimer: When you buy through links on our site, we may earn a small commission. As an Amazon Associate I earn from qualifying purchases.
Our Coonies like:
Greenies
4.8 stars; 38k+ ratings
Pureness Giant High Sided Litter Pan
4.7 stars; 7.8k+ ratings
Stainless Steel Water Fountain
4.3 stars; 11k+ ratings
Sep 24, 23 09:30 AM

New today:

Chubbs

is our newest addition to our Maybe Coonie Photo Album. What do you think? TJ shares, "Our male kitten, Biggerton Chubberton, or "Chubbs" for short, is a tuxedo kitten.. Chubbs is di…

Sep 20, 23 03:16 PM

Freshly updated: Our

Royal Canin cat food review

looks closely at their formula marketed toward Maine Coon owners. What makes it a breed-specific food? Here, we examine it's ingredients and what it of…

Sep 15, 23 06:35 PM

New today: Meet Leigh-Anne's fluffy girl,

Ruby!

She wonders if she has some Maine Coon in her.. ⬇️