Feline Pine Cat Litter
A complete review of this natural cat litter
Feline Pine Cat Litter; Does it clump? Control odor? Do the cats use it? What's it like? Is it expensive? These were all the questions I had before we tried it! Here, we'll share our experience with you!
We've been using Feline Pine Cat Litter with our two cats for a while now. I was ready for a change from the clay clumping cat litter.
I didn't have any real complaints regarding the cat litter we were using. I thought it was as good as it gets. Boy was I wrong!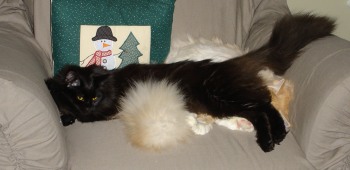 The Old Stuff
For many years I have been using a very popular, "high end" clay clumping cat litter. The brand isn't important, because I don't have any real problems about the brand
It is the type easily found at the supermarket, available in several formulas such as multi-cat or "special" odor control.
Why Switch?
Well, we like to buy organic when possible, we're aware of the environment, and we like to make natural choices. That's not to say we always do, but we are aware of the importance of making natural choices for our family and the dangers of too many chemicals in our home and our lives.
I was never really thrilled with the cat litter situation. You know how it is, as much as we love our cats, it has got to be the least pleasant task.
And the least pleasant smell. I tried a few different kinds, and the cats really preferred this particular clumping kind.
It smelled okay for a day or so after changing it, then went downhill (even with scooping). Our boxes are in the basement, it's a nice daylight basement, and the cats love their "space".
But, I can't go down there and scoop every time they use it.
In the spring and summer, when it gets damp, forget about it! Smel-ly!
What Took So Long?
Well, I never really looked into it because I assumed natural cat litter would be super expensive. Sometimes buying natural or organic costs more.
But after really learning about cat litter, and the connection between a cats health and his natural cat litter, I decided to try Feline Pine Cat Litter.
I was pleasantly surprised to learn that it is not more expensive at all! The whole box was a very little bit more than the old kind.
It weighs less, and is twice the size. Since the litter is lighter and fluffier than clay, I get a whole lot more in a box.
Why Feline Pine Cat Litter?
Well, I read the user reviews, and all the natural cat litters looked good. I liked the idea that it would clump, and decided to give it a shot.
Feline Pine cat litter comes in pellets and shavings. We have just the shavings, though I recently visited someone who mixes the pellets in, to add some "weight" to the litter.
Making The Switch
I was a little nervous at first. The cats have shown that they can be picky in this area. But, lo and behold, they took right to it!
It was as if they had been using it all along! I think they even like it better, because it has no odor (other than the pleasant pine aroma) and is closer to what a cat would use in nature.
Are There Any Cons?
Not really. If I had to stretch to think of something, I'd have to admit that since it's light and fluffy, it can spill and make a mess around the box. 
But, it is clean, and quick to sweep up. There has been some tracked on the stair pads, though not much more than the old litter did.
Benefits From The Switch to Feline Pine
I could go on! Clearly we are happy with the switch to Feline Pine cat litter. I'll never go back to clay.
There is no smell upon entering the area, unless a mess has just been deposited.
There is no smell on the cats fur, an old pet peeve of mine.
There are no shavings ever trapped in their long fur.
Of course, it is healthier for them and their lungs (and mine!)
It is really easy to scoop! It clumps surprisingly well.
Recommended?
As you may have guessed, I have no hesitation in recommending Feline Pine Cat Litter to anyone.
The only caveat, as mentioned on the previous article, is that there is the gamble as to whether your cat will make the switch. Some cats just don't like change. Also, if your home is small, odor may be more of an issue.
All in all, we are happy with the change, and I wish we had done it sooner. Changing to natural cat litter is a great step in improving the health for everyone in the home. Hopefully this account helps!
Feline Pine cat litter is widely available at your local pet store or supermarket.
« Back to Maine Coon Litter Box Problems and Care
Dec 10, 23 03:14 PM

New today: Meet

Ginny

from Lumacoon Maine Coon! Ajuna shares, "This is Ginny our three year old dramaqueen. She's a big softie once you get to know her, despite that look of doom in her eyes XD she wa…

Nov 10, 23 03:06 PM

New today: Meet adorable little

Juniper!

Nicole shares, "I went to the vet and they originally had her as domestic medium hair and once the vet saw her she said she has some Maine Coon in her because…

Nov 05, 23 08:36 AM

New today: Meet

Yellowstonecoon Tomboy Honey!

Jessica of Yellowstonecoon Cattery writes: "Hello, Maine Coon families! We are so tickled to share our beautiful Black Smoke baby girl with everyone! She…