Scrappy
Best Food And Cancer Prevention?
by Carol
(Corolla, NC)
Hi, my Maine Coon is 11 years old and had a tumor removed from his side that was caused by his shots. He made it through the surgery and day after fine.
On the next day he went into heart failure. We rushed him to a 24/7 clinic and with much treatment, he made it home...I understand his cancer is an aggressive cancer and may come back.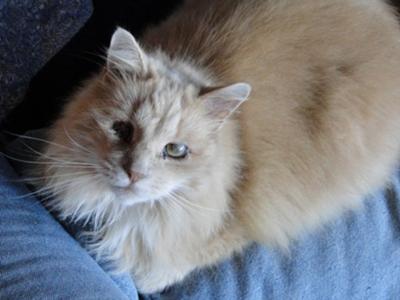 My Baby Scrappy
He cannot go through any more surgeries because of his heart. He has an enlarged heart, and did have fluid around it and in his lungs. They are clear now.

He has been on heart meds and lasix for 3 months and is acting like he is in his second childhood...He has tamed many feral kittens so they could find homes. He is the most active cat out of 10 that we couldn't find homes for.

He has had one eye since birth, had it rebuilt and now had to go through this...The other cats follow him around just to be near him...

He loves to play in water so we got him a drinking fountain...He does all kinds of funny tricks and we love him dearly...I give him saffron to eat, warm castor oil compresses, (every day) 1/4 of a baby aspirin every 3 1/2 days and lots of hugs and kisses...

I would like anymore suggestions on cancer prevention, and the best food to feed him. He doesn't like raw meat at all...The vet said he was in the top 2% to make it through something like this...The Animal Clinic only gave him 6 days to 6 months to live...

He is doing wonderful, and we would like to keep him that way as long as possible. Any ideas would be greatly appreciated.

Thanks,
Carol and Scrappy


Reply:
Hi Carol,

Wow, what a special boy! It seems he really is here for a reason. Helping tame feral kittens, he is a living angel!

I'm sorry to hear of all his troubles. But he knows how much he is loved and cared for, that's for sure.

As for your question regarding food for cancer prevention, this is something I've not yet encountered or researched. I would think that giving him a very high-quality cat food made from top ingredients would be important.

You might want to try having him eat a variety of ingredients, too, by purchasing more than one brand. Canned food and a variety of "real" human food would be good to.

It seems like you are already pampering him very well! I would recommend asking your vet if there is a particular ingredient or supplement that would help with cancer prevention.

If there are other owners who know if there is a best food for cancer prevention, I hope they will leave comments, too!

And my thoughts are with you and Scrappy. I'm glad he is feeling so well right now!

All The Best,
~Carrie

comments:
Feb 23, 2013
My Scrappy is missed...
by: Carol
We lost our wonderful Scrappy Nov 1 2011. I still cry everyday...

Nov 04, 2011
We lost our special boy
by: Sad Carol
Scrappy is gone. Our hearts are broken....

Oct 21, 2011
Scrappy says thanks
by: carol and scrappy
Hi, Scrappy is still doing well on his new heart meds. He is pushing the 6 month mark and hopes to pass it...He says "Hi" to all the well wishers out there and thanks for the kind words...We are thankful for everyday together.

He still enjoys our morning coffee breaks and playing in his water fountain and trying to catch the bubbles...

He did throw a blood clot in Sept, but he made it home again..He likes to sharpen his claws in our shoes while we have them on, so he keeps us laughing...

Aug 16, 2011
Cancer prevention
by: Helen
I, myself, am a 11 year breast cancer survivor, so have read up on all cancers (human and animal)and treatments and remedies. Here is the conclusion I have come to: Love your Scrappy each day as though it were his last. Don't worry about the future, otherwise you can't enjoy the present. Today is just that, a present from God.

Trust your doctor and follow his recommendations. There are so many remedies out there and we don't know the effect they have, it is like gambling. You may do more harm than good. "Natural" does not mean "safe."

Cuddle up with Scrappy and tell him his Texas friend thinks he is ever so handsome and is praying for him.

Aug 16, 2011
Hugs
by: Marg
Hi Carol and Scrappy,
Hugs from Oz to you and Scrappy. :-) Your boy sure in one special cat. :-) He is beautiful with a very special nature. :-) There is a holistic vet featured on the Dr Mercola website. I hope you find some help there.

As I type this my gorgeous Maine Coon X Charlie Brown is opposite me grooming himself. :-) This is reassuring to me as CB has his share of major health problems too, asthma and FUTD which nearly took him from me 8 years ago. My darling Charlie Brown looks identical to your precious Scrappy. :-)
Marg. :-)
---
(note: comments are closed in this archived tribute page)
Return to Top of Scrappy's Page
Dec 10, 23 03:14 PM

New today: Meet

Ginny

from Lumacoon Maine Coon! Ajuna shares, "This is Ginny our three year old dramaqueen. She's a big softie once you get to know her, despite that look of doom in her eyes XD she wa…

Nov 10, 23 03:06 PM

New today: Meet adorable little

Juniper!

Nicole shares, "I went to the vet and they originally had her as domestic medium hair and once the vet saw her she said she has some Maine Coon in her because…

Nov 05, 23 08:36 AM

New today: Meet

Yellowstonecoon Tomboy Honey!

Jessica of Yellowstonecoon Cattery writes: "Hello, Maine Coon families! We are so tickled to share our beautiful Black Smoke baby girl with everyone! She…