Tattle Tails: Maine Coon Newsletter
June, 2012
Happy Adopt-A-Cat-Month!
In This Issue:
Cat Quote
What's New On The Site
Our Adopt-A-Cat-Month Special Issue
Leo's Health Tip
---
"The really great thing about cats is their endless variety. One can pick a cat to fit almost any kind of decor, color, scheme, income, personality, mood.
But under the fur, whatever color it may be, there still lies, essentially unchanged,
one of the world's free souls."
~Eric Gurney
---
The May Photo Album is all wrapped up. It was a super busy month with many beautiful Maine Coons, mixes and more in the May Album!


The June Photo Album has just been launched! Chester, Clancy, Baby Coon, Beau, Dino, Big Fluffy, Peppi, Mina, Caesar, Phatboy, Amanda's & Crystal's maybe-Coonie mixes, as well as Benny & Ozzy getting into mischief!


PAWSitive Passages has moved to a just-Friday delivery. I think this frequency will be just right, and now you'll know exactly when to expect it.

Also, it is now featuring a weekly "blast from a past" photo album. This is where I choose an oldie but goodie from one of our older photo albums and put the spotlight on him or her!



Current Deals on Great Cat Products:
This new page simply contains our picks for cheap pet supplies. This page will be regularly updated with the best deals we can find so you can get big savings for your big, furry family!



---

Attention: It's Adopt-A-Cat-Month!

I can't believe another year has passed already, but it has! It's Adopt-A-Cat-Month. Why is Adopt A Cat Month in June? During the spring, shelters are brimming with cats and kittens of every age. Unfortunately, there are often more cats in a given shelter than they can handle.

Sadly, a large number of cats end up being euthanized this time of year. With "kitten season" upon us, this is the perfect time for adoption or rescue. I always think of those older cats who are often overlooked in favor of spunky, cute kittens.

Free Picture: You are welcome
to download this picture and
use it any way you wish,
even as your FaceBook profile pic!

Maybe you already have a full house? There are still a few ways to make a difference! How about:

Dropping off some supplies at a local shelter


Making a donation of time or money to a local shelter


Sharing a cat adoption themed page on FaceBook (list below)


Temporarily fostering a cat (or cats) in order to make room at shelters


Changing your FaceBook icon to announce Adopt-A-Cat-Month to all your friends!

Do you possibly have a friend or two who are considering cat adoption? Tell them that now is the time! Here are a few pages that are great for sharing this month:

Ready to find a cat or kitten? Try our Adoptabble Cat Tool!

And here is a favorite section of mine - it's perfect for reading and sharing this month:

"Alice and I are indoor kitties, but lots of cats go in and out this time of year. It's the perfect time to talk about poisonous or toxic plants.

Some flowers may be around the house in pots or vases, others are growing outside. There are a lot of them! And we cats like to chew on leaves, grass and flowers.

Some of the plants listed as toxic to us include carnations, calla lilies, buttercups, boxwood, azalia, burning bush, daffodils, dahlias, gladiolas, hostas and so many more.

We have most of these right in our yard! So you may want to keep a list handy. In fact, Mom should write a printable page on that..."

Source: ASPCA

PS:
Be Friendly:

If you have friends or family who love cats, feel free to forward this newsletter to them! It's fun and free :) The more, the merrier!




---

PPS:

If you have enjoyed this issue, or any other page on the site, please help us grow by sharing it through FaceBook, Twitter, or other social networks. We

really

appreciate it!

If you have a blog or website, would you consider linking to us? Thank you so much!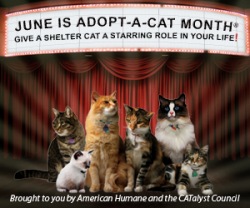 Sponsored Links: