Maine Street Cats
Are you looking for Maine Coon cats for sale in California? You may want to spend a while getting to know Maine Street Cats!

Maine Street Cats is a small home cattery run by breeder Gary Fulgham and located in Santa Rosa, California - which is located about an hour north of San Fransisco.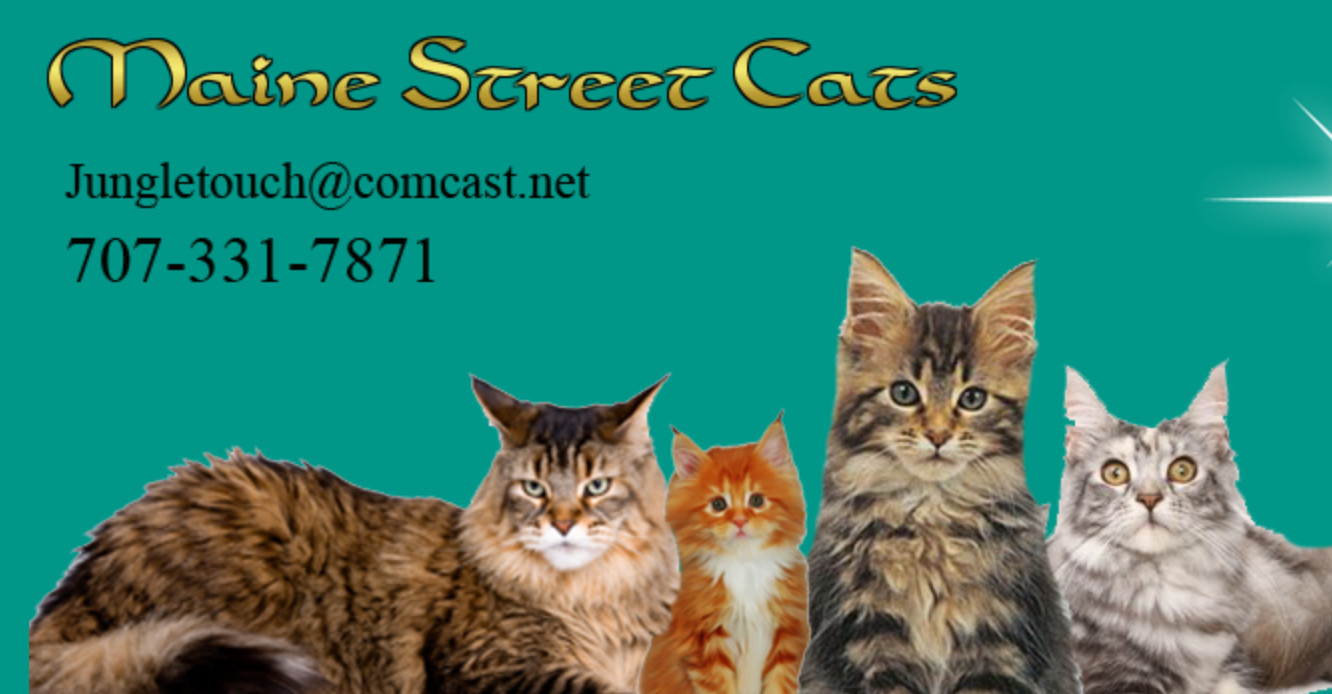 Gary's cattery is a hobby rather than a business. He has 4 queens and 2 studs, and raises kittens right in the home, underfoot. The outcome? Well-adjusted, healthy, gorgeous Maine Coon kittens with lovely temperaments.

We recently had a chance to catch up with Gary to chat a little bit about his cattery and his beautiful cats.
Spotlight On Maine Street Cats
Hi Gary, thank you for stopping by to share your experiences with us.

When did you first discover the Maine Coon cat breed?
I have a longtime friend ( 25 years) who breeds Maine Coons. She kept telling me I need to breed Maine Coons. She said how great they are.

I had Savannah cats I am one of the first 18 breeders of Savannah Cats) and at that time I was not interested in another breed. In 2011 she talked me into getting a trio and from that day on I was hooked. Maine Coons are the best.
Tell me a little bit about your first Maine Coon:

My first Maine Coon was a silver classic female named Sierra Mist. She was a large girl and extremely needy. She had to be touching me all the time :)

How did you get started breeding? Did you have a mentor?

As mentioned above, My friend was a long time breeder. She has been breeding Maine coons close to 30 years. Her name is Connie Cutbirth of Amore Cattery in Roseville Calif.

I was already a long time at breeder but Connie mentored me in the ways of a Maine Coon. Maine Coons and Savannah cats are polar opposites. LOL...

What is a day at your home cattery like? I imagine it's never boring!

Typical stuff. I hit the floor in the morning and head for the coffee pot. Once that is going, I start feeding as there is no peace until all get to eat. LOL ...

Once I have coffee, litter boxes and general cleanup. As I type, I have a 16 week old kitten batting at my hands. When I am home, my Maine Coons are involved in all I do. They won't have it any other way.

How often do you have kittens available? How old are they when they go home, and how does someone go about reserving one?
Hunters Pride of Maine Street Cats
I only have about 6 or 7 litters a year. I am small breeder. Kittens cannot leave her until 16 weeks of age. If someone sees a kitten here that they like, first contact is via text or email.

After a bit of chat I have to talk on the phone. If we like each other, then a blank contract is emailed. If that is OK, I fill out the contract and email back for signature.
Once it is signed, I accept a $500 deposit. Balance is paid when they pick up kitten.

What clubs or organizations are you a member of? And, do you show your cats?

I am a member of TICA (The International Cat Association) in good standing. I do not show.

Do you specialize in, or tend to have more of any particular trait? (such as color, size, polydactyls)

I only have one polydactyl female, so not many poly's. I seem to get a lot of torties and torbies. Reds are popping up as well. I have a silver torbie and 2 black tortie females. Hence the many colored female.

What health screenings do you have done on your cats?

I screen with wisdom panel. It checks for nearly everything under the sun with cats.

What is your favorite thing about Maine Coons?

I love the laid back personalities. Even though they think they are gods LOL... They are confident cats and I like that.

Is there anything you'd like to add?

Maine Coons have personalities different from any cats I have ever had. They are confident, smart, playful and walk across the floor like they are gliding.

Most of mine don't even react to noises, (vacuums don't bother mine either). They look so majestic (I'm sure they think they do too).... They are just great cats. Their larger size is also nice to have. Everyone loves a big cat, right?
---
If you are located in California and are looking for an ethical, experienced breeder who is TICA registered and dedicated to raising healthy, friendly and adorable Maine Coon kittens, Gary's cattery might be a perfect fit for you.
More information about Maine Street Cats for prospective families on the website: Maine Street Cats
Note: Maine Street Cattery does not ship kittens. They are available for pickup in Santa Rosa, California.
Call or Text Gary: 707-331-7871
Email: mainestreetcats@gmail.com
Social Media:
Instagram
Facebook
---
Disclaimer: When you buy through links on our site, we may earn a small commission. As an Amazon Associate I earn from qualifying purchases.
Our Coonies like:
Greenies
4.8 stars; 38k+ ratings
Pureness Giant High Sided Litter Pan
4.7 stars; 7.8k+ ratings
Stainless Steel Water Fountain
4.3 stars; 11k+ ratings
Sep 24, 23 09:30 AM

New today:

Chubbs

is our newest addition to our Maybe Coonie Photo Album. What do you think? TJ shares, "Our male kitten, Biggerton Chubberton, or "Chubbs" for short, is a tuxedo kitten.. Chubbs is di…

Sep 20, 23 03:16 PM

Freshly updated: Our

Royal Canin cat food review

looks closely at their formula marketed toward Maine Coon owners. What makes it a breed-specific food? Here, we examine it's ingredients and what it of…

Sep 15, 23 06:35 PM

New today: Meet Leigh-Anne's fluffy girl,

Ruby!

She wonders if she has some Maine Coon in her.. ⬇️