Exotic Shorthair Cat Breeds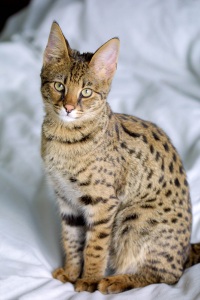 We asked for your favorite cat, and a lot of you answered with the exotic shorthair cat!
This covers a few breeds, of course. I grew up with a sweet Siamese by the name of Eppie, so I definitely understand the love for these felines.
Get to know the exotic shorthair cat and then share your favorite, too!

Siamese Cats
By: Jordan in Fincastle, Virginia, U.S.
My grandparents have a Siamese cat, her name is Sophie.
Sophie isn't much of a people person, but she is a big fan of hanging around under beds, and sneaking about the house, from place to place.
Upon entering the house, you may never know she's there, but when you've been there for a bit, you'll realize signs you hadn't originally.
From the questions such as, "Where did those cat hairs on the couch just come from?" to, "What just touched my leg?"
Sophie is and will continue to be about the house, stalking the visitors and batting at the table cloth.
I like Siamese cats because of their playful hiding and stealth. They're constantly on a mission, going from here to there, and nobody but they knows what they're trying to do.
No matter what they do, they always have enough energy to hide from you, and enough energy to playfully run from you once you find them.
The great cat that they are, they seem to play well with other cats, in all my experience with them. Generally rather easy to take care of, the Siamese cat's biggest need is some attention.
Sophie will not come to you for attention, but once you come to her and pick her up in your arms, she's all about you.
As long as she continues getting rubbed and having the utmost attention paid to her, she won't leave.
I have to admit, out of all the exotic shorthair cat breeds I've seen, the Siamese is a big favorite, and I will more than likely get one of my own when I'm living on my own in the future.
---

My Five Year Old Bengal Exotic Shorthair Cat
By: Beatrice in Tennessee

I had been bitten by a stray cat three years ago and I had to have some shots for a couple of months to keep me rabies free.
My mom decided to get a 1 year old Bengal exotic shorthair cat to let me forget of the past "trauma" and perhaps to soothe her caring heart as it was a stray cat which had a collar in it. My cat's name is Sarah and it made me forget my past bad memory with a cat.
Sarah is very much like my old dog. She is affectionate and would jump at me when I get home or when I"m seated at the couch. She can sense if I was sad and she would not leave my side.
She would whimper to ask for milk and when I give it to her, it feels like I am comforting myself too. I feel like she shares my pain.
I cannot forget the time when I was so down as I had just broken up with my boyfriend. I came home very late and I was surprised to find her waiting for me. Her food was barely untouched and she immediately ran slowly towards me.
She did not jump as she normally does. I think she felt the pain even before I came home. I picked her up, lay her on my lap and had a great long cry. She cried with me. It was all the comfort I needed.
I just needed someone who will not leave me and at that time I felt that.
When my friends come over, she always make sure to let her presence felt. My one and only trick with her is that she can sit whenever I offer her some food. She also purrs very uniquely in that it almost has a melodious tone.
---
Sep 24, 23 09:30 AM

New today:

Chubbs

is our newest addition to our Maybe Coonie Photo Album. What do you think? TJ shares, "Our male kitten, Biggerton Chubberton, or "Chubbs" for short, is a tuxedo kitten.. Chubbs is di…

Sep 20, 23 03:16 PM

Freshly updated: Our

Royal Canin cat food review

looks closely at their formula marketed toward Maine Coon owners. What makes it a breed-specific food? Here, we examine it's ingredients and what it of…

Sep 15, 23 06:35 PM

New today: Meet Leigh-Anne's fluffy girl,

Ruby!

She wonders if she has some Maine Coon in her.. ⬇️