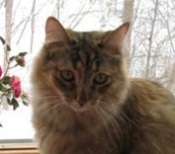 Autumn came to us as a rescue from a local cat rescue group, Opt 2 Adopt. I was looking for a cat that would be a loving companion, one that would want to sit in my lap, and want to be around people.
I researched cat breeds and the Maine Coon fit the traits I was looking for. I wanted to give a homeless cat a forever home, instead of finding a breeder. So I researched if any local cat rescue organizations had a Maine Coon.
This cat rescue had Autumn surrendered to them several months before. According to the organization, she had a tough first year of life, living with an owner who traveled frequently with her and another cat in an RV, only to decide he couldn't keep them any longer.
When he surrendered her to them, she was pregnant and had a litter of kittens, none of whom survived. She then developed colitis. I can only imagine the stress she was under.
Her foster mom took excellent care of her, nursing her back to health, spaying her, cleaning her teeth and updating all her vaccines. She spent hundreds of dollars on her care, and only charged us a small adoption fee. What love this group has for felines.
When I brought Autumn home, she looked like she had been through a lot. Her coat was thin and she was underweight. But her Maine Coon personality shined right through.
In no time, she became acclimated to our home, becoming our faithful companion and friend. She gained weight and filled out her coat. She became immediate best friends to our other rescued cat, who was clearly grateful for feline friend.
She is a gentle young lady, always following me wherever I am. She plays fetch better than our dog. She is vocal and let us know what she wants. She wakes me up in the morning by kneading my shoulders.
She cries out to me to come back to the house if she sees me outside through the screen door. She is so beautiful. Our family loves her so much and we have never met a sweeter cat than our Autumn. We are so happy to give her the home she deserves.
We are so grateful to the cat lovers at Opt 2 Adopt Cat Rescue for taking her and other cats in, providing them the care they need and then adopting out these precious animals to another family when the time is right.
Her foster mom cried when we took Autumn home, because she was one of her favorites. We are still in touch, with updates and photos so that she knows Autumn is doing well.
Comments:
Happy Beginning by: Karen F
Wonderful story and she is beautiful..I too have a vocal kitty who wants to be with us when we go outside...we have gators so no kitties out the door....so glad you adopted. She now can live a happy long life in a good home.
Autumn Beauty
by: Missy Sweety Pies mom
Thank you for thinking of the foster mom! We always wonder how our "kids" are doing. Are they alive? Are they happy? What do they look like? What new toys or food do they adore?
Thanks,
You are special
Lucky Kitty
by: Pat in Florida
Autumn is a lucky cat to have you give her a good home. She is beautiful and I wish you many happy years with her.
---
No Space For A Big Cat
by Shelly
(Texas)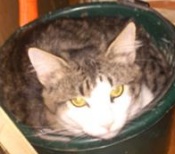 I wasn't looking for a cat, let alone the two furballs that hurtled into my life the way they did.
Just a week apart in age (from what the vet and I could estimate), there couldn't be two more different felines around.
The first to come was Frisky, a Maine Coon kitten that nobody else had room for. The old man that had him was going to drown him until my aunt intervened and brought him to me.
The second kitten was Solitaire, a little black stray with a bad case of pneumonia, not weaned, and no experience with humans.
We almost lost Solitaire, but he pulled through and is my constant companion now. Frisky is too, but he just loves everyone and isn't attached to any one person is particular.
Saving these two was worth every bit of work and care.
---
Leo and Samsun - My adopted AND rescued boys!
by Alyce Taylor
(Turnersville, NJ, USA)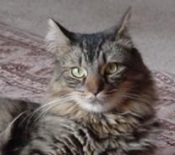 Leo, Maine Coon, and Samsun, domestic short hair were both adopted from local shelters. Leo, 2 1/2 at the time, had been given up by his family. Samsun was found as a stray and picked up by the shelter.
Leo is a beautiful Maine Coon, who knows how to pose. I could not pass him by when I saw him in the shelter cage.
It was hard to understand why a family would give him up; that is, until Leo moved in! Leo eats the lint from the floor, which often has cat hair in it. This can create a big problem for him since he already has long hair and many "hairballs"!
He also likes to chew on your clothing, so he does not make a good lap cat; although he definitely wants to be in my lap. It's very trying, but Leo seems to be getting out of these habits a little at a time.... He is on special food from the vet for chronic bowel problems along with medication.
Sami (Samsun) is a DSH all black. The shelter estimated him to be around 2 years old, making him around 5 now; however, based on his teeth the vet suggested he might be more like 7 or 8.
Sami is a great lap cat and very much attached to me. He does, however, love to eat and is constantly trying to get me in the kitchen! From the first time we met each other, he wanted to be right by my side. I knew then that I had to bring him home.
Sami initially had many physical problems--bad teeth and gums, requiring surgery, and chronic constipation--now on medication and doing well. He also had fainting spells, which we were never able to diagnose, however, they went away as quickly as they came.
Needless to say, both Leo and Sami would not have lived long without the medical help they received. I am glad that I have been able to provide them with the care they both needed so desperately.
They are both wonderful companions and I'm so glad to have had them adopt me!
<<< Maine Coon Cat Nation Home