Lucy Goosey
by Debra Roberts
(Reno NV)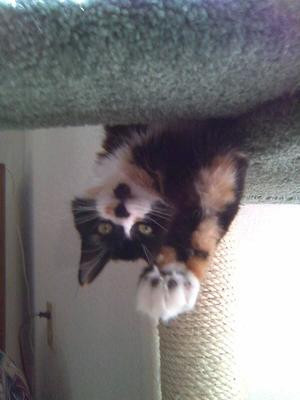 Lucy Goosey Wave
Little kitten sounded like a bird:
I work at the Reno NV Veterans clinic and was done for the day, 4 years ago in Febuary and walking to my car in the one story parking ramp. I thought I heard a bird tweeting. I also saw a coworker standing and looking up into the beams of the garage.
When I asked her what she was hearing we both heard a tiny little meew. We could not figure out how, if this was a cat, how it got into the beams of the garage. I heard my coworker say OH! and when I looked down this tiny little fuzzy, long furry black with calico color kitten approx 2 months old winding around my ankles, meewing.
This was a very busy garage so I scooped it up immediately looking around to see if there were others but didn't see any other cats or kittens. She was not dirty, but shivering and meewing continuously. I didn't know what to do and my coworker said she couldn't take it. I already had three cats in a one cat rental house. But I knew I had to take it.
I drove for 10 miles to my house with this kitten on my chest, meewing and shivering all the way. When I got home my husband gave me a look that I understood immediately, and I said I guess we'll have to take it to the animal shelter. But I would try to find a home with my coworkers first. I heard so many excuses why they couldn't take her.
I was sad to take her in but I knew we couldn't add to the group. When I got home that day my husband said, "well I guess we can wait alittle before we give "LUCY GOOSEY" up. Well I knew at that moment she had joined the family.
On inspection my husband said "I think she might be a Maine Coon or maybe part, because of he big paws, long fur, fox tail". Now that Lucy Goosey is almost 4 years old I don't know if she is full Maine Coon but she has most of the charataristics.
She is the craziest, smartest, biggist cat I have ever had. To this day when she meows she still sounds like a little bird tweeting instead of a regular cat meow.