One day I was cleaning the top cages where two fiesty little orange DSH brothers were on display.
When I finished battling with their little paws clutching my hair and their cute little meows in my face, I turned my attention to the bottom cages.
I saw a sign identifying a 10-month old Torbie named Lucy who arrived at the shelter because her owner did not think she did well with little children. I looked but couldn't find Lucy.
Thinking she was probably taken out for a doctor visit, I opened the side where the little box was to check and there under a ledge lay this sweet little girl facing the back wall.
I quietly spoke to her and she rolled over, smelling my fingers, then my hand, the rubbing her face on the side of my hand....I gave her some treats.
She smelled them and ignored them. I gave her some wet food on her own paper plate, but she sniffed it and went back to facing the back wall.
I finished cleaning and playing with the wild little brother kittens in the top cages and looked down again to Lucy and she was facing me, rolling on her back.
I opened the cage again and spoke to her, petting her head. She started to purr and looked at me with those squinty "lovey-eyes." Ugh...I had to get out of there. We have a dog who is 13 years old and he has only ever liked one cat we had and that's the one that he grew up with. All other cats are prey to him.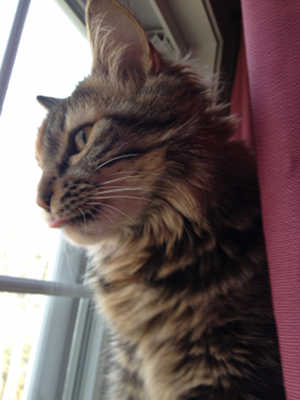 So I went to the beach and the entire time I thought about Lucy. I asked the leader of my group about her and she told me that she had Lucy at her home for about 10 days after she was dropped off.
She said that Lucy is very shy, sweet and needs patience because she thinks that Lucy was in a home with some wild toddlers and became frightened. Lucy was spayed and had all of her tests and shots.
When I returned from my week at the beach, I contacted the leader and told her that I had to have this kitty, Lucy. I took my husband in to introduce him and she actually seemed to remember me. We purchased some cat items and the next day I took Lucy to her forever home and that was alittle over a month ago.
This little kitty is just the most precious thing I have ever seen. She is so typical Maine Coon! Loves water! Drinks from the faucet, has to play, play play all of the time. Loves to be by my side all of the time and talks to me about everything.
The dog has not been allowed to chase her and she is becoming more brave as time goes by.
She doesnt run when she sees him, and he does want to run after her but we dont allow him and praise him for behaving. We won't ever let them alone together, but I think in time, they will be fine relaxing in the same room with us when we watch tv in the evenings.
The dog is an old guy who needs more sleep than any cat I've ever had. I can't believe how lucky I am to have found this dear little kitty and now we will grow old together. I am not sure that she is full bred because of course there are no papers, but she sure looks like she is mostly Maine Coon (the Torbie style)