Free Cat Puzzles
I love puzzles, and cat puzzles take the cake. To wind down and take a break from a hectic day, there's nothing better than a few fun colorful puzzles.
As a child I loved puzzles, I have done so many. I still love them, but these days things are just so busy! The next best thing is to take a moment and play around with these digital puzzles. They are quick, fun, and there's no clean-up!
These were a blast to create, and they are even more fun to do! So take a break from your busy day, and see how quickly you can do these.
provided by flash-gear.com
provided by flash-gear.com
provided by flash-gear.com
Fun Fact:
Every year since 1992, The World Puzzle Federation hosts the World Puzzle Championship. Teams from the 43 countries that have membership battle it out.
I wonder if they ever use cat puzzles?
provided by flash-gear.com
provided by flash-gear.com
Did You Know?
The 5th annual World Sudoku Championship will be held in Philadelphia, Pennsylvania USA on April 29 - May 2 2010.
Participating countries will have teams of a maximum of six people, who will compete individually.
Winners from the last four years hailed from the Czech Republic in 2006, the USA in 2007 and 2008, and Poland in 2009.
provided by flash-gear.com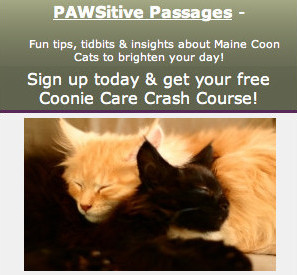 Puzzle History
The first puzzles were created around 1760 by a London mapmaker by the name of John Spilsbury. Back then, a map would be mounted on to hardwood, and a saw was used to cut around the countries. They were mostly used to teach British children their geography. Some things never change!
It wasn't until about 1820 that puzzling caught on as an enjoyable pastime.
They are going to get harder from here on. Are you up for these cat puzzles? Time for a challenge!


provided by flash-gear.com
provided by flash-gear.com
provided by flash-gear.com
Did you do them all? I hope you enjoyed these cat puzzles! We have a lot more cat photos on the site, on every page.
Doing these brings back childhood memories of simpler times. It makes me want to dig out an old jigsaw puzzle and set it up at the kitchen table, but I know the cats would make short work of scattering the pieces all over the house!
If you'd like to see your cat made into a puzzle on this page, just send it in on our Maine Coon Cat Pictures and Videos Page.
Tell us about your cat, and add a note that you think it would make a good cat or kitten puzzle, too!
Related:
Maine Coon Cat Pictures
All Breeds of Cat, Visitor Pages
Maine Coon Cat Videos
Maine Coon Cat Photo Album
Return From Cat Puzzles to Maine Coon Cat Nation Home