Winter 2016 Photo Album
Welcome to our Winter 2016 photo album of featured Coonies!
Luigi, our precious 5 month old Maine Coon
By: Joel Allen
(New Jersey)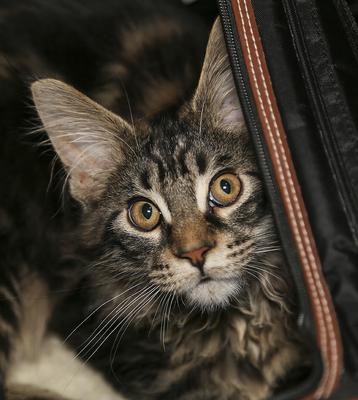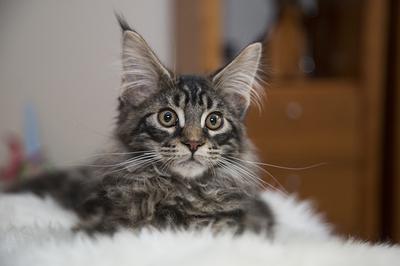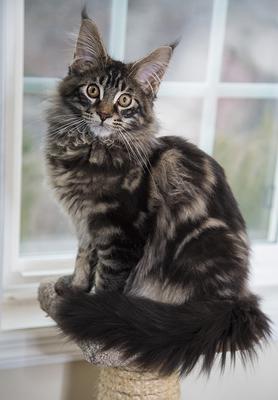 In late January we added a new member to our family.   
"Little" Luigi is our first Maine Coon.  We already have two Oriental Shorthairs who have welcomed our precious newcomer.

---
Meet Our Cheeky Monkeys Gertie Moo & Daisy Moo Real Names Migatobonito Dolores & Migatobonito Domsy
By: Anne-Marie
(St Helens, Merseyside UK)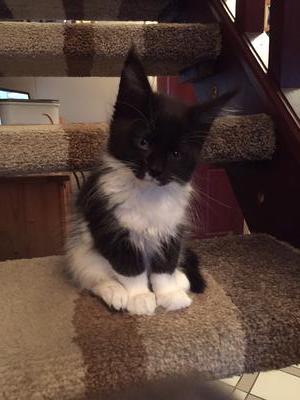 Gertie Moo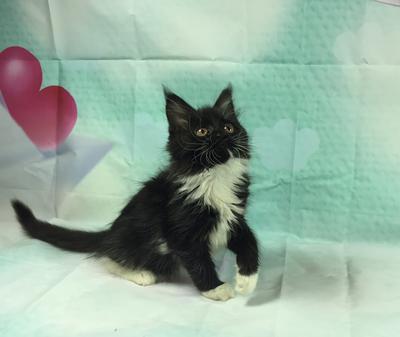 Daisy Moo
We were completely shattered when we lost our 18 year old Maine Coon, Haimish at Christmas - I'm hoping you'll see my post in February's gallery, and you'll see how handsome he is, he was and always will be forever in my heart, and it's true about Maine Coons owning your heart.
We were incredibly lost without Haimish, me in particular as he followed me everywhere and we even went for walks together on his harness, that we decided we need to be a Coonie Mummy & Daddy again, and we found the most amazing Coonie lady who lives only 15 minutes from us (fate!). 
We went to see Gertie & Daisy @ 5 weeks old, and we were smitten, and immediately decided we wanted them to stay together. 

Having only moved in and taken over the household a week ago, our cheeky monsters are now the proud new owners of 2 very loyal, obedient and loving humans! 
At 14 weeks Gertie discovered she loves chasing and fetching Pom Pom balls, and playing with water, Daisy is our chatterbox, she constantly sings away like a gizmo, and loves climbing and pouncing on feather toys.
They're both so adorable, affectionate to us and each other, and we're forever grateful to them for bringing back some sunshine to our world.
So, here's to a long and very happy, crazy, bonkers, nutty household and a very long & healthy life for our fur owners!
xx
Hendrix
By: Debbie Blanchflower
(Norwich, Norfolk, England)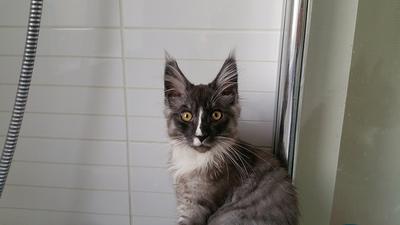 Waiting for the tap to be turned on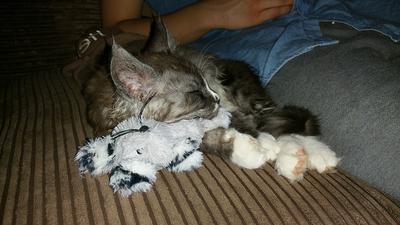 Sleeping with Fuzzy Bunny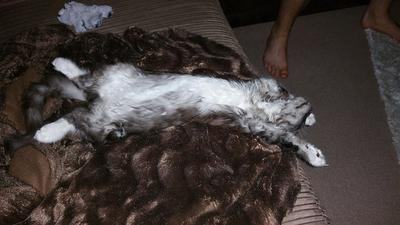 1st night in his forever home - very settled and comfy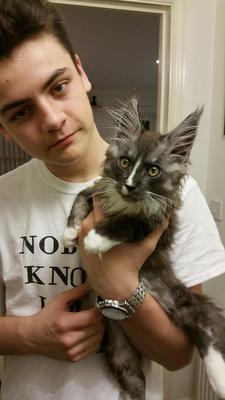 Getting a cuddle with his big bro
Hendrix is a smoke and is now 20 weeks old and already a very big boy.   
It feels like he has always been part of the family and that he has been with us a lot longer than he already has.  

The picture of him sleeping completely stretched out on his back was his first night home with us.  He was very nervous to begin with as you can imagine, lots of new noises especially the Parrot!  

He hid behind the sofa for much of the afternoon but with some coaxing he eventually came out and enjoyed big snuggles all round and then settled down for a comfy sleep on our snuggly quilt on the sofa.   
We also have an African Grey Parrot and a Bearded Dragon who both also think he is great, indeed the parrot blows him big kisses and whistles at him trying to get his attention, whilst the Beardie sits on his rock and just watches Hendrix playing around the front room.  
Hendrix has taken a liking to the Beardie's crickets :-) and sits with whoever is feeding him and trying to grab them off the tongs.
Before we got him we got him two beds but he still sleeps on my pillow and the sofa arm and not in his beds or as soon as you get up off a chair he is there.  
He also has a habit if anyone is on the computer chair he jumps up but then squeezes himself behind your back so you end up with about 2 inches of chair to sit on!  He also enjoys laying on your lap when sat at the computer gaming and just watches.
He thinks that absolutely everything in the house belongs to him, we very often find him in something/somewhere where he should not be.  
He especially loves our big larder in the kitchen and is quite often rummaging around for something to play with in there, and even though he has masses of toys he plays for hours with a piece of toast crust or a crumpled up receipt.  
He loves his laser toy but must of all he loves playing fetch and does actually run after the paper and brings it back to be thrown again!
We live in the middle of 22 acres of woods so people always ask the question has he brought any snakes or birds home yet, we reply at the rate at which he is growing we are expecting a deer anytime! haha.... 
Seriously though he sits at the back patio door and is very curious about outside, he just watches all the trees blowing about in the wind and the birds and squirrels that visit our back garden.  
We can just imagine the mischief he will be getting up too when he is eventually old enough to venture outside with us in the garden. 
He loves getting in the bath and sitting there waiting for the tap to be turned on and has just discovered spiders, and tries to climb up the walls to get to them.  
He also likes everyone to sit with him in the kitchen and slide his kibble across the floor which he saves just like a goalie, he cups his big old paws round them to catch them and then eats them.
---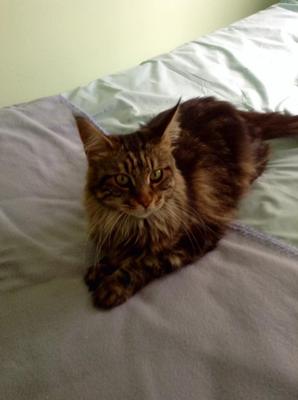 Loving Lynx
By: Jacqui
(Sydney, Australia)
Lynx is the most loving cat I've ever owned.  I have a Burmese, a Rag doll and a shorthair.
None of them are quite like Lynx. She does like to play a lot and love jumping and climbing on furniture. 

I was making curtains yesterday and she knocked my pin box everywhere. While picking up the pins my scissors went flying and then the curtain and tape measure. 

She just sat on the table looking at me as if to say 'well, what did you expect.!!
Jacqui
---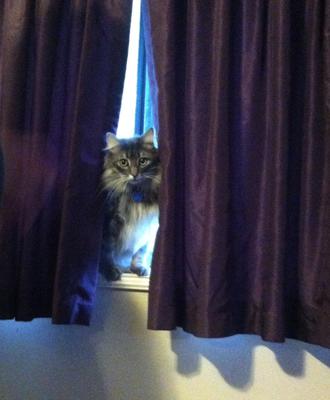 Leo, Looking in From the 'Outside'
By: Cynthia Haltom
(Maple Falls, WA USA)
Adopted at 5 weeks, Leo has been a complete joy. 
He's 'crazy' fun even after 2 years, he's not slowed down even a little! 
We love this little guy so much and is a welcome addition to our family.

---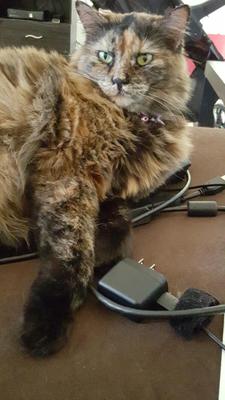 Princess Of My Heart! Some people have a God child, I have a God Maine Coon!
Princess
By: Ruby
(Las Vegas, NV)
She's the sweetest kitty ever, she's definitely a gently giant! We love her dearly and she's captured my heart! 
She loves being outside, she loves cuddling and curling up to me when we sleep. SHE LOVES HAVING HER TUMMY RUBBED! Thats what surprised me the most about her! 
---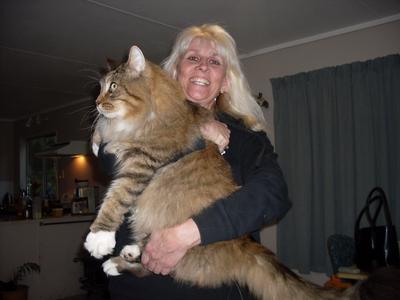 Leo from Down Under
Hi All, 
I just love my mate Leo. He's an awesome hunter, loving and he loves being brushed. After I have been fishing I'm his best mate !! He's 7 yrs old.
Here's a a pic of my boy 
Cheers Kev
---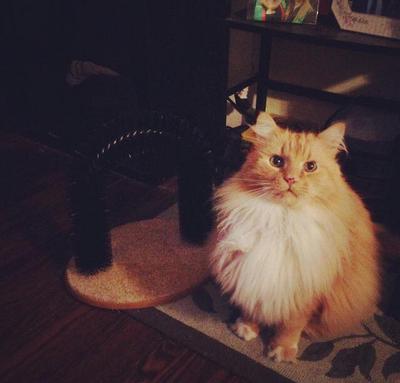 My Sweet Old Man
By: Molly
(Buffalo, NY)
This is Sean. He turns 16 on May 1st. 
Despite suffering from chronic kidney disease and arthritis, he is still as playful as ever. He joined my family when he was 14. 
His lifelong humans both passed away in their 80s and he went to the SPCA. He is the first cat I have ever owned, the love of my life!

---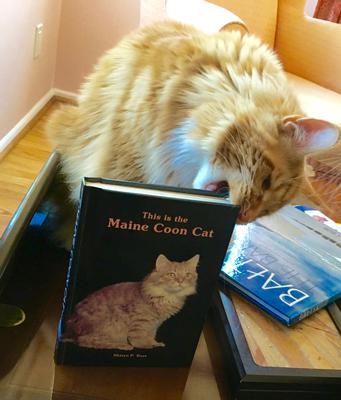 Midas' Book Review
By: Gerri
(Arcadia, CA, USA)
Midas is a 9-month old Maine Coon kitten and weighs 15-Ibs.  
He demands affection and is exceptionally gentle.  He look very similar to the Maine Coon on the Maine Coon book, which I tried to take a picture of. He instead attacked the book.
---
Frankie is Now 2 and Getting Lazy :(
By: Tiffany Dion
(RedDeer Alberta)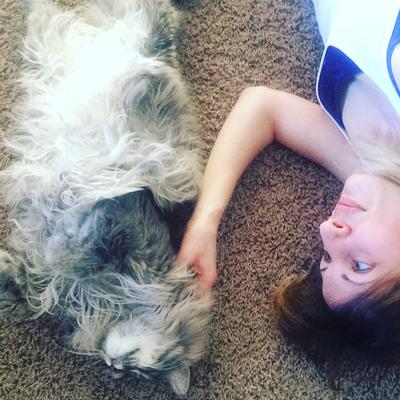 my big boy loves belly rubs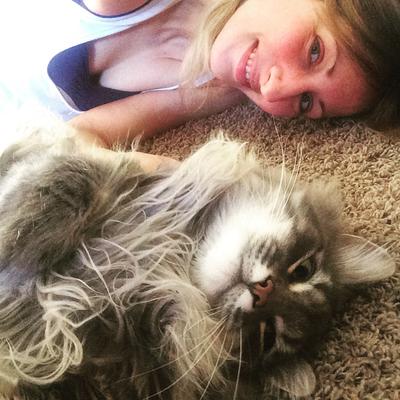 Since a major tummy surgery after a horrible dog bite my big boy has become paranoid 
with noise, dogs, and stays up high more often. 
He's slowly getting back to himself but I feel horrible for him and he doesn't do too well now being held and it's been months :( 
Maybe his tummy bothers him when held now? or it's his weight that makes being held uncomfortable? 

---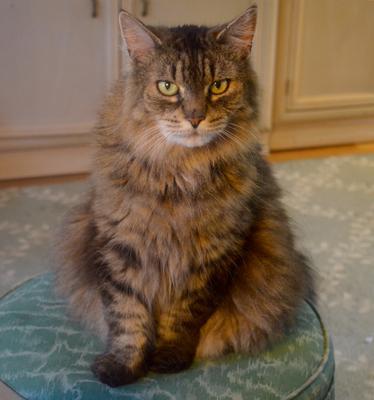 Pattie, a Rescue Maine Coon
By: Cynthia 
(Freetown, mass.)
Pattie is a 13 rescue cat. She has been with us since she was 18 months old. 
Very sociable, greets company, likes to be with us. Calm, relaxed cat, loves to sit on your lap. She is miss personality, we love her.

---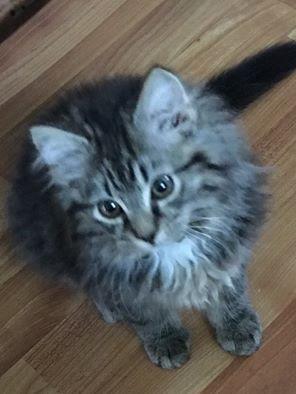 Skeeter
By: Jo
(Ayden, NC)
Skeeter was a birthday gift from my husband. I think Skeeter is a Maine Coon mix but he definitely has all the characteristics and personality traits of a full bred "Coonie"! 
He is extremely playful; he can entertain himself with anything he finds.  He loves to "help" me and is interested in anything I am doing is quick to offer assistance!  
Skeeter has to investigate everything we do and is quick to offer "help". He is very playful and loves to run and chase toys all over the house!
I am pretty sure he is not a pure bred Maine Coon but he does have a lot of the traits and characteristics. We are enjoying our new addition to the family!

---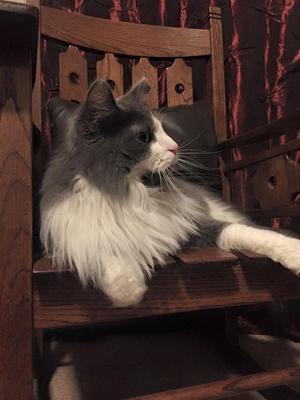 Bad-bad
By: Loren
(Ohio)
We found "bad-bad" when he was only 3-weeks-old. 
He and his sister were found in a boat that had been moved 24-hours before they were found, needless to say he was a hungry little thing! 
We decided to take him in and my son had originally named him Honey. I spent weeks bottle feeding him and giving him all the extra love I could to strengthen him up, along with several vet visits. As he grew older my son cleverly named him "bad-bad" because... well... he's an ornery little thing! 
He is approaching his 1 year birthday and weighs in at a whopping 14 pounds! We are not quite sure if he is in fact a Maine Coon but he seems to have a lot of the characteristics of one!
He spends hours here each day. His favorite place to be.
Mr. Chubbs
By: Nancy J.
(SC)
Every morning he goes to "his" window and waits for me to lift the blinds so that he can take in everything that is going on outside. 
He is 10 months old and I think that he is part Maine Coon.

---
Is Oscar a Pure Maine Coon?
By: Tom
(West mids)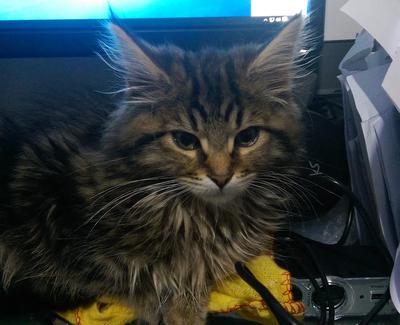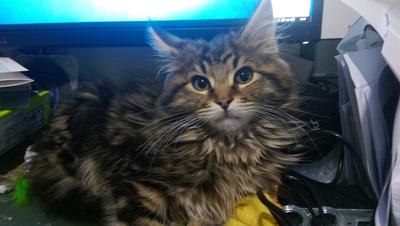 I got Oscar 3 weeks ago quite cheap. I had to travel 100 miles to get him. I was wondering if he is all Maine Coon? He was sold to me as one but no papers, which as a house cat I was not fussed about.
He is 14 weeks old and only 3.5 pounds which I don't think is right?
Your comments please

---
Abby
By: Anna
(Kingston Pa)
Abigail is 9 months old and can be a hand full. She loves treats, tries to get in the shower with me every morning, loves to play Barbies with our granddaughter, fetches the mail when it comes through the mail slot, and knocks my antiques off all of my tables while "smiling" at me.
Plus she already weighs 15 pounds, and I don't overfeed her.  We love her like a child..

---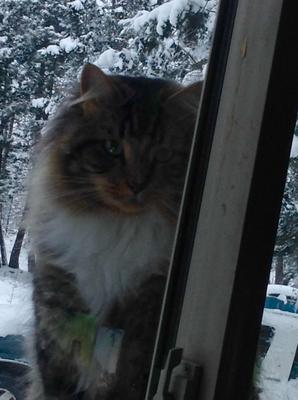 In the snow Gizzy has become the snow cat
Gizzmo, lover, guard dog and hunter extraordinaire 
By: Jean Kasser 
(Eureka,Montana USA)
I'm hesitant to join this as I was told by the shelter Gizzmo is a cross.  
He is beautiful, independent and loving. When I'm outside he is there with me and the dogs, walking directly out in front of me, tail in the air like a guide for those to follow.. Lol 
He is a clown. When I decided to go to the shelter to find a cat I had no idea the cat would find me. I wasn't attracted to him so much, he had medium long hair and that was not what I really wanted to deal with as I have two dogs who are family and live inside - one short-haired and a Pyrenees retriever cross. 
Gizzy was supposed to be about two, but still looked like only a year. No matter how I tried to ignore him he would reach out and his paws, (no claws) would be wrapped around my leg with him meowing. Of course he won. 
I kept him in a large kennel because of the big dog, letting him out with observation. Once he was out full time I just knew I had made a mistake, no place was safe in the house..omg ,, 
I feverishly tried to have a cat loving friend take him, she made so made up so many excuses, lol.
I am so happy that she didn't take him. I've had him almost a year now and I couldn't imagine life without him
I live in the mountains, in the northwest corner of Montana, in a town named Eureka.
Gizzy is as much an outdoor cat as inside. One night I was awakened by the dogs growling. Gizzmo, who was sleeping beside me, jumps off the bed. 
I get up to find out what was going on. The front window was open and Gizzimo is on the window ledge with his neck stretched out tight and his hair was sticking out looking like he was hooked up to a static charger, lol. 
He was growling-I paused at first thinking it was one of the dogs, but no it was my fierce cat growling.
The culprit that brought about the comical event was a coyote howling and yapping down below the house..lol. 
Now Gizzimo set up on a perch doing guard dog duty and looking for prey to fill his tummy. He is very demanding at bedtime, his spot is his and if I pick him up he growls and jumps up on the window ledge, waits for me to get settled in then jumps down by my head puts one paw, no claws, on my face, then moves to my arm and holds me right where he wants me and starts grooming my hand and last night was grooming my thumbnail. I love this guy so much.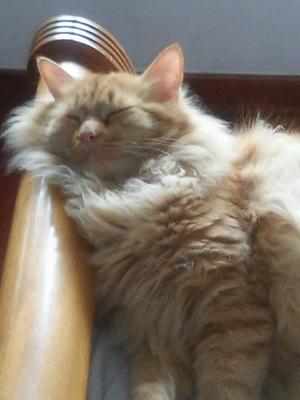 Lupita , 1 1/2 años , 5 kilos La mas linda de La Plata , Argentina 

By: Patricia 
(La Plata . Argentina)
Tiene un caracter muy fuerte,poco amigable  pero dulce y confiada a la vez. La amamos!

---
My Beauregard
By: Debra Lee
(Los Angeles, Cali)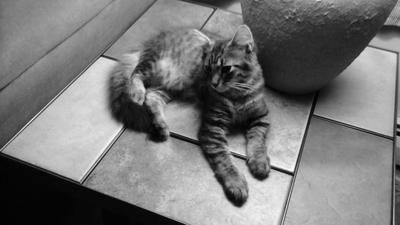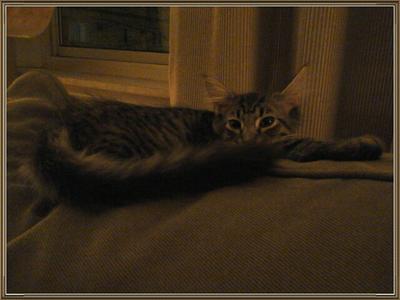 This is Beauregard, he is 19 weeks old today. I got him at 8 weeks old, his litter was a "Oops" between his father (Maine Coon) and mother (Calico). 
I lost my baby Booboo on March 5, 2014 to Cancer and I had NO intention of getting another cat, ever. I had picked out Boo in June of 2002 and he was the best cat I had ever had, I was devastated after I had to say goodbye to him and had to let him go. 
But on December 3, 2015 I got my Beau. It was the lady who comes once a week to help my mom clean and do her laundry. It was her family that owns the Maine Coon and Calico kitties, and the minute I heard about the litter I asked if there was a boy left. All but two of the kittens had been spoken for, and I found out there was one boy left.  I asked for him, sight unseen.
He was the only one in the litter of 6 kittens to look like his father. He is going to have more of his mother in the face I think though. His eyes are a beautiful green, his forehead and down the bridge of his nose is just like a Calico's.  He is growing into a beautiful baby, but I would not care what he looks like.  He is the sweetest baby and he talks to me all day and night with the softest squeaks, breathy sighs and other sounds that I can't find the words to explain them.  He has brought me back from a bad depression that I fell into after losing Booboo, with him it is impossible to be sad. H
I have bought him toys, lots of toys LOL.  I bought him a very large and sturdy scratching post that he uses all of the time (and keeps him from scratching my furniture), a kitty condo that I bought from a warehouse seller. 
A heads up to other people looking for those things, great scratching posts and condos or other things like that, I got Beau's condo which is 5 feet tall for only $45.00 with shipping included! 
It is the same as the ones being sold at pet stores.  The scratching post was $24.00 and it  has burlap wrapped around it and not the cheap stuff, it will last a long time.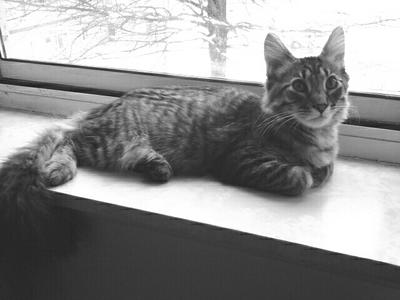 I love sitting on the couch, listening to Beau play and talk to himself. It is so cute and funny and he makes the days and nights fun. It is impossible to be sad with him around, and he is around me all the time. 
Where I go he goes, if I move from one room to the next it is not long at all before he is there too. There are so many things about him that are different from any other cat I have owned, I have never had a cat like Beau. 
It took me almost two years to change my mind about bringing another kitty into my life after losing Booboo. 
I am able to talk about Boo now without getting upset and I needed all that time after to be able to fully grieve his loss.  I am glad I waited for Beauregard, and I am so happy that he is in my life.  So very happy :)
---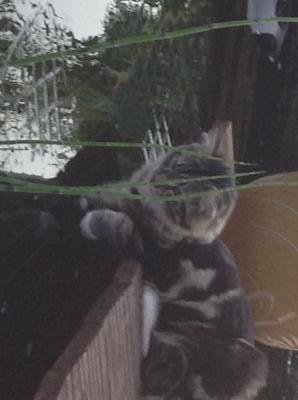 Teddy The Tail
By: Petch
(Devon U.K.)
We rescued our Maine Coon mix Gizmo when we found him hiding at the bottom of a tree in a wood in Cyprus age 5 weeks, and when we sadly lost his Burmese chum last year we decided to get another pure Coonie - Teddy, a stunning brown and white tabby. 
He is now at the age of 11 months the size of Gizmo who is 4, just not quite as bulky and the tail is like a duster tho does more destruction whenever he walks past a table things getting knocked off than a duster could!!

What a character he is, toys being dragged everywhere you are, his favourite fishing rod with feathers on at one end often ending up in bed being dragged over your head.

Fishing seems a favourite pastime of his regularly seen hanging into the pond up to his arms playing with our big koi who sucks at Teddys paws, the entertainment value he gives with his running commentary on just about everything the best tonic you could get.
I built our boys their own cat trees where they can hang out and watch the world go by till we are bullied into operating said fishing rod and he jumps till he is panting! I cannot imagine my life without at least one Coonie in it ever again.
---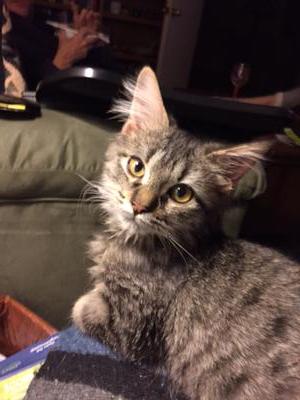 Meet McGillie
By: Gloria Vasquez
(La Quinta , CA)
McGillie is a rescue that we adopted when he was about 3 months old  He is a "mix" of Maine Coon and something else, but I'm not sure what else.  
Any ideas?  He is a love bug, a rascal, and has 3 distinct vocalizations.  One is a kind of "chu" that he makes to get our attention.  He has a squeak and a meow as well. 
We named him McGille because my Irish mother's maiden name is Gillie and the "Mc" is for what else?  Being a Maine Coon!!

---
My Prince Louie
By: Angela
(Saint Paul)
He is my everything and I'm his. 

---


Maybe-Maine Coon Cats:
---
Bear
By: Analise
(Lebanon OR)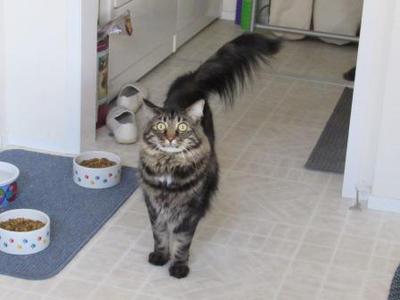 Mr Handsome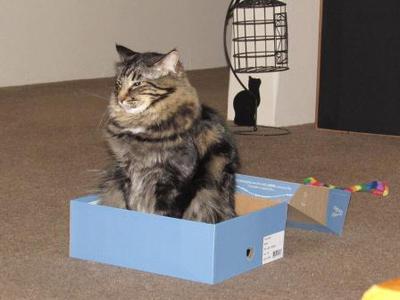 If it fits...it ships?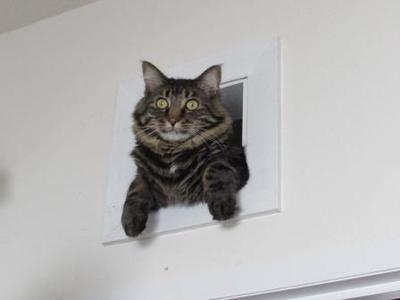 Where's the rest of the catwalk mom?
I shared a photo of Bear when he was a youngster and thought I'd send an update.  
As before, I don't know if he's Maine Coon or a mix or not.  But, he seems to share characteristics.  

His name has evolved to Pill Bear or His Royal Pillness because of his naughtiness at times, but he definitely makes up for it with his affection at other times.  

He even gives me neck hugs and love bites on my chin in the morning when I'm trying to get ready for work.  :-)  
He's a source of much amusement due to his antics.  I've since found that he has a kink at the base of his tail...hence the sideways look.  :-)
---
Harry, Harry Parker... Licensed to Love
By: Sara Parker
(Winder, Georgia)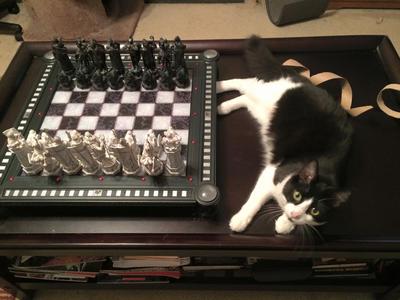 Chess, anyone?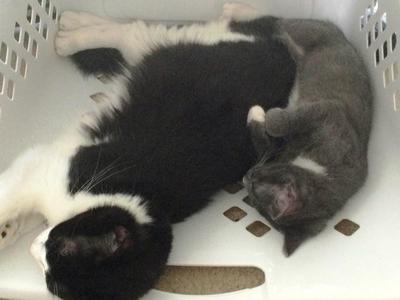 Best big brother in the world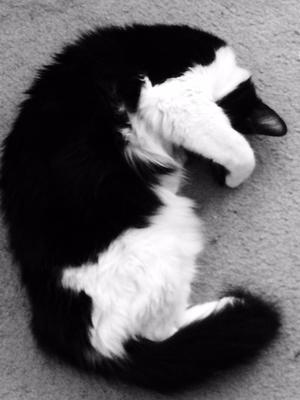 Hiding from the mamarazzi
We adopted Harry Christopher Parker about a year and a half ago. 
The rescue had found him alone in a creek bed at about four weeks old. We always say that he is our gentleman James Bond cat, although we have two male tabbies and a diva all black lady cat we adore just as much. 

Harry loves the space heater in the winter and the cool surface of our black coffee table in the summer. We call him Double Fluffed Oreo and the "most fluffiest cat in the world".  

When we adopted our youngest cat last summer, the shelter people asked, "Are you sure? He's pretty hyper. He might be challenging." I told them that I already had the perfect big brother for him, and Harry has been just that. 
They run obstacle courses through the house, then collapse for a nap and some grooming (Harry's favorite pastime, of course). Harry could be a calendar cat, but he's happy just being the best looking member of our family!
---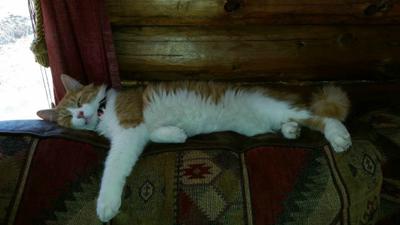 Tough day
Purrsy Sassy Boots (Mr. Poopy)
By: Cheryl
(Bennington,Vt. USA)
We were out for our daily walk when I heard crying in the high grass on the side of the road. 
I decided to investigate and found a cute little kitten with big eyes, big paws, and a fluffy tail. He apparently had been abandoned and needed my help. 

We brought him home, and my granddaughters decided to name him Purrsy Sassy Boy since he wouldn't stop purring. We think Purrsy must be part Maine Coon.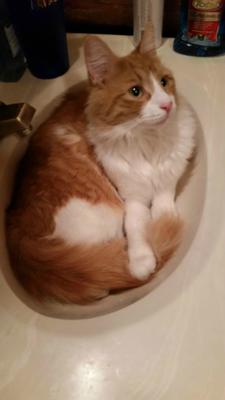 He loves to play in the sink and bathtub, has the longest whiskers ever, and makes the weirdest chirping purring noises when he sees a bird or chipmunk. 
He also loves to playfully harass my two other, much older cats. Maggie tolerates him, Lulu not so much. He will be two years old sometime this spring and he already weighs around fifteen pounds. 

Loves to eat non stop ! His nickname is Mr.Poopy, since he his always getting into some sort of mischief!!
---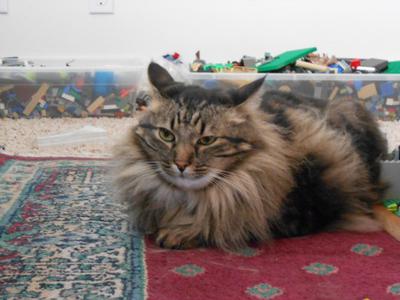 Fender
He is so sweet and calm. We want to know if he is a Maine coon or a mix.
---
Is Tiger Lily Part Maine Coon?
By: Alyssa
(Franklin, TN USA)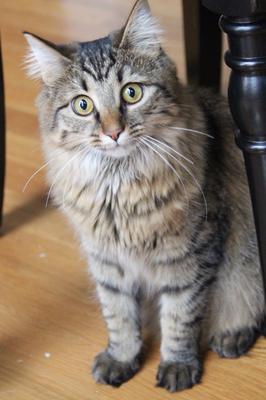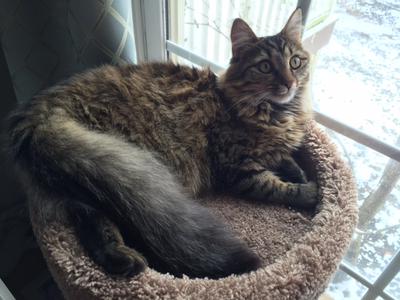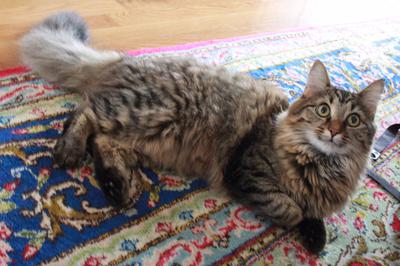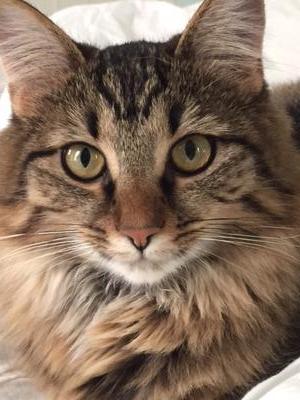 Tiger Lily came to us after being fostered by a friend along with 5 other kittens. 
She was in foster care from an estimated age of 4 weeks, weighing less than 1 pound. 

Tiger Lily was special from the start, being much more playful, social, and confident than the others in the foster group, and soon developing a fluffier appearance with tufty ears and long whiskers. 

When we adopted her at 8 weeks, her tail was pretty normal-cat looking, but about 2 months later, we observed her tail beginning to "poof" out and soon her neck began to look mane-like. 

She is now 8 months old, and she continues to look more Coon-like to us all the time. Her paws have fur coming out between her toes, her tail is so impressively bushy and long, and her mane continues to evolve. 

We are in love with her, no matter her breed, and we are so grateful to have such a beautiful and sweet fur baby. 

She also gets along wonderfully with our rescued beagle mix, Brady. They wrestle and snuggle happily all day. Do you think she's part Maine Coon? 

---
Thelma & Louise
By: Susan Swygert
(Newerry SC 29108)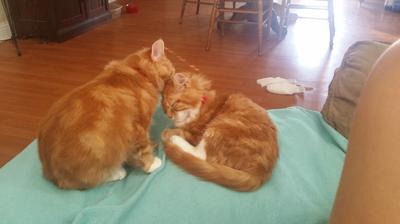 The two yellow kittens I adopted from the animal shelter. They just stand out from any other cat.  To me they favor the Red Maine Coon.  Wanted to see what other people think.  Thanks.

---
Jasper
By: Chasidy Moore
(Zanesville, Ohio)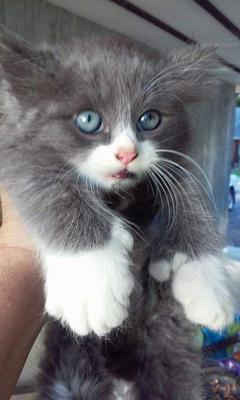 The first time I saw him as a baby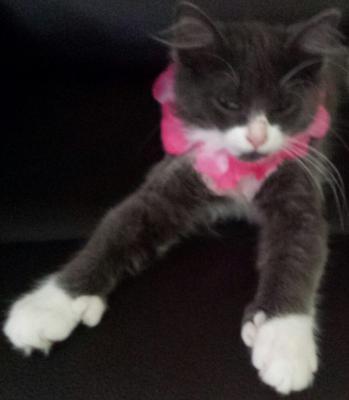 About two months later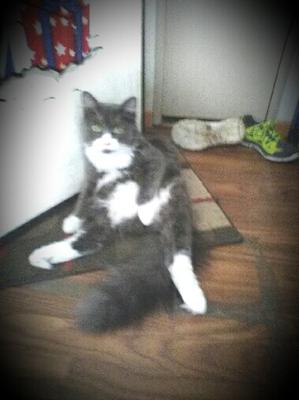 Sitting in the doorway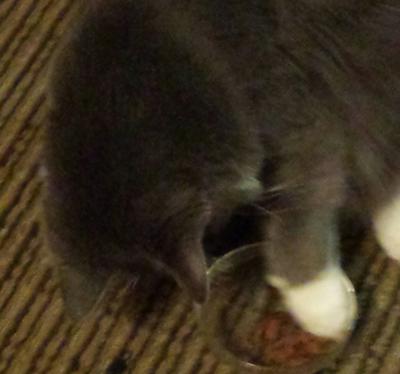 Eating dinner
Jasper was given to me by a fellow cat lover who already had 6 cats and a dog and couldn't keep him.
She climbed over a fence to get him where he was stuck inside and wasn't being fed or watered, was outside in the heat and humidity with no shelter his mother was very sickly and she took her to the shelter but couldn't bring herself to leave him.
She sent me a picture and called asking if I could take him in. I already had a female that was a shelter cat I adopted 3 years earlier. I fell in love with him the moment I saw him and told her that I would.
He is a polydactyl with huge paws that have hair between the pads long tufted hair on his ears and the longest whiskers I've ever seen! I have had him for about 7 months and he has grown faster and is bigger than any cat I've had. He weighs aprox 15lbs has a big personality and is truly unique. 
We have been trying to find out what breed that he is and seems to be a Coon. He thinks that he is a dog and fetches and also catches his toys playing with any and every ordinary thing he comes across.
As soon as he hears the car door he runs to the door waiting for it to open. He is very intelligent and actually looks at me when I talk as if he understands exactly what I'm saying.  He comes when he is called has very unusual ways of sitting usually leaned back like a little man on his but upright. When he eats he will take his paw and pick up his food as if they were hands and put it in his mouth. 
He is also extremely vocal with a variety of sounds that he makes. He is always underfoot following from room to room right on your heels like a dog would. We are extremely lucky to have him as part of the family and quite amused at his antics everyday. Would love to hear what you think as to the possibility of him being a Maine Coon!

---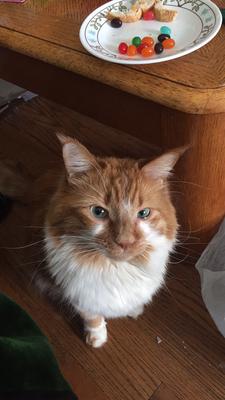 This is Chucky, he's almost 6
By: Angie
(Prince Albert, Sask. Canada)
This is Chucky, we believe he is a Maine Coon cat, he is very vocal, as in he likes to talk to you, full of energy and is very lovable.

---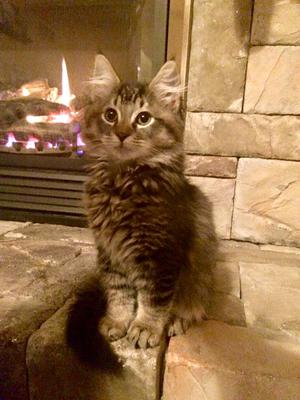 Meet Piro
By: Nadine
(Henrietta, NY)

His mama is large black shorthair cat (rescued when pregnant).  No idea who Dad was.  Maine Coon?  he sure exhibits most of the personality traits.

---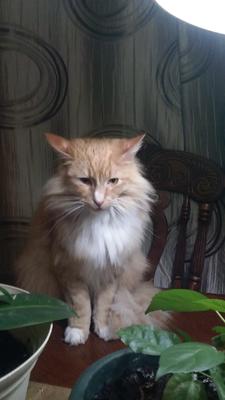 Is He A Maine Coon Mix?
By: Alina
(California)
Hi, This is a Lion. He is 2 and 1/2 years old. We adopted this cat two days ago. The previous owner tells he is Maine Coon. We think he is not a purebred Maine Coon, but might be a mix.
---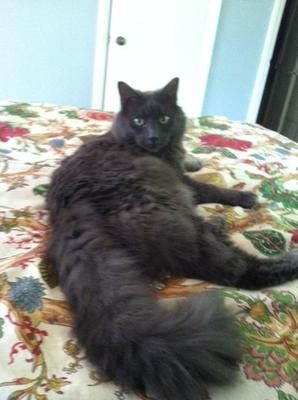 See, I can behave myself!
He fell from the sky so I named him Griffin
By: Maggie Helms
(Urbana, IL)
Well, Griffin showed up on back porch one May. He had a rear leg with a spiral fracture broken in 3 places and a big wound in his back, right on top.
I had seen him around, dashing madly across M52 into a row of huge viburnums under these gigantic pine trees in my yard where he seemed to live amidst a thick bed of pine needles that had filtered down to the ground underneath. He was pretty skinny too. Took him to the vet.
Vet thought he'd been picked up and dropped by hawk. (There were several pairs circling three church steeples near my house where they obviously had built nests.)Anyway, vet thought he was 2.5 years old and had been "wild" for about 1.5 years. Griffin was not neutered. Vet thought he had once belonged to someone because he was so well socialized to people.

Anyway, he drinks out of toilet. Comes to a whistle just like a dog. Chirps. Thinks nothing of walking through 3 inches of water when basement flooded to get to his favorite napping place. Big personality. Swagger and Strut even after being neutered. The Tony Soprano of cats. Was a hellatious street fighting cat in his younger days.
Also one summer used to run through the yard and garden with these three baby raccoons, like running with the bulls, like he was herding them around. Has to be outdoors all the time. Loves the cold, so happy in fall when it finally gets crisp. Is joyous when it snows. Runs around in it like a happy squirrel...up tree trunks, down tree trunks.
Has the tufts of hair between all his toes. Very hairy belly with even curly hair like Russian lamb. Loves to show me his belly and have it rubbed like a dog. Never had a cat like that. Seems to have 6 digits on front paws but only 4 of them seem to real toes with claws.

Photo was taken in summer so tail isn't as fluffy as in winter.
His ears don't have much in the way of tufts, certainly not on the top. He does have a few tufts coming out to the ear but nothing extraordinary. So is he a mix?
---
Pudding
By: Eric
(Michigan)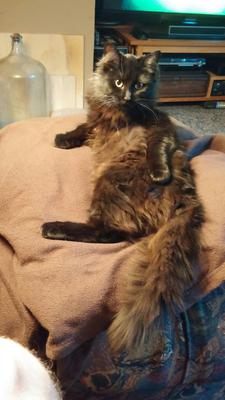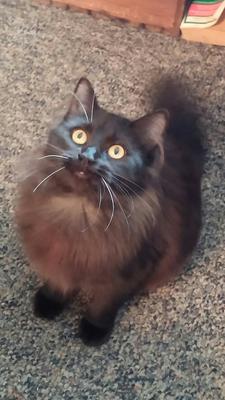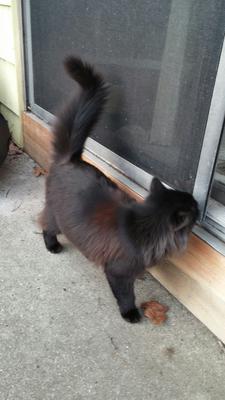 Not a great picture, but the lighting shows her colors well.
I got Pudding as a 10 week old kitten from the sister of a co-worker. She was helping her neighbor's find homes for a litter. She is now 6 months old. She is the most playful cat I think I have ever seen.
One of her favorite games is fetch. She will bring one of her toys and drop it in my lap then wait for me to throw it. She also insists on being in the same room with me. If I do get in the bathroom without her she waits outside the door for me to open it.
As of right now she is over 2 feet long from tip of nose to tip of tail and still growing. I'm looking forward to your opinion on her being part coon, but either way she is a welcome addition to my home and has brought hours of enjoyment. Thank-you.

---
Buddy
By: Stan
(WA)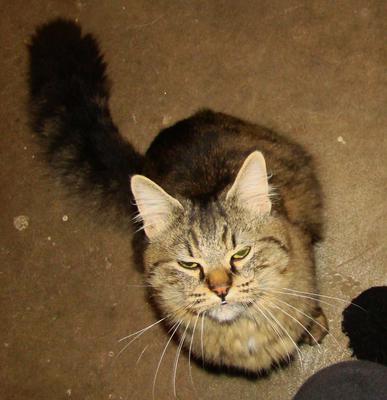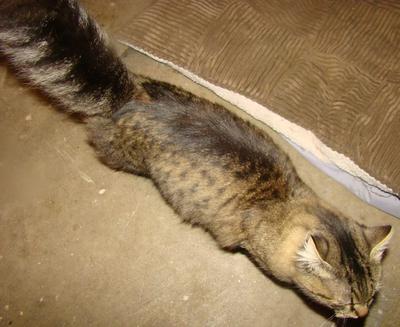 I was given a kitten after my wife passed away over 2 years ago. 
Early last month my cat ran away so I have been wanting to get a new one. I was looking at a local facebook pet page Monday evening and saw a Maine Coon Cat someone was giving away. It had been hanging around her neighborhood for over a week and nobody owned it. I went to her house and got it yesterday. 
It has all of the characteristics of a Maine Coon Cat. He is identical to everything that I have read even the tuffs of hair between his toes. I have never had or even seen such a lovable cat. He weighs 9 pounds and is 16" - 18" long. My guess he is about 6 - 8 months old. He hasn't been fixed.
My Grand daughter named him Buddy.
Can anyone tell me if I am accurate?
---
Maybe a Maine coon mix
By: Ericka
(Loveland Colorado)
I've got a just under 2 yr old male.  We got him from a friend so not sure of his background at all.  He has pretty much all of the characteristics of a Maine.  
He's got the mane, hair between toes, long luxurious tail, he's friendly, he talks to us, he isn't shy at all and not skittish. He greats us and guests at the door. He follows us around with our dog.  His name is Sue. 

He got his name because we first thought he was a boy and his name was Suzie. When we got him neutered, he was in fact a boy so we named him Sue...a boy named Sue :)

He's not even a year old and HUGE!  Here's a few pictures.

---
LOKI...I'm simply curious if he is a Maine Coon mix
By: Jessica M.
(Friends wood, TX)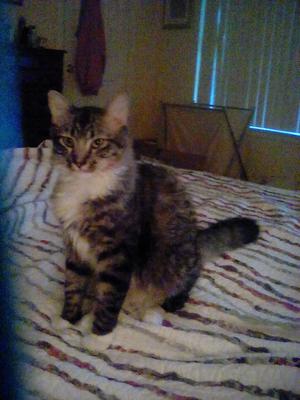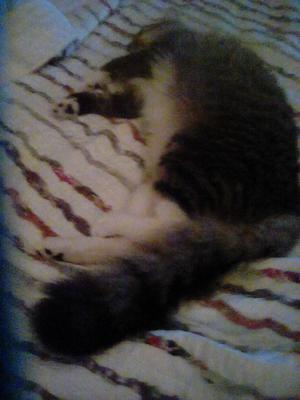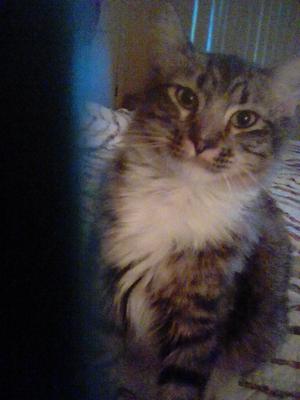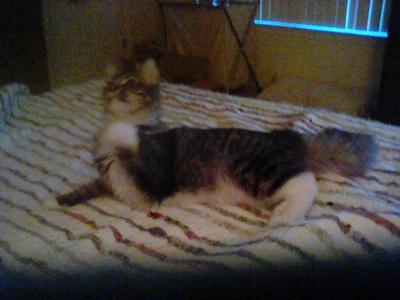 He has many if not most of the physical and personality traits you describe.
He just turned a year old in January and weighs eleven pounds. I adopted him from a shelter so I'm sure he's a normal domestic longhair.
If you think otherwise please let me know. Thanks!

---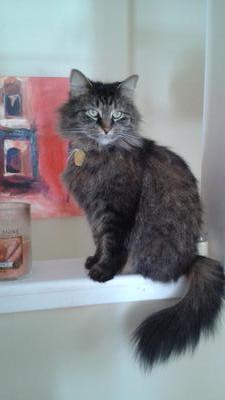 Savannah posing!
Savannah
By: Sarah
(Buffalo, NY)
Savannah is 2.5 years old, she was part of an unwanted litter a friend had, which is how we found her.
We knew nothing about Maine Coons until we took her for her first vet check up and he said how lucky we were to find such a beautiful,  friendly Maine Coon.
Savannah is incredibly friendly and intelligent. She communicates with us when she wants certain things, she's very vocal.
She's just an amazing cat. She's about 15 lbs now, in very good shape, and has an amazingly soft coat when she's not shedding everywhere! 

---
UnNamed ~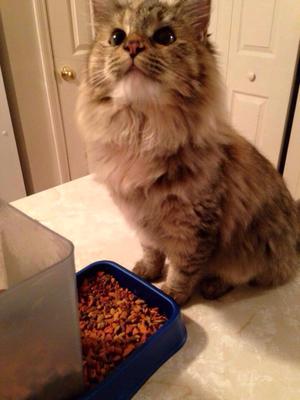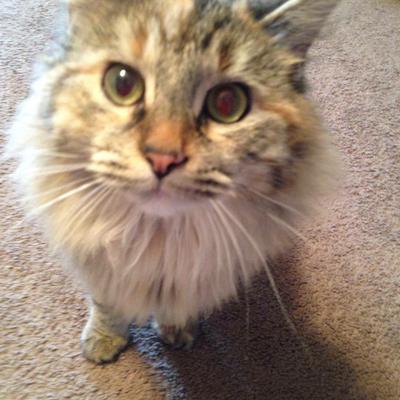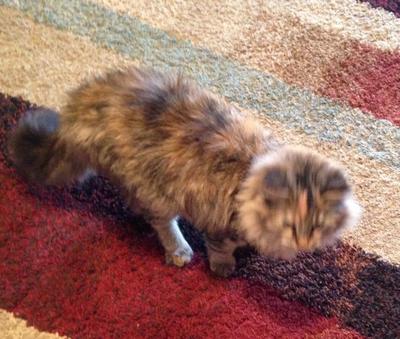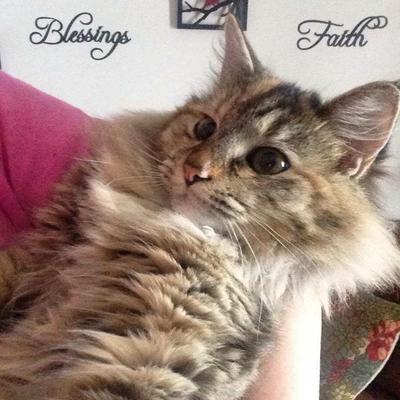 I get to pick up this beautiful kitty tomorrow ~ a friend of mine found her wandering outside in the freezing temperatures .. And took her in. She cannot keep the cat as she has a few animals she has to care for already ~
I immediately volunteered to take her in ~ she has sent a few photos ~ which caught my eye. I thought, she HAS to be a Maine Coon Cat or at least a mix.
She has told me she loved her bath - she is very loving to her and the children in the home, says she follows feet around the home ~ says that she constantly purrs and cuddles and speaks when spoken to.
She loves sleeping in the bed with her, and possesses many of the physical traits. Her 'ear fur'', her long fluffy Long haired tail, her round eyes, her bearded mane, her 'M' marking on her forehead, her furry toes.
My friend states she looks to be about 5 weeks old ~ so she is still a tiny baby!
What do you think ?

---
Pip
By: Megan
(Wall, New Jersey)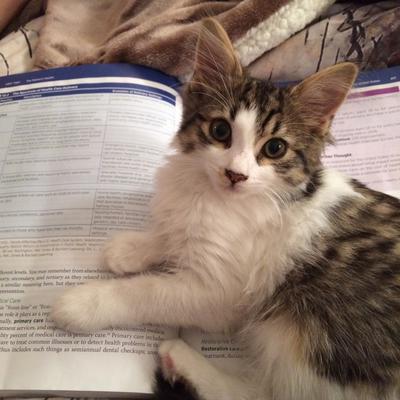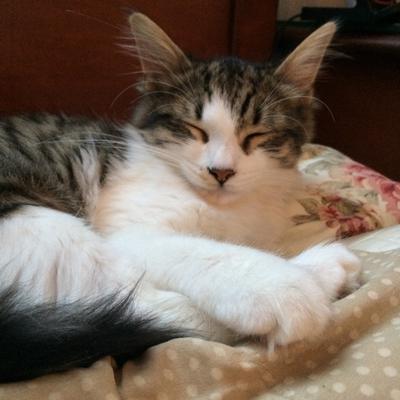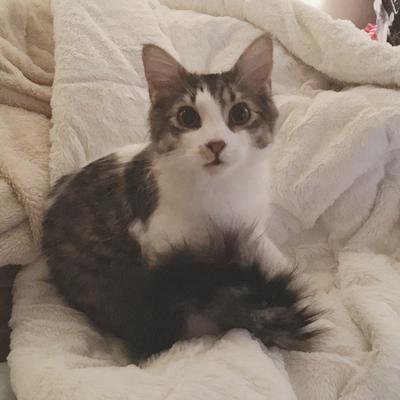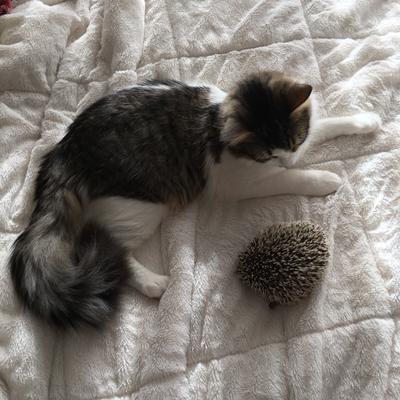 Super friendly, always has to be in the same room as my boyfriend and I. If we have guests over he has to be in the room as well.
He greets us when we come home and talks to us all of the time. He is friends with our hedgehog. He always "helps" us with chores and things we do around the house.
He has a really long fluffy tail and long hair that is so soft. He has little hairs that sprout out between his toes and fingers. He has the best personality. My friend found him in Brooklyn so we're not sure what kind of cat he is.

---
Curly
By: Crissy
(Washington state)
This is my "little" curly, and she is only 7 months old. Was wondering if she is a Maine Coon mix. She is already as tall and long as my 2 and half years old American short hair.
She has the trade mark "old man" hairy ears, has the ear tufts and super furry paw tufts. 
Curly is also super vocal. I've never had a cat that talks as much as she does. She is also extremely lovable. She is a cuddler.
She actually yells at me at night until I let her under the covers so she can cuddle next to me while she sleeps. She is laying on me right now, and is meowing at me because I am not petting her. 
The lady we got her from said her neighbor's male Maine Coon snuck out and got her female mixed breed cat while she was in heat.
I thought Curly actually looked like a pure bred Maine Coon, but I also though my cousins dog looked like a pure bred black lab and everyone else I know doesn't.
---
feral maine coons
By: Crissy
(Washington state)
I read that there might be a Maine Coons mix but because they are a show breed very seldom would this happen.
Just wanted to say that for some reason, maybe multiple Maine Coon owners weren't able to keep them inside or they couldn't take care of them, but my college roommate is from central/south Oregon around Roseburg area in the woods and they have tons of feral Maine Coons there.
You can see them everywhere. Her family have actually found some of the kittens and raised them. That was my first few experiences with them, and have loved them ever since.

---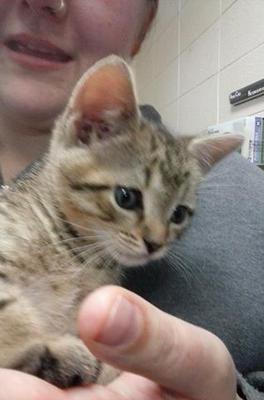 Little Britches
By: Sarah
(Burnsville)
He is a shelter adopted about 10 week old kitten with a lot of personality. Does he look like a Maine Coon?

---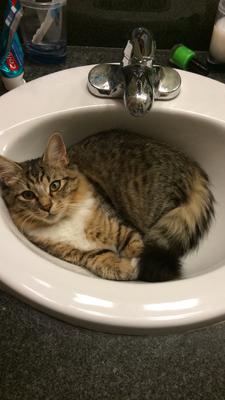 Olive Oyl
By: Courtney
(Richmond, VA)
She is 9 months old. She is always hiding behind things and jumping out at me.
She is less interested in toys than human interaction. She can be very loving and cuddly but she also loves to play fight.

---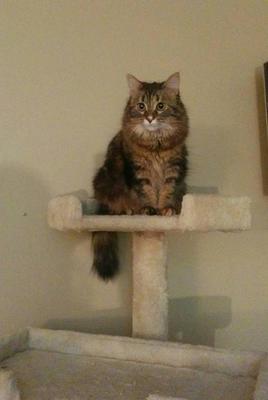 Mini Maine Coon?!?
By: Becky
(Illinois)
Maisie came to me via my niece, who knows someone who knows someone who found a tiny baby kitty in the snow, abandoned.  She was suspected to be about 4 weeks old at the time. 
She needed to be bottle-fed for a while.  She came to live with me at about 4 months old.  She is very tiny... even now, at a year and about 4 months old, she weighs 7 lbs.
Reading thru the characteristics of a Maine Coon clears up nothing for me!  Ha!!  She has some of those characteristics - she's very loving to me, and when it's just me, her, and her "brother" Dexter (orange tabby - my lover boy!!), she is THE BOSS - she IS front and center.  Dexter doesn't care, he just wants us all to get along! 
But when it comes to company, although she is curious and does investigate these newcomers, she's extremely selective about who gets her loves.  My daughter and granddaughters do, but my son-in-law and grandson do not.  And she's tiny, as I've said. 
Is there such a thing as a mini-Maine coon?  She's got the fur, the tail, and the fur between the toes (btw, that is a huge PITA when doing the mani-pedi!!).  She is my shadow-  I can't even go to the bathroom without her right there.  She's so sweet, wants a lot of my attention, loves to be cuddled, loves to fall asleep in my arms. 
Regardless of whether "she is or she isn't", this little girl has stolen my heart!

---
Sophia
By: Crissy Mancini
(Pittsburgh Pennsylvania USA)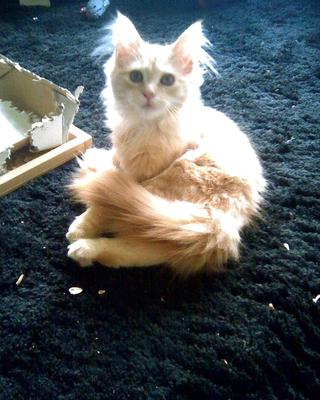 Baby Sophia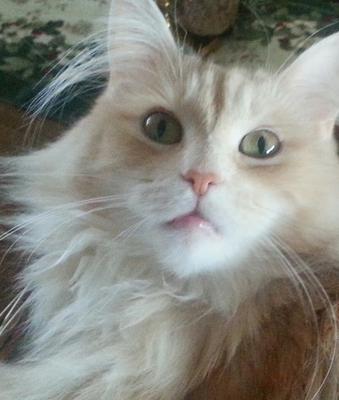 Beautiful Cameo Sophia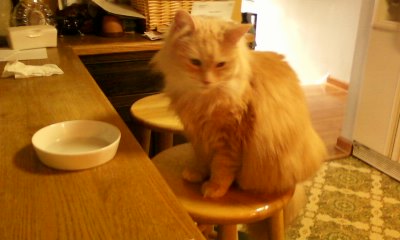 Sophia finished dining
My husband would not let me get a kitten after my sweet Natasha passed away. We got her from a shelter and all her features were Maine Coon except her size. 
My vet, that owns Maine Coons said that she looked just like his Maine Coons and that some breeders are breeding them down to smaller sizes. 
It didn't matter is she was or not, I loved her just the same. She lived until she was almost 21 years old. On my birthday, Jim took me all around an arts festival to pick out a ring or some beautiful piece of jewelry, but all I wanted was a kitten from the shelter, since my tabby "nuket" had passed away.
Every time he showed me a piece of jewelry i said, "that's nice, but we have to hurry.  The shelter closes at 5 p.m." this went on for a while until I just stopped and said, "ok, I'm done, let's go to the shelter".  We did and we found Natasha.  Zoom forward to Natasha passing away. 
A few months go by and I bring home a kitten from the barn where I was taking horse back riding lessons. He got so angry and I could see a big battle coming as he told me to take it back. Normally, I would have just refused. 
I took her to my neighbors who fell in love with the kitten, saying she knew her mom in heaven sent me to her with the kitten.  And that is how Francesca (Frankie) got her home.  Here i am, still kitten-less.  My birthday approaching, and Jim calls from the office and tells me to go on line and look at these kittens he saw. There was a beautiful Maine Coon that I loved. 
Well, on my birthday, august 1, 2009 we made a trip to West Virginia to a Maine Coon breeder. The cat we had seen was a boy and he was not available, only this little girl.  And "oh says the breeder", she is a little older than the website says because I never updated the pages.  She is 12 weeks old, born on may 1st. 
My face dropped, I snarled at Jim, I looked back and forth between her and Jim. You see, I thought they had set me up . . . May 1st is Jim's birthday. This makes the little kitten a taurus, like Jim.  When I had met Jim, I had told him to leave me alone because Taurus' keep showing up in my life and I think there is a conspiracy to destroy me . . .they make me nuts. 
And here we are, in West Virginia over an hour from my home in Pittsburgh PA.  One lone, beautiful little kitten. Jim said my face was priceless; ready to cry or bite someone . . Looking around for another kitten.   
Needless to say, none of that mattered.  This beautiful, independent little cameo Maine Coon was coming home with me.  Happy birthday Crissy!!

---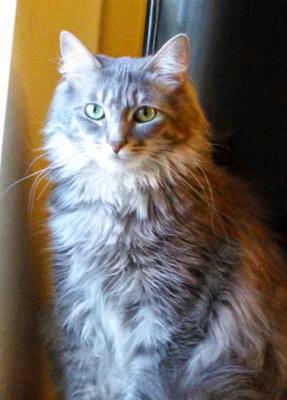 Angel
By: Erika
(Michigan)
My maybe Maine coon :-) 

---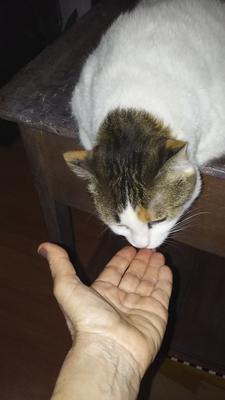 Madonna (maybe a Maine Coon  mix?)
By: Cláudia  Ribeirão de Freitas
(Santos (SP), Brazil)
Does she is a Maine coon Mix? I think yes... The only certainty I have is that is the owner of my heart!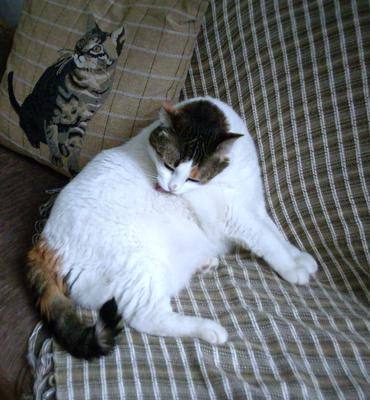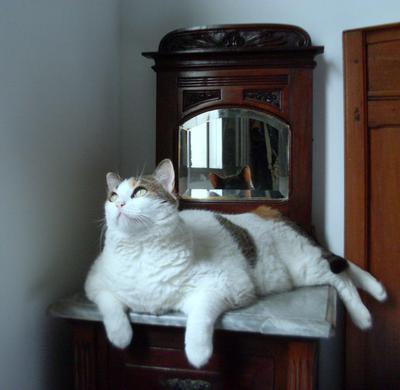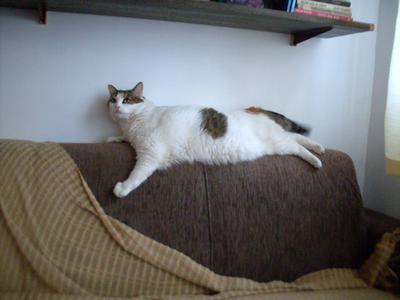 ---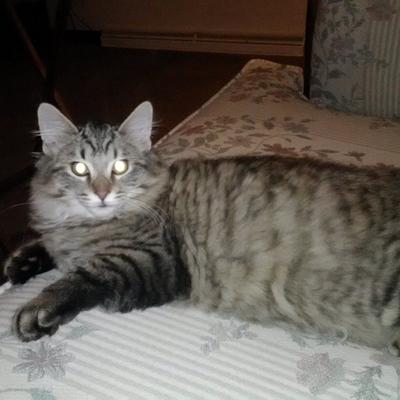 Has Got To Be Maine Coon
Very large, loves water, friendliest cat ever, loves making noise.

---
Does She Take After Mum Or Dad?
By: Trudie
(Scotland)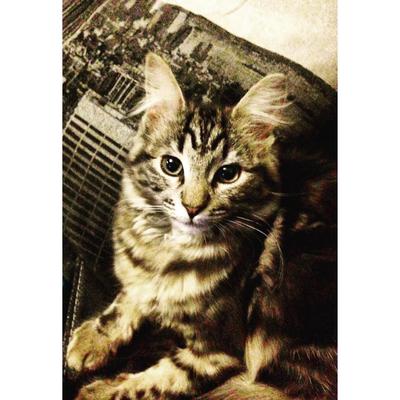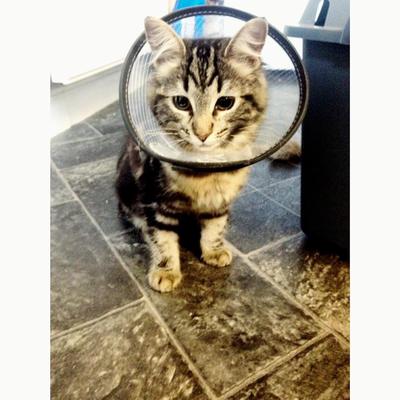 This was today after she was spayed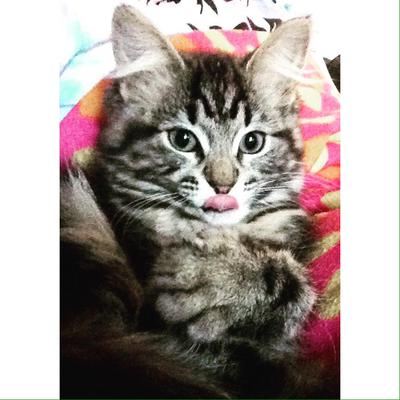 We got Mallin at 8 weeks, mum was a rag doll and dad was a Maine Coon. She is very vocal and makes an unusual chirping noise. 
I wondered whether she had more coon traits or was more rag doll. We have 2 other male cats. (domestic) and neither of them was as active or clever as Mallin.

---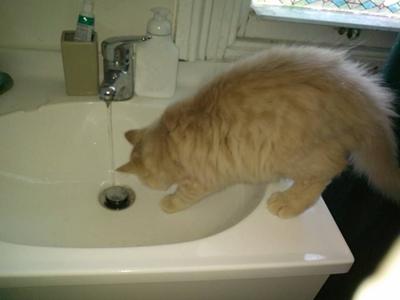 Might Be a Maine Coon Mix
By: Leanne
(Dunedin, Otago, New Zealand)
Been long suspecting Jake is a Maine Coon mix, & the older he gets the more I'm convinced. 
He's always loved water - used to come in the shower when he was a kitten. He would hear the water running & if the door was open sneak in & hide. 
Then in the middle of the shower, he would either be at our feet or up on the shower rail trying to play with the water. 
He sits in the kitchen sink all the time (naughty boy) He is vocal... talks to us & trills. 
He has a certain tone when he's saying hi & another to communicate with the 4 other cats in the house. He is a full on character, very cheeky!  
He is addicted to fingers & gets fixated on them  & loves to suck them if he's in the mood. He has ear tufts at the front of his ears & curly fur coming out from his paws also his tummy fur is slightly curly in places its soft & downy plus a bushy tail. 
He has a noble face & beautiful almond shaped copper eyes. Jake highly intelligent & has no fear. Since he was about 3 months old he taught himself to open doors so I have had to turn some door handles sideways as he has let the dogs out. 
He has little fear & always tries to attack a skateboard in the middle of a flip move (there are teen boys in the house)!   Jake would play with my one medium & one large dog from wen he was only a wee kitten. 
He had no fear of the dogs nor the bigger cats in the house. He is always laying on his back around the house he also flops when carried like a Ragdoll.  
Biggest give away is his size!! He's just turned a year old & he's very heavy & has grown so much only recently!  He is such a goofy cat, cheeky & mischievous as well as charming & lovable. Would love some input. Thanks
Presley
By: Cathy
(Grand Rapids MI)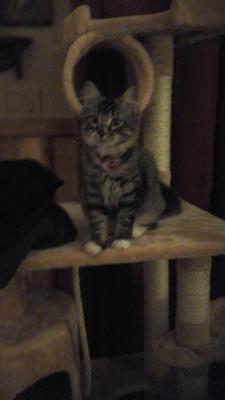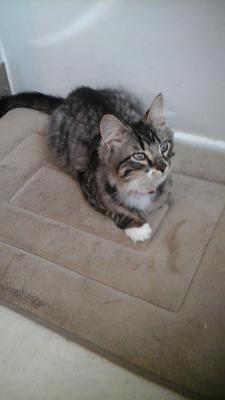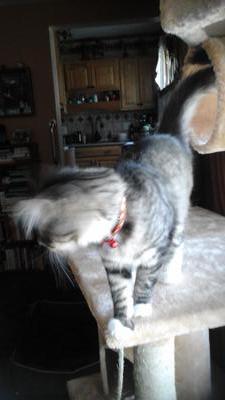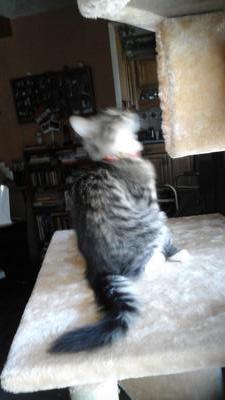 17 weeks old, I did not see the mother, but my vet said he has at least part Maine Coon. He is very affectionate and likes to play in water nothing like my older tortoiseshell. 
More Presley
By: Cathy
(Grand Rapids MI)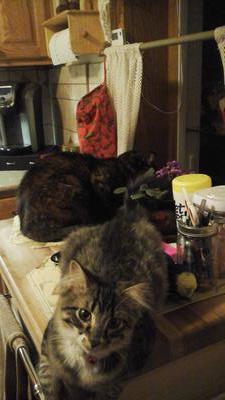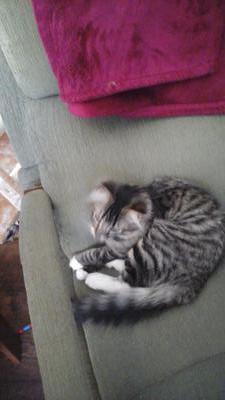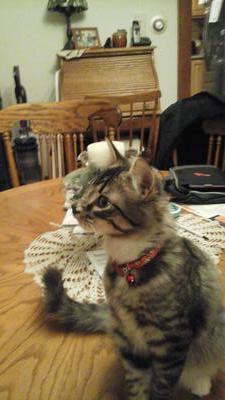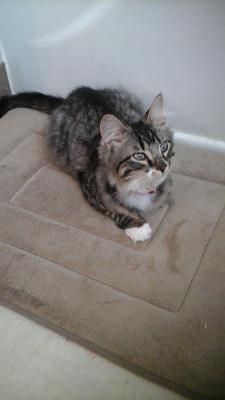 New pictures of Presley, part Coon we think. Let me know what you think ? We got him free, were told he was part Siamese?  We don't see it.
Presley Update
By: Cathy
(Grand Rapids MI)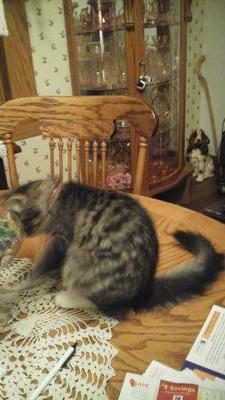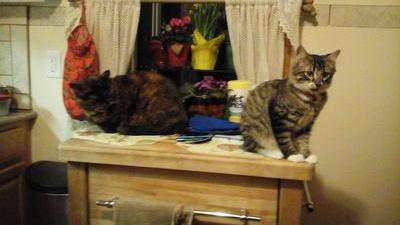 Presley is now around 4 months old? 
Our vet thinks that is his age. Our vet also thinks he is part main coon. I did not know the breed so I looked it up and found this web site. He found his way to us thru a friend so know he has a forever home. 
My husband doesn't really care for cats - he is a dog person, but little Presley sure likes him.  

He also likes to play in the dogs water dish, and with my Golden Retrievers tail. He is very vocal and has quite a vocabulary of sounds. Please let me know what you think is he part Maine Coon ?
Presley Update
By: Cathy
(Grand Rapids MI)
Little Presley is not so little anymore. 
Since we don't know his actual birth date ,our vet said he is about 22 weeks he weights 8.6 lbs. Our vet thinks he is part Main Coon, he has the extra long bushy tail, tufts in his ears and between his toes.  He is very affectionate and is very vocal.  

We have a 11 year old  female tortoiseshell named Trouble, He is a lot different than her. 

Let me know if you think he is part coon, since we did not see the mother or his litter mates. He was given to us from a friend who said he  needed  a forever  home.
---
Your Highness
By: Kandy
(Northumberland,PA USA)
We found her on the internet after I had to put my Miss Kitty down, she was 18 yrs old and had cancer in her mouth. 
We had to drive 2 hrs to get her, the woman who had her, found her at a yard sale the lady said she was going to put her out in the street, if no one would take her, so she loaded her up in her car and brought her home. 
I called her about 4 months after that, I had seen her ad, brought her home. She wasn't real receptive at first but now she is the queen of the house hence"Your Highness" (they called her"Paris") she still bites sometimes and I'm not sure how to stop that any suggestions would be appreciated  

Disclaimer: When you buy through links on our site, we may earn a small commission.
As an Amazon Associate I earn from qualifying purchases.
Our Coonies use and love:
Greenies
4.7 stars; 3.6k ratings
Furminator for Longhaired Cats, Large
4.7 stars; 15k+ ratings
Double Layer Waterproof Cat Litter Trapping Mat
4.5 stars; 56k+ ratings