Too Friendly to Be Free
by Darleen Saunders
(Sacramento, CA)
Our two Main Coon brothers are definitely indoor boys. We saw early on that they were more lovers than fighters when they never even bothered to flee when strange dogs came into our house for a visit.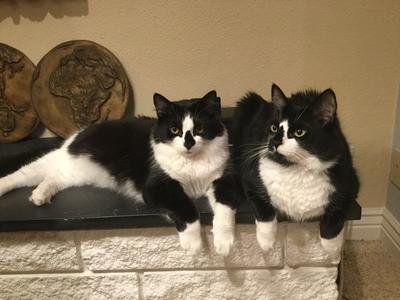 These trusting kitties would sit still and allow any animal to sniff them and not move to higher ground like a normal cat, or better yet retreat under the farthest bed.
So when they would meander outside if a door was left open accidentally we quickly found the nearest garden hose and gave them a slight spray. If they were out of range I would call them and always give them a treat once inside.
I always train my cats to come when called with treats so that I can be sure they are in, or if I need to bring them to the vet. Chumming is way better than chasing!
We have coyotes in our neighborhood and we see sad postings from other neighbors who's cats go "missing" way too often. So our friendly boys have been grounded to the house only.
But not to worry we have loads of room for them and they make use of our long hallways to get their exercise daily.