Tattle Tails: Maine Coon Newsletter

January, 2015

Welcome to our January edition of Tattle Tails! The year is off to a purrrfect start!
In This Issue:
Cat Proverb
What's New On The Site
Maine Coons In The News
Single-Cat To Multi-Cat Household Tips
Visitor Tips, Reader Q & A
---
"There are few things in life more heartwarming than to be welcomed by a cat."
~ Tay Hohoff
---
---
Photo Album Updates:

Luca and Beppino our Coon-like rescues: Sharon shares: As you know we lost our Coonie, Elliot, in July. Arthur and Marley are still doing fine!

We weren't sure we were ready just three months after Elliot's passing, but we knew wanted to adopt, not purchase, next time.

We also wanted two males and we hoped they would be Coonie-like, When these guys popped up in front of me on FaceBook we realized that the stars were aligned and we bit.

The Cat Coalition of Western ME, whom I follow and support, posted a pic of these two fluffy Coonie-like babies saying they would soon be available for adoption.... Read More





The January Photo Album is growing so fast! I'm sure it will our largest photo album ever! Thank you to everyone who has shared their pictures, and keep them coming! Visit The Album

---
Maine Coons In The News - Moose Finds His Way Home:
Well, kind of! Moose is a large Maine Coon who slipped out with one of the family dogs at his home in Kansas with the Leonard family last June. The family looked for him all summer before moving to Ohio.
Then just recently a couple found him in their yard while trapping a litter of kittens! Thankfully, Moose was mircochipped. The Leonard family, including their four children, is thrilled to be reunited with their family member!
Source: http://www.ftleavenworthlamp.com/
article/20141106/News/141109620
---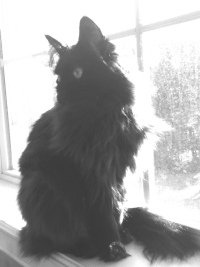 In keeping with the theme of the reunion story above, lets talk about microchipping! It seems like most of the happy ending reunion stories are thanks to this procedure. Here are some basics:
What It Looks Like:



A microchip is similar in size and appearance to a grain of rice. It is implanted under the skin while your Coonie, often during the spay/neuter procedure. It is pushed in with a needle, similar to having blood drawn.

How It Works:



The microchip has a unique number, like a serial number. This is entered into a national database. When it is scanned, the contact information you entered comes up. So if you change phone number or address, don't forget to call your vet and have your info updated on the microchip!

Where It's Placed:



On cats and dogs, usually just under the skin near the back of the neck/between the shoulder blades.

Cost:



It depends if you have it done along with something else, or at a separate appointment, but it's very reasonable. And definitely worth it, even for just the peace of mind!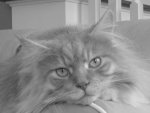 Reader Tips, Tricks, and Advice:
Over time, Coonie lovers have sent in lots of tips and advice! Here are some pearls of wisdom:
Kate Writes: "Regarding giant litter boxes... I got one of those very large green RubberMaid storage bins, the kind big enough to hold three feather comforters. Its 30 x22 x17 tall. I put a whole 40 lb box of clumping litter in it, and use a hefty metal scooper for daily sifting. MC KittyBoy has plenty of room to be comfy in it and share with 20 yr old Miss Mitty, Kitty-Grey, Hansel and Gretl."
Patricia Suggests: "If a large litter box is not available...look for a "baby bath!"
Carole Shares: "Hi! I just wanted to drop you a note to let you know how much I enjoy PAWsitive Passages and the way you personalize it! I am so happy with my Maine Coon, Lyla, and finding so much information on MC's, including the photos and individual stories.

I've read about hairballs and just bought Hartz's shampoo that is supposed to help control the formation of them when cats lick their fur."
Q & A:
Carol asks: Hi, Carrie. We are looking for 2 MC male kittens, having recently lost our beloved MC. I am looking at your site (very informative) and see that one of the breeders ... says that they do not show their cats. Does that mean they are what you would call "backyard breeders"?
Reply: Hi Carol, That's a great question. In general, when breeders show their cats it's a good indicator that they are involved in the Maine Coon community, and up to date with breeding, the breed standard, recent health news, etc.
But, not everyone has the time or resources to go to shows and make that a part of their routine. It's always a good idea to make allowances for these differences - there is no rule. This is one of very few of the breeders on my site I've had personal contact with. From his emails, he seems quite trustworthy. They run a farm, too, so I can understand how that would keep them at home most of the time. Some of the other things to look for would be whether the cats and kittens are pedigreed, and whether they are registered with the cat associations such as TICA and The Cat Fanciers Association.
A backyard breeder is really someone who cannot and should not call themselves a breeder. They happen to have access to 2 unsprayed/un-neutered cats and decide to breed them, having no idea if these cats are "breeding quality," meaning the best example of the breed, and also not understanding genetic health issues (not to mention screening for certain health disorders). Also a backyard breeder wouldn't be registered with the associations above and I'm not sure if they would have the ability to register the kittens.
There is a gray area, though. It's important to use personal judgement in the search for a good breeder. From time to time, there is a breeder who seems to fit the mold of what to expect, but then it is discovered that their practices have been less than proper. Some of the possible issues could be hoarding cats, breeding cats known to carry genetic problems, selling too young, and other issues. Bear in mind this is very rare. Most breeders are honorable, but as in any profession, there will be the rare instance of one who does not meet standards. That's why it's important to get good references and/or visit the testimonial section of their website.
I hope this helps!
Best Regards, Carrie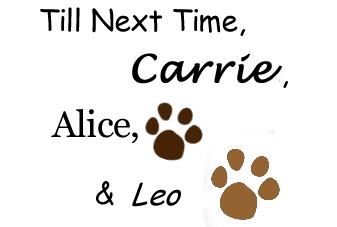 PS:
Be Friendly:
If you have friends or family who love cats, feel free to forward this newsletter to them! It's fun and free :) The more, the merrier!
---
PPS:
If you have enjoyed this issue, or any other page on the site, please help us grow by sharing it through FaceBook, Twitter, or other social networks. We
really
appreciate it!
If you have a blog or website, would you consider linking to us? Thank you so much!
Let's Connect!
Subscribe in a reader - Be notified of new posts!




Or, get The Daily Digest in your inbox:





Join our newsletter group by filling out the form to the right. From time to time I'll send out special tips, articles, news, deals and other free goodies!