A Change Is In The Air
Tattle Tails, Issue #005
September 30, 2011

In this issue:
Cat Quote
Maine Coons In The News
What's New On The Site
Mini-Article – Maine Coon Hangers
Alice's Featured Find
Leo's Health Tip
Note from Editor:
Now that this is an archived newsletter, the links have been removed in order to keep this website neat and tidy. Rest assured that each fresh newsletter contains all the live, handy links to articles and photo albums.
"The smallest feline is a masterpiece."
- Leonardo da Vinci
Maine Coons In The News:
Stewie the Maine Coon is making the news once again! Not only does he hold the record as being the worlds longest house cat, he also has the worlds longest tail.
Stewie's tail measures 16.34 inches, making him the only cat to hold dual world records!
A recent news article describes Stewie, his new-found fame, and his work as a therapy cat. What a special boy! We are all so proud of Stewie!
Additionally, Stewie is set to visit Sacramento, California on Oct. 1 and 2 for the annual Jazzy Cats Cat Show at Cal Expo.
There will be a Cat show and Christmas craft fair on Saturday, Oct. 15, and Sunday, Oct.16, in Springvale Maine. This event is hosted by the United Maine Coon Cat Association. Events include purebred feline competition and competition for household pets.
Visit www.CFFinc.org for more information.
---
What's New On The Site:
New Photo Album!
We've started a whole new photo album! This is our third album, and it is devoted exclusively to Maybe-Maine Coon cats. So come see (and comment on) all the Maybe-Maines.
Fall Photo Contest!
Our Fall Photo contest is in full swing! There are some great shots, cute kittens, and they are all beautiful cats.
The contest is now open for voting, too. So hop on over and vote for your favorite picture. The winner will be on our homepage for a month. Voting closes on October 28th.
New Article
Our latest article is titled The Maine Coon Temperament – Gentle Giants or Rugged Ruffians? 
Of course, you already know the answer to this question! It's a look at this breed's disposition, for folks who may not be familiar with Maine Coon Cats. This page also features a photo of Arthur, one of our gorgeous contest entries!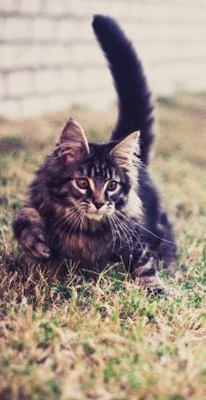 A New Questionnaire
The title of this newsletter, A Change In The Air, is inspired by not only the changing weather, but a new direction for me.
With over 900 pages on the site, and almost every subject touched upon, there is still a need for concise info on a variety of Maine Coon topics. We see evidence of this in the new questions that keep coming.
So, in addition to our current focus when it comes to articles, Facebook, photos albums and posting daily updates I think it's time to make some E-products available.
I've created a Maine Coon questionnaire on the site, and greatly appreciate your input! This is a place to let me know what you're questions are when it comes to cat care.
I'll use the results to release an info-product that most closely matches the needs of our Maine Coon community. I really love reading the responses.
New Pages On The Site
New cats are introduced daily, as well as new questions. It's a very interactive, happening place!
A good place to visit is our Blog page, where you can see all the newest pages. Often these are the most active as far as comments and interaction.
---
Maine Coon Hangers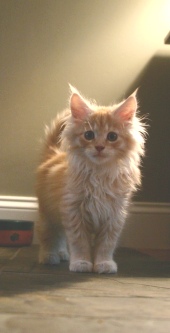 What are Maine Coon hangers? Well, different folks have different terms for the type of hanger I'm talking about.
Some call them Maine Coon dags, others use the word dingleberries (I like this one), and by now I think you know what I mean!
Our poor fluffy babies are so clean, so meticulous, but after using the litter box they often have a left-over that just won't leave. What to do?
This question comes up from time to time. Unfortunately, there isn't a tried-and-true cure. Or a way to prevent them. (Although they do seem to become less frequent with age).
It comes down to removing them ourselves. I usually use scissors, although sometimes it's possible to take a paper towel and "pluck" them off. Additionally, some folks find it helpful to trim the area, so there will be less fur for sticking.
A good way to do it is to join your cat on the floor. You'll want him or her to lie down. They can be harder to find on a standing kitty.
If you have a helper, let your helper give the cat's head lots of love. You should be able to reach in and make your snip or pluck. If you don't have a helper, try treats or pets with your other hand, and corner your cat if possible.
In short, it's a common inconvenience. Know that you're not alone, and although it's annoying when it happens, it's a fact of life when it comes to long-haired cats.
---
Alice's Featured Find:
In this new section, Alice (our Black Maine Coon Cat) will share with us something that really rocks her boat lately. I'll let her begin::

"Our mom brought home a different kibble a while back. She gave us just a little bit, on the kitchen floor, like it was a treat. Boy, it tasted like a treat!
This stuff is so meaty, I love it as much as canned food! It started out as just small handful from time to time, or a top-dressing on our regular kibble.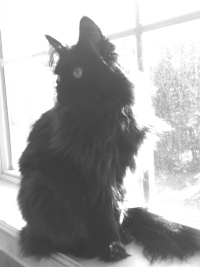 Before long, Leo and I would meow and meow for this new kibble. Even the kids will feed us now! Leo paws and bites at the bag if our people don't respond soon enough.
And get this: we haven't touched our regular bowl of food for months! All we want is the new stuff now.
We meow for it, and crave in a way we never have with other dry food. We think it's a treat! Our mom doesn't know what to do with the old kibble now. I think she's going to start mixing them.
This new food called Epigen, and it's from Wysong. It's starch-free (patent-pending), which is a step further than grain free.
It's not available at the pet store, so mom has to order it online for us. It comes right on time! But can you believe it: the dog gets to eat it too!
It's for cats and dogs! At our house it's really for us; the dog only gets it on occasion. And mom still tries to offer us variety."
A little bit about Epigen's ingredients and what it means to be starch-free:
Epigen contains a whopping 60% crude protein, derived straight from meat and organs. Is grain-free enough, you ask? Grain-free foods are very healthy.
They do still contain starches from ingredients such as potatoes, peas, or tapioca. Epigen uses a new processing technology, so that it contains potato and vegetable protein, not potatoes, peas, tapioca, etc. themselves. It this way, the pets get the protein, the best part of these items!
A peek at some of the ingredients: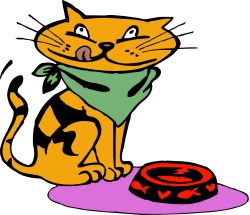 organic chicken, chicken meal, chicken giblets, vegetable protein, poultry fat, eggs, yogurt, flax seed, apple, beet pulp, plums, and further down even oregano, sage & rosemary extract! Yum!
To read more about Wysong Epigen, you can visit:

Wysong.com (where we order from)
Amazon.com
(I've been unable to locate Epigen through Amazon.uk)
---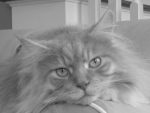 Leo's Health Tip:
Leo: "When it comes to food, we know what we like. But it's still important for us to get some variety! Eating only one food or brand exclusively can lead to ingredient intolerance (otherwise known as allergies).
Even though we love Epigen, mom tries to feed us canned food, other kibbles, treats, and even fresh "people" food. Wild cats eat variety for strong bodies and strong digestive systems. We love variety, too! After all, who wants to eat the same thing every day?"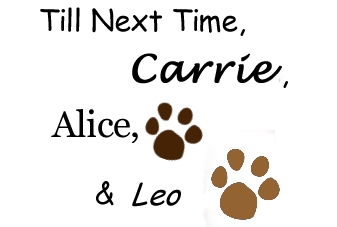 Return To Tattle Tails Back Issues Page