FuzzJo has lots of character and this is one of the pictures that describes him to a tee.
He is curled up in his cuddle cup that he loves. He's just a big ball of fluff and puff and full of love.
Beautiful, love the artsy photo.
Looks really sweet.
Playing/dozing on mummy's bed
Tali. Mummy's little curious girl. Sleeps wherever she wants. Is playful and just a joy to have her!
When one is as beautiful as our little Tali, it's hard to pick just one photo! <3 Getting into mischief (though cute), sleeping in odd places, playing, just being a beautiful cat and a simple joy to have.
Comments:
cutie pie!
by: Tabby
She's so cute!
Amazing kitties
by: Shirley
We hope you enjoy "Miss Tali" as much as we
are enjoying our "Mandy". She is pure delight
and never ceases to amaze us.
Tali is a sweetie pie
by: Sharon
Love the full front pic especially, she's a beauty! They are such a joy.
Cooter
by Jennifer
(Manteca, CA, USA)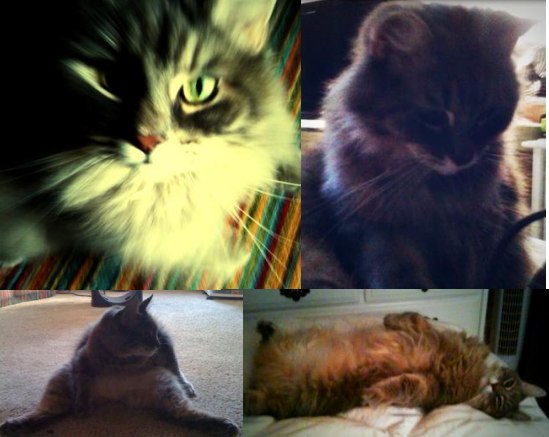 Cooter is a maine coon/manx, because she has no tail she sometimes looks like she could be part rabbit.
She loves to wake us up early in the morning by bringing us "presents" of crumpled paper and "singing" VERY loudly.
She is the silliest kitty I have ever met!
Comments:
Cooter
by: Sharon
What an interesting combination Coon/Manx. I bet she brings much joy to your lives!
Muska
by Joy
(Scotland)
Muska is a two year old blue tortoiseshell tabby and white Maine Coon. She is very gentle and loving.
Comments:
Muska
by: Sharon
Love the Silvers and Blues, she is gorgeous!
(Little) Marley
by Joy
(Scotland)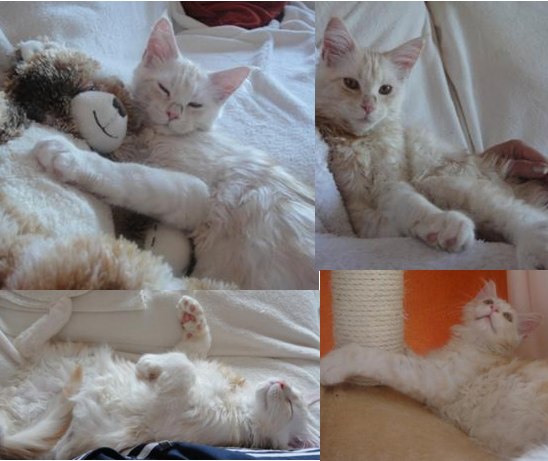 Marley is a 4 month old red silver blotched tabby and white Maine Coon, he is very affectionate so when I go out I leave a teddy to cuddle.
Comments:
Beautiful!
by: Sharon
He looks like a cuddle bug and I LOVE his name. My Marley boy is currently the thumbnail pic in the Fall Photo Contest.
Travis
by Shannon
(Lisle, IL)
Travis killing a carrot
Comments:
don't take my toy
by: Jason
Looks very cute...yet angry at his toy...:-)
You go Travis
by: Sharon
Get that carrot. Too funny. He is darling.
Must Be An Angel....
by Sue Fernando
(New York City)
Mickey is perfectly comfortable accepting the fact that he must be worshiped by us mere mortals.
Comments:
Mickey
by: Sharon
Sweetie Pie .. watch out for those candle though, I have first had experience with seared coon tails; all my candles are in DEEP jars now!
Beautiful
by: Anonymous
Mickey is so beautiful!
Boris, the White Tornado
by Kathy Nelton
(Leslie, mi USA)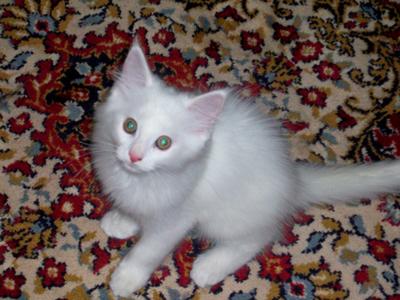 Boris the White Tornado
Boris is a whirlwind of non-stop activity.For a brief moment he stopped long enough for me to snap this photo.
Comments:
Boris
by: Joy
He is beautiful, I hope you have many happy times with him
Boris
by: Sharon
and what a great picture it is! He is just beautiful!
Nicky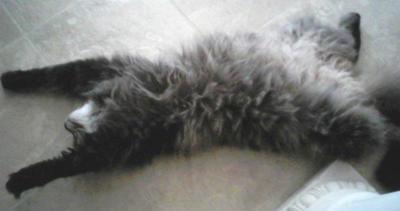 Our Maine Coon Nicky, chillin and relaxin!!
Comments:
Nicky upside down boy
by: Sharon
Oh, this is so classic. All my boys do this, it is just too funny. I am sure he brings much joy to your life and you to his.
Celebrating Fall
by Wendy
(Easton, PA)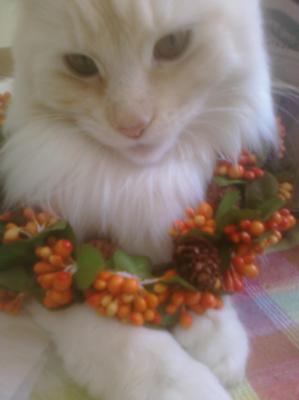 Lily is so laid back, we could probably fully costume her without her moving :) She just loves the attention.
Comments:
She is just lovely!
by: Sharon
Love this pic, very festive.
If you have a Maine Coon, you know how unique and different they are. You know you have a special cat!
Our E-Guide, The Care and Keeping of Your Maine Coon Cat, is full of info custom tailored to Maine Coons. Feel free to take a look, and review the table of contents to see for yourself!