I made all Maine Coons proud by being totally cordial and friendly to her even though she is a dog. Once she learned who was in charge of my house we got along great. I even missed her when she went back home. I would walk around the house looking for her and even sleep on the bed my man servant fixed for her.
I will only drink out of it now. I ignore the bowl of water next to my food bowl and go into the other room to drink out of my fountain. I like to drink straight from the water stream, it is fun and I play in the water from time to time. I drink a lot more water now.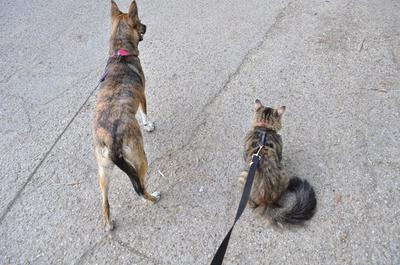 Sasquatch: Taking Lilly For Walk
I am glad the weather is starting to get a little cooler now so I can snuggle up to my Man Servant and keep him warm when I want to. If he picks me up and lays me next to him I jump down on the floor. I wait 1-2 minutes then I choose when to jump back up and lay next to him. I have to show him who is in charge in this house. He seems to like it but I do it to get him to pet me more. (I have him well trained).
One of my favorite games is to crawl under the couch and sneak attack my Man Servant from behind the back. I stand up on my hind legs and reach over from behind the couch swatting him when he least expects it. It is funny to see him jump. We play like that for awhile. He swats my paw and I hide waiting for him to turn back around then I jump up and swipe at him again. It puts him in his place.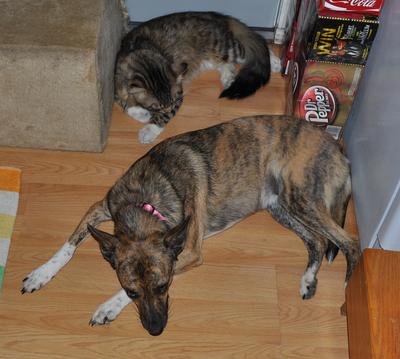 Sasquatch: Being A Good Host To Lilly
I like chatting to my man servant. I can be very vocal when I am commanding him to do something. I get my point across using various words and sounds like chirping, trills and low guttural voices. He laughs at me because some of my utterances are very comical. We carry on some long conversations. I can even recognize alot of his uncatlike words.
This is for Alice and Leo, I read where you are trying to learn to use the "big boys and girls litter box". Good luck learning to
use the toilet.
I know you will make Carrie even more proud of you. It is nice because you do not walk around in the dirty litter box, plus it smells better, as everything sinks to the bottom of the bowl. One flush and cleanup is done. I have been using it for a long time now and I am very happy using it. Don't rush it though as each of us take to it at a different pace.
Well I am going to close for now; it is time for one of my many naps. Again good luck Alice and Leo.
Sasquatch
---
Sasquatch "The Big Foot" Update
February 2013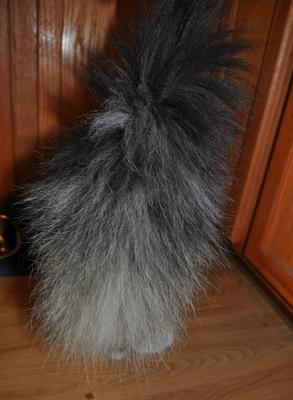 Is It A Feather Duster? No-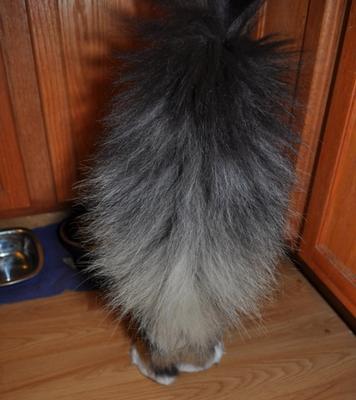 Is It A Christmas Tree? No- It's Just...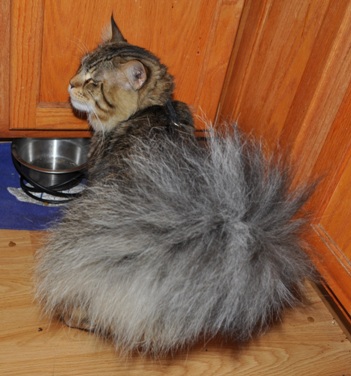 Me. Peek-A-Boo There Is A Cat Behind That Tail
Sasquatch-Begging
This is for Mr. Brady. (above post)
Sasquatch: My post Christmas Update
by SASQUATCH AND STEVE
(Fort Worth, Texas USA)
Me, my man servant, and his sister with her dog at Pet's Mart class.
Hi, It's me again, Sasquatch "The Bigfoot".

I went with my man servant and his sister with her Doberman pincher "puppy", (if you can call him that, he is 7 months old and weights 80 lbs), to several of Pet's Mart obedience classes for dogs. I had to put him in his place one time and he did not mess with me again, dogs are so easy to control and boss around. :)

I went so I could show all the other dogs in the class how a superior feline can walk on a leash, do tricks, and follow commands. I really showed them up. I had a great time at Pet's Mart. I would ride around on my man servant's shoulder teasing all the dogs. It was Christmas time and there were a lot of them. I really liked going up and down the aisles with the birds and mice. (Yum) Strange, I was the only Kitty Kat there.

It was so funny, my man servant could not walk more than a few feet before someone had to come up to admire me, wanting to pet me and ask questions. I loved all the attention. Especially from the little kids, they are so cute. Several people had to take photos of me. (See my first three photos) Even several of the Pet's Mart employees had to come up and meet me and were surprised how I would sit so contently on his shoulder.

The store was having an adoption event for cats and dogs, so I visited my feline brothers and sisters to let them know I cared. I also wanted to let them know there are many good humans with 'purr'manent 'fur'ever homes out there for them to go home with, rule over the house, and for them not to give up. I fell in love with all of them and wanted to take all of them home with me but my man servant said not this time. Oh well, I tried. Maybe I should become some sort of ambassador.

I also got to babysit Lilly again for almost two weeks. We had fun and I am so glad she remembered who was boss in this house. I spend a lot of time with dogs I guess because I think I am one (or at least act like one). Well my paws are getting tired from typing this, so am signing off for now.
Sasquatch