New Photos of Presley
by Cathy
(Grand Rapids MI)
Presley was in need of a forever home. My friend took a little orange and white from a neighbors litter and took a picture of Presley to show me.

He was the only one in that litter who had the extra long bushy tail. Tufts of hair shooting out of his ears and between his toes, and the only gray and white tabby. Our vet said he is part Maine Coon. Please let me know what you think? I have had a few cats and dogs in my life time but never one like him.

As you can guess by his name he is very vocal. He also has to be the most affectionate cat I have ever owned. I am looking forward to your opinions.








presley
by Cathy
(grand rapids mi)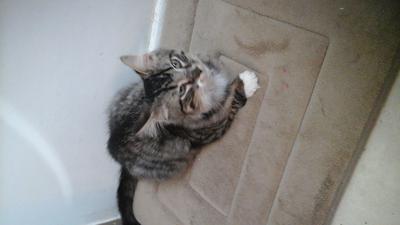 Presley is a new addition to our house. We got him from a friend of a friend. My vet thinks he is a Coon cat. She said time will tell, wonder what that means?

So I did not see his mother or siblings but was told he was the only one in the litter like him so of course I wanted him for my sister who later changed her mind so now he is mine. Yeah!

We currently have three dogs, a Golden Retriever Max 8yrs, a Brittany, Maggie,14 yrs, and a Springer Spaniel, Gracie. We also have a Tortoiseshell cat named Trouble, who is 11 yrs old. She doesn't care for Presley much, and will remark everything he touched. Hopefully they will become friends. Max, the big Golden, loves him. Maggie, the Brittany is OK with him.

Gracie, who is just a year old, wants to play and is to rough, so I have to watch her. So let me know what you think - if he is a Maine Coon or not. He has a bushy tail, gets bushier every day, has tufts of fur between his toes, and long hair sticking out of his ears. He likes to play in water, and is very very affectionate. He has several different sounds he makes - he is very different than my older cat.

He is also quite vocal - thats where he got his name. I am looking forward to watching him grow.