Ruby was adopted into Patti's family and quickly became a beloved family member! Get to know sweet Ruby here and also meet Crash and Coco, hurricane kittens!

This is the best cat we've ever known. She's intelligent, she's loving, she's comforting and she loves us just as much as we love her.
She came to us two years ago thru an adoption. She adjusted within a day or so to our family and surroundings. We play ball with her, hide and seek, and she understands what you want from her if she wants to comply.
She doesn't know she's a cat she thinks she's a dog. She opens the pantry door with her long front arms and paws, then grabs for her bag of goodies and pulls them to the floor. Then if that's not funny enough she tries to open the bag.
In the morning when everyone is asleep and she thinks they've had enough she goes into each bedroom and licks our faces till we open our eyes, then she goes on about her business when she's awakened us.
Ruby jumps on the bookcase and piers out of the windows to watch the birds and the kids. Loves to go out onto the deck and lay in the sun, she only goes if I go. She's an indoor cat, but loves to go on the deck.
We love her and are so happy with her. This breed is so wonderful, I don't miss having a dog at all. She's independent she's vocal, tells me what she wants, she's clean tells me when she's gone, she's just the best.
We're hoping to adopt another just so she'll have someone to run thru the house with, OH BOY!!!!! am I asking too much? hahahaha She's the best OUR RUBY GIRL!!!!
Comments:
Ruby
She is the biggest Maine Coon I have ever seen a picture of. She must be a delite when she runs through the house.
Very pretty
Thank you for adopting her.
By: Carolyn Landry in St. Petersburg, Florida, USA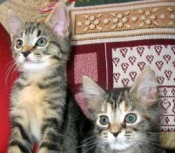 August 13th, 2004, we evacuated from Central Florida just hours before Hurricane Charlie hit.
When we were allowed to come back, we stopped at a gas station in Daytona Beach, Florida. As we were filling up, we heard the distinct cry of kittens.
Next to us at the pump was a small pickup truck that had two kittens in a milk crate. The owner of the truck said that this was the second litter of kittens he had taken out of a house he was renovating.
A friend of his suggested that he just fumigate the house and kill them. Of course, he couldn't do that but he couldn't keep them because he was allergic.
We offered to take the kittens back to Orlando with us and get them nursed to good health. Both were extremely young; we figured maybe under two weeks old.
They were covered in fleas to the point that they were both anemic. We stopped at the closest PetsMart and got cat milk and a syringe to feed them. It is now seven years later and they are still with us.
Turns out, one is definitely a Maine Coon and the other appears to be part Coon. How lucky are we!!!! Wouldn't give them up for the world. Their names are Crash and Coco. Two of the craziest kittens I've ever owned and now they run our house.
People have told us how lucky those kittens are but we are the ones that are lucky.
Comments:
Aww
by: Su
They're gorgeous! Bless you for taking them!