This big boy loves to relax and hang out with the family. He will follow you from room to room to see what's happening. He is great company.
Captain Hook is sooo gorgeous!!! Just like my dear old Sammy that ran away when I moved....miss him soo!
Thank you Pat.I have truly enjoyed Captain Hook. He is 2/1/2 years old now and continues to amaze me daily.He seems to be intuned to our moods and acts very much like a dog.Who ever said that a dog was man's best friend, I think it's cats.
You have a handsome cat! I know what great companions the Maine Coons are. I'm sure your family loves him.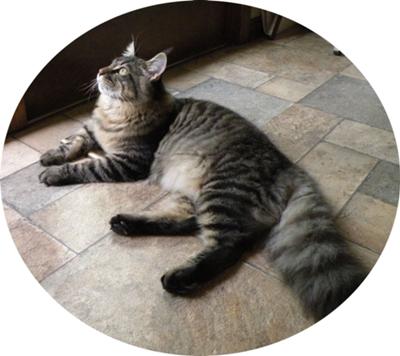 Murphy was sitting by the window looking out and he was so calm and composed that it made a great photo shot.
Comments:
Awesome picture!
by: Anonymous
He is a beautiful cat.
Great Shot!
by: Jessy
Like everything about it, the poetic mood, the stripes, and the surface he's lying on.
Hey
by: Bezzer Buzzer
Hey, man, I like your stripes and ringed tail. You got it going on!
Congocoon's Eclipse And Congocoon's African Moon
by Jenni
(fayetteville, tn, lincoln)
Newly adopted Maine Coons with stunning personalities!!
Comments:
Coon Cat Envy
by: Helen
Jenni, I went to the Congocoon website and was thrilled with the wild look of Mitzi's cats. Those big square whisker pads and big well lynxed ears are awesome. I would love to have one, but alas, I'm on a fixed income now that I'm retired and live in Texas, too far away for her to consider me for an adoption of a retired breeder.
My Bezzer Buzzer's sire is a Grand Champion and Bez is a show quality 21 pound red classic, but I had no desire to show cats, I just wanted a nice one. He is very affectionate and lays next to my shoulder with his paw on my arm when we curl up in bed and watch TV.
Aren't we lucky to have such beautiful coonies?
Thanks!
by: Jenni
Thanks Helen, I recently adopted them about 3 weeks ago. They are absolutely amazing, and have such stunning personalities! I wouldn't trade them for the world. I love maine coons and I am still excited as the day I got them each time I see them. I was soooo lucky to get two of Mitzi's cat's (CongoCoon's)!!
Eclipse of the Moon
by: Helen
Eclipse and Moon are both outstanding cats. I'm a fan of classic tabbies, so Moon caught my eye. Both are high quality and you can expect years of enjoyment from both.
Helen
Bentley
by Baerbel Schmitz
(Sierra Madre, CA, US)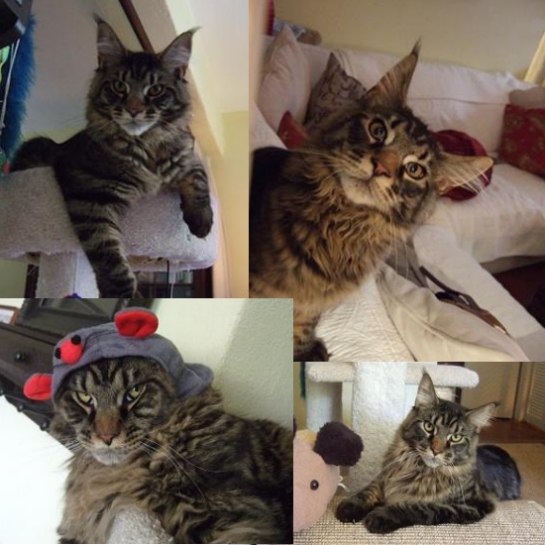 Bentley is not impressed with his Halloween Mouse Hat at all!
Bentley is our very sweet 11 month old Maine Coon that surely put a smile back on our faces after we lost our 17 year old Main Coon mix Chase.
We never thought that we could fall so easily in love again. Bentley stole our hearts.
Comments:
Wrong hat
by: Shannon
Bentley is wearing Spikes hat.
FABULOUS!
by: Renee
I think that Bentley Has Leslie's Eyes!
XO,
Renee
Oscar
by Frances
(Suffolk England)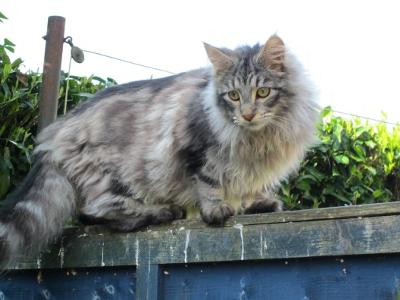 This will be my 2nd fall. I was too small to appreciate the last one, but I do like the wet, windy weather as Mum has to dry me with my own towel.
Rocco
by Betsy Stevens
(Rochester, NH)
Rocco thinks he's hiding in his tunnel - it's a great place to watch his family without being seen!
Comments:
Rock On Rocco
by: Kathy Boyd
What a handsome boy. he really has grown.I'm so glad that we adopted brothers.
Fiona
by Renee
(Ridgely, MD)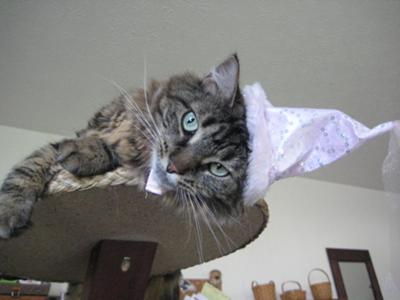 Fiona our Princess
Fiona is our little Princess, so she is dressed the part for Halloween!
She also acts the part and loves to be served and doted on.
Fiona is just over a year old and has been with us for 6 months.
If you have a Maine Coon, you know how unique and different they are. You know you have a special cat!
Our E-Guide, The Care and Keeping of Your Maine Coon Cat, is full of info custom tailored to Maine Coons. Feel free to take a look, and review the table of contents to see for yourself!