May 2012 Maine Coon Cat Pictures
Meet the May 2012 Maybe-Maine Coons in this large and lovely photo album!

Maybe-Maine Coon Cats For May:
Daniel
By: Heather in Muir, MI United States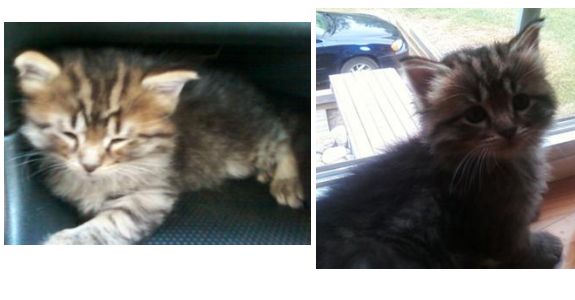 We recently found Danny Boy as an orphan, we believe him to be 7-8 weeks old. I believe him to be a Maine Coon Mix due to his size, coat & markings but would like confirmation. Any information is appreciated.
Thanks!
---
Is he a Red Maine Coon Cat?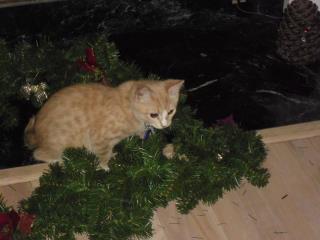 Adoption Day - 5 months old
We adopted Pomegranate from a shelter on December 17, 2011 at 5 months old. We don't have much background on him.
Now he is about 10 months old, and his tail looks striped just like a raccoon's. We always get comments about how big he is. He's very long.
His eyes are copper, and he looks so much like the Red Maine Coon cats on your site. We can't help wondering if he is full or part Maine Coon.
---
Gizmo and Mr. Whiskers
By: Kim in Lexington,KY.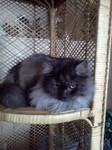 Gizmo
I'm not sure if my boys are Maine Coons or not. But from all the reading I've done here and all the pics, they look like it and have the personality of the Coons.
I've had Gizmo (blk. & silver) since he was born, he sleeps at my feet every night on "his" pillow. Mr. Whiskers I've had since he was weened, and he is Gizmos daddy. If someone can give me a idea if they are Maine Coons please let me know.
---
This Is Jasper. Could he be Maine Coon?
By: Brenda Barie in Phoenix, AZ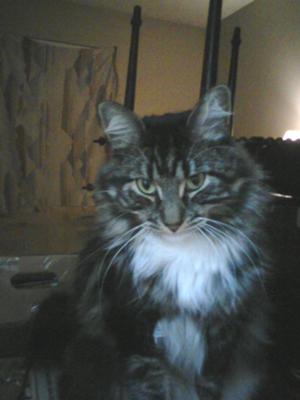 This is Jasper, He is 2 and 1/2 years old. I got him from a friend when he was 7 weeks old. He doesn't look like his mother or father or any of his siblings. He is a talker, making all sorts of different sounds when he meows. He is also Mr Personality.
Comments:
Yes!
---
Dog or a cat - or even a Maine Coon?
By: Anne in Lahti, Paijat-Hame, Finland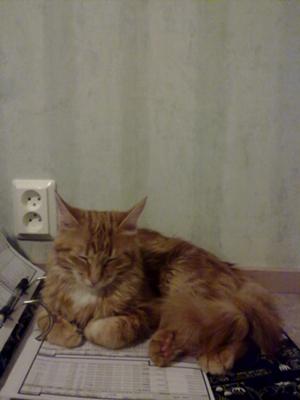 Here is Tuisku
Here is my cat, Tuisku.
He was six months old when we got him. Friend told me that they got over ten cats who needed a home and if I would like to buy one. They were rescued and placed to a local vet. Full story is unknown to me, but I now that this cat stole my heart the moment I saw him.
Silly, skinny, fluffy tailed, moron. That is my cat- well, he is not so skinny anymore. We play daily some fetch; I make a paperball and my cat runs like a maniac to get that ball and brings it back so I can throw it again. He likes to talk with his silly voice and when he wants something everybody knows it - he is very stubborn and noisy.
This cat likes to stay on peoples route, and at least once a week someone steps on this "little" cats tail.
My son can do nearly anything to Tuisku, and this strange cat just keeps looking my son with his really round eyes and "not-so-smart-look" on his face (my son is 4-years and loves this cat, so he wants to hold it as often as possible). "Tuisku" plays some wrestling with our other cat. This other cat is six years old and we call him "Nasu" (= Piglet), he was a rescued cat too. Tuisku is now 16 months old and his weight is 4,8 kg.
So is this silly "little" cat a Maine Coon?
ps. This "little" cat is actually larger than our six years old piggy :P
---
Samuel L. Catson
By: Wes Dault in Michigan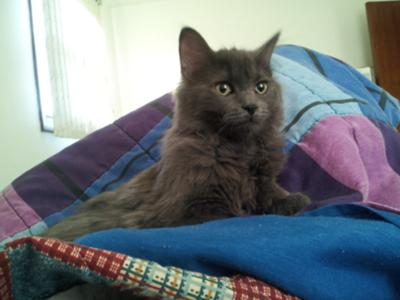 He was a cat I adopted from a local shelter. He is absolutely adorable and adores anyone that will give him attention.
He is also an eater, we go through food like crazy, he is also a fan of anything that may fall on the floor, or the dog treats that don't get eaten quickly enough. He has a fun personality and always needs to be the center of attention.
I can usually not type on my computer without a visit from Sam trying to lay on the keyboard. He is a fan of anything that moves, his favorite toy is a mouse on a stick, which he carries around with him. He is also a fan of the dogs rope bone. His paws are enormous for how old he is. He is only 8 months old and his paws are way bigger than the 2 and 3 year cats we have.
He has very "furry" toes as well. He has a very "dog" like personality, always waiting at the door for me and my fiance to come home from work, greeting us with meows of joy, or that he wants food.
---
Maine Coon Mix? or domestic longhair cat?
By: Jenny Lee in Ontario, CA, USA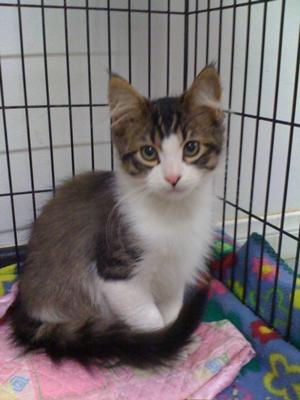 first met at shelter
Kato is a Male cat from local shelter, I got him when he is 3 month old, he is currently one year and 7 month old and weight 13lb. Just very curious is he might have Maine Coon mix in him since he has ear tufts, long fur comes out of toes hairy tail. His personality is very sweet but very shy to strangers. Never bites or attacks anyone. When there is only me and him he always follows me around like to sleep next to me.
I'm trying to figure out if he is over size for his age, since lots of people mention if is Maine Coon 13lb will be normal size for male and could be bigger. :)
I also look at lots of pictures of domestic longhair cat from internet, they look very similar as well.. Just want to make sure he is healthy at his weight currently. No matter what breed he is I still love him.
So what do you guys think? :D
Comments:
Jill: There are other cats posted right on this page who look very like Kato (see Moon). Kato looks a lot like my Jonesy, who was posted in February, and I am convinced he is a Maine Coon mix. I think you can be pretty sure Kato is, too! He even has tufts on the ends of his ears!
---
Taz the wonder cat!
By: Sue in Utah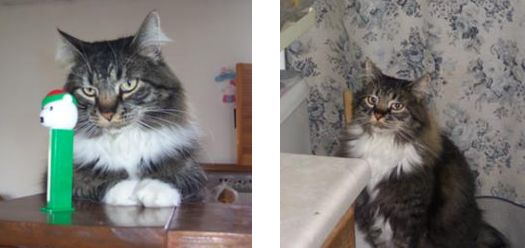 Taz wishing he had thumbs.
I was wondering if Taz was a Maine Coon cat or maybe a mix. I don't know anything about his parents or him, other than he was the runt of the litter and after momma cat pushed him out, he was raised by a friend of mine.
She couldn't take him to her apartment so I took him in. He is quite the cat. He loves to sleep with my son but he is something of a bed hog. He loves to open the door to the bathroom and try to help out whoever is in there. He loves to sneak up on us! For a large cat, he can be silent when he wants to be.
Comments:
Kathy Scharf: Taz is definitely a Coon, maybe 100%. He has tufts on his ears but I can't see his paws to see if they do too. Does he chirp and follow you around? They also have very unique sleeping and lounging positions. Sometimes their paws are straight out or one paw hangs down lower than the other when they are high up on something. He is absolutely adorable! Enjoy him.
---
Not sure if shes 100 percent Maine Coon?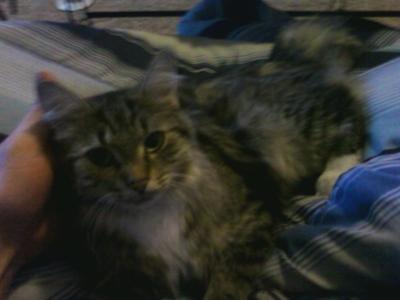 Her name is Dr. Puss. I got her when she was three months old and shes almost three years old now. She is awesome! Very friendly and has a lot of dog like qualities! Very loyal!!
She's at the door when I get home from work and follows me around the rest of the day. I'm in her sight whenever I'm home... She also loves drinking off any faucet any time she can and has a certain way of letting me know what she wants whether it be food or water or just attention.
I couldn't ask for a better friend! If you think she's 100 percent please let me know. She's pretty small for a Maine Coon cat but she just turned three.
---
Is Leo Part Coonie?
By: Jules in Sav. GA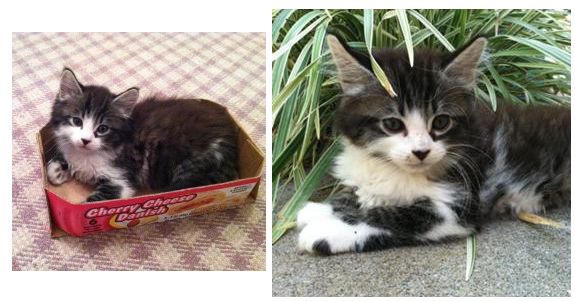 This is my daughter's cat, he's about 8 weeks now. He looks to have some Maine Coon in him, but since I'm no expert what do you guys think ??
Comments:
Dennis & Anita: Look at those ear feathers! And look at those big soft feet! Could be Maine Coon-ish!
---
Hawkeye~
By: Vikki in Florida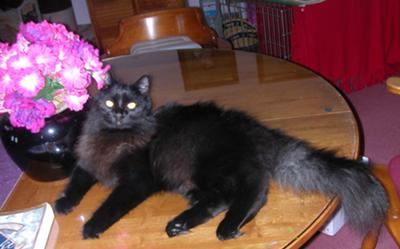 Here is my handsome rescue who comes with an amazing story. He got his name because as a kitten he was grabbed by a hawk while in the yard with his mother and siblings.
The owners weren't paying attention but the hawk dropped Hawkeye from a height of about 15' and although he was bleeding from claw marks, he survived. He was taken to a vet where he was treated but the owners did not pay his bill. A lovely lady from PetFinders heard of his story and took him in as a foster care kitten.
I adopted him last December, 2011 and he is the absolute joy of our house. He is 11 months old with his first birthday coming June 11. Hawkeye is a water boy for sure. Never a morning we don't find toys, socks, kibble floating in the water bowls.
Super in your face personality, speed racer and even qualifying as goofy when the mood hits him. Very sweet, affectionate and 'talks' to and at us round the clock it seems:)
He shares our home with a 11 month old female Persian, Jade and a senior male, Jack. Everyone has been spayed/neutured. Thinking of getting another but will see.
---
Does my baby TAZ have some Maine Coon in him?
By: April Bragg in (LaGrange, GA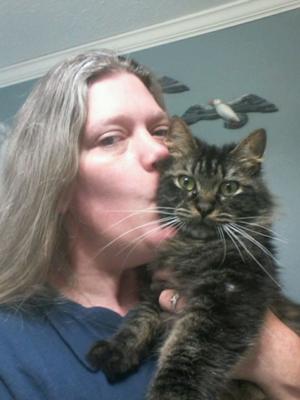 My Angel
This has been the worst year of my life and it was just the right time when my baby came along. Just having this wonderful cat has made the hard times much easier to deal with.
I was at a friend's house (whom I seldomly visit because we live so far apart), when I heard this cat meowing very loudly at the front door late at night. I opened the door and he flew in with his tail straight up in the air. He looked right at me and it was an instant connection. He was starving and just a baby. He fit in one hand. I gave him all the food he wanted and I had my mind set that he was going home with me!
From that night on, he licks all over my face and kisses me on the lips and he never has done that to anyone else. He follows me around like a dog, has huge feet that are webbed, fetches (I didn't even teach him this), has a clumsy silly attitude, good natured, and LOVES me!
I have never had or seen such an intelligent cat! I saw a big beautiful Maine Coon a week ago and told my friend, he looks just like my cat! I started investigating online and that's how I came to this site. And it's a wonderful wealth of knowledge about the bred.
From everything I have read, TAZ fits every description of a Maine Coon. So, do you think I have one of these lovely creatures on my hands? He is a year and 2 months old and of small stature.
I don't care if he never gets any bigger, his huge heart makes up for it!!!
Comments:
Mari: Oh my goodness yes! he most definitely has MC in him!! What a wonderful story!! :)
Donna Riese: He is definitely a Maine Coon! He has all the characteristics.
---
My Kitten Fluffy
By: Kristina in Bangor, Maine, USA
My kitten is about 10 weeks old. I believe she is a Coon cause her paws and markings look of the Maine Coon breed.
I had a Siamese mix that was 10month and my kittens paws at 9 weeks was as big as my Siamese mix. My kitten is very fluffy and she is medium to long haired.
Comments:
Mary: Fluffy is beautiful, and exactly the type of kitty I am looing for. Is she being used a "model" or does she need a home?
Carloine: My Maine Coon's name is Fluffy, too! He looks almost the same.
---
Brothers--One Shorthair and One Longhair
By: Gordon in Elkridge, MD, USA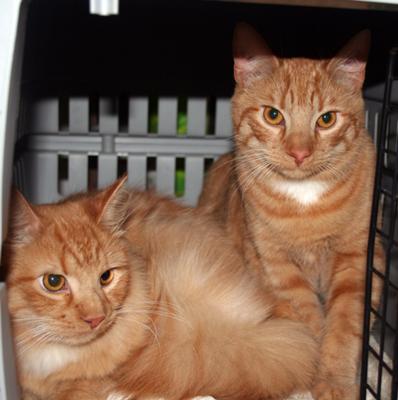 We adopted these 10-month-old cats about a month ago and they came from a shelter after being abandoned at a Vet clinic.
They both have the distinctive "M" on the forehead and are very affectionate. The shorthair is more of a lap cat than the longhair, they are very playful and display many of the Maine Coon characteristics. Since one has shorthair I would assume they are a mix.
Comments:
Portia: They are very beautiful boys! However I think they are Domestic Longhairs - a mix of something lovely, but probably not Maine Coon. All tabby cats have the M on the forehead, not just Maine Coons. Beautiful boys!!!
Let's Connect!
Subscribe in a reader - Be notified of new posts!




Or, get The Daily Digest by email:
(Same as above, just delivered via email)





Join our weekly email group by filling out the form to the right. From time to time I'll send out special tips, articles, news, deals and other free goodies!







Subscribe in a reader - Be notified of new posts!
Or, get the Daily Digest by email:
(Same as above, just delivered via email)
Join our weekly email group by filling out the form below. From time to time I'll send out special tips, articles, news, deals and other free goodies!