Happy Autumn!
Tattle Tails, Maine Coon Newsletter
October 28, 2011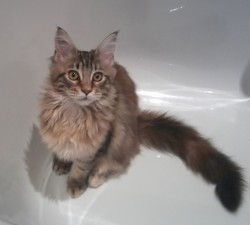 In this issue:
Cat Quote
Maine Coons In The News
Meet Minnie!
October Updates
Hot Deal

Note from Editor:
Now that this is an archived newsletter, the links have been removed in order to keep this website neat and tidy.
Rest assured that each fresh newsletter contains all the live, handy links to articles and photo albums.
"Time spent with cats is never wasted."
- May Sarton
Maine Coons In The News:
An unusual and very exciting news story has been making the rounds! It's one you have to see to believe, and it will be fun for the whole family to check this out:
We have received permission from the Mountain Lion Foundation to repost this story: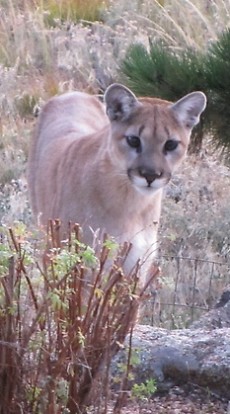 Gail Loveman of Boulder, Colorado was trying to get some work done on her home computer when she was interrupted by rustling noises behind her.
Assuming it was one of her house cats getting into mischief, Gail turned around to find Zeus, her Maine Coon cat, staring down a juvenile cougar through the sliding glass door.
Zeus casually sat by the door watching as his larger cousin curiously paw the glass and bounced around. Eventually the cougar got bored and returned to his mother on the other side of the yard.
Loveman snapped a series of photos during the encounter and captured some great shots of the cougar duo as they passed through her yard.
She said she felt "blessed" to have the rare opportunity to see cougars up close; "I was thinking what an amazing experience this was."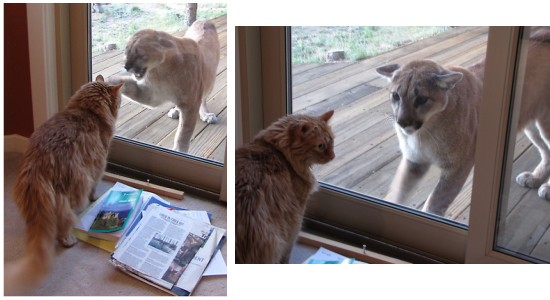 To read the full story, see a video, more pictures, or just learn more about Mountain Lions, visit www.MountainLion.org
---
Spotlight On Minnie!
A super fun Tattle Tails feature is back: Alice's Interview! This time, Alice is getting to know Minnie, our Featured Cover Girl! Enjoy!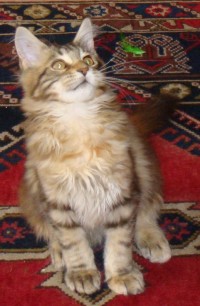 "Hi Minnie! It's very nice to meet you. Thanks for being our Cover Girl for this issue of Tattle Tails. With your classic good looks I think you are ready to break out and become a star!
So tell us a little about yourself: How old are you? Are you a purebred Coonie, or mix? Do you have any nicknames, or maybe a longer name? What is your color?"
"Hello Alice, it's lovely to meet you too. I'm very excited to be a Tattle Tails cover girl. I'm from the UK and was born in June this year so I'm 5 months old.
My people are Rebecca and Steve. Rebecca says I'm getting bigger every day. I'm a purebred Maine Coon and there's lots of champions in my family tree.
Rebecca calls me Minnie and says that this is my nickname. I learnt it very quickly and it's a lot easier to recognize when she's calling me for my meals than my long, pedigree name which is Moonencia Minerva.
You're a lot bigger than me, Alice, and I love how luxurious your beautiful, black coat is.
That's the kind of look I'm aiming for when I'm grown up. I'm a tortie tabby. My coat is very soft and I enjoy keeping it in tip-top condition. Dad is a red tabby and Mum is a brown tabby so I'm a mixture of both of them."
"How did you come to live with Rebecca? Did she choose you, or did you choose her?"
"I was born in a house where there were lots of other cats. Rebecca says it's in Barnsley in Yorkshire. Lisa looked after us there and she gave us lots of good food and games.
My Mum lives in the house and there's a special building in the garden where my Dad lives.
It's very clean with places to sleep and you can climb up onto platforms to watch what's going on. There's always lots of cats about.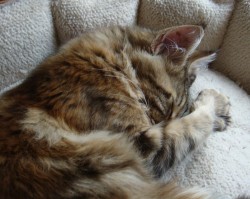 One day Rebecca came to visit. She played with my sisters and I for a long time. Then she said that she liked me best.
She's kind and gentle so I'm glad she chose me. A couple of weeks later she came back, put me in a covered carrier and we went to my new home.
I like living here. There's lots of space, food and games. I can spend time with my people and I do lots of snoozing too, whenever I want to. I need my beauty sleep for all the growing I'm doing."
"Are there any other animals in the house? If so, do you love them, torture them, or tolerate them?"
"I'm the only animal in the house so I get loads of attention. Rebecca likes me to sit on her knee and she's very good at scratching my head and ears.
I always rub my face against her, especially her hands, to make sure that everybody knows that she belongs to me.
There are some other creatures in the house that I like to play with as often as I can.
There are some spiders in the conservatory which usually run away too quickly to be much fun. Since the weather started getting colder here there's less bugs about for me to play with too.
It's a good thing that my people have bought me lots of toys, I like plenty of entertainment"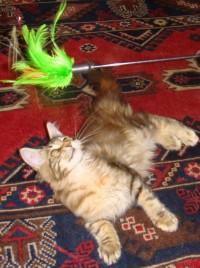 "What is your favorite way to bond with your people? Is there a special game you play, or place you like to snuggle?"
"I love to watch what my people are doing. They do some very interesting things with food in the kitchen and I try to join in whenever I can.
Rebecca isn't very keen on me eating the people food and I can't understand this because I love eating.
Trying new things is exciting. I want to try all the different food they eat as often as I can get my paws on it.
My special bed is in the utility room. It's made of wicker with a comfy lining and I love to snuggle into it. Rebecca has put it on top of the boiler so it's high up.
It's cosy and warm up there. I have a great view of my people when they come into the room and I can watch all the goings-on in the garden through the big window.
My people feed the birds so I have lots of things to watch when they're flying about near the bird table. I'd like to chase them. That would be really good fun."
"Do you have any super-funny quirks? Anything that puzzles or annoys your people? Life as a cat has to include some mischief! Tell us how you stir things up!"
"My humans say that I'm intelligent but I'm not sure what that means. I have to try to work things out if they are a problem or annoy me.
One problem I have is that my best toys live in a cupboard and Rebecca closes the door far too often.
I can't get into the cupboard when she's not about because the door is locked. I want to play with the fishing rod toys and feather wands all the time.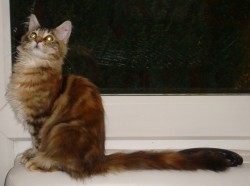 So I worked out a fantastic plan to scratch my way in through the back of the cupboard to get to the toys.
I'dd been working on it for a few days and it was going well. I managed to get the back panel away from the sides.
Then my people noticed how well it was working. They've set me a new challenge now by wedging a piece of wood against the cupboard so I can't get to it as easily to do my scratching work.
I'm looking forward to solving this new problem. I'mm determined to open up the back of the cupboard so I can get the fishing rod toys out whenever I want."
"Anything else you'd like to share?"
"I'm really looking forward to seeing Tattle Tails when it comes out, I'mm so excited to be a cover girl. Rebecca is very proud of me and can't wait to show it to her friends."
"Thanks for your time, Minnie! It was wonderful to meet you!"
"Thank-you Alice, it's been lovely talking to you."
To visit Minnie's own page on Maine Coon Cat Nation and leave a comment for her or Rebecca, visit Minnie Minerva!
---
What's New On The Site:
New Cats To Meet!
We meet new cats every day! For those who prefer to check in from time to time, here are the newest Maine Coon cats and Mixes, since our last issue of Tattle Tails. So come visit, and leave a comment if you wish!
As you'll see, there are quite a few new cats in just a month's time. I'm considering sending out Tattle Tails every 2 weeks, so it will be shorter & fresher. So don't be surprised if you hear from us sooner rather than later!
Simba
Candy
Sheila
Beauty
Mystique
Jake
Tiger
Tequila
Dorian
Anniversary Kitty
Bentley
Hobo
Dynah Mae
Annastesia
Oscar
Cody
Rocco
Abby's New Hoster
RIP, Tigger
Thornplum Marley
OakBluff Elliot Blue Boy
Sir Arthur Brandybuck of Addison Downs
Captain Hook
Mowglie Bowglie
Marley Katt
Hillary
Michelle's New Kitty
Fiona
Diva Molly - update
Liam Neeson
Gigi
Journey
Smokey
Princess Chloe

New Maybe-Maine Coons

Harry Cat
Reuben
Red Kitten From Craigslist
Tonks
Bob
Casey
Gracie
Fall Photo Contest!
Our Fall Photo contest is winding down. Voting ends at 10:00 am the morning of Saturday 10/29. Then stay tuned to see who will grace our homepage! It is still too close to call, so if you haven't yet voted now is your chance!

New Updates:
Our Maine Coon Kittens page has been updated to include some photos of your gorgeous kittens. I plan to continue incorporating your cats in more of the articles on the site, as it truly is a community place!
New Adoptable Cat Tool & A Chance To Winn $10,000 For Animals!

Yes, you read that right! Thanks to DogTime.com, we now have a wonderful, handy Adoptable Cat Tool on the site! Just visit our Maine Coon Cat Rescue page to see the tool in action. You simply input your location and desired breed, to see who is up for adoption near you.
It's the only tool developed for and used by the ASPCA, and I'm super proud to have it on the site.
And, just by participating, we are now entered into a drawing by DogTIme.com. The winner gets $10,000 for their shelter or rescue group of choice!
---
Hot Deal:
The most popular cat tree on the site is currently on sale. If you are looking for a deal, you may be interested in the Armarkat Beige Cat Tree
---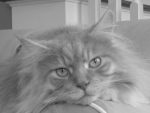 Be Friendly:
If you have friends or family who love cats, feel free to forward this newsletter to them! It's cute, fun, and free :) The more, the merrier!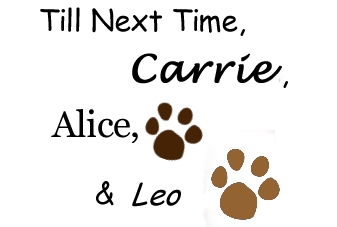 Return To Tattle Tails Back Issues Page