Four Terrific Stories
Here are four great stories: "Pax & Baya- They Found Us," "Left in a Woodpile," "Rescued from the Humane Society," and "Grateful"
Pax & Baya - They Found Us!
by Catrynia
(Tennessee)
We were wanting a Maine Coon after we had to put our orange tabby down 2 summers ago. I was causally looking online for one.
| | |
| --- | --- |
| Pax | Pax |
Pax kept showing up on every online pet finder search I did. My sister knew I was looking but didn't know where I'd looked or even that I had seen Pax.
She emailed me a link & said, "This looks like a cutie!"...It was a different pet finder page but it was Pax! At that minute, I decided that Pax was meant to be ours!
| | |
| --- | --- |
| Baya | Baya |
I drove over an hour to the Bowling Green Humane Society to get him. When we got there, we decided to get his sister Baya too. They were about 8 weeks old.

Baya was very stand-offish & scared. Now the kittens are a year and a half old & are the most loving, goofy kittens we've ever seen!!

They both enjoy being loved on, love being the center of attention, & love playing in the water.

They are such soft, gentle kitties & we are so lucky that Pax "found" us!
---
Left In A Woodpile!
by Jodie
(Western NY)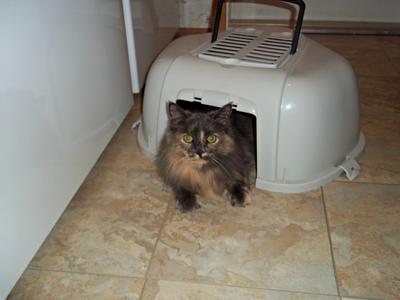 playing in the litterbox cover
Our beautiful little girl, Amazing Grace, Mazy for short , was found along with her siblings, and found by someone on the property doing bulldozer work.

These gorgeous little furballs were placed on Craigslist as free, needing a good home. Since this location was near my daughter's town, I decided to stop and take a look.

There she was, the only calico of the bunch, and with a vet reference, I brought her home a week later. I had no idea what a Maine Coon cat really was, other than long haired.

I have had cats all my life, I'm nearly 60 and born and raised on a farm. So, I looked up the breed, because Mazy was so totally different....big fluffy feet, fluffy fur around her neck, loves the cold, ADORES running water, and chatters alot. She took right to my 2 yr old shelter cat Lucy right away.

She is now 17 months old and just FULL of energy. My husband says she is the most interesting cat EVER.

So, Maine Coon in part, or maybe just looks the part, she is ours forever. She can fetch and play frisbee, and I can't believe there are people who just throw pets away...remember, SPAY/NEUTER!!


comments:
Angel sent from heaven
by: Jackie

Mazy is a beautiful cat. Fate brought you together and you will always appreciate each other for the joy you bring to each other's lives.

Both of you are lucky...
by: Carol

Enjoy:) My boy was like that right until the end at 11 years. Make sure to check for heart disease...

Thank Heavens for People Like YOU!!
by: Lisa

I love your story about your precious little Mazy and I am sure that she is so thankful that she was rescued by an angel!

I rescued my first Maine Coon kitty just 3 months ago and she will be 1 year old next week. You are so RIGHT...they are different kitties in all of the best ways!

My husband said the same thing that yours did about how unique they are. These kitties just bring such joy and spirit into your home. I had to laugh when you mentioned that she is 17 months old and FULL OF ENERGY....our little Lucy is loaded with spunk and energy too.

If I have to scold the dog, she even goes up to him and repeats what I said "in kitty chatter" to him.

Its nice to know that she will continue to be curious, adventurous, water-seeking and fun...Enjoy your sweetheart!!
---
Rescued From The Humane Society
by Stacy
(Ohio)
Tons of energy and very playful. He attacks everything. Sweet and loving.

We rescued him from the humane society and it was love at first sight.


comments:
So Cute
by: Ariel

What a find! Congratulations.I am so amazed that MC's or MCx's are either found in rescue shelters or just wandering down the path/road in the US. In OZ we pay big bucks for the privilege of owning this gorgeous cat.

This tiny liquid silk kitty will bring you much joy. What a sweety!

So Sweet!!
by: theresa

You are both very lucky. I hope you enjoy a long life playing and cuddling.
---
Grateful
by Makayla Defelice
(Jacksonville, FL,US)
When I was about ten I moved in with my grandparents. One day my grandfather saw a mangy long haired cat.

At first that was all he saw. But when he looked closer he saw that the clumpy haired cat arm was almost completely severed from its flank out of his love for animals and the adoption of our mother cat Maxine he followed what his heart said and took the terrified desperate young cat to vet.

They reviewed the half dead cat. It had a broken paw the arm was half torn from its shoulder probably from being run down by a careless driver and it had cuts and infections.

The vet gave her professional opinion... "I don't think it will live much longer." My grandfather said give me a couple of weeks. During those few weeks he poured his heart and soul into the recovery of the severely injured and desperate cat.

While hanging on by its last claw my grandfather did every thing in his power to help it down the road of recovery.

Weeks later my grandfather pulled it away from the edge of death and got it back on its feet. After those few long weeks my grandfather took the cat who was once on the edge of death to the same veterinarian.

At first she probably didn't notice the once mangy, small and helpless animal. My grandfather told the vet of the cats recovery. The vet was amazed... she couldn't believe that it was the same cat.

After the visit to the vet my grandfather took the cat home and soon we adopted her after a few mistakes (my grandfather thought the cat was a boy) Lassie Defelice was then the newest member of the family and of all the four cats that we've adopted lassie is by far the sweetest and prettiest of them all thanks to my grandfather, Vic Defelice.

Reply:
What a touching story, Makayla! If you had pictures to share, feel free to contact me. I'll help get them uploaded. Thanks for sharing!

~Carrie

Comments:
Road Cat
by: Kim
One of the most selfish and horrible things a person can do is live on a busy street and let their cat out. Being slowly crushed to death by one or two cars is the worst way a cat can painfully die. I'm glad your cat made it.

Makayla
by: Gail (Quincy, MA, USA)
What a sweet story! Please send photos in; we'd all love to see this once mangy long-haired cat turned beautiful lady cat! Bless your grandpa for being the cat-loving guardian he is to pull this feline from the jaws of death to a vibrant member of your family. Way to go, Grandpa!
---
(note: comments are closed in this archived photo album)