Everyone loves the domestic shorthair cat! This type of cat is what most of us think of when we talk about a house cat.
Domestic shorthairs may be the most common cat, but that doesn't make them any less special. What do you think?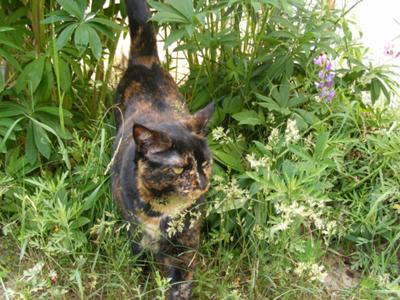 By: Nikki Gillette in South Boardman, MI USA
Our cat Dennis is a domestic shorthair cat by name only. Beyond that, we are not sure really what she is.
My daughter has taught the cat to climb up and down ladders, so maybe she is a monkey? She has also taught her to play fetch - so maybe a dog.
When kids are playing with a babydoll in a stroller, Dennis will pull the doll out of the stroller so she can hitch a ride. Maybe she is a doll? I have seen her wearing a dress. As I think, she may be a lion.
The neighbor's cat will come visiting and Dennis and Butch will work as a team, stalking and cornering mice and voles, chasing them toward each other until the prey is finally caught. Then again, maybe she is a mongoose? She is the best snake wrangler in the north.
On final thought, she is a guardian and companion, sitting on my daughter's bed until she is asleep for the night then coming to curl up on my lap and enjoy an evening stroking after a long day's work.
Comments:
Maybe that s/b Denise?
by: Jessy
I mean, Dennis is a curious name for a she-cat. Lovely color.