Photo Album August '12
Even more beauties to see in this monthly photo album of Maine Coon cats!
My Suzy
By: Daria inGent, Belgium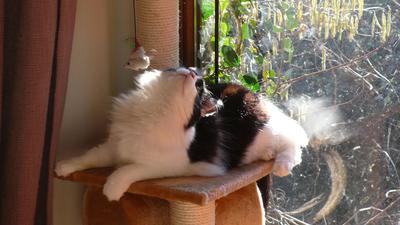 She is gorgeous and she knows it :)
Precious
By: Mrs. Jane Hastings in Canvey Island, Essex UK

---
zzzz... wake me when dinner's ready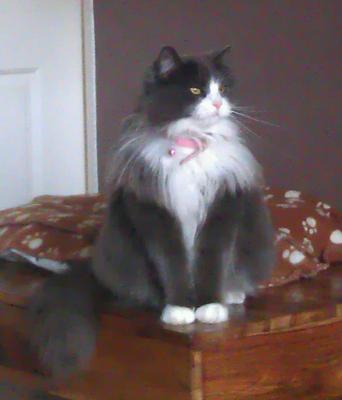 Precious..... Well named! Our precious princess
Precious came to us as a rescue cat after being abandoned at about 7 months old, pregnant. She was with a foster carer for the Cat Protection League where she had healthy kittens in March 2011 then found us in August.
She is gentle, sweet natured & the prettiest cat I have ever seen, pink nose, pale amber/gold eyes, grey & white with big white feet with tufts of fur between her toes.
She loves "helping" around the house & garden. I had never heard of Maine Coons it was during a visit to the vet when someone saw her in her carrier in the waiting room & told me they thought that was her breed.
Comments:
Fabiana: My cat looks almost like ur cat except my cat looks like he has a mask on just like a raccoon, always wants to be held acts like a baby will let u do anything you want but its strange he doesn't seem to meow when he tries a funny very quiet sound comes out.
Anne Hatch: What a stunning cat! So elegant and beautiful!
Haley: Your cat is sooo beautiful!!!
Barb: What a beauty! How could anyone abandon such a doll!
---

Winston the Cat!
By: Kiki in Fort worth, Texas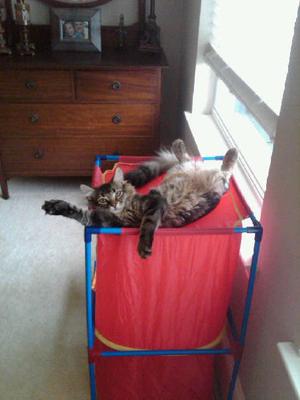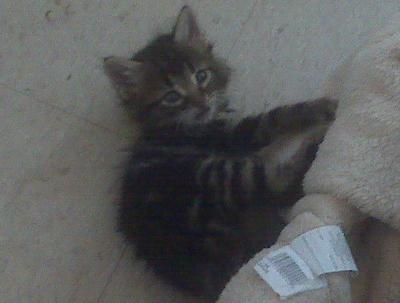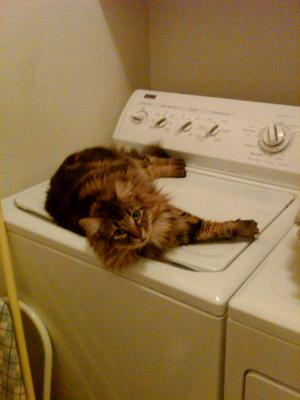 When Winston was about two weeks old, he got thrown out of some man's truck. My mom was driving on the road, on her way home from work, when she spotted little two-week old Winston, barely breathing.
She pulled over, to realize that Winston was a very dehydrated little kitty, his jaw was cut open (we could see his bottom teeth, and his eyes were barely starting to open. She took him to the vet, and he said that little Winston wouldn't make the night. She took him home, and managed to keep him alive, and well hydrated.
Later that week, we took Winston back to the vet, and discovered he had multiple problems, including a URI, and his jaw was broken,. The vet was still thinking he didn't have long to live, but we proved him wrong.
For the next month, after surgery by surgery, and different kinds of medicines, our Winston was turning into a normal kitty. Soon we were able to expose him to the outside, meaning the living room. He loved to walk around, and he purred so loud when he was free, he loved having all of the attention that he got.
Our vet told us that Winston was a mutt, but one day I was looking through my kitty book, and found the "Maine coon cat" page, the picture looked identical to Winston, and so we addressed him as a Maine Coon ever since.
Winston is now three years old, and looking great! His broken jaw is healed up, and his fur is so long and beautiful, he is a very loving, and spoiled kitty. He loves to sleep in my room, and lay on my chest when I'm sleeping. I hope by the time I move out (in like six or seven years) that Winston will still be alive, and I'll be able to bring him into my own family.
Winston has been such a joy!
Comments:
Brent: Sad story about Winston, but with such a great ending!
Denny: God bless your mom for having the courage to save Winston. Curses on the guy who threw him out of the truck. I hope he gets the same treatment.
---
Alba
By: Constantinescu Bogdan Andrei in Bucuresti, Romania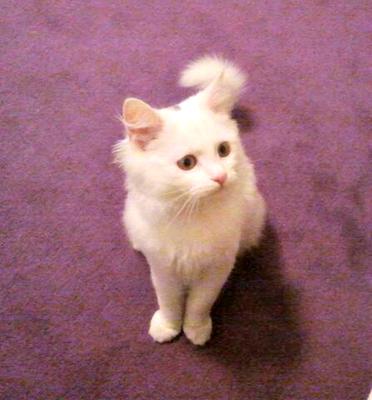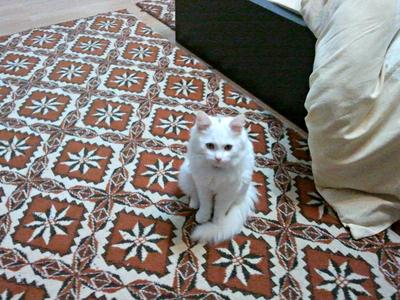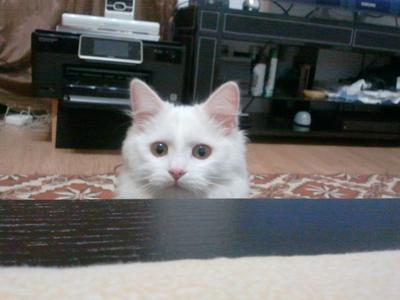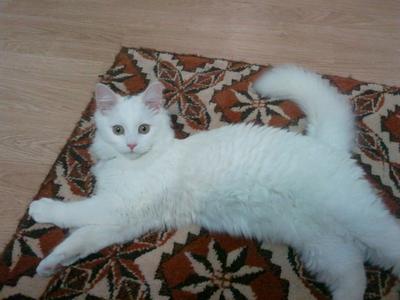 Beast
Comments:
Joan: Just like my Snowie and he has the same wee black patch on his head as well.
Jenny W.: WOW. Such a beautiful cat!
---

Nala
By: Dawn in New York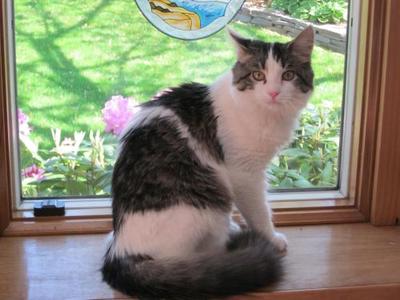 Princess Nala
We just adopted Nala recently. She is sweetest and most affectionate cat I have ever met!!! She loves to cuddle and play!
The woman at the shelter told us she was a Maine Coon mix, which I think may be true by looking at the other kitty pics. What do you think??
---
Sadie, Pretty Lady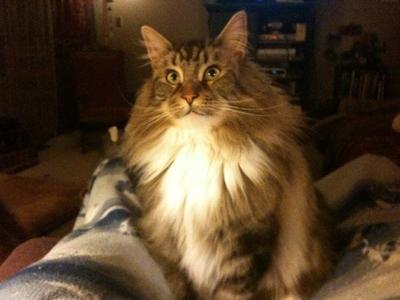 Snuggling with a Maine Coon is an excellent way to spend a cold Winter!
Comments:
J Tyus: Beautiful!!
Anonymous: "Sadie Sadie ~ Pretty Lady"
---
Natural Posers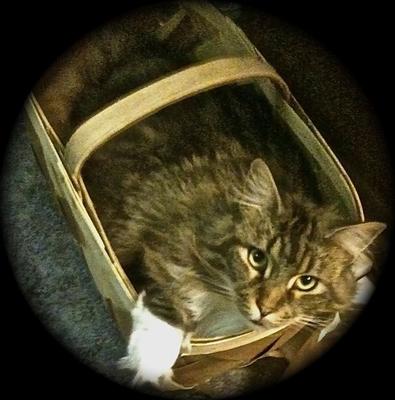 Sadie
She is a beautiful and gracious cat! Carries herself with dignity and character.
---

Dozer
By: Karen Conner-Beck in Parchment, MI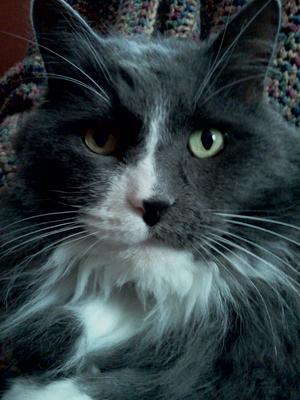 In April of 2003 I came home to my then-apartment complex to find a huge furry cat coming out from underneath a car tire with a very loud and shrill Meow!
He was injured at the tail and all matted down and dirty after being out in the cold and snow (yes, we have snowstorms in Michigan in April) and also very hungry. I coaxed him up to the door, and my then-husband and neighbors got him inside the building and fed.
The neighbors provided the food and my brother gave us an extra litter box and litter to use, until we could figure out what to do with him. My father came over and said "holy cow, that's a big cat!" Three days later we took him to our vet and it was discovered that this cat was only about 2 years old, and besides the tail injury, there was nothing else wrong with him.
We searched for an owner for 2 weeks, and after none came forward, we had him Neutered and declawed. He now has over an acre of "yard" to call his own and he loves taking kitty walks on his leash, going to "grandpa's" for treats, and laying in every imaginable place in the house to sleep.
His name is Dozer, or Kitty Doze, or Dozer Kitty. he weighs about 19 lbs currently and is approximately 11 years old.
Karen Conner-Beck
Parchment, MI
Comments:
Andrew Lawton: While many people are opposed to declawing, it is mainly due to some who do so in a barbaric method. Current declawing involves the use of a laser and is humane. Our Maine Coon who had to have this done, primarily because her polydactylism was somewhat deformed, has no ill effects from the procedure. If humane declawing helps more cats get adopted due to less damage on furniture and possessions, then I think it should be a consideration.
---
Daisy
By: Daisy Earl in Kalamazoo, Michigan
She has seven toes and is 2 1/2 years old
---
Bubba
By: Jerry in Massechussetts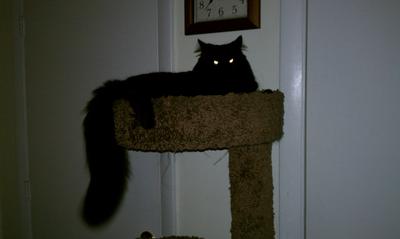 Bubba graced our doorstep 16 months ago, He quickly found his way into our hearts..as a little ball of fur and now an entire fur coat later He allows us to reside with him.
He is very independent and weighs a healthy 17 pounds and growing.
---

This is Brady, my beautiful Coonie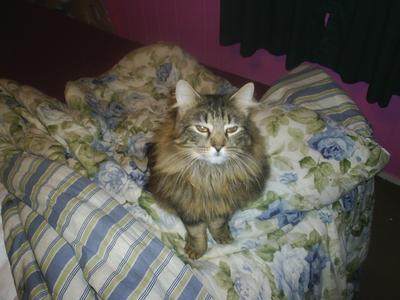 By: Jeff in Syracuse

My 5 year old Maine Coon who I rescued after his mother was hit by a tractor trailer.
---

Felix
By: Linda in Stuart, FL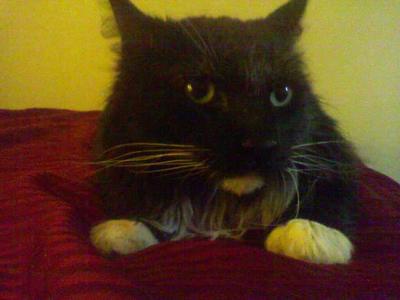 We rescued Felix this past January - he's about 4-5 years old and weighs 15 pounds. He definitely has the Maine Coon characteristics!
He "talks" a lot and acts like a dog! (in a good way of course). He is so much fun! I also noticed a couple of other pictures on this site that look just like him!
---
Katrina (Kat)
By: Peggy Balle in New York

Kat is a 16 year old main coon who came to us as a stray and has stayed 16 years. She enjoys snuggling, sleeping, eating at just hanging out with you.
---

Pandora & Simba
By: Jeanett D. S. Kristiansen in Nykøbing Falster, Denmark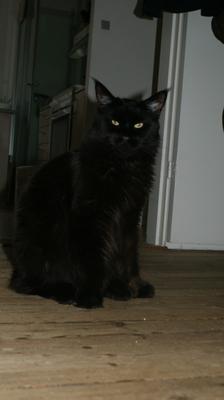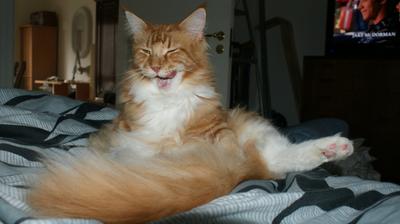 My 1 1/2 year old coonies.. :-D
---

Ridlee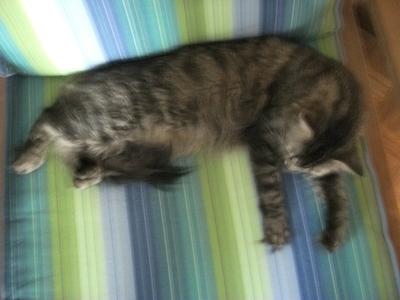 By: Goatman
..adopted month ago..she is a peach..