Pebbles taking a cat nap on the recliner; Pebbles is a brown classic Maine Coon Kitten. She is the most lovable kitty.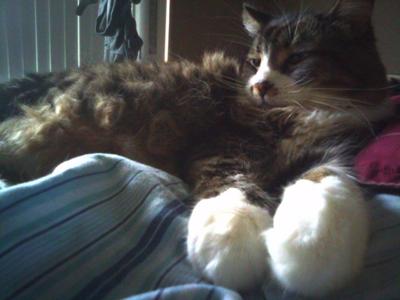 What a day....
My 12 yr old cat Sylvester. This is pretty much what he does ALL day. His biggest decision is where his next nap will be....my bed...or the recliner! Decisions.......Decisions!!! lol
Comments:
awww
by: juliet
What a beautiful young man he is - just look at those paws..you are very lucky x
how cute
by: Jamie Leona
wow what paws he has lol they are soo cute tho I have a orange n white one named Samson
Sleepy Sylvester
by: Maine Coon Cat Nation
What a good-looking 12-year-old! He takes his naps seriously, then! Sounds a lot like our Leo :-)
Adorable!
by: Patty
Love his paws!
So what do you think? Was it me!
by Renee
(Ohio )
So what do you think? Was it me!
Cesar is always attacking my feet when I walk.
Comments:
No Way
by: Joann & Bubba
No Way baby you are 2 cute,Cesar you are a very handsome little Coon. Wish you culd meet our Bubba. Happy paw prints to you and your family !!!
Classic Halloween Cat-No Jacket Required!
by Elizabeth Philippus
(Concord, NC USA)
Mia is just so hilarious to look at. She just has the biggest expression on her face all the time. Sitting pretty!
If you have a Maine Coon, you know how unique and different they are. You know you have a special cat!
Our E-Guide, The Care and Keeping of Your Maine Coon Cat, is full of info custom tailored to Maine Coons. Feel free to take a look, and review the table of contents to see for yourself!