My mummy cat was a Ragdoll and father was a maine coon so I am half and half. I am called Hershey because although I may look to be a tuxedo cat my black fur has a sort of browny tinge and since both my mumma and daddy were American cats I was named after an American brand of chocolate.
I am afraid I do have certain other nicknames which perhaps reflect a certain "problem" with my tummy caused by the speed at which I clear my dishes. I am known as Gaseous Maximus Zanussipuss (best dishwasher in the county) or Hershey the Hoverpuss.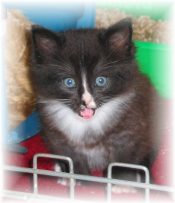 When mummy was looking for me she still had another cat called Portia who was part Scottish Wildcat and very grouchy so she decided she wanted a cat who would grow to be big enough to stand up to the old grouch. I spent my first month in a crate in the kitchen and then 6 more months of us being separated by humans with large cushions. Eventually we came to sort of tolerate each other and I was very sad when Portia left for the Bridge last year so now I am an only cat (although mummy has promised me a new sister soon).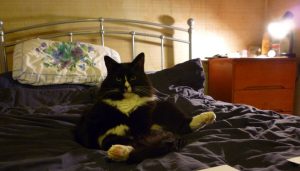 "What is your favorite way to bond with your people? Is there a special game you play, or place you like to snuggle?"
When I was a little kitten I liked to play fetch with my humans. I would let them throw balls for me and sometimes I would bring them back in my mouth - although it was much more fun to make mummy crawl about on the floor after my toys for me.
Now I split my time between human mummy's house in the country and her partner's house in London. (I humour him by addressing him as human daddy - he's a real soft touch and when he is away working we have lots of conversations on my facebook page) I like this new arrangement because I get to ride in my kitty box in the car and I get lots of fuss in both houses.
In Surrey I am allowed to go walkies in our big fenced garden if mummy is with me and in London I go out on my lead.
"Do you have any super-funny quirks? Anything that puzzles or annoys your people? Life as a cat has to include some mischief! Tell us how you stir things up!"
My favourite trick is to open doors. I first learned to hang off lever door handles so my poor humans had to change all of those for round door handles. Humans are such suckers! I had those cracked within a day and to celebrate I went and woke them at 5 in the morning. They both spent ages blaming each other for not shutting me in to my room but I knew that it was my genius in opening the new door handles.
My cleverest door opening trick is now legendary within the family. We call it "Tunagate". I was up in London staying with human daddy and I was rather displeased that mummy had not brought enough of my usual brand of cat food. She only went and got some nasty cheap stuff from the supermarket. Me - a classy cat - eating cheap supermarket own brand cat food? I don't think so! Anyway while all the humans were eating their dinner I jumped up on the sideboard, opened the larder and searched through the cans until I found one with tuna fish in oil. I rejected one that was tuna in tomato. That sounds nasty!! Anyway having found this can I gave a little miaow of triumph and presented it to the humans. I can do most things but I can't do can openers. Within a few minutes it was opened, washed and served in my bowl. Believe me I have them right under my paw!!
I am a big boy - nearly 4ft long from nose to tail so I like to lay on my back with all four paws in the air stretched out on the sofa. I have long outgrown mere cat baskets!!
"Anything else you'd like to share?"
I am also a cat with a conscience. I am currently organising a petition to convince the government to ban private ownership of fireworks so other little kittens won't have to be frightened any more.
"Thanks for sharing, Hershey!"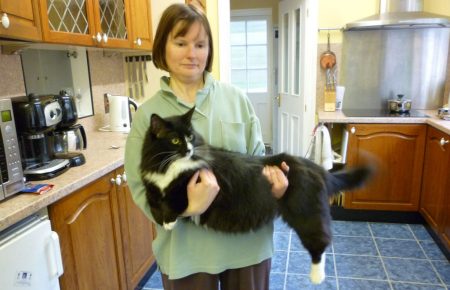 ---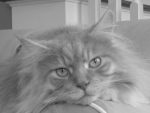 Source: http://uk.reuters.com/article/2012/02/13/us-pet-owners-idUKTRE81C25420120213
Happy Valentine's Day!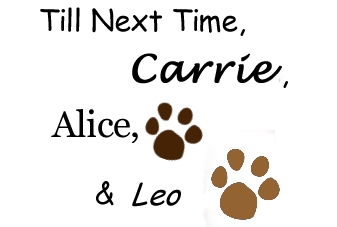 PS:
Be Friendly:
If you have friends or family who love cats, feel free to forward this newsletter to them! It's fun and free :) The more, the merrier!