Tattle Tails: Maine Coon Newsletter
April, 2012
Happy Spring!
In This Issue:
Cat Quote
Maine Coons In The News
What's New On The Site
Alice's Interview With... Duke!
Leo's Health Tip
---
I believe cats to be spirits come to earth.
A cat, I am sure, could walk on a cloud without coming through.
~Jules Verne
---
Hank, a 9 year old Maine Coon in Virginia is running for senate! He is developing quite a following, as this independant certainly has much to offer.
Unfortunately, Hank has been targeted in a smear campaign sponsored by Canines for a Feline-Free Tomorrow. But I'm certain he can pull through! Here is the full article: Hank the cat runs for Senate, faces negative ad from dogs (Thanks, Nancy, for bringing this to my attention!)
---
The March Photo Album is all wrapped up! So many beautiful cats were featured in March. It was a pleasure to look at them every day. Some submissions were long enough to have their own web page - you will see links to them right in the album.


In March we said goodbye to a longtime friend, Bubba. Bubba has been a regular here since the beginning. And his loving owner, Joann, has given lots of great advice and compliments to other cat lovers here. So visit Bubba's tribute page; We'll miss you, Bubba.


We have a fun, brand new feature! It's called PAWSitive Passages, and it's a fun little way for us to keep in touch through email. PAWSitive Passages is very different from Tattle Tails. Where Tattle Tails is longer and full of updates and other goodies, PAWSitive Passages is just that - each one is a short passage. Usually from the site, but sometimes a bit of news or just a friendly greeting. Just enough to brighten your day.

If you sign up, you will be started with a once-per-day mini-series called the Coonie Care Crash Course. Then it's one to PAWSitive Passages, which will come regularly.
---
Alice's Interview With... Duke!
I'm sure you've noticed the handsome fella who is decorating this page! His name is Duke, and recently he graced Alice with a little interview! Meet Duke:
"Hi Duke! Thanks for taking the time to talk to me today! I'm looking forward to meeting you today. So tell us a little about yourself:
- How old are you? Are you a purebred Coonie, or mix? Do you have any nicknames, or maybe a longer name? What is your color? "
Hi, my name is Duke, I just turned 3 on Halloween night. My original name was Treat. But my new owners changed it to DUKE. I am a pure bred Maine Coon and I also go by Sir-Duke since I am soon to be King of the house.
"How did you come to live with Doug and Sharon? Did they choose you, or did you choose them? Are there any other animals in the house?"
Doug and Sharon love cats and they set out to get a Maine Coon.They tried a rescue website and thought they found one in my brother Rambo, but when he didn't"t grow very big they realized he wasn't. So they went to a breeder and I chose them to go home with. I stayed off to the side and played hard to get at first then I showed off for them. My color is White/Blue Mackerel. My brother Rambo is a little to wild and crazy for me but I tolerate him.
"What is your favorite way to bond with your people? Is there a special game you play?"
I like to play with feathers and go outside and hunt anything that moves. My owners only let me out for a short time and watch me all the time so I cant get to crazy or far away.
"Do you have any super-funny quirks? Anything that puzzles or annoys your people? Life as a cat has to include some mischief! Tell us how you stir things up!"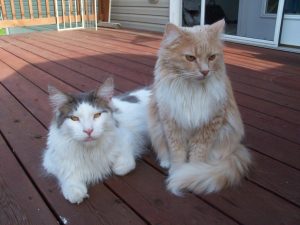 I sleep on Doug's DIRTY clothes at night next to the bed, I like his scent. I also eat Raw chilled tilapia to keep my body slim and trim. I eat dry food throughout the day and get fish at night for dinner and treats when I come in from outside and or before bed.
I am pretty spoiled. I chirp and talk when I want my fish, it works every time, I have some good parents. Here is a picture of my brother Rambo for you to see.
Thanks,
DUKE
"Thanks for your time, Duke! It was wonderful to meet you!"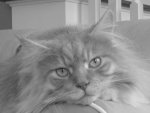 In many parts of the world the nature is waking up. Birds are returning, and April showers are bringing spring flowers.
Leo: "My mom found a tick on the dog last week. Oh, no! It's flea and tick season again! If you haven't treated your fur-friends yet, it's definitely time! Remember, cats and dogs can get Lyme Disease, and a flea infestation can lead to tapeworms. So April is not too early to get everyone protected!"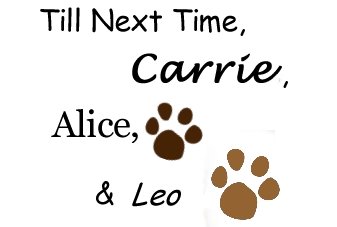 PS: I've recently started a new pet site, due to the popularity of my few flea pages. It seems there is a need for flea information and advice. So for anyone struggling with this problem, or just interested, the site is brand new: Flea Guide.com!
PPS:
Be Friendly:
If you have friends or family who love cats, feel free to forward this newsletter to them! It's fun and free :) The more, the merrier!
---
PPPS:
If you have enjoyed this issue, or any other page on the site, please help us grow by sharing it through FaceBook, Twitter, or other social networks. We
really
appreciate it!
If you have a blog or website, would you consider linking to us? Thank you so much!