"I crawl up on the couch with her when she's up late watching t.v. and I like to lay in her arms and purr until I fall asleep, which is no easy feat because I'm almost 3 feet long from head to tail.  Sometimes I curl up next to her on the bed at night.  During the day when I want attention,  I roll over on my back and peep at her so she'll scratch my tummy or brush me.  I'm very sensitive and when people talk to me, I always look them in the eye.  If mom and dad go somewhere for a long time, my feelings get hurt and I cry until she picks me up and talks to me.  I'm not aloof like some cats are, I like as much attention as I can get."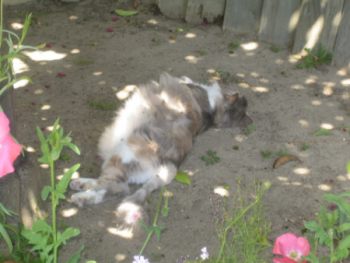 "My nickname is Missy Peepers. Because I don't meow, I peep.  I go outside everyday, love to roll in the dirt a lot, watch the birds flying around and make mom and dad chase me all over the yard.  Even though I weigh 21 lbs, they still can't catch me.  I also only sleep on my back and have to have my toy mousie with me while I sleep.   I like to chase jingly balls in the bathtub and I always watch dad shave, it fascinates me.  I have to know what's going on at all times, so I follow mom and dad around to make sure I don't miss anything.
And whenever I do something wrong, like claw the couch and Dad tells me no, I always walk up to him and "poof."  I arch my back up really high so it looks like my fur is all "poofed" out and I give him the innocent kitten face and start rubbing against him.  I just keep poofing and rubbing until I'm too cute to be mad at.  I'm no dummy."
"Thanks for the interview, Isabella! It was nice getting to know you!"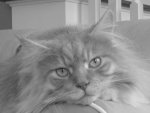 "This time of year, heat stroke (or heat exhaustion) can occur suddenly. We cats can get stuck outside or in a hot place like a shed or garage. Here are some things to know:
Signs include panting like a dog, dark colored tounge/gums, dizziness or walking wobbly, lethargy, drooling & hot paws.
Call or get to the vet as soon as possible, but there are methods you can use to cool down a cat immediatly:
A spoon or syringe can be used to squeeze water into the side of the mouth, and lukewarm water can be placed on the body or feet, among other measures."
Full article: http://www.maine-coon-cat-nation.com/heat-stroke-in-cats.html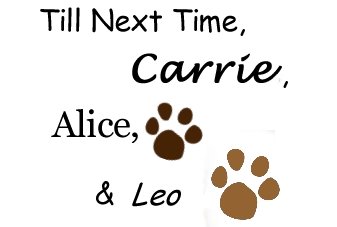 PS:
Be Friendly:
If you have friends or family who love cats, feel free to forward this newsletter to them! It's fun and free :) The more, the merrier!
---
PPS:
If you have enjoyed this issue, or any other page on the site, please help us grow by sharing it through FaceBook, Twitter, or other social networks. We
really
appreciate it!
If you have a blog or website, would you consider linking to us? Thank you so much!