Rocco & Captain Hook
by Betsy Stevens (Rocco) & Kathy Boyd (Captain Hook)
(NH)
Captain Hook
Captain Hook:
When I first adopted this Maine Coon I did not know if it was a boy or a girl. I was calling it Daisy.
One day when he was about 10 weeks old he was playing in our spare room and got a fishing hook caught in his paw! I took him straight to the vet where they removed the hook.
I asked them to tell me if it was a boy or a girl and so I then found I could not call him Daisy anymore. My daughter came with me to the vet and suggested Captain Hook for his new name!
Comments for Captain Hook:

My handsome brother
by: Rocco Stevens
Aren't we the handsomest 'Coon cats ever?
CAPTAIN HOOK
by: Patti
Oh your boys are fabulous. Aren't they just the best breed ever? I love the bigness of them, they're terrific!! Thanks for sharing...
Captain Hook & Rocco
These boys are brothers, adopted at the same time by co-workers who love animals. It's fun to discuss their behaviors and growth.They are truly amazing.
Thanks Patti
by: Kathy Boyd
Hi Patti, Maine Coon Cats are the best. I love everything about them. They are so intelligent. Thanks for your comments.
Rocco: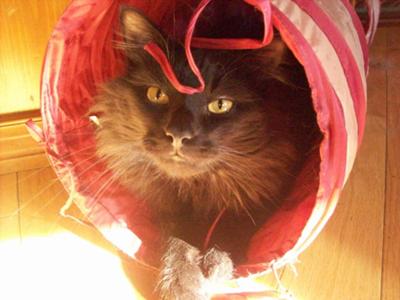 Rocco is full of sweet and loving personality. He is curious and loves to play, and he carries around his "babies" (beanie baby cats)and yells loudly at them when they are not behaving.
His brother is Captain Hook (see picture).
<< Maine Coon Cat Pictures & Videos
<<< Maine Coon Cat Nation Home